Getting to Know Google Smart Shopping
by Aden Andrus • March 19, 2019
If you own or run marketing campaigns for an ecommerce business, the last 6-12 months have been pretty exciting. Between Instagram dropping shopping as an option for Instagram Stories, Google's new shoppable image ads and everything in between, ecommerce has been crazy lately.
However, perhaps the biggest new ecommerce advertising option is Google Smart Shopping.
Smart Shopping basically takes something that was fairly simple and straightforward to begin with—Google Shopping—and automates most of the campaign management. It almost seems too good to be true, but if Google is to be believed, Smart Shopping could be an incredible opportunity for many ecommerce businesses.
In this article, we'll discuss what Google Smart Shopping is, how it works and how to set up Smart Shopping campaigns for your business. Let's get to it!
What is Google Smart Shopping?
Smart Shopping is a new campaign type for Google Shopping campaigns. However, unlike standard shopping campaigns, Smart Shopping campaigns use machine learning and algorithms to automate your bids and ad placements. This makes them perfect for smaller ecommerce business owners who have a lot more to worry about than optimizing their shopping campaigns.
Now, is all this too good to be true? Well, according to Google, when testing their algorithms with advertisers, Smart Shopping campaigns produced a 20% (or better) return than standard campaigns.
To make things even better, Smart Shopping campaigns use your existing product feed to generate creative. So, if you're already running shopping campaigns, you won't have to do any extra work to create Smart Shopping campaigns.
Using the images and content in your feed, Smart Shopping creates ads for your products and then uses machine learning to optimize those ads. According to Google, this generation/optimization process takes about 15 days, but then Google's algorithms should have all the information they need to maximize your return on investment.
Setting Up Smart Shopping Campaigns
Before you create your first Smart Shopping campaign, it's important to note that Smart Shopping campaigns run both shopping campaign and display remarketing ads. So, if you're already running either of those campaign types, it's a good idea to pause them before you launch a Smart Shopping campaign for the same products.
This is important, because Google recommends that you target all of your available products using one Smart Shopping campaign. This is very different from how you normally approach shopping campaigns, but the more information Google has to work with, the more effective the algorithms will be.
To set up your Smart Shopping campaign, log into your Google Ads account and create a new campaign: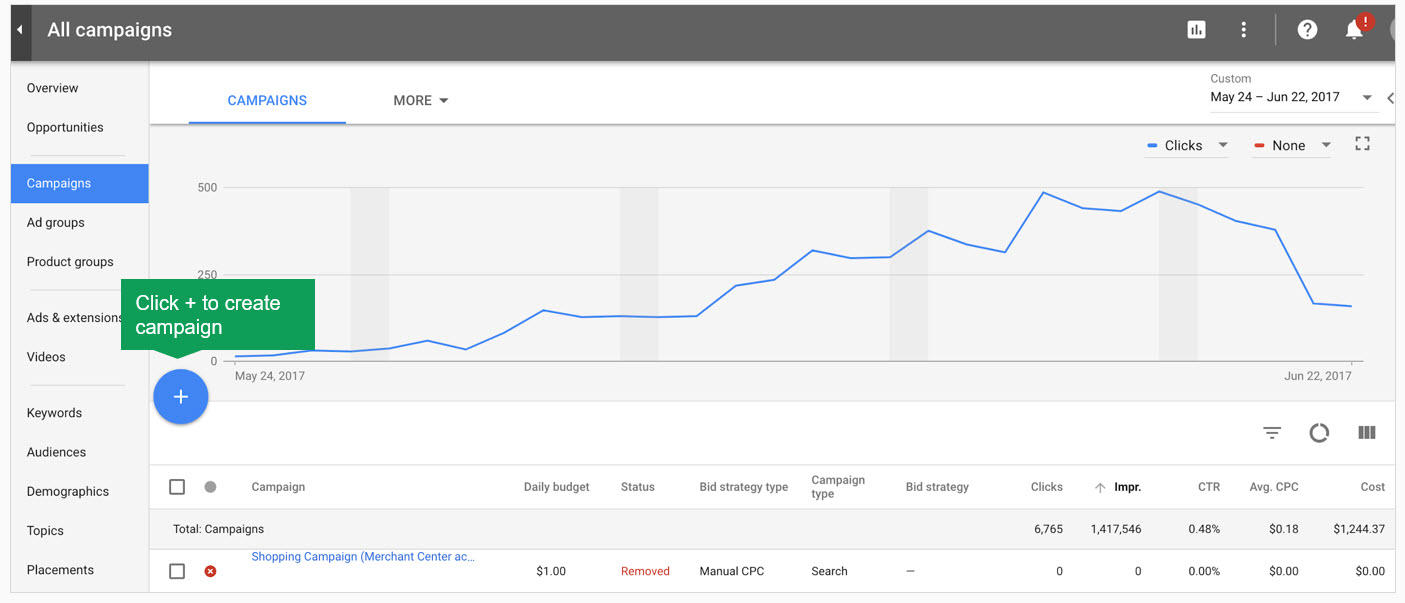 Choose the Shopping campaign option and the appropriate Merchant Center account, then choose the "Goal-optimized" campaign subtype:
Consistent with Google's recommendations, all of your products in your feed will be automatically selected for inclusion in your campaign, but you can change this if you want. Keep in mind, though, that by including all of your products in the same campaign, Google's algorithms will be able to track what people look at across your website and use that to optimize your performance, so unless you have a really compelling reason not to include all of your products, I'd stick with default option.
The big selling point to Smart Shopping is the fact that Google will automatically create ads for you based on the way your customers interact with your site. However, for everyone who hasn't indicated interest in any of your products yet, you'll need to give Google something to work with.
So, as you set up your Smart Shopping campaign, you'll need to upload some creative assets and write some initial headlines and descriptions for Google to use: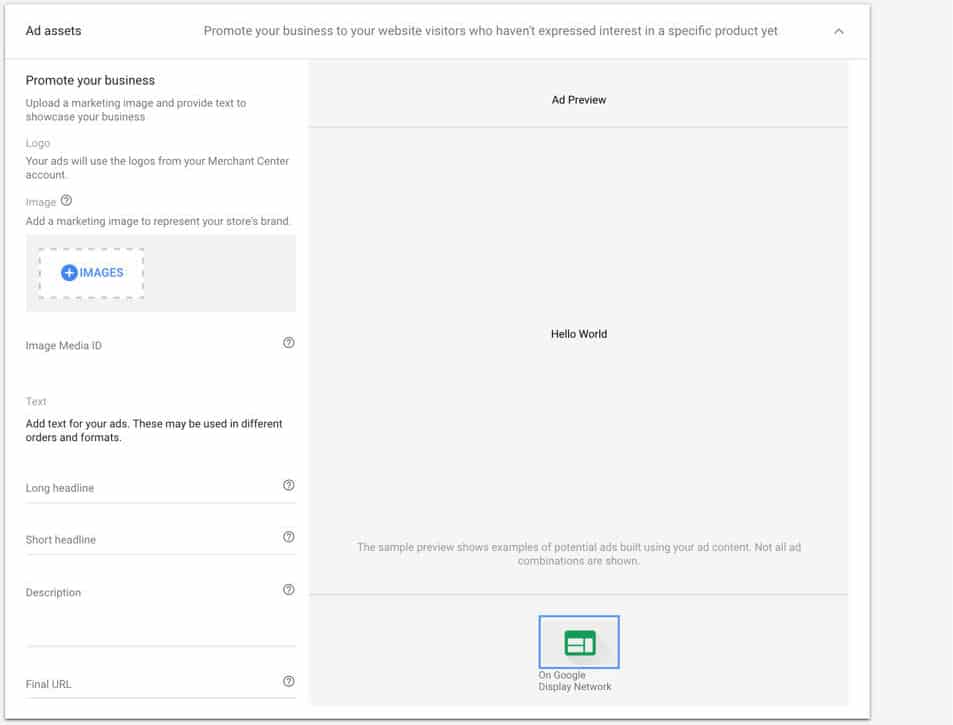 Google will deliver this initial content as responsive Display and YouTube ads to anyone who has visited your website without showing an interest in any of your products.
If you're new to Google Shopping, you'll need to do a few additional things to get set up:
Set up conversion tracking. Google's algorithms need data to learn from, so you need have transaction-specific conversion tracking set up and have at least 20 conversions in the last 45 days.
Add a global site tag to your website (you can also do this using your Google Analytics account). This tag will allow Google to track users who visit your website (you'll need at least 100 tracked users to run Smart Shopping campaigns).
Meet Google's requirements for Shopping campaigns.
And that's the basics! Easy enough, right?
Reporting on Smart Shopping Campaigns
While Google automates your campaigns, you still have complete visibility into your campaign performance. To see information on clicks, conversions, etc at the campaign, ad group, product group, device, and product levels, just click on the "Reports" option in the top bar of your account interface:

The only real downside to reporting with Smart Shopping campaigns is the fact that you can't assess performance based on ad placement. So, if you want to try using Smart Shopping, learn which placements are best and then use those in a standard campaign, you're out of luck.
Since you can't tell which ad placements are producing your results, comparing standard campaign performance to Smart Shopping campaign performance is a bit like comparing apples and oranges. You can certainly compare end measures of success like ROAS, but it's not really fair to compare clickthrough rates or cost-per-click. After all, Google might run ads in unexpected places because they produce a better return, but your actual click metrics might be worse.
Smart Shopping Best Practices
As you set up and run your Smart Shopping campaigns, there are few additional things you should keep in mind:
If you do decide to start by testing part of your product feed, make sure you leave the rest of your campaigns up and running.
Make sure that you give your Smart Shopping campaigns at least 15-20 days to hit their stride. Learning takes time, even for machines.
If you aren't hitting your conversion goals, try switching up your bidding approach. Target ROAS is a good option to try if your products all have similar profit margins. Alternatively, if you have products with very different ROAS goals, you can try breaking those products out into separate campaigns.
To increase volume, decrease your target ROAS.
Optimize your campaigns by optimizing the images, titles and descriptions in your product feed.
Last of all, while Smart Shopping campaigns are great, there are a few limitations that you need to take into account as you get set up:
Attribution. Unfortunately, since Google mixes standard shopping ads with display and video remarketing, there's no way to be sure what it producing what results. You can't really tweak placements yourself, so you just have to trust that Google's algorithms are optimizing things appropriately.
Negative keywords. You can't add negative keywords to Smart Shopping campaigns, so if you end up getting a lot of impressions on an irrelevant query, you're stuck. Hopefully, the algorithm will figure things out with time, but there's no way to manually fix things.
Product controls. If you want to sell more of a certain product, you can't do that in a single Smart Shopping campaign. There are ways to do this by getting clever with multiple campaigns, but that adds a lot of headache…which is what you're trying to avoid by using Smart Shopping campaigns in the first place.
Long story short, the advantage of using any automated system is ease of use, but the sacrifice is granular control. For many businesses, it's a worthwhile exchange, but you'll have to test Smart Shopping in your own account to see how things shake out for you.
Conclusion
For many ecommerce businesses (especially smaller ones), Google Smart Shopping is a great opportunity to get better results with less effort. Machine learning is a powerful tool, and it's likely that Google's algorithms will only get better with time.
While putting a machine in charge of optimizing your shopping campaign(s) doesn't guarantee that you'll make more money, it should save advertisers a lot of time and frustration. Give it a shot and let me know how things work out in the comments!