5 Ways to Get More Out of Your Google Analytics Data
Analytics
•
Site Optimization
•
Ana Gotter
November 12, 2019
Google Analytics is one of the most valuable marketing tools in your marketing tool chest. I know that's a big swing and a big statement, but I firmly believe that it's true.
When I'm working with clients on troubleshooting their sites, their content, or even their ad campaigns, their Google Analytics is one of the first places I want to look because it can tell us so much. Most ad platforms, for example, only tell you about the clicks they sent there—we have no idea why they drop off afterward unless we look at Google Analytics.
Google Analytics is valuable, but it can also be complicated and overwhelming. It's easy enough to get set up, but that's where most people falter. There's so much information that some people aren't always sure what to look at or how to interpret it.
We want to help you ensure that you're getting the most out of Google Analytics that you possibly can, so let's take a look at five key ways to do exactly this.
1. Set Up Goals and Funnels in Analytics 
Google Analytics can tell you a lot on its own, but if you're wondering how to get the most out of the platform, you'll want to use a few features that you need to set up manually. Goals is one of those features.
Goals—which are viewed under the Conversions tab—allow you to essentially set an end goal on your site, and then plug in possible paths to conversion that you want to track. This is crucial because it will show you how effective your on-site funnels are at driving users towards the point you want, whether that's to download a lead magnet, send your brand a message, or make it to the checkout page. 
Let's look at an example from my own site. My site is relatively simple, but the goal is for me to get people from the home page to the "Contact Me" page, where leads can get in touch to learn more about my services and hopefully hire me. I can see where people are entering the funnel, where they're going next, and how it compares to the ideal path I'd like them to follow.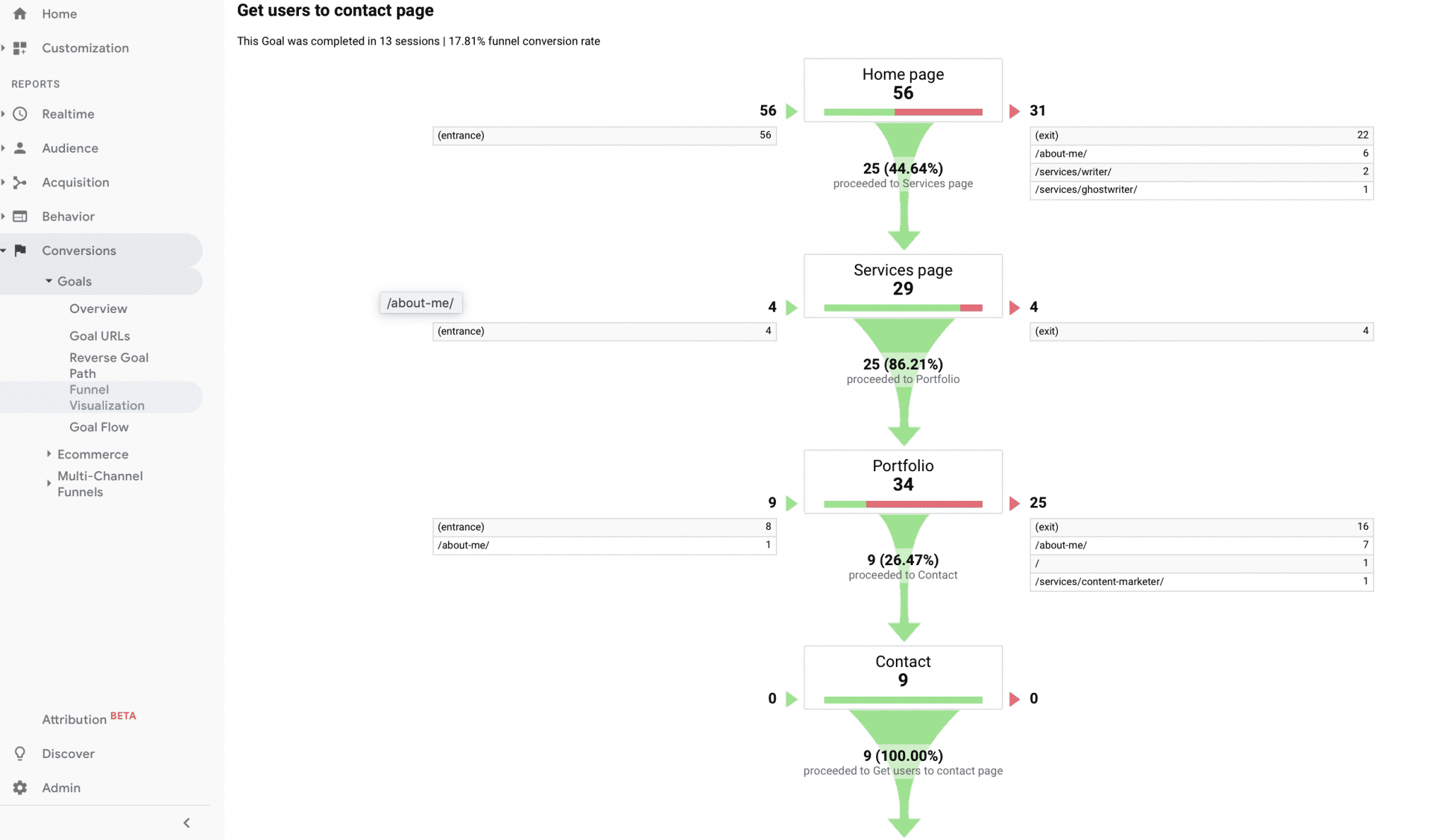 Even more importantly, it will show you where people are falling off in the funnel, making it exceptionally easy to identify where the disconnect may be happening. If you notice that users are dropping off after your About Me, for example, maybe add a CTA that takes people to your product or services pages to keep people moving. You may also realize that the copy on that page isn't what users need to decide to purchase with you.
How to Set Up Goals in Google Analytics
Setting up goals is relatively easy. Head to your "Admin" tab, and then find "Goals."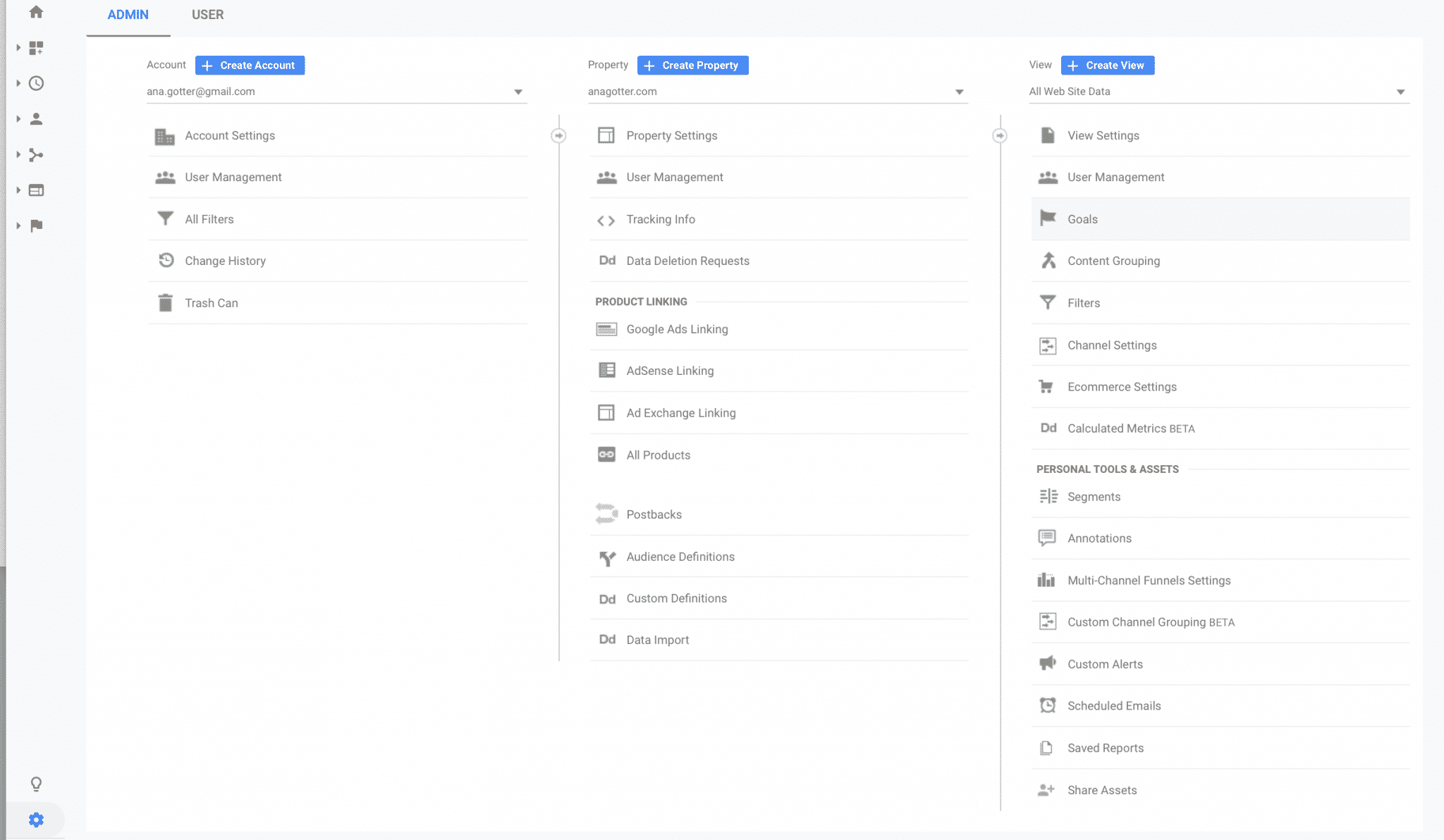 You'll see all of your current goals (if you have any) pop up, along with the option to create a new one.

There are different types of goals you can set up, including the goals of keeping people on your site for a certain amount of time, having a certain number of pages per session, or traveling to a specific destination.

Note that you can set a funnel for these goals, but it's not required. If you just want people to make it to your checkout page and don't care how they get there, that can be tracked in its own right, too.
You also have the option of adding a monetary value to each goal, so you can have a basic idea of what's helping you earn revenue. If each customer moving through a specific services page yields an average $55 order value every time they hit the order confirmation page, you can attribute that to measure it accordingly.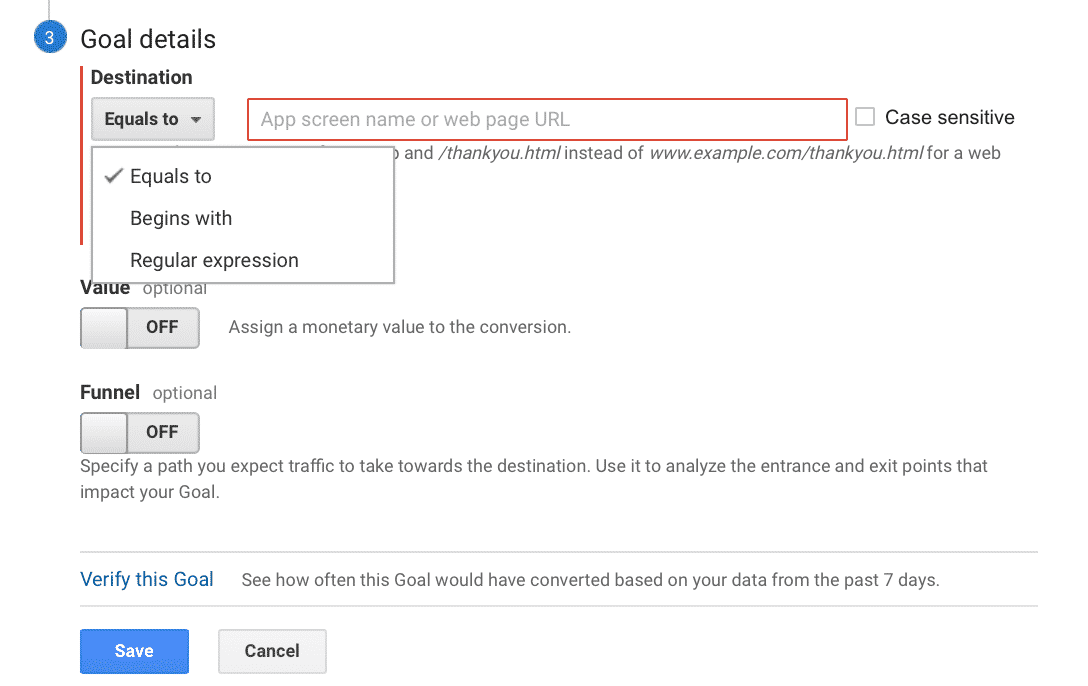 Goals won't tell you everything about your site, but they can tell you a heck of a lot. They're well worth the effort it takes to get them set up.
2. Establish KPIs Before You Dive In 
Key Performance Indicators (or KPIs) are the metrics you're choosing to focus on to gauge the progress and success of your marketing campaigns. 
If you know that you're looking to drive sales, for example, you'll want to track direct conversions and potentially adds-to-cart. When you're evaluating your content marketing strategy, you'll likely want to look at the average time spent on the page and bounce rates to see how relevant the content is to your target audience.
Whatever it is that you choose to measure, you absolutely want to know what it is before you dive into Google Analytics. Otherwise, it's easy to get distracted and overwhelmed by the sheer amount of information at your disposal, and your focus can get muddled by vanity metrics or data that's not immediately relevant to what you need to measure right now.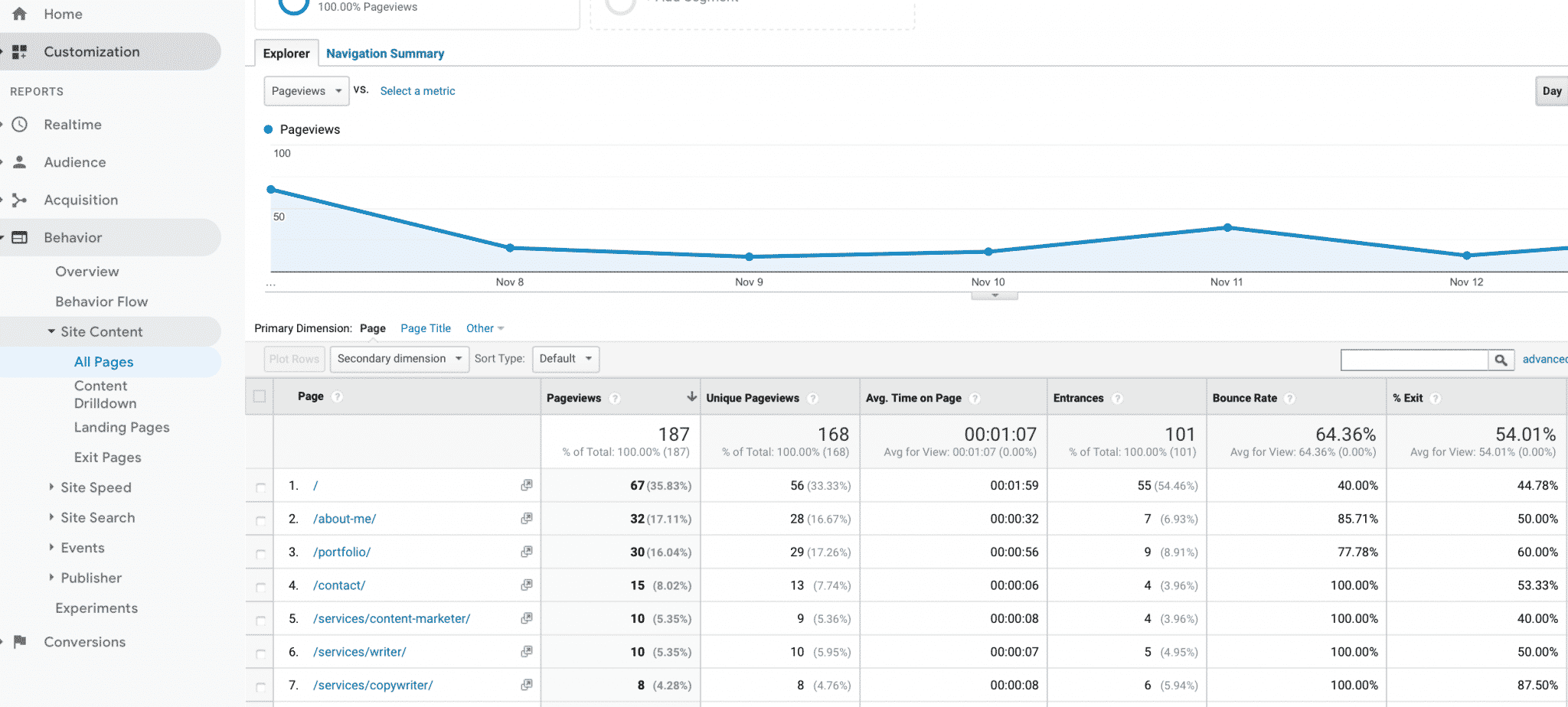 If you need a little help deciding which KPIs you should be focusing on for different types of goals, you can check out a pretty exhaustive list here.
3. Track Progress Over Time, Not Just Immediate Results 
As you're using Google Analytics, it's easy to focus on what's happening right now. While that's clearly important for all the reasons you can imagine, you also want to compare it to past performance.
All sorts of things can change at any moment. 
Consumer behavior has shifted greatly in the past few years, for example, with more Millennials prioritizing buying from companies who are sustainable, ethical, and have strong moral missions even if the products cost more. If you start to see traffic dropping off, it could be an indicator that a new competitor has come onto the market or that your audience is looking for something a little different and you need to shift.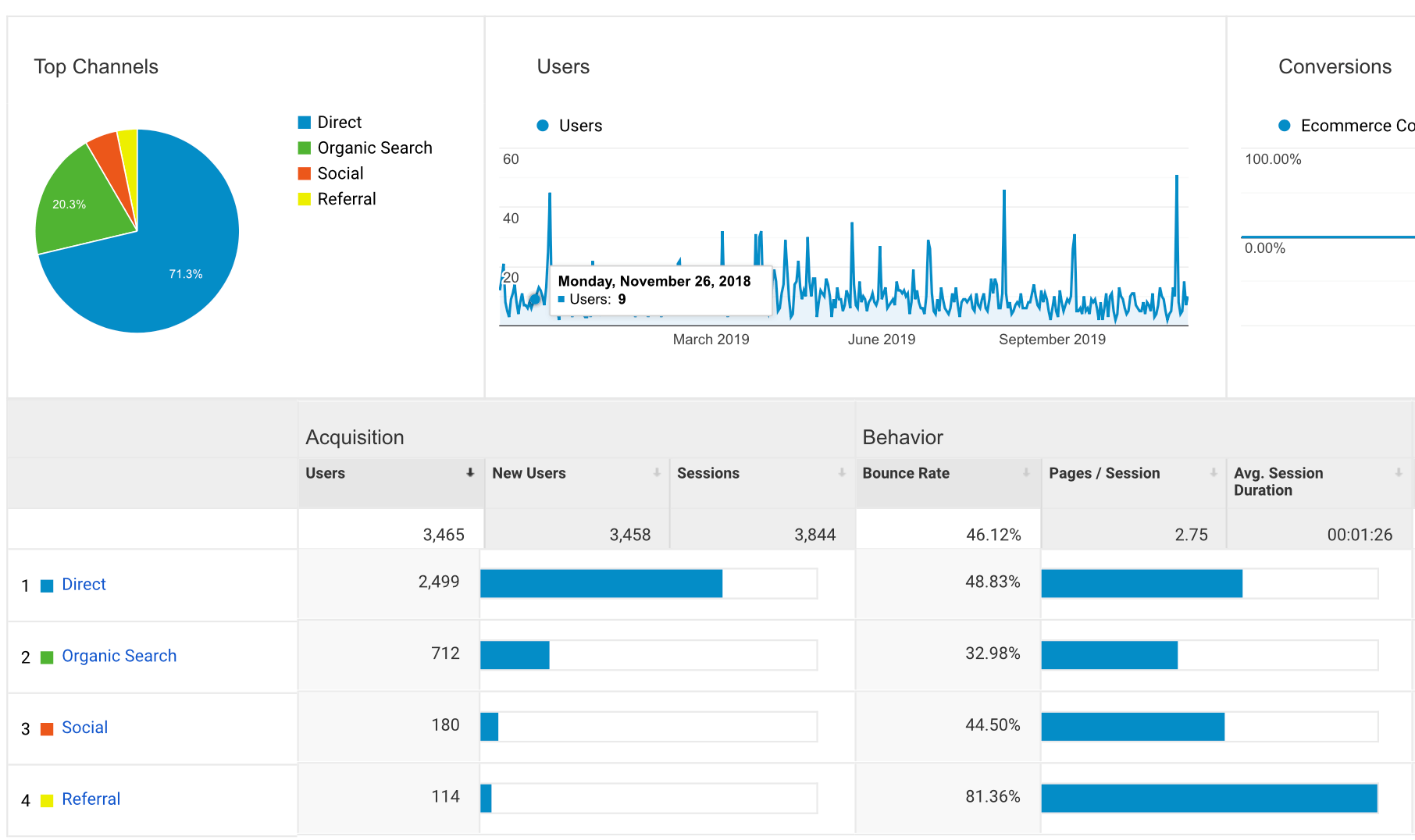 Keyword trends and referral platforms rise and fall in popularity. If you were going all-in on Facebook's organic marketing before organic reach declined, you may have been in for an unpleasant surprise when you saw referral traffic start to slide. Similarly, keywords that may have been generating a ton of traffic for you at one point may not be as popular, or you may find that you've fallen in ranking and are having trouble snagging traffic.
Running a business and online marketing campaigns is a fluid process, and nothing is ever stagnant. You want to watch the ebbs and flows of traffic and results, and monitor your campaigns closely. This will give you the most accurate look at what's happening instead of viewing a single snapshot in time.
4. Use URL Shorteners to Evaluate Specific Campaigns 
The more accurate your data is, the more valuable it becomes. You'll realize this early on when looking at your general referral sources. You'll see that Facebook is sending you 484 users a month, but then realize that it doesn't tell you all that much.
Which Facebook posts are sending you the most traffic, and which are sending you the most valuable traffic? It's likely that a select chunk of your PPC ads are sending you the most high-value traffic, but until you know what they aren't you can't optimize your ad campaigns or your ad spend accordingly.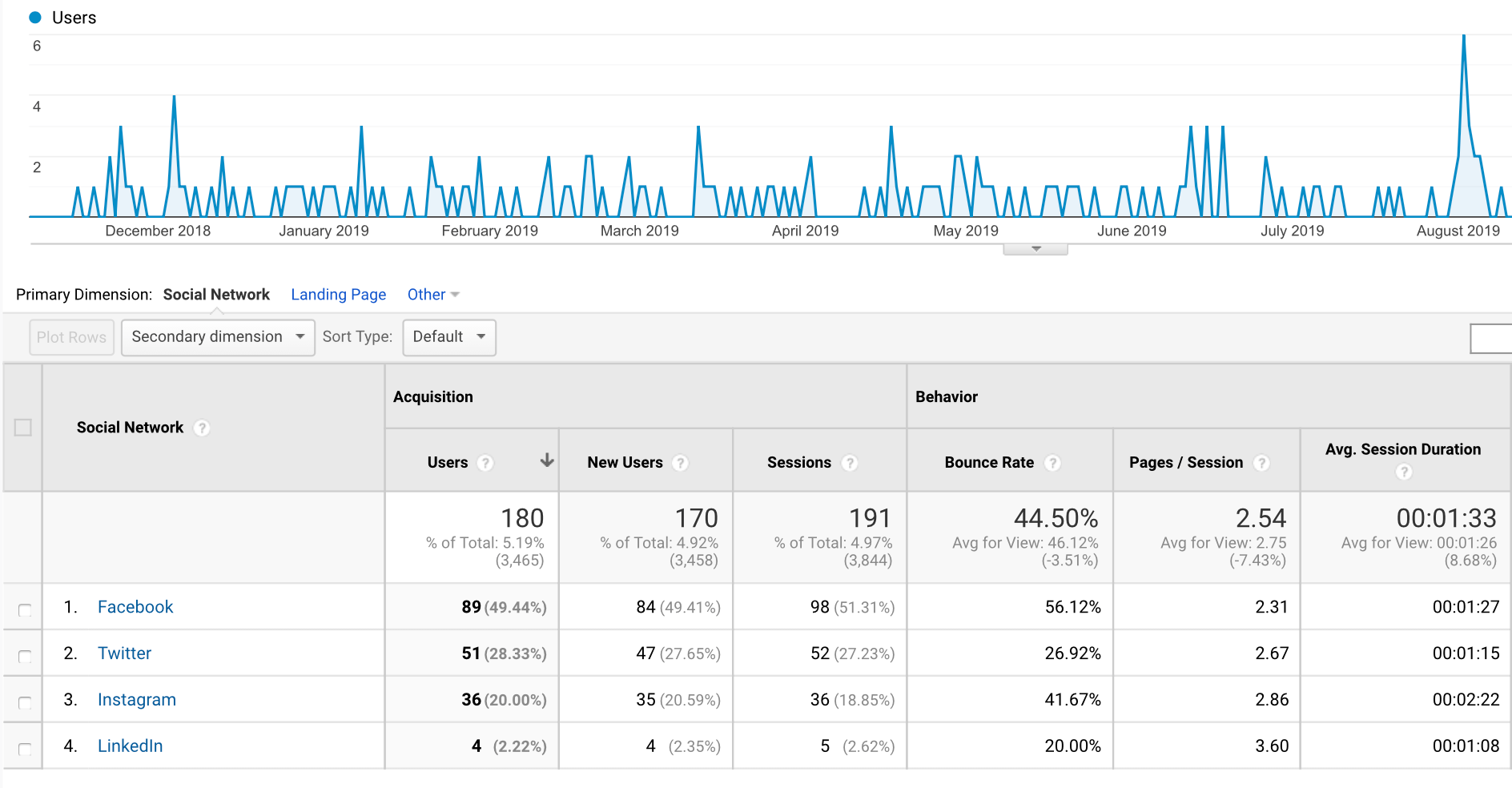 You can use URL shorteners and tags to create customized links that you'll then use uniquely on each ad campaign you want to track individually. You can name these shortened URLs based on the campaigns you're creating, adding a "-ad-7" on the end of them so that you can see which ad campaigns are driving actual traffic to your site. 
URL shorteners, like most other practices here, take a bit more time to set up but can give you a much more accurate and complete look at what's happening on your page. You can see a review of the best shorteners here.
5. Consider Getting Outside Help 
Even the five tips that we've already looked at show that there's a lot to keep up with when it comes to Google Analytics, and in some ways, we're just skimming the surface. There are so many different reports you create and areas to focus on that it's a lot for many small brands to keep up with on their own.
In some cases, it really is best to partner up with a professional agency who is heavily experienced in monitoring and understanding Google Analytics so that they can find the key data you need and pass it along you with actionable insights detailing what to do with it.
If you think this may be the case for your business, check out our web analytics services that we offer here at Disruptive Advertising. Analytics and data are in the lifeblood of Disruptive, and we're excited about all the data that may be giving you a headache. We'll help you focus in on the metrics that matter, set up goal and event tracking, and even go beyond Google Analytics to help you set up heat map tracking to assess your site on a whole new level.
Want to learn more? Check out more details about our analytics services here, and remember that data is only valuable if you actually know how to use it best.
Conclusion
Google Analytics is an exceptional tool that every website owner should be using, especially since it's both insanely thorough and very free. Understanding how to best use the data presented to you, however, will be the most challenging part of using this analytics platform, but these 5 key tips will help you understand the information so that you can create actionable strategies to continue to optimize your site and campaigns for success moving forward.
Interested in getting some help with your analytics platform? You can shoot us a message here to learn more about what we can do for you and how we can help your business.
What do you think? How do you get the most out of Google Analytics? What reports and data do you focus on, and how do you make it actionable? Share your thoughts and questions in the comments below! 
Leave a comment