Disruptive Advertising is One of Utah's Best Companies To Work For
by Jenny Hatch • December 15, 2016
Disruptive Advertising has been selected by Utah Business magazine as one of "Utah's Best Companies to Work For in 2016"!
On December 8th, Disruptive Advertising was recognized in the small company category (between 25 and 100 employees) at an awards ceremony and luncheon held on December 8 at the Little America Hotel in Salt Lake. We will also be featured in the December edition of the Utah Business Magazine.
The Award
"The Best Company to Work For" award has been given to deserving companies in Utah every year since 2010. Companies compete for the recognition each year and "go through a rigorous examination of workplace elements such as benefits and pay, fairness and opportunities, corporate culture, internal communication and employee pride."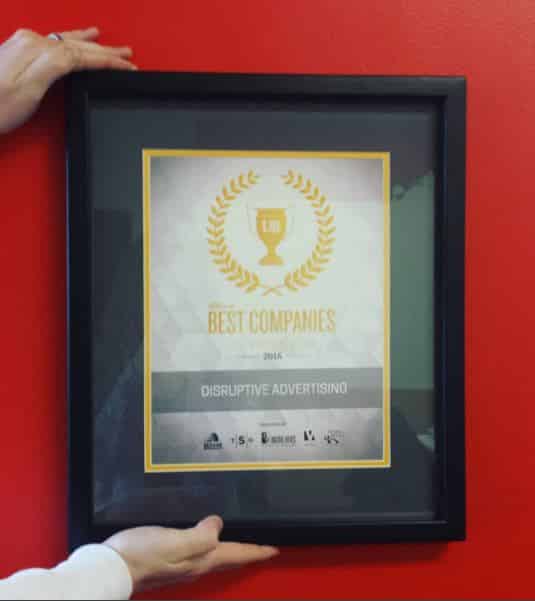 The process also includes anonymous employee surveys from at least 50% of full-time employees. Companies who receive the award value individual talent and achievement, have low turnover and receive high praise from its employees.
About Disruptive Advertising
Disruptive Advertising is a specialized marketing agency providing site testing, analytics and paid advertising management services to over 300 clients internationally. We serve clients in a wide range of industries covering everything from eCommerce to plumbing to software as a service (SaaS).
Headquartered in Lindon, Utah, Disruptive Advertising employs more than 50 full-time employees in its Utah office. Disruptive Advertising offers many perks and benefits for its employees, including:
Volunteer opportunities
Competitive benefits including a 401(k) with company match
Competitive salary
Bonus opportunities
Great company culture
Casual dress code
Health, vision, and dental insurance
Gym membership reimbursement
Training and development programs
Employees like working at Disruptive Advertising because the company culture directly reflects its motto–results based relationships.
As Aden Andrus, our Director of Marketing puts it, "There are so many different people, so many different interests and we really balance them all to deliver value to our clients and to each other. Everyone's willing to pitch in and help take care of our clients."
Learn more in this brief video the Utah Business magazine created about our company:
Other employees enjoy the work-life balance Disruptive values for its employees. "I get to put my life first, not my job first" says Brad Hunt, senior PPC strategist. Many employees find Disruptive's focus on work-life balance and flexibility to achieve a balance refreshing after working for other companies.
Other small business winners of the Utah 2016 Best Companies to Work For in 2016 included:
Animal Care Center
Apex Dental
Beehive Broadband
FJ Management
GPS Capital Markets
Grant Victor
MassMutual Intermountain
NaviTrust Penna Powers
Prince Perelson & Associates
TestOut Corporation
Xima Software
Your Employment Solutions
We were proud to join such a great group of businesses.
Conclusion
Receiving this award is a great honor, but for those of us who work here, it simply confirmed what we already knew—Disruptive is a one-of-a-kind company. We work hard, we play hard and above all we drive great results for our clients and each other.
If Disruptive sounds like the kind of company you'd like to work for, feel free to apply here. We're always growing and we're always looking for great people to grow with.