Do SKAGs Still Work?
by Aden Andrus • June 4, 2019
Here at Disruptive Advertising, we've been fans of single keyword ad groups (SKAGs) for years. But, as with anything in the digital marketing space, things change quickly in paid search marketing, so it's time to take a step back and ask an important question:
Do SKAGs still work?
With all of the recent updates to algorithms and keyword match type definitions, assuming that a once-reliable strategy is still the best way to run set up your campaigns is a potential recipe for disaster. So, in this article, we're going to take a look at why SKAGs worked, how things have changed, and what you can do to ensure that your keyword strategy is rock solid.
How SKAGs Work
Just in case you're feeling a bit rusty or haven't used SKAGs before, here's a quick recap on how they work. Feel free to skip this section if you're already well-versed in the art of SKAG-ing.
To put it simply, SKAGs are what the name suggests: single keyword ad groups. When you set up a paid search campaign, part of the process is to create ad groups. TThese ad groups contain lists of keywords that you want to target, which play a big role in determining what placements your ad is given.
Traditionally, your ad groups will contain multiple keywords, with the goal of creating an expansive campaign that will help you reach users who might search for the same thing in different ways, like the list below: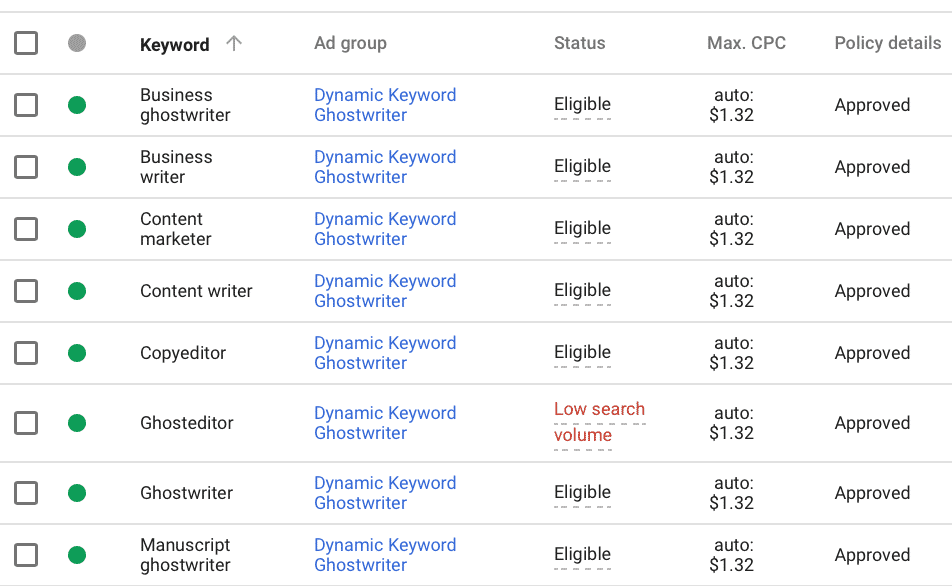 With SKAGs, however, you focus on one keyword and its match type variants. So, for example, if your focus keyword was "PPC advertising", you might choose the keywords [ppc advertising] (exact match), "ppc advertising" (phrase match) and +ppc +advertising (modified broad match).
And that's it.
If you wanted to target the keyword "PPC management", you would create a completely new ad group and target the keywords [ppc management], "ppc management" and +ppc +management. Make sense?
The power of SKAGs stems from the fact that they give you ultra-specific control over who sees your ads, which allows you to write ultra-targeted ad copy for each keyword. If you're a digital marketing agency like Disruptive, someone searching for "PPC advertising" might not be your ideal customer. So, you'd create different ad copy for that keyword than you would for someone who is searching for a "PPC management".
Specificity sells and SKAGs have always been one of the best ways to specifically match your keywords (and their associated search terms) with relevant ad copy. As a result, for years they've been a very effective way to run paid search campaigns. But is that still the case?
How Match Types Have Changed
As with everything search, paid search advertising has always relied heavily on Google's (or Bing's, etc) ability to match search results to search intent. Early on, when Google's algorithms weren't as well-developed, Google put most of the burden of identifying the right keywords on advertisers.
To help us out, however, they created very clear lines between different match types to give advertisers as much control as possible over which searches their ads showed up for. That was great…except for the fact that it meant you had to spend endless hours coming up with every possible search term, misspelling or other iteration a potential customer might use.
In recent years, however, Google's algorithms have gotten a lot better at interpreting search intent. As a result, they've slowly expanded the definitions of their match types—especially exact match.
For example, back in 2014, Google introduced the concept of close variants. Close variants gave Google more flexibility to show your ads to people who were obviously trying to enter your keywords, but had a typo, spelling error or pluralized something.
Then, Google further expanded close variants to incorporate rewording and filler words: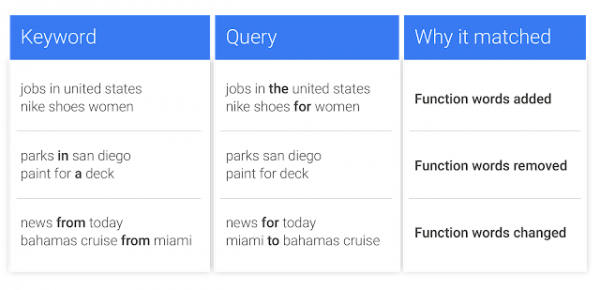 As you can probably imagine, this created a lot of headache for us paid search advertisers with our carefully crafted SKAGs and ad copy. However, with the right scripts and negative keyword lists, we were still able to make SKAGs work.
In September 2018, however, Google put the final nail in the coffin when they expanded close variants to include search queries that matched the intent of a search—not just the specific keywords.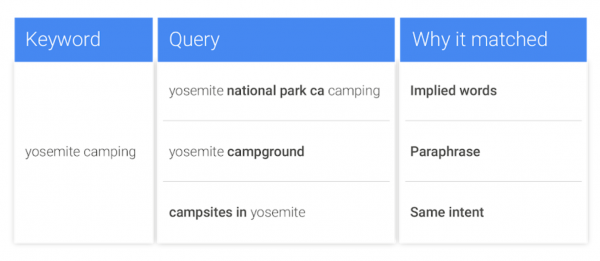 This newest update left the definition of exact match keywords as basically "more specific search intent than phrase match", which is a little hard to build a SKAG around. As a result, many time-tested, well-optimized accounts are now seeing decreases in performance. It's not fun, but that's the rub.
The Death of SKAGs
Unfortunately for those of us who have put countless hours into building out single keyword ad groups, Google's new definition of close variants means that SKAGs now cause many of the problems they were designed to avoid.
Case in point, let's go back to our PPC advertising/PPC management example from before. If you have a SKAG for "PPC advertising" and one for "PPC management', which ad shows when someone searches for "PPC ad campaigns"?
You might be able to solve some of this with extensive negative keyword lists, but that can be a huge waste of time, effort and (potentially) missed impressions, clicks and conversions.
The end result of all of this complexity? SKAGs are dead. They simply aren't viable in today's paid search environment.
However, this eulogy isn't without a bright side. In a way, close variants basically represent Google's incorporation of the SKAG model into the definition of exact match. Except, now that model is powered by Google's impressive machine learning algorithms.
As a result, while this means that those of us still trying to make our old SKAG campaigns work will need to rethink our strategies, the end result of all of these changes should be easier, better advertising for everyone.
Looking to the Future
All that being said, what does the death of SKAGs mean for the future of paid search advertising? While making the SKAG model accessible for everyone sounds good on paper, adversity is often the secret to marketing success. The harder something is, the fewer people will do it and the better the results will be for the people who are willing to put their heads down and make things work.
Now that you can't use the grind of creating and optimizing your SKAGs to give yourself a market advantage, how do you thrive in an increasingly competitive paid search environment?
While I certainly don't claim to have all the answers, here are a few opportunities to keep your eye on:
Refocus Around Intent
Now that paid search is migrating to an intent-focused model, it's time to do the same with your ad copy and landing pages. A lot of old tactics were built around a SKAG-type model, where you picked a keyword, modified your ad copy to include something relevant to that keyword and then sent people to a landing page that featured that keyword and some relevant content.
That model simply doesn't work when you can't precisely predict the search terms that will trigger your ads.
Instead, it's time to refocus around the intent behind the searches that trigger your ads. While this certainly takes more time and effort than the old strategies, it's a great way to stay ahead of the pack in these changing times. Here are a few ideas to get you started:
Rethink Your Ad Copy
Behind every online search is a problem. We want to know something, do something, get something, etc, so we hop on Google and search for an answer to our problem. That problem is the key to understanding the intent you need to address in your ads.
As a quick example, here are some ads you might see if you search for "renew passport":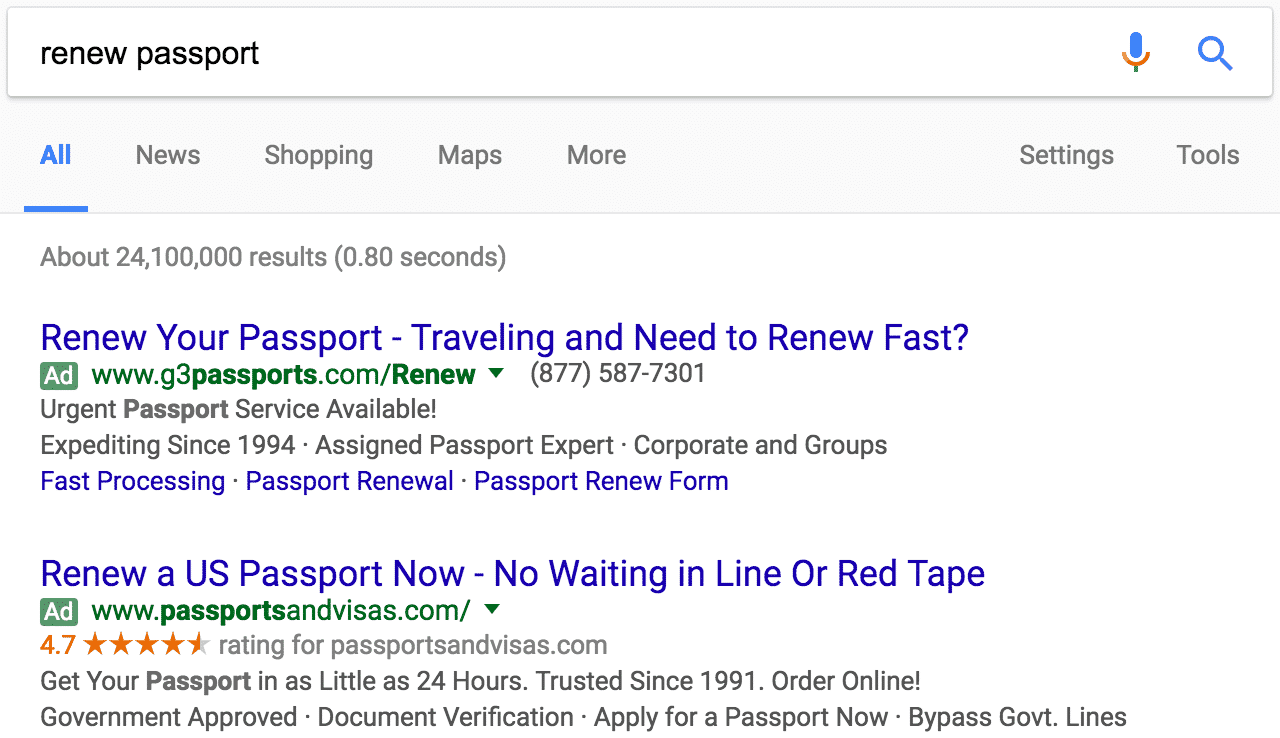 What's the problem driving people to search for ways to renew their passport? Most of the time, it's one of two things: 1) they need to get their passport fast for an upcoming trip or 2) they understandably don't want to deal with the lines at the passport office.
Because the ads above address the intent behind a searcher's query, it doesn't matter whether or not someone types in "renew passport", "get my passport renewed" or even "what's the fastest way to renew my passport online?" The needs driving each of these search terms are fundamentally the same, so the ads work.
Although you might not be able to guarantee that someone's search term will show up in your display URL or headline, intent-focused ad copy will make your ads versatile enough to address a potentially wide range of searches while still being specific enough to grab a potential customer's attention.
Redesign Your Landing Pages
Of course, creating ad copy that speaks to your customer's search intent doesn't mean very much if your landing page doesn't deliver a solution to their needs. For example, let's say you are interested in adopting a cat from a shelter. You might open up Google and type in "adopt a cat" and see something along the following lines: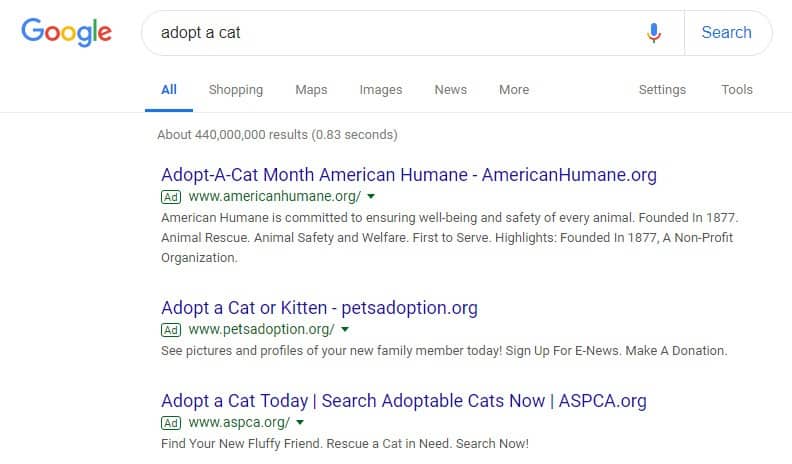 These all match your search intent, which is great, but what if you clicked on one of these ads and ended up on the following landing page?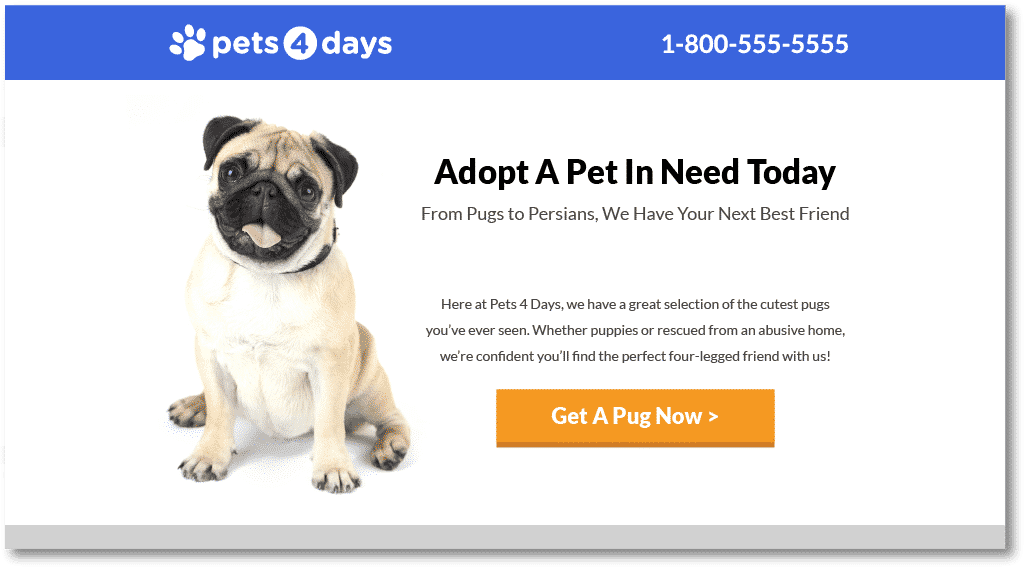 Feeling lost? Me too.
Sure, you're on a page for your shelter, but the headline talks about adopting a "pet", not a cat. That doesn't match your search intent. To make matters worse, the hero shot and the CTA button both talk about dogs!
Because this landing page doesn't reflect the intent that drove your original search and your ad click, you're not likely to stick around. Yes, this is an extreme example, but it illustrates the importance of matching search intent with your landing pages. Even if your landing page includes the "right" keywords, if it doesn't solve the customer's problem, they'll leave in search of a landing page that does.
In the past, paid search marketing was focused on maintaining keyword consistency from search to click to landing page. Now that you can't tightly control your keywords anymore, your focus needs to switch to maintaining intent consistency. And, since your customers ultimately care a lot more about having their problem solved than seeing their keywords on your page, it's a change for the better.
Plan for Voice Search
Between Alexa, Siri, Cortana and all the other virtual assistants out there, voice search is becoming an increasingly prevalent part of daily life. And, this very well may be a big part of the reason for Google's shift away from keyword matching to intent matching.
After all, typing something into a search bar forces a sort of thoughtfulness and predictability into online search. How many times have you listened to a recording of yourself talking, however, and thought, "Wow, do I really say that many 'ums'?"
Unlike the written word, where we are forced to take the time to think through things before (or while) we are typing them out, talking has a random, spur-of-the-moment quality to it. The words you use to say something and how you use those words are far less predictable than they are when you write something—especially once you take dialects and colloquialisms into account.
As a result, voice search must be intent-driven. There's simply not enough predictability to depend on true exact match or even phrase match keywords for advertising.
So, while voice search advertising is very much in its infancy, nailing the intent behind your keywords and rebuilding your paid search campaigns around that intent will help set you up for what promises to be a very interesting transition into voice search advertising.
Conclusion
While SKAGs might be dead, that doesn't mean the end for your paid search results. Honestly, this shift in focus from keyword matching to intent matching is actually good news for creative advertisers. After all, it allows you to focus on communicating a message—not working the system.
And, since most of your competition is probably still trying to figure out how to relive the glory days, this is a huge opportunity for you to differentiate yourself. Seize the day, look to the future and make the most of this new opportunity!
By the way, if you'd like help rethinking your paid search advertising strategy, let me know here or in the comments! We'd love to help.
How do you feel about Google's changes to close variants? Do you agree that SKAGs are dead? What sorts of tweaks have you found helpful in recent months? Leave your thoughts in the comments.