Why You Need to Start Testing Your Ad Copy Today
by Aden Andrus • December 23, 2019
Testing your ad copy. Ugh. If you're like most people, the very thought of coming up with new ad copy for your paid search or paid social ads can feel overwhelming.
It can be hard enough to come up with one set of ad copy for each ad, let alone two, three, four or more variants to test. When you've got so many other things to take care of, do you really have to test your ad copy?
Well, technically, the answer is "no." To run ads, you only have to come up with one set of ad copy.
However, there are some really good reasons why you might want to invest some extra time and effort into optimizing your ad copy. And, hopefully, after reading through this article, you'll not only feel more motivated to start testing your ad copy, but you'll also have several ideas to try.
Sound interesting? Read on, my friend, and let's take a look at why testing your ad copy is such an important part of digital advertising.
Is Testing Your Ad Copy Worth It?
I won't sit here and tell you that coming up with and testing your ad copy is a walk in the park. If you're doing it right, it takes work. But is that work worth it? Absolutely.
For example, when we started working with one of our clients, they had been running paid search ads on Google for a while. Their ads were working—the business was profitable, after all—but they also weren't anything to write home about.
But, they really hadn't done any ad copy testing. They'd simply gotten some ads up, tweaked a few things until they were profitable and called it good.
From experience, however, we had a feeling that their ads could be better. So, the first thing we did was hop in and start testing changes to their ad copy. Here's what happened: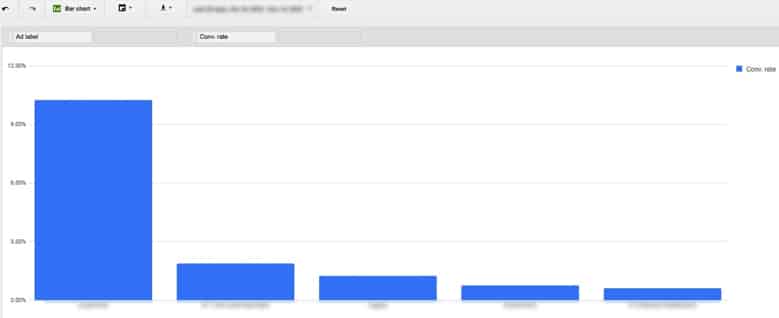 With just a few strategic tests, we increased the client's conversion rate—not just their clickthrough rate—from 2.25% to 10.17%. As a result of our ad copy testing, their cost-per-conversion dropped by 97.3%!
If that doesn't sell you on the power of ad copy testing, I don't know what will. Was the effort to test the ad copy worth it? Heck, yes!
Now, depending on your business and industry, your ad copy testing results may not be this dramatic, but testing your ad copy almost always leads to significantly better campaign performance. The trick is learning how to come up with compelling new copy ideas to test out.
Rethinking Your Ad Copy
To be honest, actually testing your ad copy is fairly easy. Most advertising platforms like Facebook or Google have built-in options for testing or even allow you to create responsive ads that automatically test different combinations of headlines, descriptions, images, URLs and other ad elements to find the best performing copy.
The trick is figuring out a variety of different messages and appeals to use in your ad copy. You've probably spent so long thinking about your products or services that it all seems pretty cut and dry to you. It can be hard to think about things from a potential customer's perspective.
So, to help you out, here are several techniques we use here at Disruptive to come up with compelling ad copy to test:
1. Can You Make an Emotional Appeal?
Why do people buy? Well, according to Caroline Winnett and Andrew Pohlmann of The Nielsen Company, 90% of purchasing decisions are made subconsciously. In other words, most people aren't fully aware of why they buy—it just feels right.
Emotion fuels every step in the buyer journey. For most people, the first step towards making a purchase is recognizing that they have a problem. Whether they realize it or not, they feel some sort of pain or discomfort and start looking for a solution.
As an easy example, check out the ads that appear when you search on Google for "renew passport":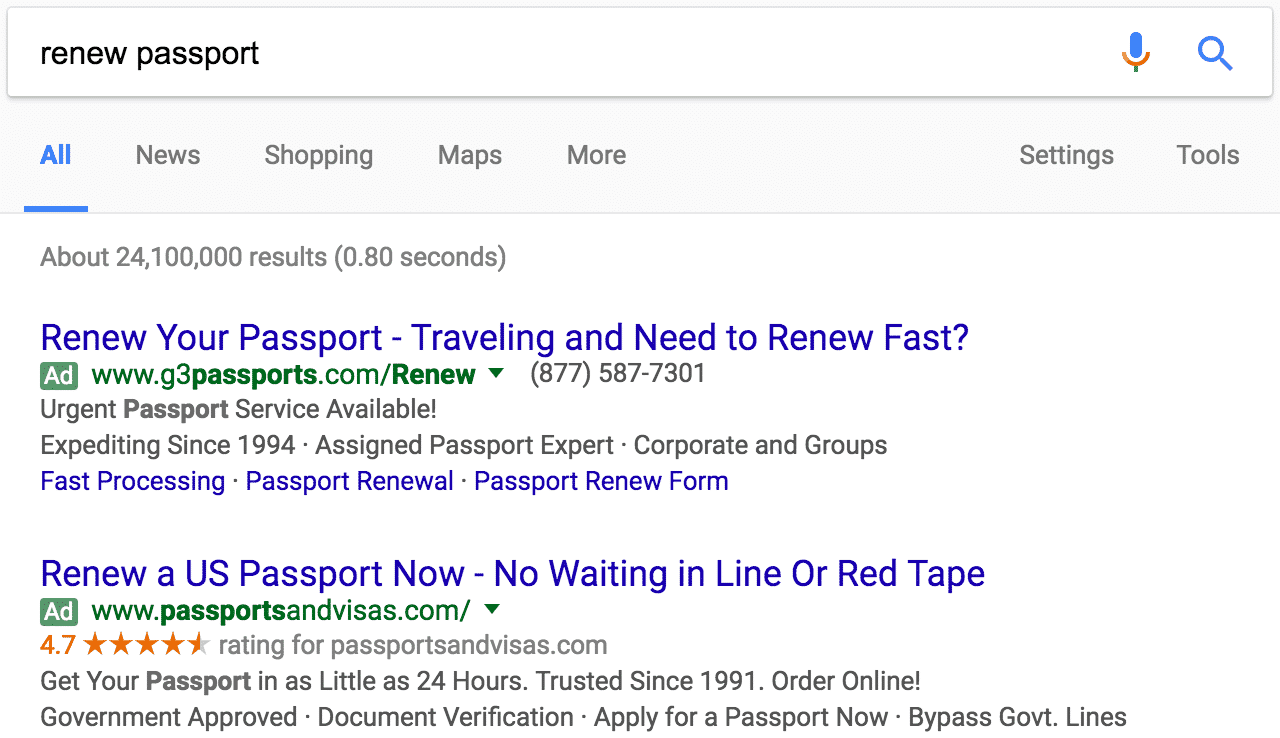 From these ads, it's not hard to guess at the pain point that motivates people to search online for a way to renew their passport: they're either in a rush because they have an upcoming trip or they're trying to avoid the lines at the passport office. This sort of copy makes people feel understood and valued, which means they'll be much more likely to click and convert.
The key to creating successful ad copy is identifying which emotions you need to evoke in your target audience. And how do you figure that out? Test a few different emotional appeals!
2. Can You Make a Logical Appeal?
Emotion is a funny thing. While it's the dominant factor in our decision-making, we all like to feel like we're making decisions for logical reasons. So, we love to look for logical arguments to validate our emotions.
If you can offer an easy, compelling logical appeal to your ads, it will make people feel better about clicking and converting.
The first place to start is by thinking about the potential objections of your target audience. What obstacles—real or imagined—keep people from clicking or converting? Price? Perceived value? The trustworthiness of your site, product or service?
If you can anticipate obstacles and address them early, you can appease the logical brain before people even start to question your product or service. Keep people feeling good about your products or services and they're much more likely to buy.
For example, consider the following project management software ads: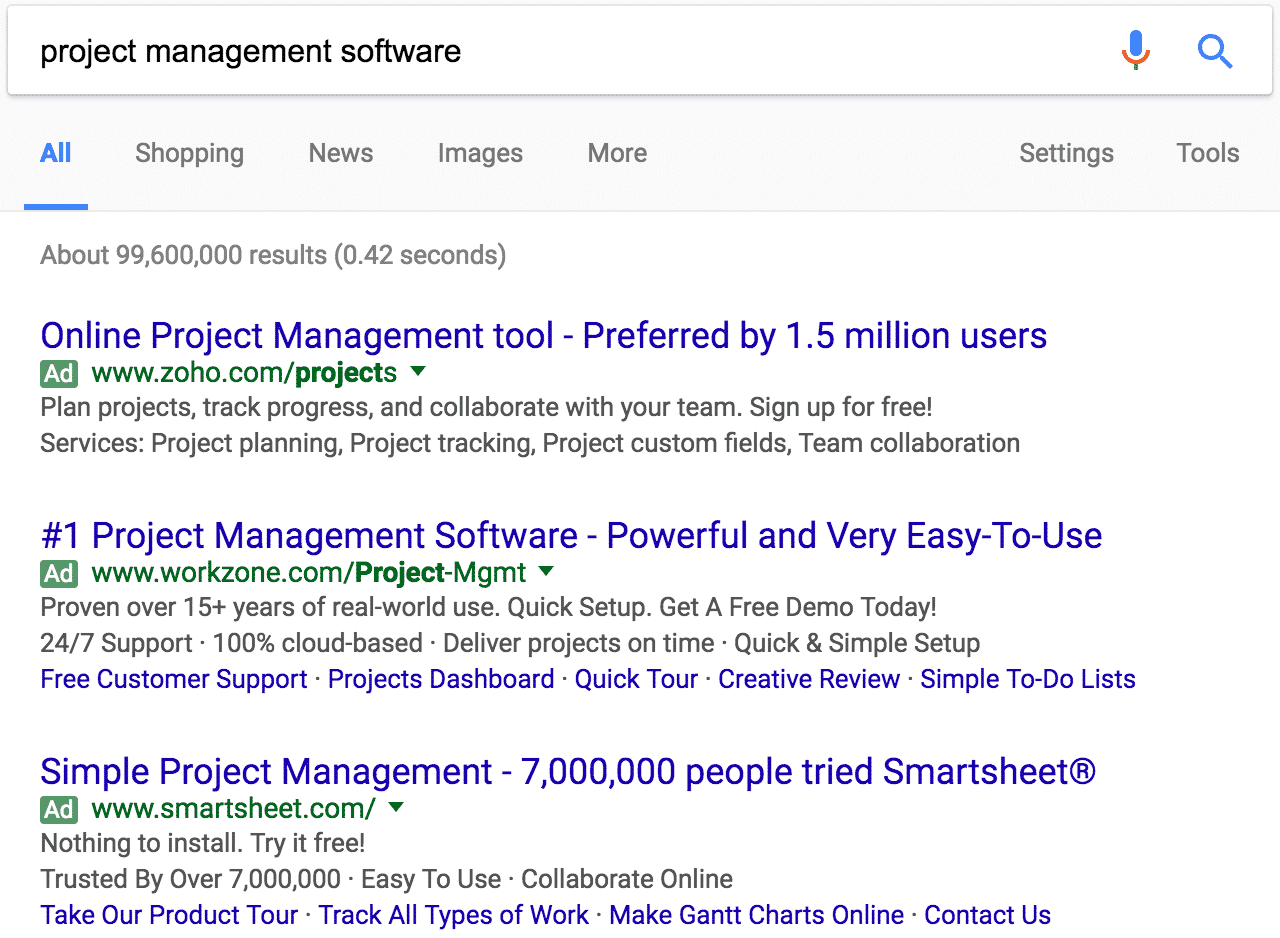 These ads do a great job of using numbers to anticipate and resolve potential objections. What's one of the biggest potential concerns a business owner might have about investing in project management software? The stability of the platform.
To resolve these concerns, these businesses focus on the size of their user base and how long their software has been around. Their goal is to be seen as credible and well-established so that their potential customers feel confident in using their platform.
The right logical appeal is an emotional appeal. It satisfies the rational side of the brain and makes people feel more confident in their decisions. As a result, they stop worrying about whether or not they're making the right decision—which is good news for your business.
3. Is There a Good Way to Grab Their Attention?
Emotional and logical appeals are all fine and good, but for your ad copy to work, people actually have to notice it. So, if you want people to click and convert, you have to figure out how to get people to pay attention to your ads in the first place.
The good news is, there are some pretty easy ways to grab people's attention with your ad copy.
For instance, have you ever bought a new car and then suddenly started to notice that car everywhere? Psychologists refer to this phenomenon as "selective attention". To put it simply, selective attention is how our brains handle the overwhelming amount of stimuli we have to process on a daily basis. To keep us sane, our brains filter out everything except for the things that matter most to us.
The feeling of your clothes on your body, the couple talking in the other room, that banner you scrolled past earlier today…they're all deemed irrelevant by your brain, so you don't notice them. But if someone suddenly says your name, your ears immediately perk up. Why? Because your brain has marked your name as a high priority word.
Do you know what else your brain marks as high priority? The words or phrases you use to search for something online.
By flagging those words as relevant and important, you're able to quickly scan through search results and identify potentially useful content in a matter of seconds. It's why scanning works—your brain identifies high priority words and phrases and filters for those key terms at incredible speed.
Google's well aware of how selective perception works, so they help the brain out by bolding those key words or phrases in their search results, as you can see in the following ads: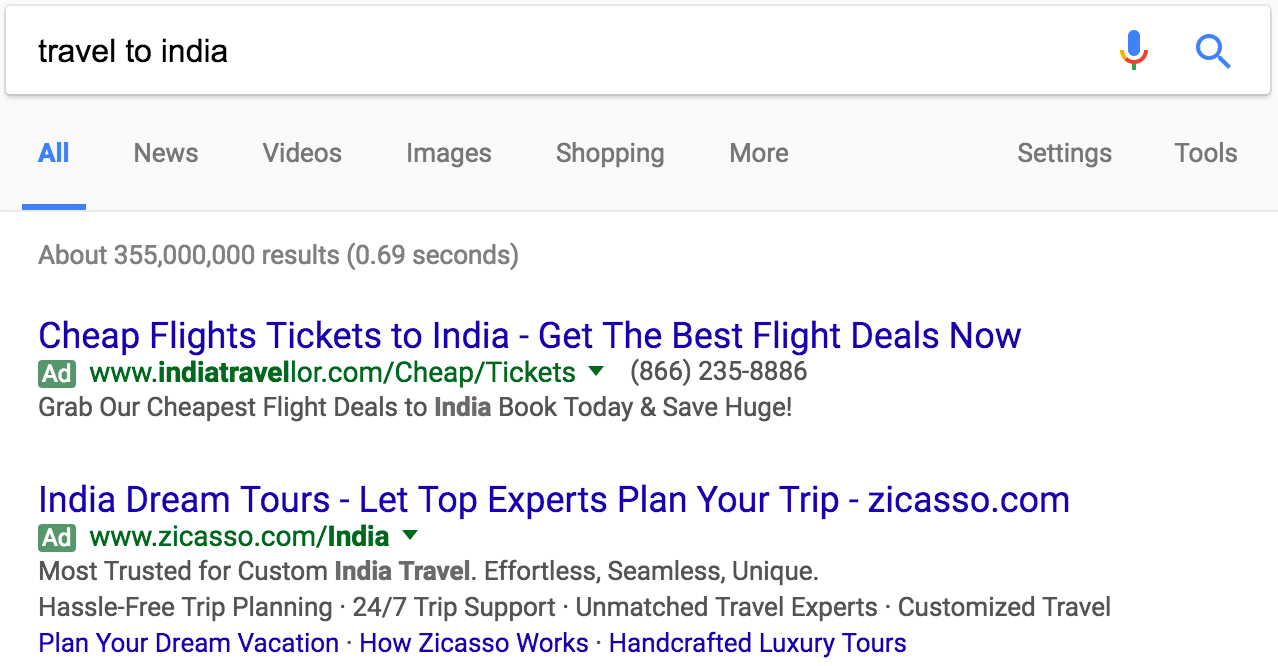 The search was for "travel to india", so what does Google bold? Words like India and travel. That way, it's as easy as possible for users to find what they're looking for.
This principle applies whether you're writing copy for paid search ads or paid social ads. When your potential customers are on the lookout for a solution to a problem, their brains are constantly searching for relevant info—even when they're not actively searching online.
So, if you can incorporate the terms your audience's brain is searching for into your ad copy, you're much more likely to grab their attention and get them to click and convert. All you have to do is try and come up with a few different ways that people might be thinking about their problem or your solution.
Conclusion
Is ad copy testing worth it? Definitely. And, hopefully, you now have some ideas for new ad copy to test in your own campaigns.
The trick is understanding your audience, what they are looking for and how to appeal to the logical and emotional sides of their brains. Once you've figured that out, all you have to do is write out a few different ways to position your message and test them to see which one produces the best results!
Oh, and by the way, if you're excited about the idea of testing your ad copy and want some help from our team of experts, let us know here or in the comments. We'd love to help!
How do you approach ad copy testing? Have any helpful advice to share? Do you like this approach to coming up with new ad copy to test? Leave your thoughts in the comments.