How We Build B2B Journey Maps That ACTUALLY Produce Results
by Aden Andrus • June 23, 2020
For most B2B businesses, the buyer journey can be fairly long and complex. You're trying to nurture and develop a long-term relationship, after all.
To successfully convert a potential customer into a paying one, you have to do more than just build out a basic email drip campaign. You have to get into your customers' heads, understand the journey they're on and figure out how to support them at every step along the way.
And to do that, you need to create B2B buyer journey maps.
If you're not familiar with the concept of buyer journey maps—or you're having trouble getting good results out of your current buyer journey—don't worry, you're in the right place.
In this article, we're going to teach you how to go beyond basic email drips and create B2B journey maps that engage, re-engage and ultimately convince your prospects to buy from you. Even better, we'll show you specific examples of how we set up buyer journeys that produce real results for our own clients.
Sound like a plan? Let's get started!
B2B Journey Maps
So, why B2B journey maps? What makes them so important and so useful?
Well, as we already mentioned, your customers are on a journey. That journey is complex and encompasses a variety of needs, goals, problems and potential touchpoints.
A good B2B journey map helps you account for all of that. It gives you a way to step back, look at the big picture and find the best ways to interact with your customers at each stage of their journey.
For example, here's a bird's eye view of part of Disruptive's own journey map: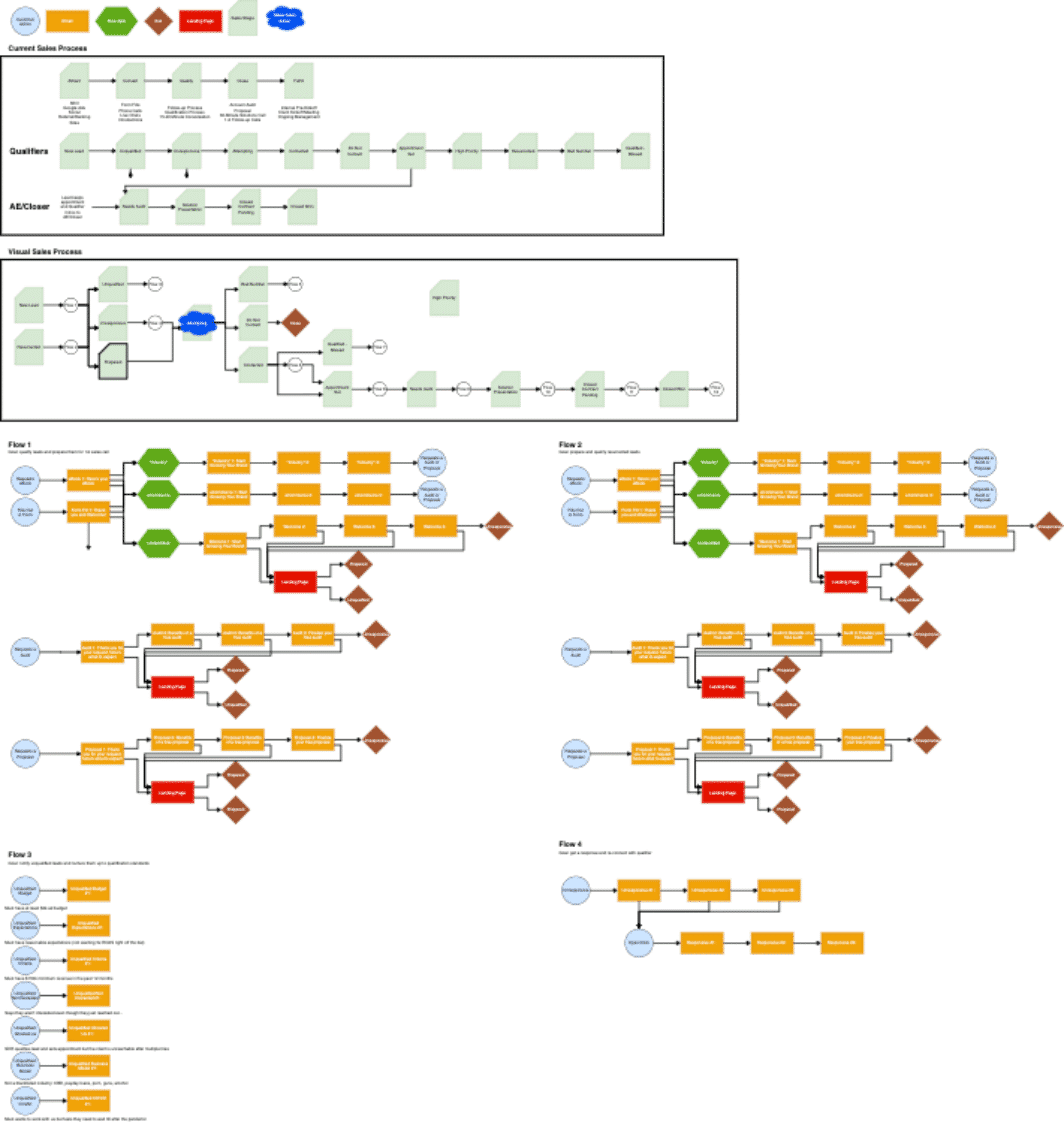 Of course, a good journey map isn't static. You're constantly learning about your customers, so your journey map will constantly be evolving.
However, by outlining your vision for your customer journey, you get a sense for all of the steps they are taking along the way. That allows you to understand their journey on a deeper level, so you can easily see where things aren't working and adjust your plan as needed.
Building Effective B2B Journey Maps
A detailed B2B journey map gives you a sense for everything you need to do to turn a prospect into a customer.
Here are a few things we ask ourselves as we build out journey maps for our B2B clients:
What does our overall journey look like?
How should we segment our audience?
Is there any way we can get our audience to self-segment?
How does the customer journey differ for different segments?
What touchpoints will help our potential customers get from where they're at to where we want them to go?
What assets do we need to create?
Are there any criteria we can use to rank or qualify users?
What are the key progress indicators that we need to respond to?
In many cases, a good B2B journey map may be multi-layered. One view might encompass all of your marketing channels and show your entire journey as a whole. Then, for each channel, you can build out a separate journey map that allows you visualize the specific strategy for that particular channel.
With this approach, it's easy to map everything out and see all of your potential segmentation opportunities. Often, as you're building everything out, you'll discover that you haven't accounted for certain segments. Or, you might realize that the resources you've created for certain segments could easily be repurposed for other segments.
Overall, building out multi-channel, in-depth B2B journey maps allows you to create a streamlined, inter-connected, multi-channel plan for each customer segment. Every potential customer should be covered by some part of your map. The better your visual outline is, the easier it will be to understand where each prospect fits and how to support them on their journey.
Setting Up Your Map
So, how do we build out effective B2B journey maps? You know, the kind that actually make a real difference for our clients? Let's take a look.
The example below shows the email flows we've built out for one segment of a B2B client's marketing strategy (click on any of the images below to see a larger version):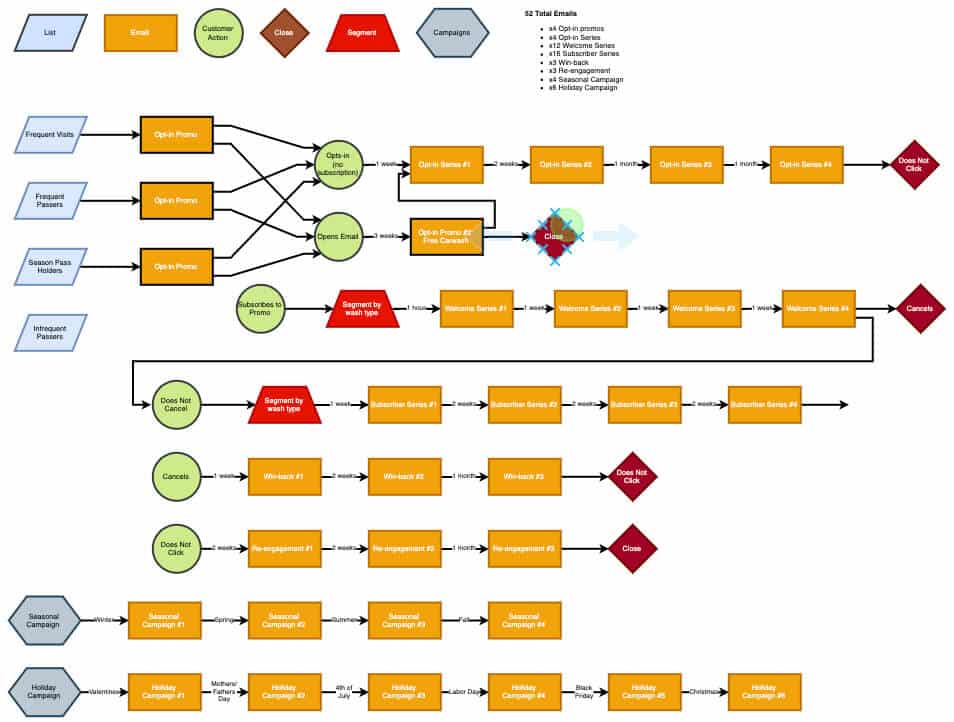 Since email is a key part of most B2B journeys, we're going to focus on that in this article, but the same principles apply to different segments of your journey map—or your journey map as a whole.
Breaking Things Down
The first thing to notice here is the fact that this map quickly gives you a sense for just how involved their customer journey is. We're only looking at one segment of their overall journey, but these flows still encompass over 50 emails.

The users in this segment are all people who have already expressed an interest in working with this particular client. They're already pretty far into their buyer journey—in fact, many of them have already made purchases.
That being said, your buyer journey doesn't end when you make the first sale.
For this particular high-interest segment, our goal is to get people to sign up for the client's subscription plan. We want to turn these buyers into long-term subscribers.
To make that happen, we've split these users into several lists based on their activity. Then, we created specific promotional emails based on which list they're a part of.
Each email contains a carefully crafted offer designed to appeal to the specific needs and interests of the target segment.
Ideally, they'll subscribe, but if they don't sign up, they can opt-in for non-subscription series of emails that continues to nurture them towards that goal. If they don't opt-in, we have additional email with an offer designed to motivate them to opt-in.

This entire flow is designed to get the client's high-interest users to take the next step towards signing up for their subscription services. If they aren't ready to do that, they end up in a flow that provides value and deepens the relationship in a way that gets them ready to subscribe.
If they do sign up for a subscription, they get entered into a separate flow:

The goal of this flow is to get users who signed up for the promo subscription excited enough about what they're getting to stay on board once the promo ends. Depending on what sort of subscription package they initially sign up for, they get a specific series of emails that will hopefully turn them into a long-term customer.
If things work out, they continue to get a package-specific series of emails reinforcing that decision. If they cancel, they get a package-specific series of emails designed to win them back and get them to re-subscribe.
Finally, in the event that they take advantage of the promo but don't respond to any of the emails, we have a set of re-engagement emails aimed at activating these users and getting them excited about their subscription package.
As you can see, even with this highly-specific, high-intent audience, we've still built out dozens of emails designed to address different needs and levels of response. No matter how these users interact with our campaigns, we have emails in place that will bring them back, encourage them to take the next step and move them forward in their journey.
Honing Your Approach
Of course, not all B2B businesses are trying to get people to sign up for a subscription package. Depending on your business and what you're trying to sell, your B2B journey map may look very different from the one we just discussed.
For example, here is a map we built out for a different client: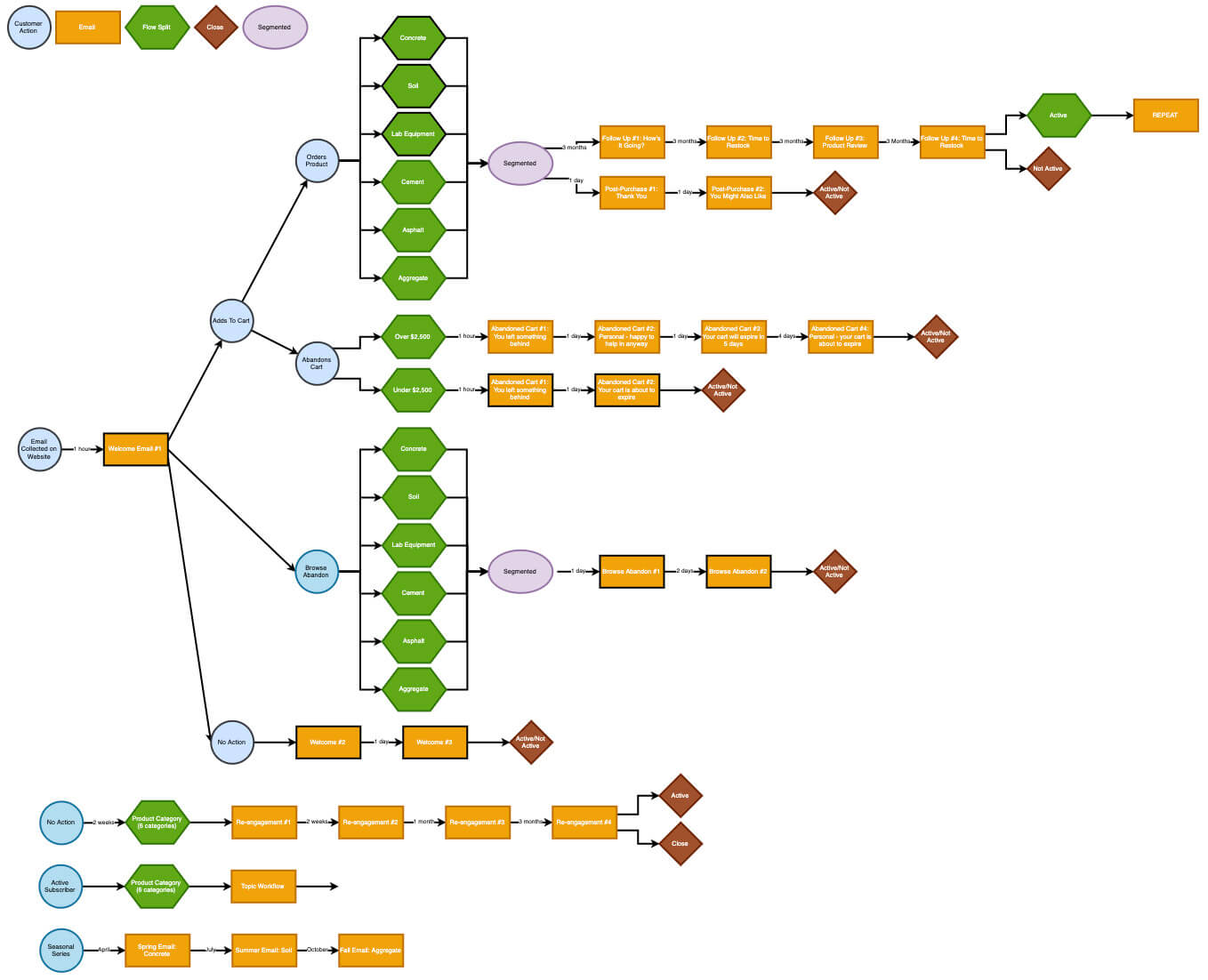 As with our last example, this journey map is built around a segment of high-intent users, but because this client sells a variety of products, our approach is very different.
For example, most of these users have not made a purchase. This flow starts when a prospective customer fills out a form on the website. They get a welcome email that encourages them to make a purchase.
Depending on how they respond to that email and which products they show an interest in, they can end up in a variety of potential email flows.
If they don't check out the site at all, they get a series of emails that encourage them to visit the site and take a look. If they visit the site, browse and don't add anything to their cart, they get a series of emails based on what types of products they looked at on the website.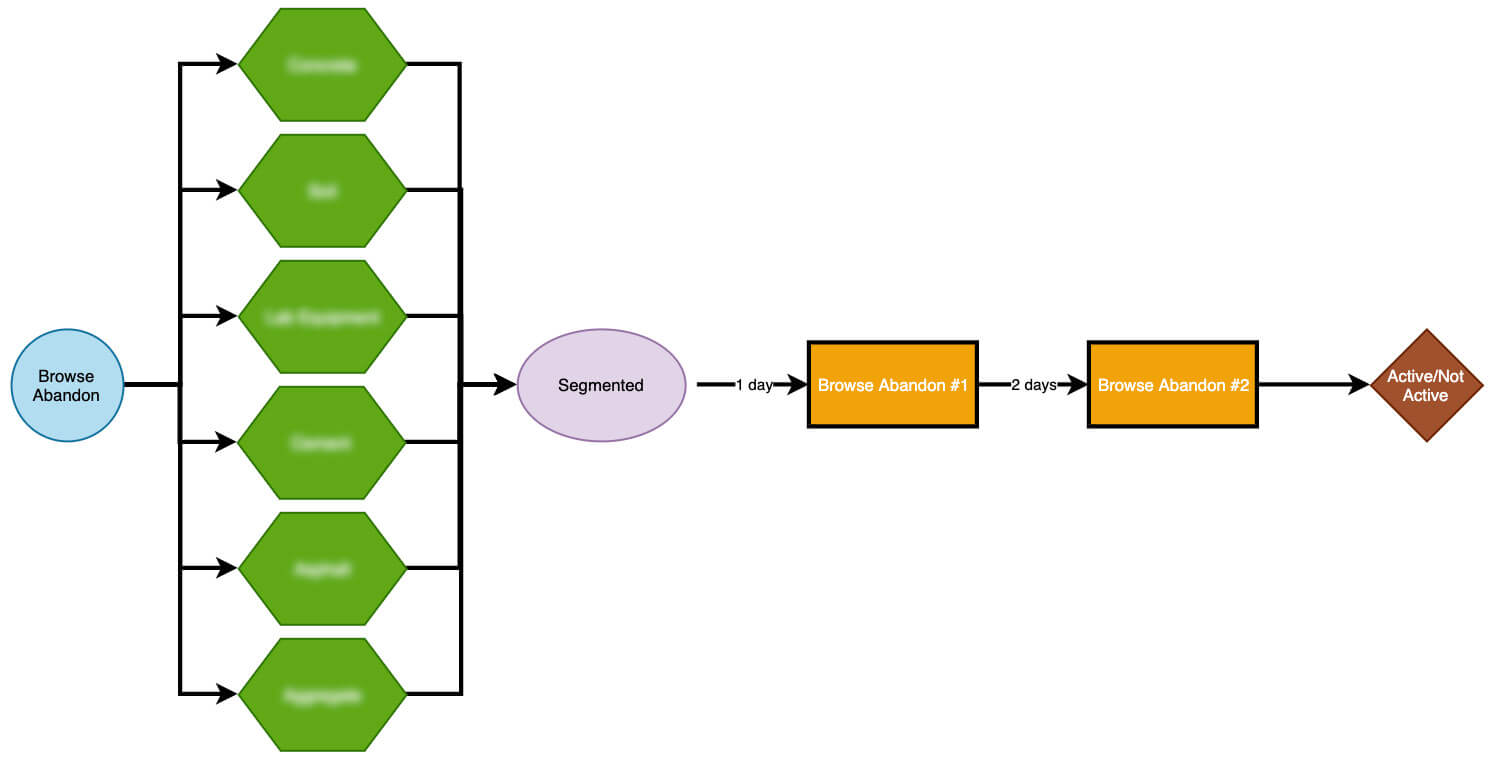 If they do add product(s) to their cart but don't make a purchase, they get a series of emails encouraging them to come back and complete their order.
The specifics of the emails and the number they receive, however, depend on the total value of the products in their cart.

Finally, if they do make a purchase, they get a series of emails based on the type of product(s) they purchased. These emails are designed to deepen the relationship, cultivate reviews and encourage the customer to make repeat purchases.
Depending on how the customer responds to these emails, they are further segmented and migrated to other parts of the client's buyer journey.

Once again, our drips account for every user and provide specific content designed to nurture them towards becoming a satisfied repeat customer.
Thinking through B2B journey maps—especially across a variety of journey stages and customer segments—at this level takes a lot of work, but when you set them up correctly, you get far more out of your marketing efforts.
Conclusion
As B2B marketers, we spend a ton of time and money trying to get potential customers to turn into actual customers. It's a complicated process, and if you don't take the time to build out a robust buyer journey, it can feel a lot like throwing spaghetti at the wall and hoping something sticks.
However, once you think through things and establish a detailed buyer journey, everything gets a lot easier. It takes a lot of work to get all of the right assets into place, but by the time you're done, you'll have a clear roadmap for success.
With a fleshed-out buyer journey, you can be certain that you're speaking to the right personas in the right way. In addition, you'll be able to get inside their head and take all of the appropriate steps to nurture them along their journey.
Finally, building out your entire roadmap equips you with the knowledge, assets and skills you need to truly optimize your marketing. You can connect your key performance indicators to their appropriate steps, identify where things are falling flat and make the appropriate changes.
Of course, all of this takes work. But, if you do it right, your B2B journey map isn't just for your customers—it's a roadmap to success for you, too.
By the way, if you'd like some help creating and implementing a high-quality journey map like the ones above (or help with any other aspect of your B2B marketing), let us know here or in the comments. We'd love to help!
How do you approach your buyer journey? Do you feel like your B2B journey map is up to snuff? Have any tips for other B2B marketers? Leave your thoughts in the comments.