7 Dental Marketing Strategies to Try This Year
Marketing
•
PPC
•
Site Optimization
•
Ana Gotter
April 25, 2018
There's a lot that goes into creating an excellent dental marketing campaign. You need to choose the right platform, which is already a big task considering how many of them there are. You need to choose offers and branding and so many other things.
It's not much of a surprise that the actual dental marketing strategies for your campaigns sometimes get a little neglected.
In this post, we'll go over 7 important dental marketing strategies to help you rock your dental practice's next campaign, no matter what platform you've chosen.
1. Identify Your Target Audience & Niches Within Them
This is the only logical place to start when you're trying to launch a successful dental marketing campaign. You can't skip this step, or you won't be able to write copy that will produce the results you're after.
Even though it's easy to think that all dental practices have the same audience ("people who have teeth"), that's not always the case. Even if it is, how you brand yourself will determine whether or not certain audiences respond well to you.
Do you want to be an affordable family dentist, or a high-end cosmetic dentist who does mostly veneers and whitening and implants? It's all tied closely to branding and the type of work that you most want to do. You absolutely can have multiple niches within your overall audience. Identify them as separate entities.
Note that identifying your target audience means doing some research and thinking carefully about who you need your campaign to appeal to. A pediatric dentist, for example, would immediately say that their target audience is "children." While this is mostly true in office, you won't be marketing to children; they'll be marketing to their parents, who are the decision makers.
2. Research Your Competition
Researching your competition will give you the chance to see exactly what they're offering and how you can set yourself apart.
Are they advertising walk-in appointments? You can advertise this + emergency weekend services.
Do they only say they're "reasonably priced?" Say you're "affordable" instead, which sounds better, and mention that you take insurance or offer sliding-scale payment plans.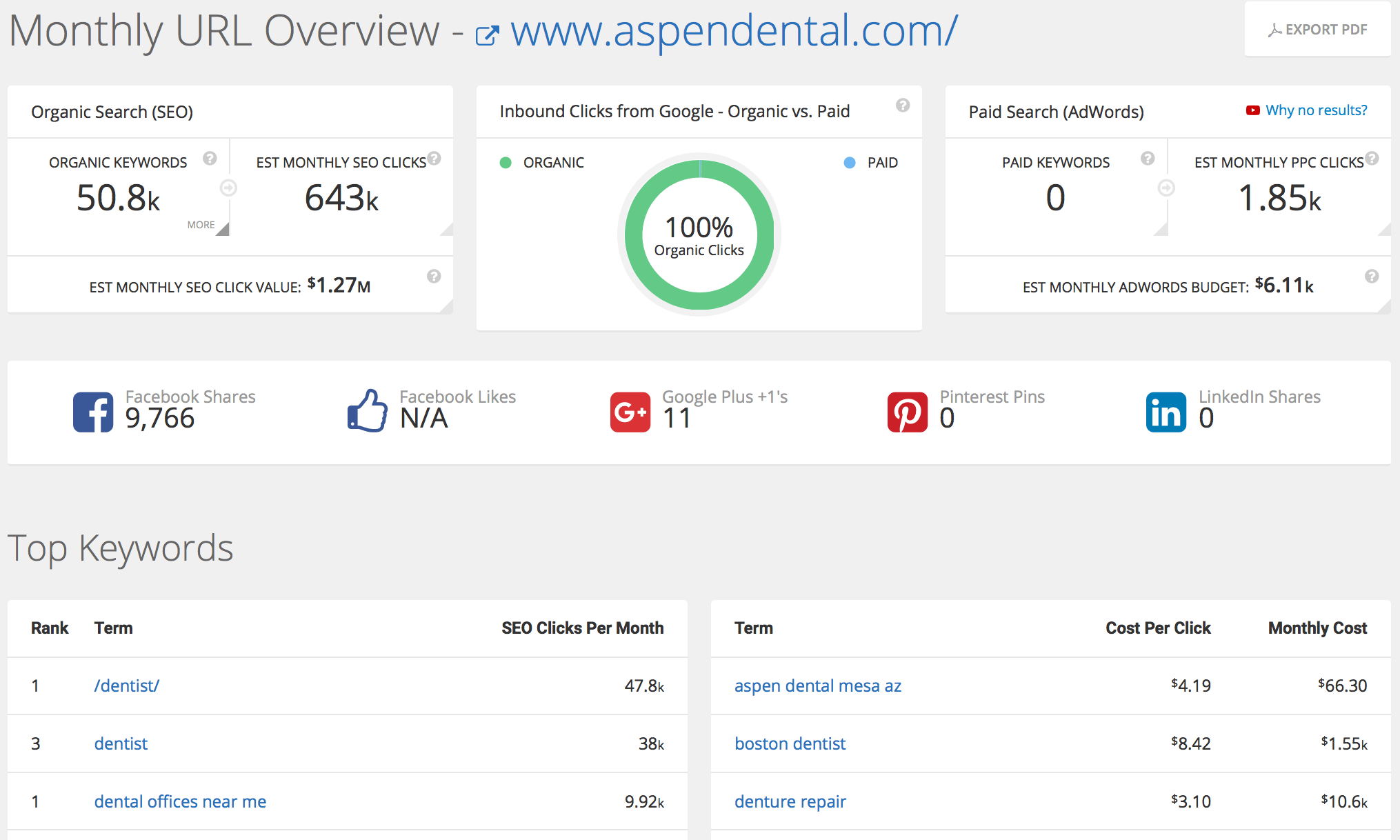 Google is a great way to research your competition and see what they're offering. You also can't go wrong with tools like SpyFu (pictured above), which can give you insight into the keywords they're targeting, too.
By understanding what they're saying, you can find a way to one-up them. While no one likes a one-upper in their personal lives, this is absolutely a way to make sure you get the new patients instead of your competition.
3. Fine-Tune Your Branding & Value Proposition
Once you've taken a close look at your audience and your research, you can fine tune the branding and value proposition you're honing in on. This will give you a distinct edge, because you'll be able to fill a need that seemingly no one else can tackle, and you'll be able to set yourself apart much more efficiently.
It's not enough to just say that you're different, which a lot of copywriting falls back on (including in the ad below). You need to show them exactly how you're different.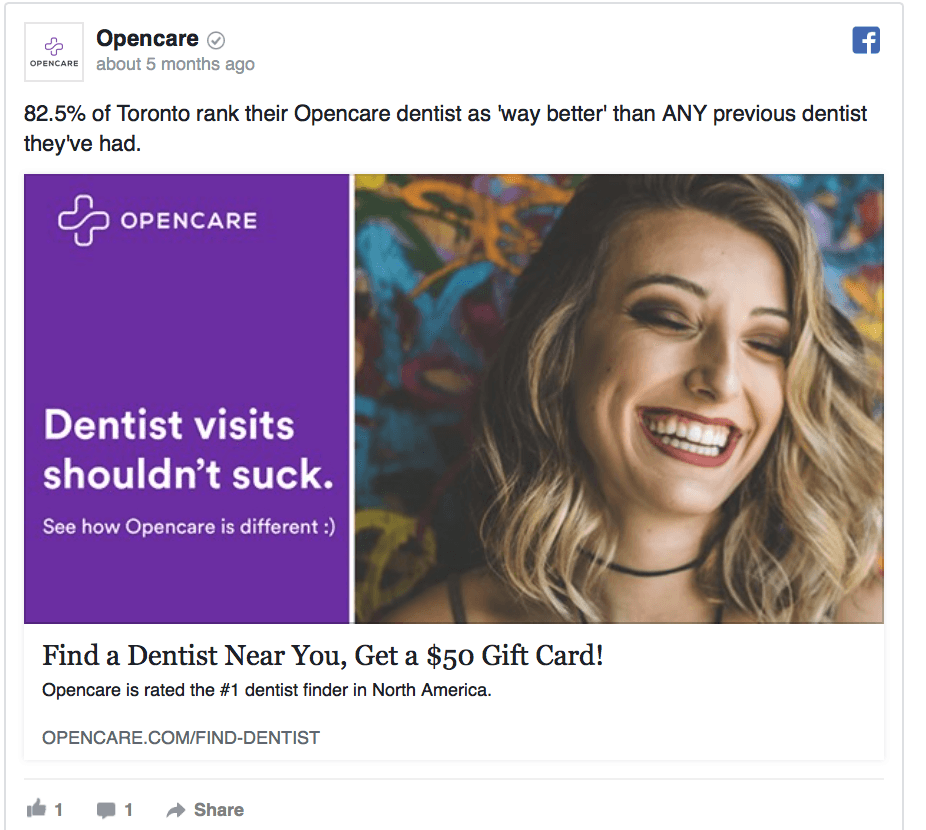 Your value proposition and your branding will be closely tied together. If you're promoting your practice as affordable for families, your value proposition may include family discounts or taking insurance. A dental practice that's branded as a high-end cosmetic center may offer a value proposition of not only quality, but cutting-edge procedures no one else has.
Note that each niche in your audience will likely respond best to a different value proposition, so keep this in mind when creating different campaigns.
4. Use Feature-Benefit Selling
When you're writing about your value proposition, feature-benefit selling is the way to go. This is a time-honored trick that both salespeople and copywriters have regularly used to great success.
Let's look at the example above of the high-end cosmetic dental practice. Their value proposition may be that they offer new cutting edge procedures that no one else does. That's the feature. The benefit could be that these procedures are pain-free, more affordable (though this may not necessarily fit a pain point for their audience), take less time to complete, and last longer.

While feature-benefit selling can be more difficult on some platforms that have limited ad space like Google AdWords,
5. Lead by Example
So this one technically doesn't fit into copywriting, but I think it's import to consider when crafting your ads and web presence, so I'm lumping it in.
As much as copywriters like myself don't always want to admit it, pictures be more persuasive than words at a first glance. It's instantaneous, and a lot of things about pictures may register subconsciously.
A picture of you and/or your staff displaying bright, sparkly smiles, for example, can make your firm appear friendly and professional and prove that you know what you're talking about when it comes to teeth.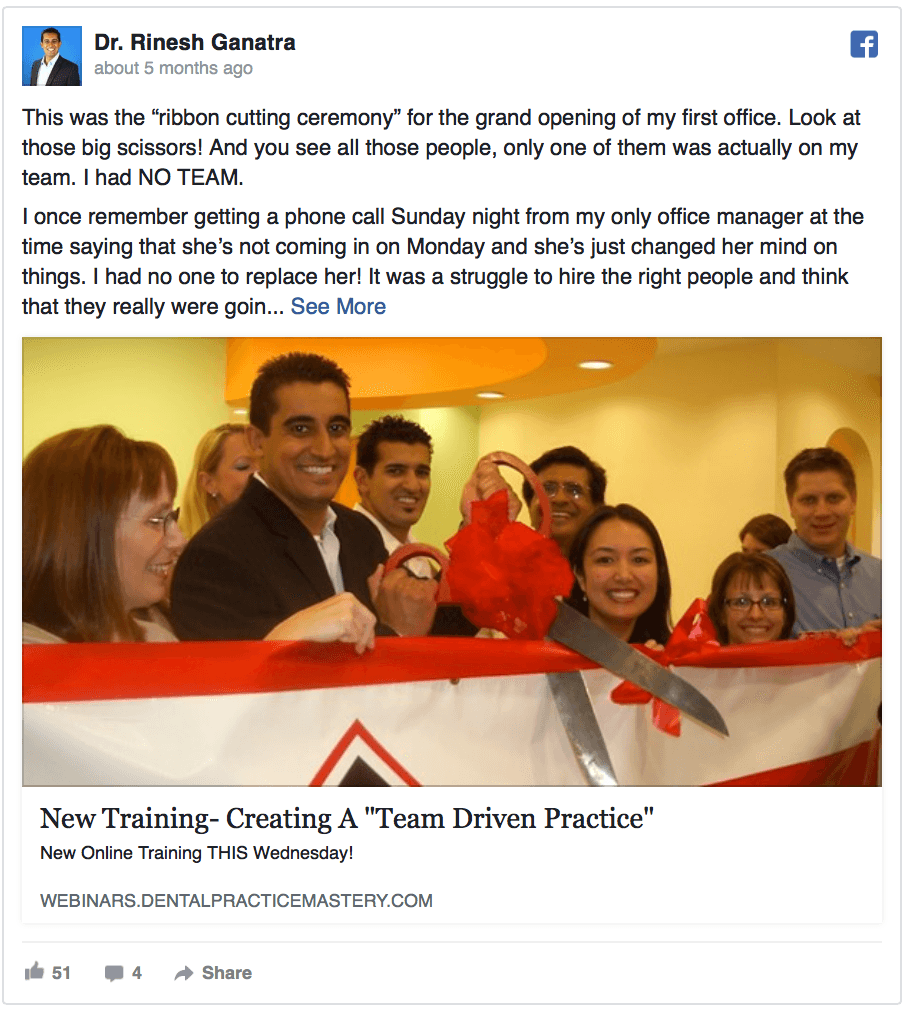 Use the right pictures at the right time to strengthen your copy, and you'll see better results all around.
6. Choose the Right Keywords
Keywords won't matter so much for postcards or newsletters, but they'll be important for on-site SEO and for PPC platforms like Google AdWords.
While keywords can seem like an after thought, they're exceptionally important. They need to be defined before you ever start writing, or it will likely feel clunky, like you dropped them in as an afterthought (which is exactly what you would have been doing).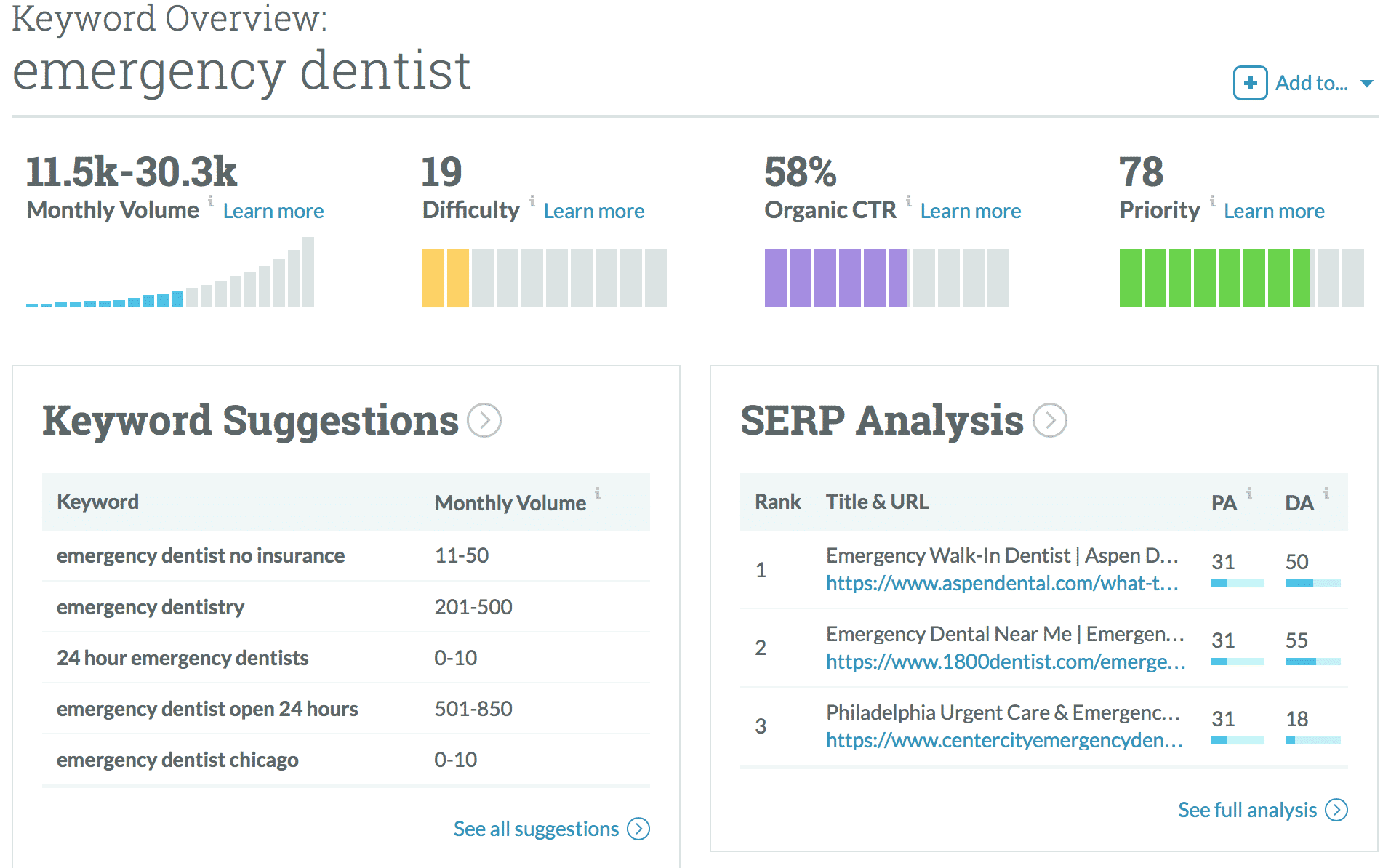 Use keyword research tools (Moz's is pictured above) to seek out what your audience is looking for, and how much competition each keyword has. Optimize your copy for the ones that are most valuable to your practice, and check the research every six months or so to see if anything needs to be tweaked.
7. Create Strong Offers Tailored to Audience Niche
Showing what sets you apart and what you can offer your audience is what copywriting is all about. Sometimes, though, when you're trying to land new patients and beat out the competition, you may need to step it up a bit.

Offers designed to attract new patients are a great way to go when you need to sweeten the deal just a bit more. They can be exclusive to new patients, or one-time only use. Examples of offers you could use include:
Mover's special, which is distributed via post card to people who have just moved into the area. These people, after all, need to find a new dentist. You can offer them a discounted cleaning to get them through the doors. Just make sure it's competitive with what other practices are offering.
Free cleaning when you book a teeth whitening appointment, which can increase cosmetic patients and medical patients all in one fell swoop.
Family discount package, where if four or more patients in the same family book a cleaning, they get a percentage off the fee.
Conclusion
No matter which dental marketing strategies you choose to promote your dental practice, great dental marketing starts and ends with understanding your audience, including what offers are currently available to them and what appeals to their needs and pain points.
What do you think? How do you make sure your dental marketing strategies are tailored to your audience? Do you use any of the tips discussed above? Share your thoughts and questions in the comments below! 
Leave a comment