Google Ads Management
Advertising on AdWords is complex and competitive. At Disruptive, we understand how important Google Ads success is to businesses and how much work it takes to succeed.
By combining world-class AdWords management, site optimization and analytics, we engineer your Google Ads campaigns to produce the maximum return-on-investment and set your company up for unprecedented success.
Brands That Trust Disruptive
Why We Love Google Ads
At Disruptive, we're on a mission to change the world—one click-at-a-time.
We love watching our clients' businesses grow and succeed using the power of Google Ads. Unfortunately, while Google Ads is a fantastic way to grow your business, most companies still waste huge amounts of time, money and opportunity on poorly run campaigns.
We want to change that.
After years of experience, we've created a winning formula for online marketing success that utilizes the potential of AdWords to its fullest extent. We build campaigns to sell from click-to-close and optimize everything from keywords to landing pages to produce the best results possible.
The combination of great Google Ads management, site optimization and analytics is how we grow businesses…one click-at-a-time.
Want to Learn More?
Click the icons below for more information about our Google Ads management services.
What Makes Disruptive Different?
We never put your campaigns on autopilot.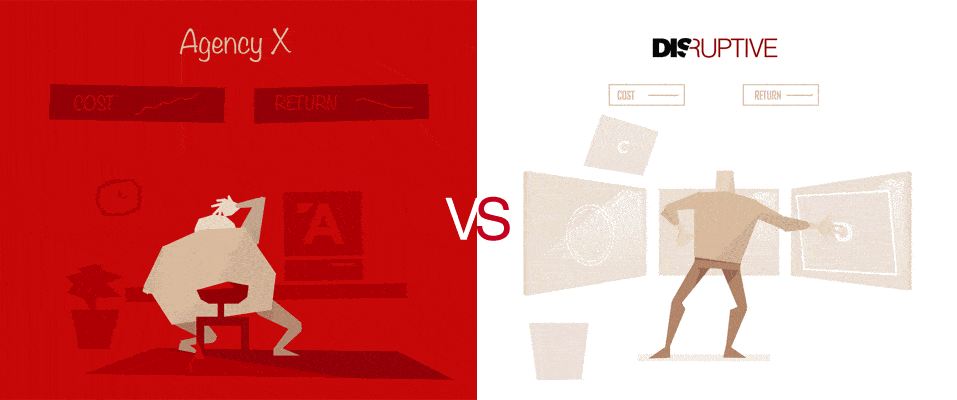 Our Clients
We've produced game-changing results for hundreds of clients and millions of dollars of ad spend. Odds are, you've already seen our work in action!
After helping so many clients succeed on Google Ads, we've found that Google Ads tends to be most successful for companies with an Google Ads budget of at least $10,000/month. Let's face it, Google Ads is a competitive market where you have to pay to play.
Transparency
At Disruptive, we believe that your Google Ads agency should be up front with you. You should never have to ask, "Now, what's going on with my campaigns?"
To keep you in the driver's seat, we send weekly reports on how your campaigns are progressing and what we are doing to improve your results. While we do all the heavy lifting, you're still involved in the overall account strategy, which helps us do our job better and keeps us accountable to you.
Not Just Your Average Google Ads Agency
We're passionate about using Google Ads to transform businesses. Helping companies succeed is what gets us up every morning. That passion is what drives us to consistently produce results that astonish our clients and blow away their competition.
To find out how you can redefine online marketing success for your company using Google Ads, contact us today!
Let's do this
Let's get in touch to see if we're a good fit to help you achieve your business goals.