Still think mailers are the key to successful dental marketing?
Think again.
"Since working with Disruptive, I've hired three new employees."
ED CHALLINOR
SMILEWORKS LIVERPOOL
Ed talks about his experience working with Disruptive.
We were skeptical about using PPC and wanted to see a speedy ROI. That's what we got.
Disruptive performed extensive research on the types of people we wanted to work with and then created ads that spoke more to the emotional reasons behind why people would visit. They made sure the tone of our ads matched our landing pages, and then we watched our ROI soar to 1,017%.
Dental Marketing
Online advertising is a great way to grow your dental practice…if you do it right. Most of your potential dental patients are online right now, so if you know how to effectively target them, online advertising can be one of the quickest ways to achieve your business goals.
Unfortunately, given the size of this opportunity, it should come as no surprise that online marketing has become something of a battlefield for dental practices. Winning at dental advertising takes a lot of skill, thought and persistence.
At Disruptive, we know what works and what doesn't in dental marketing. We've helped a variety of dental practices succeed online and understand how to help you optimize your advertising and sales process.
"Amazing results! Hands down the best ad agency I've worked with."
ERIK OYANGEN
ADVANCED AESTHETICS DENTISTRY
Eric talks about his experience working with Disruptive.
My dental practice is in a rural area and counting on foot traffic was not paying the bills; we needed people to find us online and get the phones ringing. My website quality was poor and I was concerned paying to drive traffic there wouldn't produce.
After engaging with Disruptive we got the site experience polished up and started seeing 20+ phone calls immediately from our campaigns on Google. The results have been impressive to say the least, Disruptive is hands down the best agency I've ever worked with.
Work with an Award-Winning Dental Marketing Agency

How Disruptive Approaches Dental Marketing
Disruptive is so good at dental advertising that Google recently interviewed our CEO to learn more about what makes us so successful.
Check out the video below to learn more about our dental marketing approach.
Learn More About Dental Marketing
Over the years, we've learned a lot about how to effectively market practices online. But, we didn't want to keep it all to ourselves. To help you—and other dentists like you—our dental marketing experts have compiled their secrets into a series of articles.
To learn more about how to improve the performance of your dental marketing campaigns, click on the links below!
Dental Paid Search
Knowing how people search online in the Dental world is half the battle. Understanding local search on mobile is key. Paying for the clicks that are high intent is, too.

Luckily, our Dental Marketing experts here at Disruptive know the ins and outs of Dental PPC and have written numerous articles on the subject. If you want to know more about Dental PPC, then read on.
Dental Site Testing
Getting the right traffic to your dental landing pages is hard, but getting that traffic to actually convert can be even harder. It's not enough to just show people pictures of teeth. You've got to show them in a way that makes people want to get their teeth cleaned.

You need to use data to drive your sales. You need to match your messaging and make it easy for your potential patients to find you. Our experts have written on this too.
Facebook for Dentists
There are even more ways to effectively market your dental practice, like on Facebook. The best Facebook results we've ever seen have come through the strategies of one of our clients, who helped us write up a guide on how to effectively use local Facebook targeting for dental practices specifically.

His practice has been growing a ton recently, and he's been telling us he couldn't be happier. Check it out and see what he has to say.
Work with a Dental Marketing Expert
Our dental marketing experts have years of experience growing dental practices just like yours and know what it takes to get the most out of your paid advertising budget.
Whether it's paid search advertising on Google, Bing or Yahoo, paid social media ads on LinkedIn or Facebook, or optimizing your site experience, our dental marketing experts know exactly how to get you the new customers you need.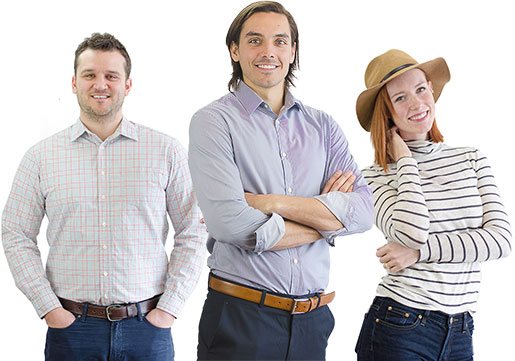 Dental Marketing That Works
At Disruptive, we get dental marketing. We understand where dental campaigns break down and how to optimize for new patients and profitability. We've helped numerous dental offices discover their true online marketing potential and produce phenomenal results.
To find out how we can transform your dental practice, contact us today!
Stay on Top of Your Dental Campaigns
Let's be honest, even if you can't afford to spend all day managing dental campaigns, you still want to keep tabs on them.
At Disruptive, we believe in being completely transparent with our clients. That's why we've created an easy-to-use tool you can use to check up on the performance of your campaigns…anytime, anywhere.
In addition to this tool, you'll get weekly reports from your expert dental account manager on how your account is progressing and what they've done to improve things.
With Disruptive, you'll never have to wonder about your PPC campaigns again.
Let's do this
Let's get in touch to see if we're a good fit to help you achieve your business goals.