"After working with Disruptive, my Google PPC campaigns are a success!"
R. BRADLEY VAN LANINGHAM
ALLIANCE LAW GROUP
Bradley's experience working with Disruptive.
I was looking for a way to diversify my practice and had tried to use PPC through Google in the past but had not met with any success. I had previously used a local agency and the campaign never generated any traction. Therefore, I was cautious when reconsidering the PPC market.
Honestly, I did a lot of searching before deciding to try Disruptive. I liked their approach and they were realistic in their projections. Now that I have worked with them for several months, I am pleased to report that our Google PPC campaign is a success. Disruptive has a good understanding of online marketing and they have been responsive to our needs.
Legal Marketing
Online advertising is a great way to grow your law firm…if you do it right. Most of your potential clients are online right now, so if you know how to effectively target them, online advertising can be one of the quickest ways to achieve your business goals.
Unfortunately, given the size of this opportunity, it should come as no surprise that online marketing has become something of a battlefield for law firms. Winning at legal advertising takes a lot of skill, thought and persistence.
At Disruptive, we know what works and what doesn't in legal marketing. We've helped a variety of firms succeed online and understand how to help you optimize your advertising process.
"They helped us lower our cost per acquisition by 30%"
MICHAEL SPENCER
SIEGRIED & JENSEN
Michael's experience working with Disruptive.
While running the online marketing for Siegfried & Jensen, I got to the point that I couldn't progress any farther. After getting in touch with Disruptive Advertising, they told me about their approach.
I was really impressed with how comfortable I was with them; they didn't give me a long term contract, and basically said, "If we can't perform, fire us." Our cost per click and cost per lead were pretty high when we started, but they helped us lower our cost per acquisition by 30%.
Work with an Award-Winning Legal Marketing Agency

How Disruptive Approaches Law Firm Marketing
Disruptive is so good at legal advertising that Google recently interviewed our CEO to learn more about what makes us so successful.
Check out the video below to learn more about our law firm marketing approach.
Learn More About Legal Marketing
Over the years, we've learned a lot about how to effectively market law firms online. But, we didn't want to keep it all to ourselves. To help you—and other law firm marketers like you—our legal marketing experts have compiled their secrets into a series of articles.
To learn more about how to improve the performance of your legal marketing campaigns, click on the links below!
Legal PPC
Knowing how people do their searches in the legal industry is half the battle. But it doesn't stop there. How important is it to be local? Do they search on mobile or desktop? What is the best ad position to be in? Luckily, our law firm advertising experts here at Disruptive know the ins and outs of legal PPC and have written numerous articles on the subject.
Site Testing for Law Firms
Getting the right traffic to your Legal landing pages is tough, but getting that traffic to convert can be even harder.

What will make people actually want to work with you? What details will appeal most to your prospective clients? Our experts have written on this too, and if you want to know more then keep on reading.
Legal Paid Social
If your law firm isn't using Facebook, you may be missing out. Facebook makes for great social proof, and can be useful for its audience targeting options and image-heavy ads. Sometimes though, it's not what you need depending on your type of practice. If you want to know whether advertising on Facebook would be right for your law firm, then read on.
Work with a Law Firm Marketing Expert
Our law firm marketing experts have years of experience in the legal industry and know what it takes to get the most out of your paid advertising budget.
Whether it's paid search advertising on Google, Bing or Yahoo, paid social media ads on LinkedIn or Facebook, or optimizing your site experience, our law firm marketing experts know exactly how to get you the new customers you need.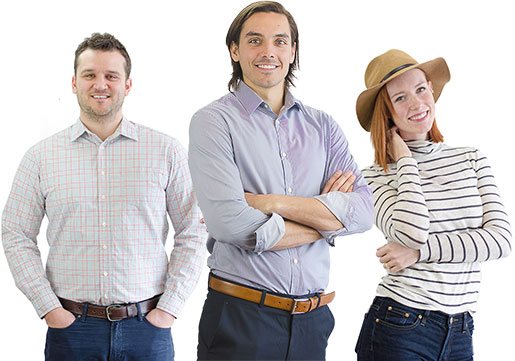 Legal Marketing That Works
At Disruptive, we get legal marketing. We understand where legal campaigns break down and how to optimize for new cases and profitability. We've helped numerous law firms discover their true online marketing potential and produce phenomenal results.
To find out how we can transform your law firm, contact us today!
Stay on Top of Your Legal Campaigns
Let's be honest, even if you can't afford to spend all day managing your legal campaigns, you still want to keep tabs on them.
At Disruptive, we believe in being completely transparent with our clients. That's why we've created an easy-to-use tool you can use to check up on the performance of your campaigns…anytime, anywhere.
In addition to this tool, you'll get weekly reports from your expert law firm account manager on how your account is progressing and what they've done to improve things.
With Disruptive, you'll never have to wonder about your PPC campaigns again.
Let's do this
Let's get in touch to see if we're a good fit to help you achieve your business goals.