Amazon vs Google Ads: Which is Better for Your Business?
by Aden Andrus • July 8, 2019
Amazon vs Google Ads: If you're pondering the differences between the two, odds are that you're an ecommerce advertiser who wants the most bang for their bucket. So, which is better, Amazon…or Google Ads?
It's a good question to think about. For a long time, Google was the dominant player in the online advertising space. Then, a few years back, Facebook finally got its act together and figured out how to monetize its massive user base.
As of this article, Google and Facebook command about 60% of online ad spend. Sure, Amazon, Microsoft (via Bing Ads/LinkedIn Ads) and Verizon (via AOL/Yahoo) account for billions in ad spend, but they're hardly a threat to Facebook and Google.
Or, at least, that's how things were for a while. In 2018, Amazon dethroned Google Shopping and became the most popular place to search for products online. That's not to say that Google Shopping isn't still relevant—millions of people still use it to find items and make purchases every day—but it just goes to show how significant of a force Amazon advertising has become.
As a result, many commerce advertisers are focusing more and more on Amazon advertising. While Amazon's ad revenue in Q1 of 2019 was still 1/10th of Google's, it jumped to almost $3 billion. More importantly, it looks like that figure will continue going up for the foreseeable future, making Amazon the new ad platform to watch during the next few years.
However, Google isn't going to give up its ecommerce customers without a fight. In the Google Marketing Live keynote, Google revealed several changes to Google Shopping that will make the platform a better tool for both consumers and advertisers.
Let's take a look at these changes, what they mean to you and how they factor into the Amazon vs Google Ads debate.
Improving the Google Shopping Experience
It's pretty hard to beat Amazon's shopping experience. In addition to selling almost anything you can imagine, Amazon has become the place to go to learn more about products that you're considering.
Why? Amazon has it all: brands, prices, features, shipping times, product comparisons, reviews, related items…you get the idea.
In fact, Amazon offers so much information on so many items that it's become a go-to place for most shoppers—even if they don't actually plan on buying the product on Amazon.
With all this in mind, it should come as no surprise that Google has decided to take a page out of Amazon's book. Google is redesigning the Google Shopping experience to focus on providing as much ease, convenience and information and possible to users.
Here are some of the upcoming changes:
A Full-Featured Ecommerce Marketplace
Historically, Google Shopping has operated more like a search engine than an actual ecommerce marketplace. Unlike Amazon, which oversees the entire shopping experience from initial search to returns, Google Shopping primarily points users towards other websites.
While Google has begun offering users more search options and assurances over the years, it's never really been an actual marketplace. However, that's about to change.
In the coming updates, Google plans to incorporate a variety of purchasing channels into the Shopping experience. Users will still be able to visit a retailer's site, but they will also have the option to see if the product is available in a brick-and-mortar location near them or to buy the product directly from Google. This final option comes with returns and customer support guaranteed by Google, giving users a much more Amazon-like purchasing experience.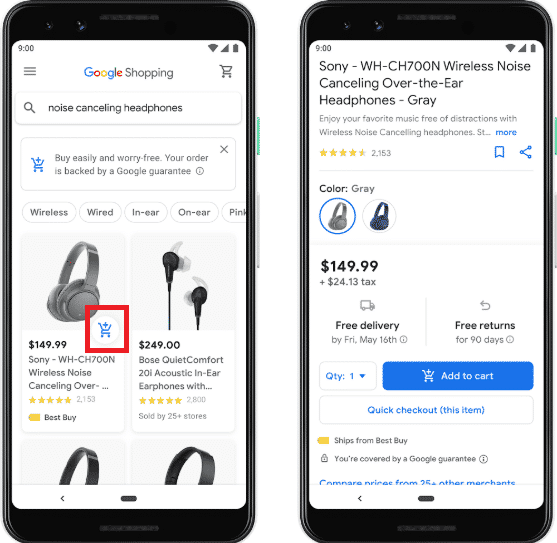 For users, this change makes Google Shopping a much more interesting option. After all, why wait for a product to arrive from Amazon when you can just go buy it locally today? Since Google will allow users to potentially find items for sale in three different places, this hypothetically could make Google Shopping a much better option than Amazon.
However, there's still a downside to Google Shopping for users. Compared to Amazon, the items available directly from Google are far more limited. This will no doubt improve over time, but for now, it's unlikely that people will stop using Amazon in favor of Google's more varied purchasing options.
Overall, the upcoming integrated shopping experience is most interesting for advertisers with brick-and-mortar and online stores. While many of these options have been available for a while, the fact that they will soon be integrated into a single, wholistic online shopping experience makes this new Google Shopping experience an exciting option for retailers.
Improved Product Search Experience
Google is also making several changes to the actual product research and discovery experience. Search results will soon offer many more filtering options, making it much easier to refine results and find the right product(s) for your needs or preferences.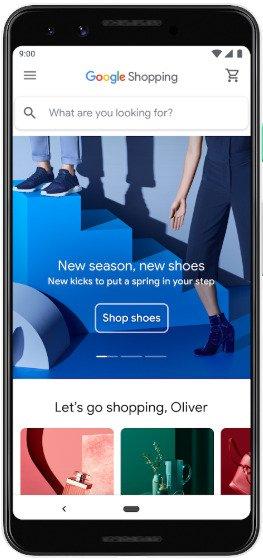 In addition, Google will begin suggesting products based on past searches and purchases. This feature has been a key part of Amazon's model for years, so it's no surprise that Google is adopting it.
What makes this change more exciting, however, is how Google is taking things to the next level. In addition to showing previously viewed—but unpurchased—products or items in the same category as prior searches, Google is using its machine learning to display additional products and brands that users will be interested in.
In many ways, this is like an algorithm-driven version of social media marketing. On social media, people follow brands they like and then get exposed to ads or posts from that brand featuring products they might be interested in purchasing.
With the new Google Shopping experience, users won't even have to follow a brand to see products they may want to buy. Google will use the user's search patterns and history to predict what they'll be interested in—possibly even before they realize that they want it.
Expanded Shopping Opportunities
One of the biggest obstacles to online shopping is distractibility. Offline, once people are in your store, they've already demonstrated a decent level of commitment. It's not a guarantee that they'll buy something, but they're not likely to see a funny video on YouTube, turn it on and wander out of the store without realizing it.
Online, however, this sort of thing happens all the time.
Google hopes to change all of that by expanding where and how users can shop for products. You've probably seen shoppable results popping up in Google Images searches. Well, get ready, Google's about to expand the shoppability of images and add shoppable results to YouTube, too.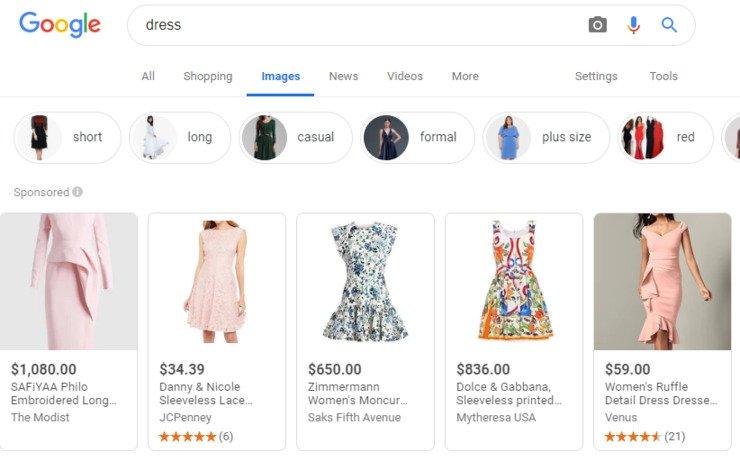 Once these new shoppable results hit full stride, your potential customers will have a wide range of opportunities to see and purchase your products. The idea here is that Google wants to move from delivering search results to anticipating searches…giving you the ability to get in front of people before they've had a chance to decide that they want what someone else is selling.
If this approach works, it will give Google Shopping advertisers a huge potential leg up on Amazon marketers. After all, you can only see Amazon ads on Amazon. With Google Shopping, your customers can see you across a wide variety of Google properties.
Amazon vs Google
So, now that we've talked about some of the key changes coming down the pipeline for Google Shopping, let's talk about the Amazon vs Google debate.
For many advertisers, the answer has been simple for a long time. Amazon is an ecommerce powerhouse, so why should they try anything else?
It's a fair point. These days, "ecommerce" and "Amazon" are almost synonyms. When people want to buy something online, most of them turn first to Amazon. For everything else, they turn to Google.
That being said, Google is doing its level best to stay in the game. Instead of focusing on being Amazon (though they're certainly taking a stab at that), Google seems to be putting the majority of its effort into audiences that Amazon struggles with.
When you want a product today, Google wants to be your go-to destination. When a brand wants to get in front of new audiences that will be interested in what they're selling—whether they realize that or not—Google wants to be the platform of choice.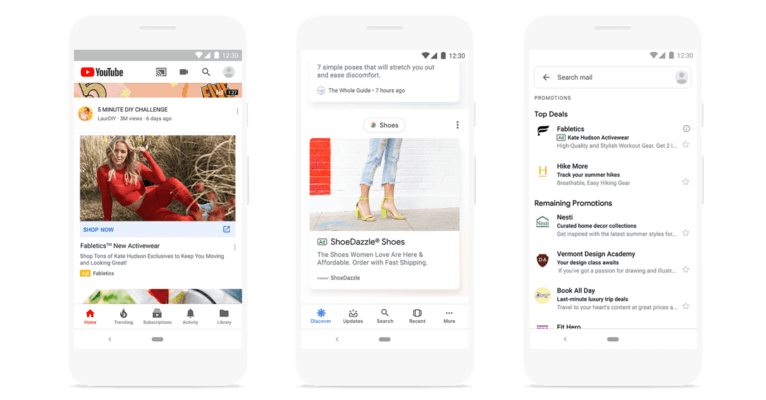 So, Amazon vs Google Ads…which one is right for you? Ultimately, the answer will depend on your business.
If you're primarily selling products that people research heavily before buying, like cameras or other pricey tech, Amazon will probably be your bread-and-butter for a long time. That being said, Google Shopping may still be a good option. Most people in the market for these sorts of items watch a lot of YouTube videos, so shoppable results featuring your products are a great option to consider.
If your business sells items that people buy on impulse—like designer jeans or other fashion wear—Google Shopping gets even better. For these sorts of items, people often don't know what exactly they're looking for until they see it, which makes Google's discovery-focused ad options a great tool to try.
Of course, even if your product is a good fit for Google's new features, that doesn't necessarily mean you should abandon Amazon. Amazon's user base is huge and full of people who are on the site looking to buy. It's tough to beat that. But, if you're looking for more ways to get in front of a broader audience (or get people to visit your brick-and-mortar store), you might want to push a little more of your advertising budget towards Google Shopping.
Conclusion
So, Amazon vs Google Shopping, which do you prefer? We've gone over a lot of Amazon's advantages and how Google is both trying to get in on the action and find new opportunities to differentiate itself.
But, whether you're an Amazon or a Google fan, one thing is very clear in this whole discussion: When advertising platforms compete, advertisers win.
By the way, if you'd like help setting up or using any of Google's new features (or refining your Amazon advertising), let us know here or in the comments. We'd love to help!
Do you prefer Amazon or Google Shopping? Why? What do you think of Google's latest updates? Leave your thoughts in the comments below.