The Ultimate Guide to Modern B2B Ecommerce
by Cydney Hatch • July 19, 2018
The B2B ecommerce industry is gaining a lot of momentum. Case in point, B2B ecommerce transactions are projected to reach $1.2 trillion by 2021!
Although these are great numbers, B2B businesses are not new to the ecommerce game—B2B ecommerce has been around for a while. In fact, most B2B retailers (78%) have been selling online for at least 2-5 years, or longer!
As a result, B2B ecommerce businesses need to invest more time and money into technology in order to better manage their business and stay competitive. Since it is so competitive being a B2B business, what can you do to stand out in the ecommerce playfield?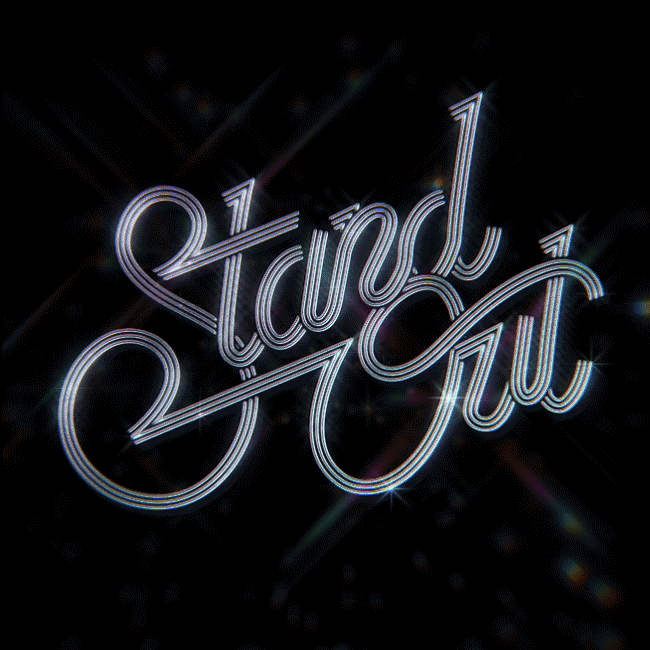 In this article, we will talk about what B2B ecommerce is, ways you can stand out in your marketing efforts and how it will help you succeed in this ecommerce boom in the upcoming years!
What is B2B Ecommerce?
B2B ecommerce (aka, "business to business electronic commerce") is the digital sales of products and services from one company to another. This differs from B2C ecommerce (aka, "business to consumer electronic commerce") because sales are between two business entities, not a business and an individual customer.
B2C ecommerce sales are a bit easier as prices are generally fixed and everything is a bit more straightforward. B2B, in contrast, is a bit more complex as all the financial and business elements need to be more fluid, especially dealing with larger entities that will vary in their needs.
Who will be your B2B ecommerce customers?
A long time ago, B2B marketers mostly targeted the C-Suite Level business executives, considering them the most influential folk in purchasing power but oh, how things have changed…
Today, 81% of non-C-Suite employees are influencing business buying decisions and 64% of C-Suite respondents still had the final sign-off authority in the business.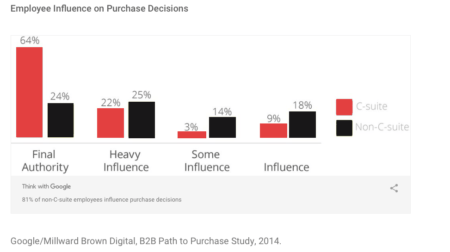 Clearly, if you're marketing only to the highest level individuals, you're overlooking the majority of your key influencers! To truly make the most out of your sales funneling and goals, you will need to strategize to gain both level of purchasing power: the C-suite CEOs and the non-C-suite individuals in business.
B2B Ecommerce Products and Services
To successfully manage B2B ecommerce, you need to group your products and services and see how you can optimize each for the modern world. Addressing the unique needs of each of the below ecommerce business aspects you can successfully create a plan to:
Reach your target audience
Maximize your ability to scale
Optimize your marketing efforts
Evolve with the trends of modern B2B business needs
Volume Products
Volume products tend to be simpler, lower-priced items ordered in large quantities. Companies must be able to support transactions that can come in the form of pre-orders, re-orders and other formats such as spreadsheets and custom order forms. This can be considered to be handled with open online marketplaces like Amazon to streamline the buying process!
Subscriptions and Software
In the digital age, a growing number of products and services are purchased over the internet. They can be purchased in a monthly or annual plan to allow buyers to receive a product or service online like a data software, etc.
In this model, customers don't purchase and check out with their items, but instead 'sign up' for a service. As a result, you need to make sure your digital "ducks" are in a row to make sure this process is streamlined, supported and fast-running. Also, a lot of the time, you need to make sure the platform on which a user accesses materials are user-friendly and mobile-optimized.
Ultimately, if there is a way to move your sales in a digital direction, instead of physical sales, you can become a more efficient and cost-effective business modern day buyers will appreciate and "sync" with better!
Ecommerce Site
In today's digital marketplace, your company's website is so important! A website is more than just a pretty face, it is an online presentation of your business to truly showcase your expertise, quality, and solutions.
When potential clients come to your site, it should be an engaging, informative experience that carefully targets offers and information that can drive leads and engagement. On top of your content, here are a few website "musts"  to consider when looking at your B2B website:
Is your website, landing pages and content designed for your target audience?
Do you have meaningful SEO keywords?
Is your website mobile responsive and designed for mobile users? A lot of business is done on mobile, so this is important.
Does your website have calls-to-action encouraging website visitors to schedule a meeting, showcase, etc?
Does your website include testimonials and social proof?
Is your website personable? Do you share content that is specific to your B2B business or generic content?
Is your website search engine optimized? Getting found starts with a website that is configured on Google!
Your B2B website is most likely the first way potential clients will interact with your business. In fact, 80% of people look at websites when checking out service providers—so what you share and how you share it will be crucial.
Why Ecommerce?
Basically, if I can wrap this section up in a single phrase: Go digital or close up shop!
Companies not investing in digital channels are fizzling out, falling behind and will lose customers. The potential declines associated with a lack of "going digital" are largely due to a failure to satisfy customer expectations as we live in a world that demands speed and convenience.
Today's customers are buying more online than via the phone and other offline channels. 74% indicate that buying from a website is more convenient than buying from a sales representative and 93% prefer to buy online when they've decided what to buy and just need to make the purchase.
This is our new world. As a B2B business owner, you either need to adapt or let Darwinism take over: adapt to digital or die!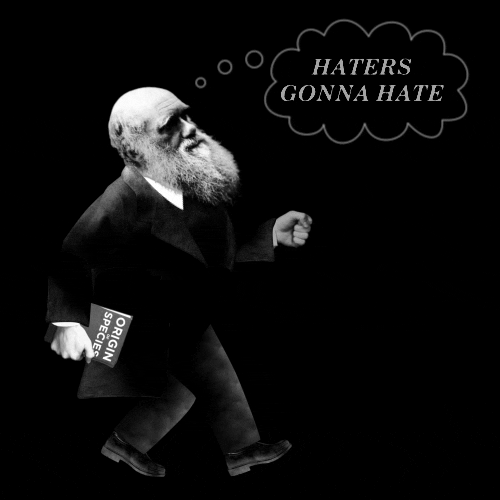 As Millennials take over the workforce, businesses must satisfy the demands of a generation that embraces—and often prefers—to engage digitally. By 2020, Millennials will form 50% of the global workforce, and they expect a consistent, fast-paced multi-channel experience. 87% of them use between two and three devices daily!
If you don't think this affects your business, you are wrong!
So, if you want to know how to make the most out of your marketing efforts for B2B ecommerce let's jump into the next section to see how you distinguish yourself as a high quality, technology focused business that will be here to stay!
B2B Ecommerce Marketing Strategies
Ultimately, B2B ecommerce is not just about creating an appealing website to get people to buy your stuff. B2B ecommerce is about a customer's experience with your products. It is about how to help other businesses find the products and services they are looking for as easily and intuitively as possible.
How can you do this? Let's take a look at the strategies below!
Mobile Use
As I mentioned in the previous section, you will need to market to a younger generation than you have in the past!
18-34-year-olds account for almost half of all researchers/buyers. If you're not marketing to this group, you need to reevaluate your strategy, taking into account your Millennial audience's familiarity with digital and how this influences the kind of content and media channels you will be utilizing.
According to Google's recent report, "The Changing Face of B2B Marketing," 42% of B2B customers use mobile devices during their purchasing process. This means that you need to utilize mobile experiences throughout the whole purchasing process!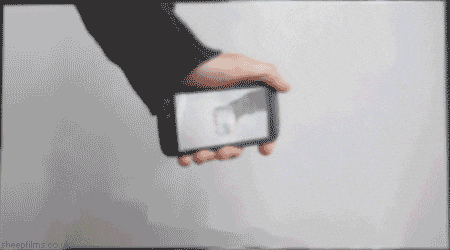 Businesses that want to succeed in ecommerce increasingly need to optimize for mobile.
How can you do this? I suggest the following:
Create websites designed for smaller screens
Choose ecommerce platforms that are mobile-optimized so customers can have a consistent experience
Provide easy access to digital, field sales team, and customer service reps for 24/7 support
Use social media heavily for content promotion and business branding
Increase the visibility and seamlessness of sales and promotions across your various digital channels
Payment and Shopping
Little over 23% of B2B retailers with an ecommerce channel still accept fax orders. In comparison to old-school fax machine payments, here are the popular payment preferences of 2018:
B2B ecommerce shopping experiences are a bit different than regular ecommerce shopping experiences as prices might not be set, products might need to be customized and customer needs are different.
If you are selling physical products, you need to make sure you have strong logistical plans and shipping technologies to provide excellent delivery experiences! Amazon has spoiled most people, so you need to make sure you have the following experiences and internal logistics checked off:
Timely Delivery
Product Replenishment
Warehouse and Location Shipping
Return and Exchange Service
Customer Service, Preferably 24/7
Video Content
Video is killing it all over the internet, particularly in social media. In fact, Think with Google found that 70% of B2B buyers and researchers are watching videos throughout their path to purchase. That's a 52% jump in only two years! Wow!
Views of branded video content have increased 99% on YouTube and 258% on Facebook between 2016 and 2017. On Twitter, a video Tweet is 6x more likely to be retweeted than a photo Tweet. If you haven't taken a closer look at the power of social media and video together, you're not taking advantage of this platform for your B2B business ecommerce strategies!
If there is an opportunity for you to share a video, you probably should! Some of the ways you can implement your B2B business is:
Product Features on your website and ecommerce platforms
How-To's
Professional Testimonials
Business Branding
Success Stories
Important things these videos should have are:
Text & Graphics: Most videos seen online are not played with sound
Social Media Playlist Features: Help people find similar video content
Feature Videos on Website: Introduce your brand or highlight a new product.
Direct Downloads: Downloading your videos onto a site or social media platform
Personality and Creativity: People want personal connection and something to remember/talk about
Strong Call to Action: Give them something to do after they watch
With 65% of the population claiming to be visual learners, brief and engaging content is what buyers will be looking for. Videos, which are proven to be easily viral and shareable, is a great way to incorporate your brand's story through an engaging set of visuals. In most cases for B2B companies, an explainer video is what will work best!
Personalization
Shopping and ultimately buying is a personal matter so customers will want things personalized to their needs. Customers will want the star treatment knowing that the products they are purchasing are as "seen" on the website, they can view all of your items via catalogs and ultimately that things are user-friendly and organized to their specific needs.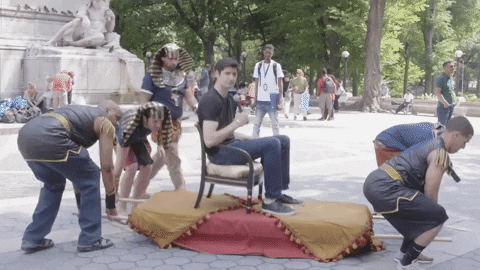 Customers will want also customized pricing, especially when it comes to B2B businesses and buying products in bulk or special quantities specific to their businesses. According to research firm Gartner, 2018 will see around 40% of B2B commerce sites using price optimization algorithms to deliver dynamic pricing. What this means is that B2B businesses will have to adapt creative and personalized pricing incentives to choose them over someone else.
For example. Shopify gives you pricing customization options through their "scripts." Shopify Scripts offers a simple solution by removing the need for discount codes. Scripts can be used to automatically adjust prices in real-time based on factors like quantity, size, tags, and product combinations:
Like this example, there are ways for you to creatively personalize the shopping experience for your customers.
B2B businesses that survive and thrive will be the ones that can integrate technology platforms and make them work together in a way to customize a customer's experience. Investment in your company's technology infrastructure and business systems can seem daunting, but these platforms will help build a foundation to transform your business' digital future.
Ecommerce Platforms
57% of B2B executives said their top technology need for investment was an ecommerce platform, making it the highest reported need.
To provide a better experience, B2B businesses need business to business ecommerce software centered around their specific customer needs. They will most likely need dynamic options for the customer to manage things on their website accounts like purchasing, apply for credit, and updating orders and managing their needs with your business.
In addition, it's important to think about plugins, integrations and applications that can be helpful to your customers and their experience. If you own an AC unit company that provides heating and cooling for office buildings, is there an app customers can use to reach you and adjust temperatures on their phone/computers?
As you create your B2B ecommerce site, feel free to be creative with your ecommerce platform, but make sure you have the following basics covered:
Strong Logo and Branding
Stylized Typography (but also easy-to-read typography)
Customized and Defined Color Palettes
User-Friendly Interface Tools
Integrated Social Media Application
Simple Navigation and Clear Page Categories
Creative and Strong Images that Reflect Brand
Targeted and Creative Content and Ad-Copy
Simple Call to Action Elements
Strong Brand Story and Objectives
Modern Design and Function (Including elevated use of video)
Ultimately, it's truly up to each brand to figure out what every target audience needs and how to best serve, inform, entertain and engage them. Test all of the different elements on your site frequently, including video, images, content, and design to see how your audience responds. Your audience will constantly evolve and it's your job as an ecommerce business to evolve with your customers!
Social Media and Content
Social media is here to stay and as a B2B business owner, it needs to be a part of your B2B ecommerce strategy. Why? Well, 60% of buyers check out new service providers on social media, making it a more commonly used source of information than formal referrals and recommendations.
Content Marketing Institute's 2017 B2B Report found that social media was the third "most critical" tactic B2B marketers are using: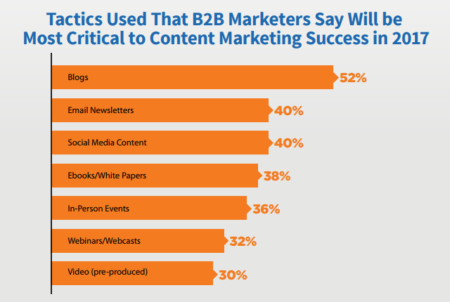 So, if you haven't already set up Facebook and Instagram pages, those are the two platforms you should focus on.
Fill out your social media profiles with relevant information about your B2B services and products and make sure to link back to your website. When you post updates, cross-promote your material from your blog, website and social media platforms. This can improve your website rankings online.
Social media content should contain information and visuals people can interact with, like:
Business tips
Pain points and solutions
Cool features of your B2B products/services
Success stories
Before and after photos/testimonials—particularly videos
FAQ
Readers are more likely to comment on, like, or share these posts.
People are increasingly looking to social media for information and guidance from their peers and the accounts they come in contact with. While social media may not work for direct sales, it does build relationships with the people who will ultimately purchase and informs them in doing so.
Conclusion
Hopefully the above tips gave you some mindsets and tips to think about when trying to modernize and update your B2B ecommerce strategies and platforms!
B2B ecommerce helps you as a business as it transmits and organizes data and reduces time for business actions. Algorithms take place of paper clipboards of shipping and price schedules…ecommerce websites take the place of physical storefronts that limit you to local customers.
Ecommerce and digital B2B all lead to higher productivity, lowered costs, improved quality, and faster delivery. What more could you want as a business owner?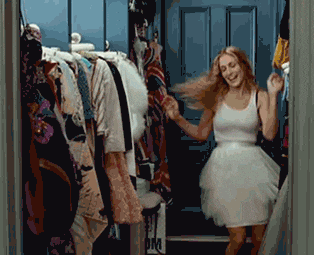 If you need some help with figuring out business to business ecommerce or coming up with innovative ways to increase your sales and traffic, reach out! I would be happy to help!