Stop Underestimating Your Product Feed!
by Aden Andrus • July 15, 2020
When it comes to online shopping, your product data and images are what your customers have to rely on. This is especially true if you're running Google Shopping campaigns. 
Unlike standard paid search campaigns, you don't get to pick keywords for your Google Shopping campaigns. Instead, you have to rely on product categories and your product data.
Nailing Your Product Data
While it's important to get your product groups right, that's fairly straightforward. Overly broad categories lead to irrelevant impressions and clicks, so make sure your product categories are focused and relevant.
Where businesses tend to run into problems is with their product data. Many aspects of your product data are kind of subjective.
The problem is, that product data is often how Google identifies which searches your product shows up for. For example, here's what shows up if you search for "orange nike" on Google Shopping:

If you're looking for orange Nikes, what are the odds that you're going to click on the pink and white shoes?
In essence, you need to approach your product data like the "keywords" of your ads. The qualifiers you use (especially in your title and description) can have a huge impact on how relevant your ads are to the searches they show up for.
A Quick Case Study
We've run into this problem countless times. For example, one of our clients in the sporting goods industry was having trouble getting the results they wanted from their Google Shopping campaigns.
We had been working with them for a while and were getting pretty good results on most of their campaigns. However, we noticed that their apparel products were only producing a 2.67x ROAS.
That wasn't bad, but we knew we could do better.
After trying a few things, we decided to see if there was any way to improve the relevance of their product titles.
We'd seen this sort of change work wonders in other campaigns, but this particular client had so many products that it wasn't practical to go through every product in their feed and update things individually.
To solve the problem, we came up with a couple of clever automated rules: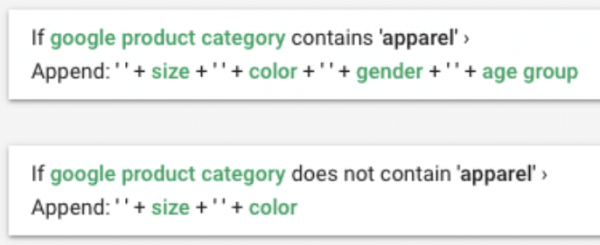 In effect, these rules told Google to add relevant product information to the product title depending on what sort of product it was.
So, a product title like this:

Would end up like this:


It was a simple change, but it had a profound effect on campaign performance. Month-over-month, return on ad spend jumped from 2.67x to 6.63x and Google Shopping revenue increased by 273%!

Simply by combining a little experience and know-how, we were able to significantly improve campaign performance. The potential was always there, we just had to figure out how to unlock it.
Even outside of paid ads like these, optimizing your feed and product data will help your products perform better on every channel. For example, if you figure out what sort of product data drives the best results for your product listing ads, you should see similar results on Google's new unpaid shopping placements as well.
Altogether, while it might seem like a fairly minor change, the quality of your product data can have a huge impact on the performance of your campaigns—especially if you're hoping to make the most of marketing on Google.
Conclusion
Your product data matters—probably more than you think. The better your product data is, the better your campaigns will be.
Product data is particularly important for Google Shopping campaigns. If you're running product listing ads on Google, optimizing your product data can yield big results.
Of course, this isn't the only way to improve your ecommerce campaigns.
For eight other proven tactics we love to use with our clients, check out this eBook. Or, simply let us know you'd like some help here or in the comments and we'd be glad to show you all the hidden potential in your campaigns.