Understanding Facebook and Google Ads: No PhD Required
by Jordan DeGraw • February 20, 2020
Even if you're new to online advertising, you've probably at least heard of Facebook and Google Ads. Facebook and Google are the two biggest online ad platforms around, and for good reason: they're a great way to get in front of your target market.
But what exactly are Facebook and Google Ads? How do they work? And, more importantly, how should you use them to market your business?
If Facebook and Google Ads seem a bit overwhelming, don't worry. These are all great questions, and in this article, we're going to address all of them.
Better still, we're going to keep things simple. That way, even if you're new to online advertising, you'll still be able to figure out exactly how Facebook and Google Ads play into your business growth strategy.
While I'm sure that a PhD in marketing would certainly help, you won't need one for this article—I promise. Let's take a look at the basics of Facebook and Google Ads and how these two ad platforms apply to your business.
What are Facebook and Google Ads?
If you see an ad while scrolling through social media or searching on the web, chances are, it's an ad being served by either Facebook or Google's ad platform.
Facebook Ads
Facebook Ads is Facebook's native advertising platform. It allows you to run ads to people who are currently using Facebook. Since Facebook owns Instagram, you can also create and run Instagram Ads through the Facebook Ads platform.
Here's a quick example of a classic Facebook ad: the newsfeed ad.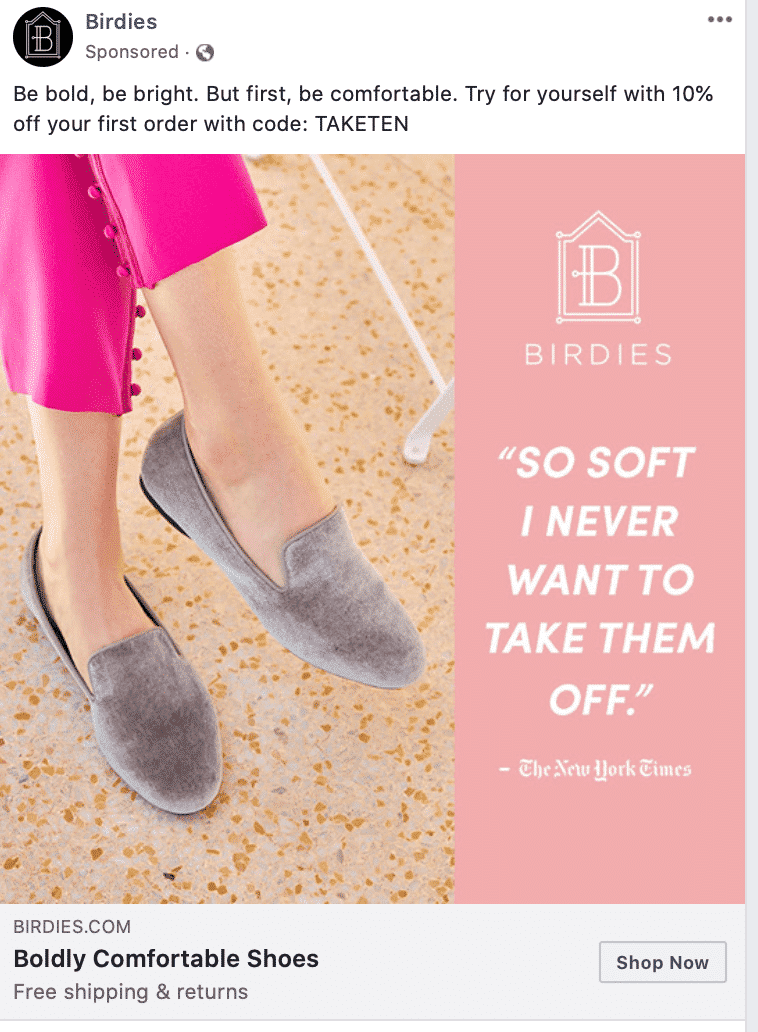 Whether you realized it or not, you probably see this sort of ad every time you check your newsfeed on Facebook. As you can see in the example above, ads on Facebook and Instagram are marked with a "Sponsored" tag, but they're otherwise a seamless part of the platform.
Of course, the newsfeed ad isn't the only type of ad you can run on Facebook Ads. There are a lot of different ad types and placements you can use, but to keep things simple, we won't get into all of those (for more information, though, check out this article).
Google Ads
Google Ads is Google's native advertising platform. With Google Ads, you can create ads that show up when someone searches for something specific on Google.
For example, here's what you might see if you searched for "laptop sale" on Google: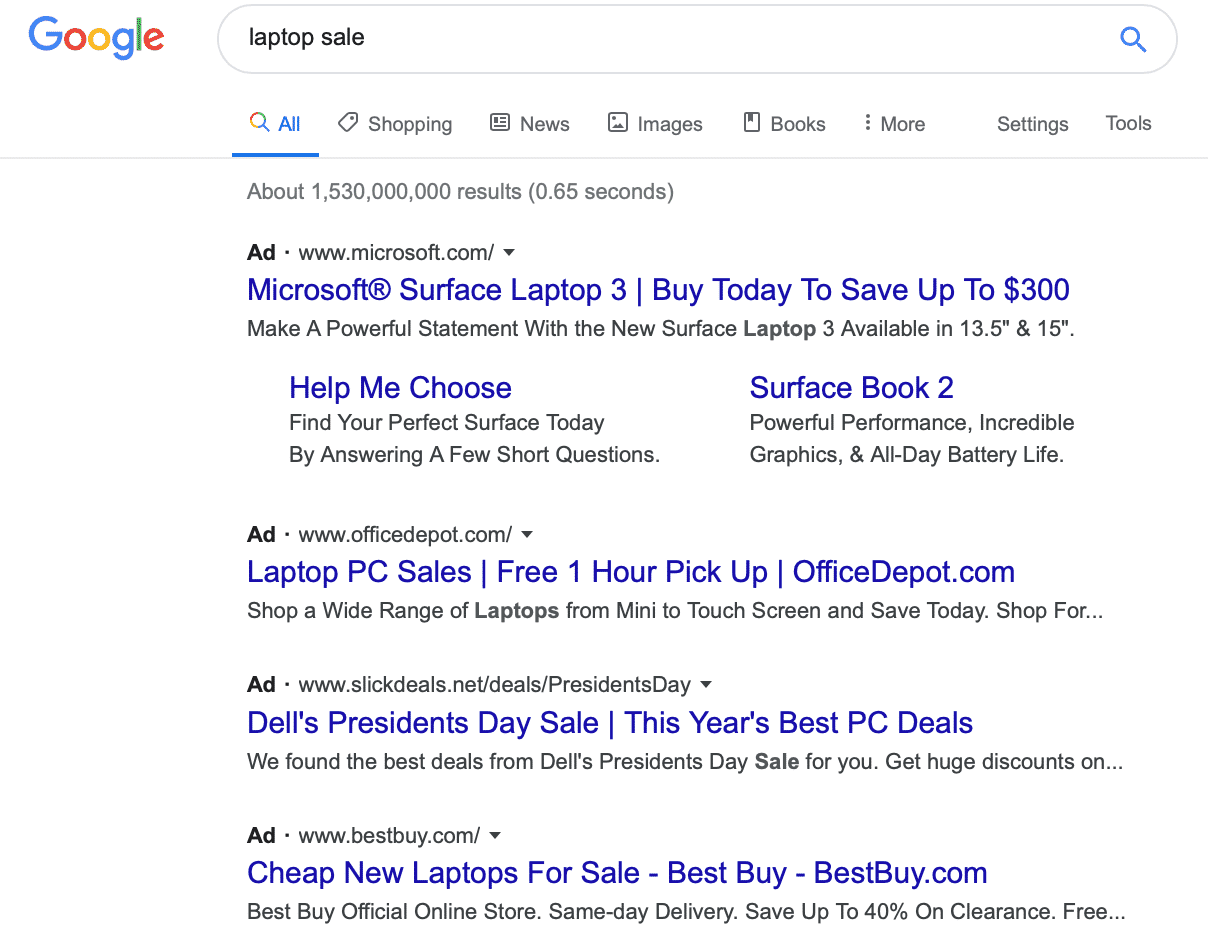 Like Facebook, Google's ads are also marked with an "Ad" label. This is actually a legal requirement for advertising platforms like Facebook and Google, so every ad platform has to make it clear when they are serving ads to their users.
However, even with this label, many people still don't realize that Google ads are actually ads. That's good news for advertisers, because it makes people even more likely to click on your ads.
Google also owns YouTube and the Google Display Network, so if you want to run video ads on YouTube or display ads on the GDN, you can create and manage them on the Google Ads platform. However, these types of ads (and a variety of others offered by Google, like Gmail-Sponsored Ads) are a little more advanced, so we'll just focus on Google's paid search ads in this article.
Why People Love Facebook and Google Ads
There are a lot of reasons why businesses use Facebook and Google Ads, but the most important is reach.
Facebook has over 2.5 billion users, and 1.66 billion people log into Facebook every single day. Over 90% of worldwide searches take place on Google, which works out to over 5 billion searches a day.
So, if you want to reach your target market, Facebook and Google Ads are the easiest ways to do it. Odds are, most of your potential customers or clients are using Facebook and Google, so they're at the top of most businesses' marketing go-to lists.
There's a lot more to Facebook and Google Ads than just reach, though. Both of these advertising platforms are incredibly well-developed. They offer detailed targeting options to help you reach your target market, powerful algorithms to ensure your budget is being used effectively and insightful reporting tools to help you analyze the effectiveness of your marketing efforts.
Both Facebook and Google make most of their money off of advertisers, so it's in their best interest to make sure that their platforms are as user-friendly and useful as possible. As a result, they're usually the most advanced and powerful advertising platforms around.
Which Platform Should I Use?
For businesses that are just getting into online advertising, one of the first questions they ask is, "Should I advertise on Google or Facebook?"
Each platform has its strengths and weaknesses, but in most cases, you should probably use both. Because these platforms market to people in very different ways, using them together can allow you to reach your potential customers in the right way at the right time.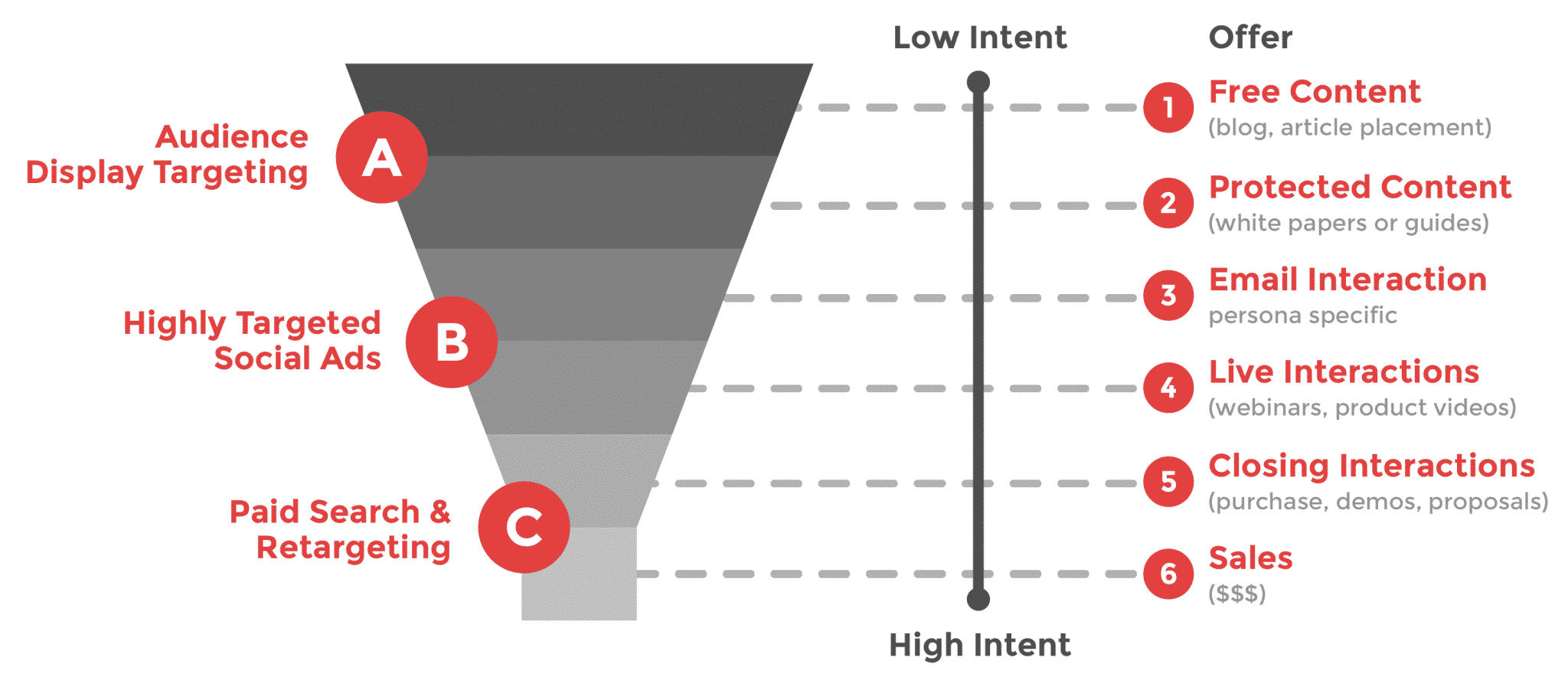 This sort of marketing approach is called a "full-funnel strategy", and it's one of the best ways to advertise online.
For example, Facebook has tons and tons of data on its users, down to whether they are Team Jacob or Team Edward (just kidding, we think…). If you want to put your business in front of a highly targeted audience to build awareness, drive traffic and generate sales, Facebook is a great way to go.
However, there is a downside to Facebook.
Most people who are on Facebook aren't there because they want to buy something. They're on Facebook to check up on friends and family, discover fun content or stay up-to-date on recent events. As a result, they're a lot less likely to respond to your ads—making Facebook Ads a much better fit for businesses that are trying to build awareness.
On the flip side, Google Ads can be a good way to generate brand awareness, but it really shines when you want to get in front of people who are actively looking to buy. When someone is ready to take action, they don't hop on Facebook and wait for a relevant ad to show up. They check out their options on Google.
This is why Facebook and Google work so well together.
Facebook is great for targeting people who aren't actively thinking about what you're selling. You might not get a ton of sales from your ads, but you can introduce them to your brand and get them familiar with your business. Then, once they're ready to buy, they'll hop on Google, see your ads and choose your business over the competition because they already know and trust you.
For certain businesses, Facebook or Google is the only solution they need. However, most of the time, Facebook and Google Ads work best when you use them together.
Using Facebook and Google Ads
If you're thinking, "This all sounds good, but I'm no marketing guru…how can I hope to advertise on Facebook and Google effectively?", don't worry, there are a lot of ways to take advantage of Facebook and Google Ads.
For example, Facebook and Google both have incredibly powerful algorithms you can use to set your ads up for success—even if you're not a marketing expert. Remember, Facebook and Google make their money off of advertisers, so they've invested a ton of money into creating algorithms that make advertising as easy as possible. Their algorithms are constantly learning and improving to help ensure that you remain a customer for a long time.
However, neither Facebook nor Google is a "set it and forget it" platform. Their algorithms are great, but to really make money on Facebook or Google, you'll need to keep a close eye on your campaigns.
Even if the algorithms are driving great results for your business, these ad platforms are always changing, and what used to work a month ago may no longer be the best strategy today. Plus, continual A/B (and sometimes C/D/E…) testing will make sure you're showing the best ads to the best audience.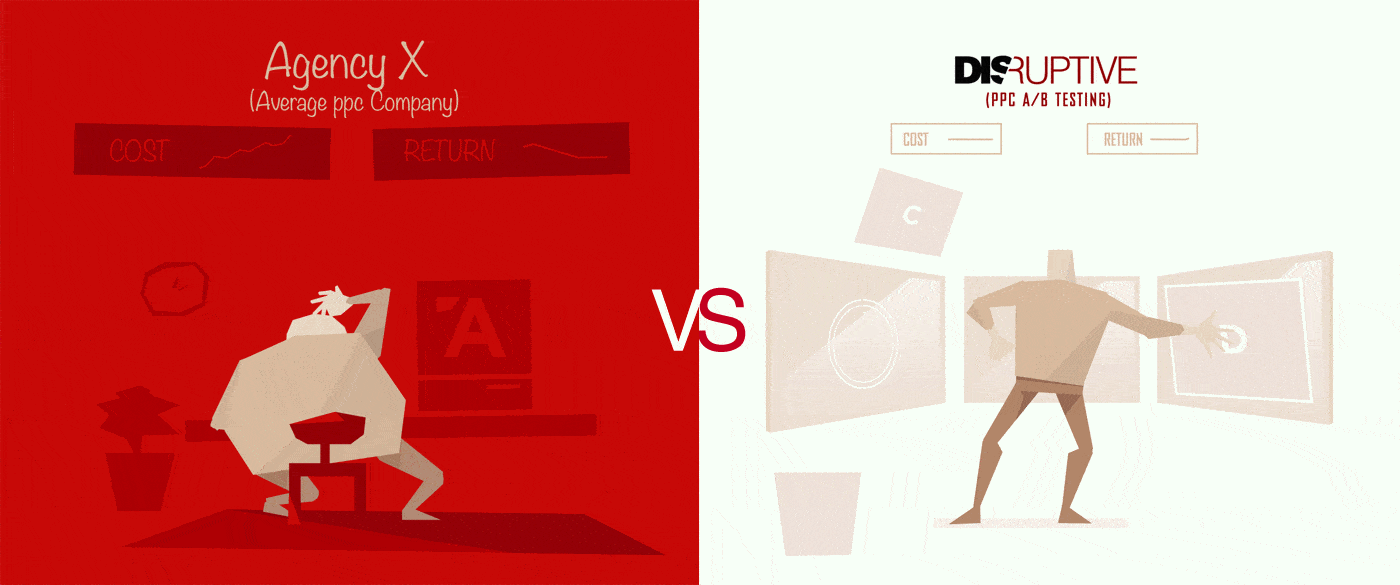 Most marketers who run Facebook and/or Google Ads like to monitor their ads on a daily basis to ensure that budgets are being used effectively between all campaigns, that the best performing ads are running and to create and test new ads and audiences.
Finally, if you're looking to get the most out of your online advertising, you may want to hire someone to manage things for you. You might not need a PhD to understand Facebook and Google Ads, but having an expert around to help can make a big difference. Many businesses like to work with a digital marketing agency (like us) or have a dedicated in-house ads manager.
Conclusion
There, that wasn't so bad, was it? When you get right down to it, Facebook and Google Ads are fairly straightforward. They're both marketing platforms that allow you to put your ads in front of your target audience—for a price.
When used together, these platforms are a perfect way to get a full-funnel strategy up and running for your business. Using Facebook and Google's algorithms, you can do it on your own…or you can hire someone to help out. It's all up to you.
But, if you'd like some help with your Facebook or Google Ads campaigns, let us know here or in the comments. We'd love to help you make the most of these ad platforms.
How do you feel about Facebook and Google Ads? Are they right for your business? Leave your thoughts in the comments below.