How to Write Ad Copy That Stops Users in Their Tracks
Too many people don't place enough value on their ad copy, and it can tank your campaigns fast.
Ad copy is an essential component to every campaign you run, no matter what platform you're using. It's how you convey value to your audience, explain what your product or service offers and convince them to convert. Without ad copy, a pretty picture is just a picture, and viewers will never think twice about it.
Writing ad copy isn't the easiest task, and it can take a lot of practice and trial and error. You need to get the tone right, offer right, and the messaging right for each individual audience you're targeting in each individual ad.
There's a reason why so many companies outsource ad copy even if they're able to tackle the rest of their campaigns themselves; this is one part of the process that isn't made foolproof by a list of best practices.
Instead, writing ad copy is an intensive process in and of itself, and in this post we're going to look at how to write ad copy that stops users in their tracks, using the same system that I use every time I write PPC campaigns for my clients.
 Research Your Audience
Before you do anything else, you need to have a firm understanding of who your different audience groups are. Your copy should always be tailor-made for each individual audience niche, so you need to understand who they are from a demographics perspective, along with what motivates them and what they need.
This will help you use targeting criteria to reach the right audience members (which is important), but it will also help you gain a clear understanding of what kinds of messaging will resonate with your audience.
Let's look at an example. Say I'm selling one of those subscription food boxes, which sends all the ingredients and recipes you need to make a few meals without going to the grocery store.
When I'm showing ads to parents, I might write about "Cooking with the kids made easy! Teach your kids how to prepare healthy meals with less chaos and less cleanup!"
This ad won't appeal to young childfree people at all, so it shouldn't be the only campaign that you run. I'd also write an ad for couples promoting the box as a great affordable, bonding date-night idea, and one for young professionals or college students promising that the cooking is fast and easy, even if you don't know how to cook well.
Break down each individual audience niche into buyer personas, and including their individual motivations and pain points along with core demographic information.
Understand the Formatting for Each Platform
Copy formatting varies heavily for each individual platform.
Even though they're both selling similar products, this ad from Google…

…looks nothing like this ad from LinkedIn: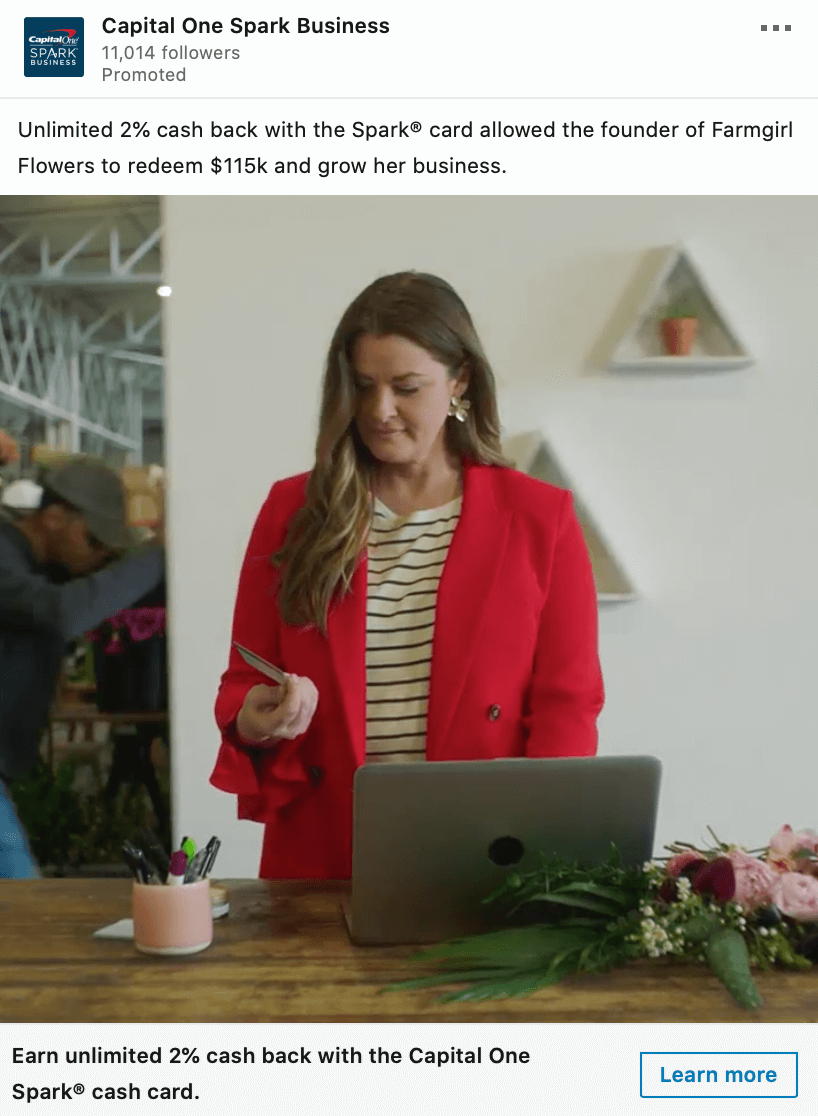 It's essential to look at each platform you're using and decide what the best approach is moving forward. Social ads are much more effective when you're using elements of storytelling, while search ads may perform best when you're focusing on core features and benefits that would appeal to most of your customers.
You also want to get the formatting right for each individual platform. Facebook, for example, cuts off more than three lines of text on mobile ads, so you've got to either keep it shorter than three lines and/or make sure that the attention-grabbing hook is placed up top.
Similarly, you want to look at how brands are breaking up their Google Ad headlines and descriptions, especially since there's such limited space, along with understanding how to use extensions to expand your copy potential.
Take a deep dive into each individual platform before you get started, and remember to always preview your copy on each ad placement you're using for every platform to see how it looks and reads to viewers.
Show Value
Value is important. It's what convinces users that your product or service is different and that it's something they need to have.
If you were to see an ad that said "Electrician, We offer electrician services, local to you, call today," it wouldn't be as persuasive as either of these, which demonstrate the unique value of each individual company ("Fix it right the first time," "satisfaction guarantee," "courteous, clean, drug-tested professionals"):

Here's another example of why you need value to explain why customers need your product. This ad from Little Passports doesn't really tell me anything about the product, just that it can "inspire your child to learn about the world" with a coupon code attached.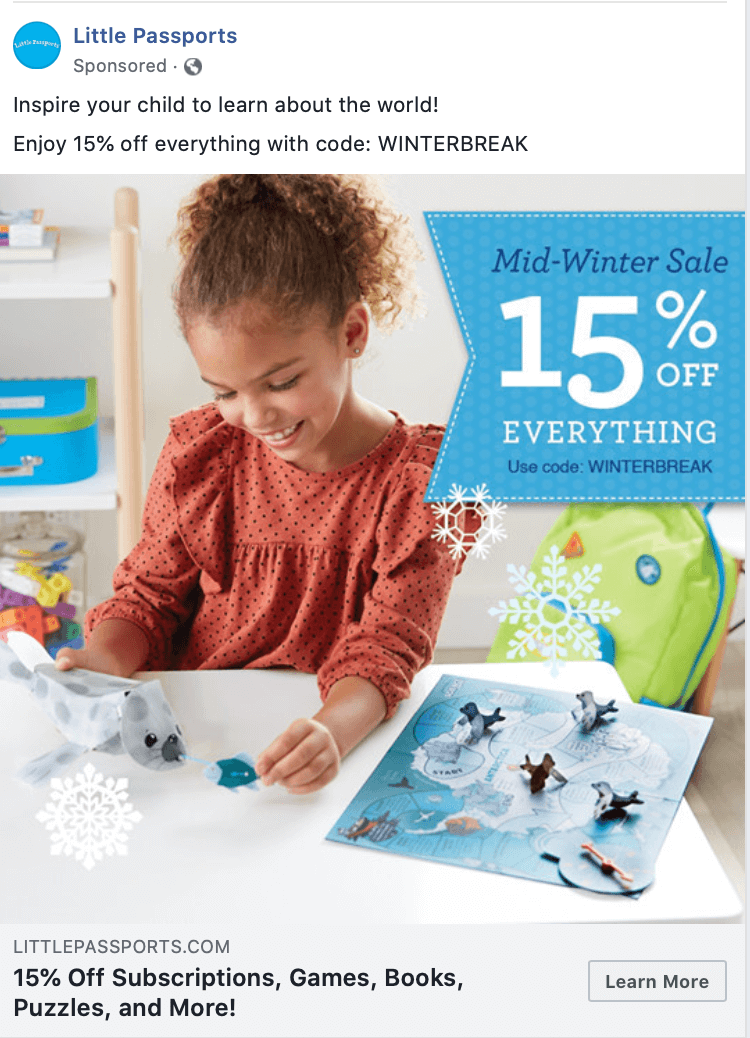 I don't really know how this product is supposed to help, or why it matters. It's unlikely that I'd convert even if I was in the target audience.
Let's look at an example that demonstrates value well. This ad from Birdies features the copy "Be bold, be bright. But first, be comfortable" before including a discount code.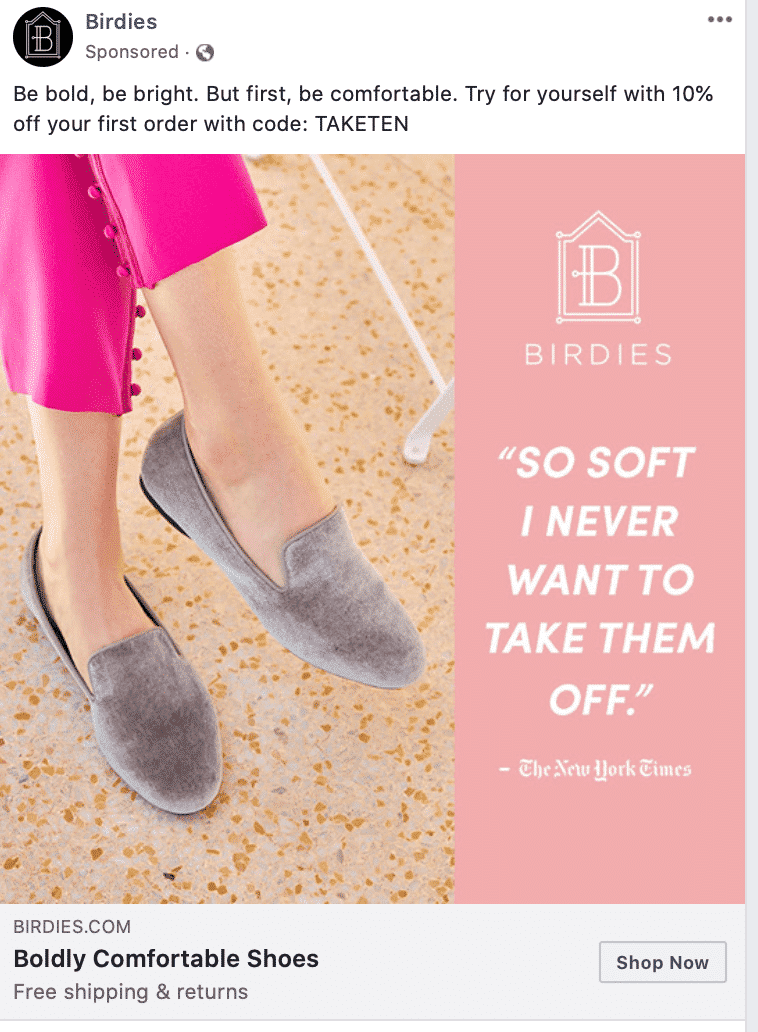 The headline reads "boldly comfortable shoes," and text on the image features a review from the NYT saying "so soft I never want to take them off." They're showing value by promising that they look good, feel good and that there are reviews from esteemed newspapers to prove it.
Isolate Key Pain Points to Target
In almost all cases, it's most effective to focus on the value that your product can offer individual niches of your target audience, because this will be different for each audience segment and their pain points.
This is an essential part of the step. Think about the pain points that your audience will have. In the ad example above, clearly drugged-up electricians was potentially a problem in some areas, because "drug tested" was listed as a benefit to appeal to a certain pain point.
You'll want to address pain points head-on, and explain how your product or service will resolve the issue.
This is a great example from HONEYLOVE Sculptwear: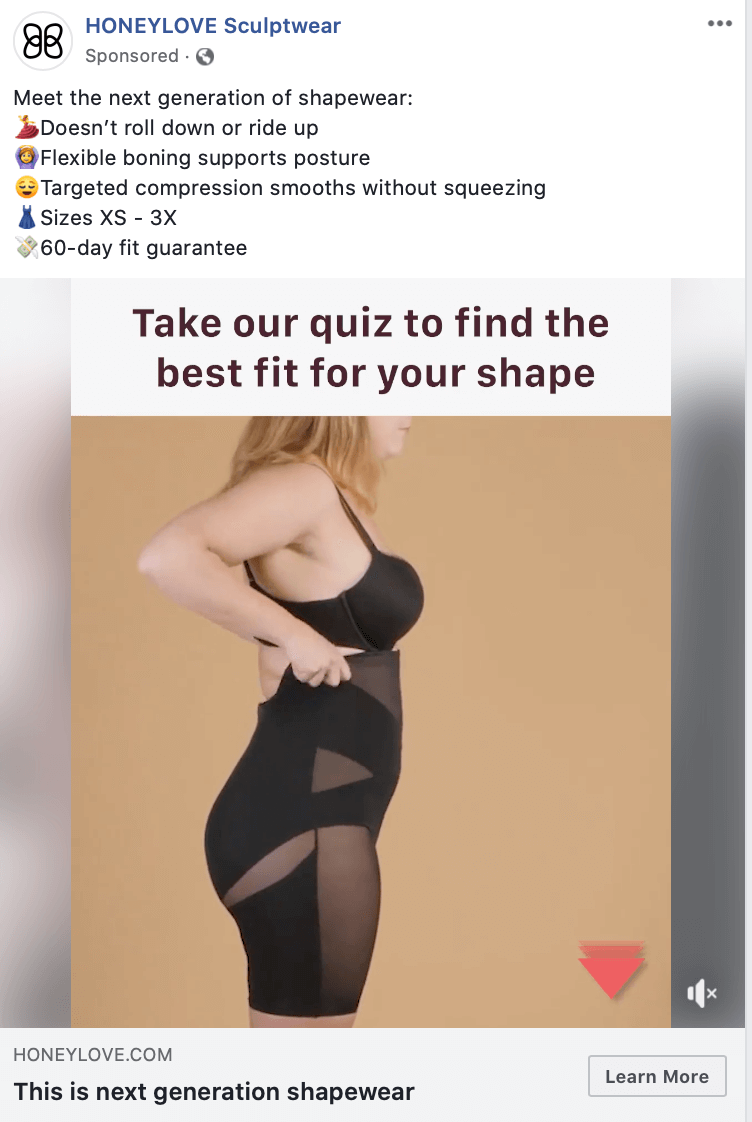 They're promising that it's "the next generation of shapewear," and backing it up by detailing a bunch of features that solve major pain points for women everywhere.
It smooths without squeezing.
There is a diverse range of sizing.
It supports posture.
It doesn't ride up or down.
They've listed every single pain point that most people have with conventional shapewear, and promised that they're different.
Highlight Features and Benefits
There's some overlap here in strategies, with value and pain points guiding different aspects of the ad. One of those aspects will be when you're mentioning features and benefits, which I strongly recommend doing to help show value and to encourage users to purchase.
A feature is simply one aspect of your product or service that makes it unique, like "endlessly reusable platinum silicone storage bag." A benefit is an explanation of why this is advantageous to the user or how it helps them, like "that gives back to the world."
Features and benefits, simply put, explain how your product is useful and how it unique helps the individual customer. They're a great selling tool, which is why they're one of the first tactics I was taught in every sales job I ever worked in, and they're an effective copywriting strategy, too.

I do want to note that because of the limited space you get in search ads for copy, most focus strictly on the features, simply implying the benefits. That works, too, so take space into consideration and decide what information is most useful to win over your audience.
Incorporate Storytelling
This tip is really more for social ads more than search ads, but if that's what you're writing, it's a great strategy to use.
Storytelling is an outstanding copywriting strategy. It's interesting, and it can hook the viewer's attention when the lede is strong enough and the overall story is relevant to them. It's incredibly useful for building brand awareness, largely because it's so memorable.
Telling a brand story like Truff Hot Sauce does here can work exceptionally well, especially in the early stages of the sales funnel.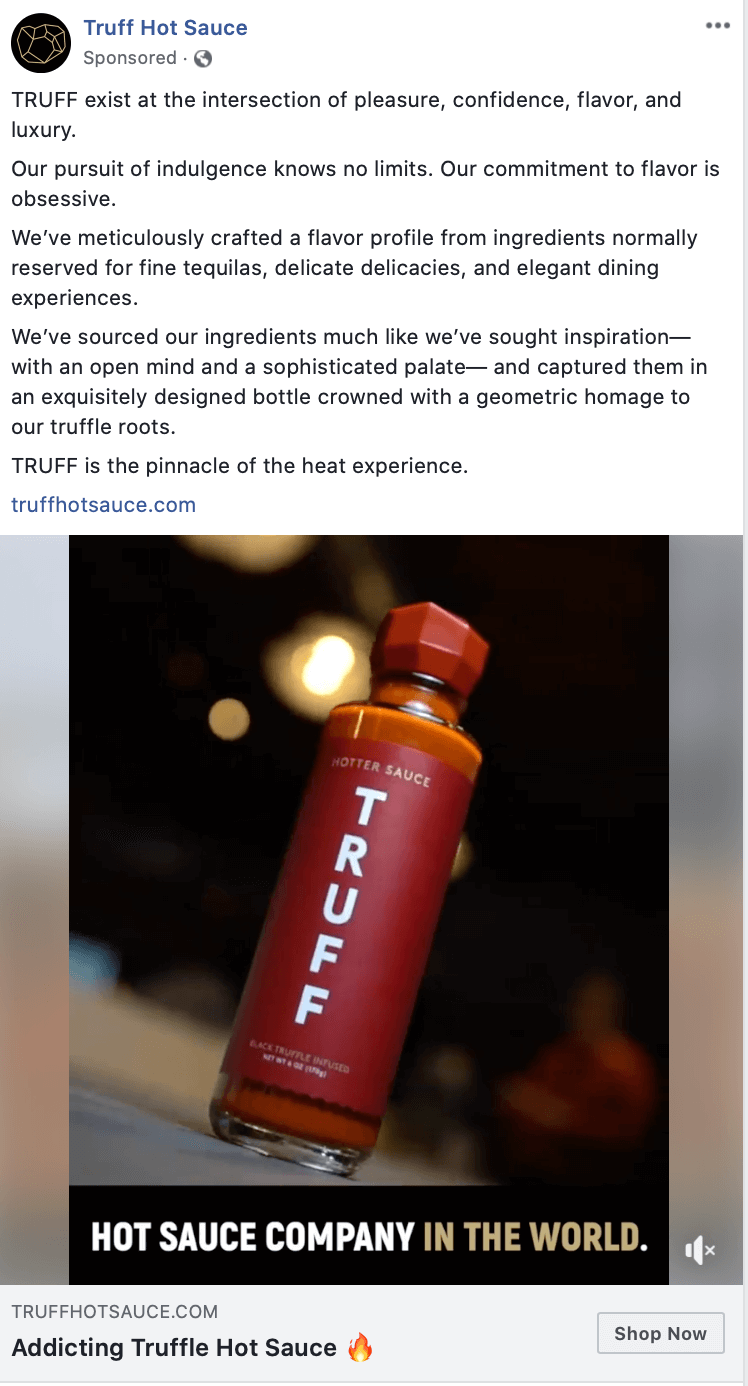 They talk about their "pursuit of indulgence" and how they source ingredients and what their overall goal is. Then they introduce their product, after they've reeled you in with their assurance that they love "fine tequilas, delicate delicacies, and elegant dining experiences." You think "this is a foodie's hot sauce" and want to try it. And that's how they get you.
Final Thoughts
Writing ad copy can take a lot of practice and even more strategy, but with the right process, it gets a lot easier. That being said, I still strongly, strongly recommend writing multiple sets of copy for each individual campaign so you can split test it.
Change up the length on platforms like Facebook Ads and LinkedIn Ads, share different offers, highlight different pain points or needs, and even just try different phrasing. It's the best way to learn more about what resonates with your audience and what drives clicks, and it will keep your campaigns fresh and interesting.
Practice makes perfect, and with copy, that couldn't be more true.
If you don't have the time and energy to start writing copy for your campaigns, trusted agencies like ours can help. Get in touch with us to learn more about our PPC services.
What do you think? What strategies have you used when figure out how to write ad copy that stops users dead in their tracks? (or at least in their feeds). Which steps in the process do you think are most important? Share your thoughts and questions in the comments below! 
Leave a comment