State of the PPC Union: July 2014 (Dynamic Sitelinks and More)
By no stretch of the imagination could anyone ever label me a genius. I'm really not that smart. In fact, I've done a lot of really dumb things my life so far. In high school I was voted most likely to do this:
[image_with_animation animation="Fade In" image_url="https://wp.disruptiveadvertising.com/wp-content/uploads/2014/07/burn-yoself.gif" delay=""] [/image_with_animation]
Luckily, because of the good ole' interwebs – serving as a little Wizard of Oz in your pocket – we don't all need to be geniuses to be good at PPC advertising. We have access to the thoughts and strategies used by the leading minds in Paid Search and we can use it to be pro.
So without further ado, here is the official State of the PPC Union for July:
Free! Free! Free! – Introducing Dynamic Sitelinks
Last week Google announced that they would begin rolling out dynamic sitelinks worldwide. Wordstream's co-founder and CTO, Larry Kim, outlined some of the details in a post on Search Engine Watch.
"Dynamic sitelinks are automatically generated and appear below your ad text. They cost nothing if they're clicked and give advertisers more space on the SERP, enabling users to go straight into specific pages on your site from the ad…"
But why is Google rolling out free clicks? Seems kind of counter-intuitive right? Wrong. According to Kim it's because even though the clicks on the dynamic sitelinks will be free, they cause increased click-through-rates (CTR) "around 10 percent on average."
So Google is banking on the fact that if they give you free sitelinks your ads will actually be getting more clicks, thus more cash for them. Those sneaky little devils! But more clicks for you does mean more customers, so it's all good!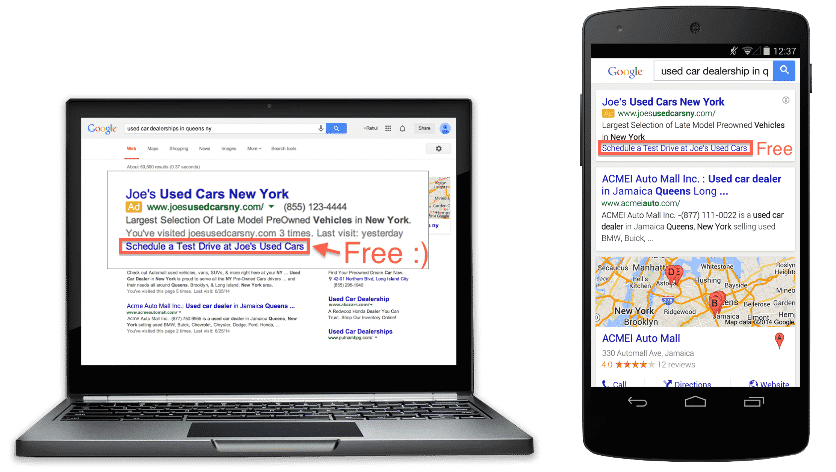 What other advantages come from this bounteous gift from Google? Increased Quality Score and AdRank? How about yes and yes.
Last year Google made sitelinks and ad extensions part of their AdRank Formula. Google uses the expected impact from ad extensions in the AdRank calculation.
As for Quality Score, Larry Kim and his folks over at Wordstream have seen "a 10 percent boost in quality score with the use of sitelinks on ads". It's no wonder really that Google wants ads that get a better CTR showing up higher in the results. It's all about the money. $$$
So, should you have sitelinks and ad extensions on every single one of your ads then? … I'll just leave that as a rhetorical question.
Ka-ching! All Things Bing!
Many of us have a love-hate relationship with Bing Ads. It can be a great tool for expanding reach for clients and driving some lower cost traffic, but it can really be a pain to work with when you're used to the mighty power of AdWords Editor.
Luckily, Bing is making strides in the right direction. Just yesterday the General Manager of Bing Ads, Steve Sirich, posted about some of the new updates Bing has coming our way in the next couple weeks. You can check out his full post here for all the details, but here's a quick rundown.
No More Manual Tagging – Bing now will now auto-tags your destination URL's saving you time and effort
Online Ease For Insertion Orders – Say goodbye to faxing and emailing insertion orders. Just set them up to automatically send through Bing Ads or the Bing Ads API.
New Performance Indicator – Similar to Google AdWords, Bing will now have a Top Mover feature showing you the key factors driving performance, making your life easier and your campaigns more efficient than ever.
They're Making It Prettier – According to Sirich, starting next week Bing will get a total makeover. A redesigned User Interface (UI) will make working in Bing easier than ever before. Here's a little preview:
Round-Up
Well, that's what's been happening this July. There are plenty of other new resources, tools, tips and tricks to talk about, but I can only type for so long before I feel the need for a slurpee coming on. Give us a shout – or come back to our blog in a couple days – if you want to learn about more great tools that will help pave your path to becoming a PPC ninja 🙂
[image_with_animation animation="Fade In" image_url="https://wp.disruptiveadvertising.com/wp-content/uploads/2014/07/laser-ninja-cat.gif" delay=""] [/image_with_animation]
Leave a comment