Facebook's New Targeting Expansion Option – Should You Try It?
by Kevin Manning • August 9, 2016
Facebook recently started testing a new targeting feature called Targeting Expansion in some accounts.
To be honest, this new option rolled out so quietly that I almost missed it. A couple of weeks ago, I noticed that the following checkbox started showing up in about half of my accounts:

Out of curiosity, I did a little research about this new option.
Basically, according to Facebook:
"[Targeting Expansion] allows us to add or remove interests to reach more people who may convert, but wouldn't otherwise have been in your target audience.
"If we decide to expand your target audience, it can help increase the number of conversions at a lower cost per conversion."
In a lot of ways, the idea is very similar to Facebook's lookalike audiences—with one key difference.
With lookalike audiences, Facebook takes a list of people who have already expressed an interest in your business—liking your page, visiting your site, giving you their email address—and then finds people who have similar demographics and interests to the people on your list.
In other words, lookalike lists are based on people. Targeting Expansion, on the other hand, is based on interests.
Understanding Targeting Expansion
Now, I don't know exactly how Facebook determines which interests are a good fit for your ads, but my guess is that they look at the interests of people who interact with your ads or the ads of other businesses in your industry and change your targeting to focus on the "right" mix of interests.
If this is the case, Targeting Expansion uses Facebook's internal data to actually target your ads to interests that you may never have otherwise considered.
For example, if I was running ads for a flight training program, I might pick Aviation as a target interest.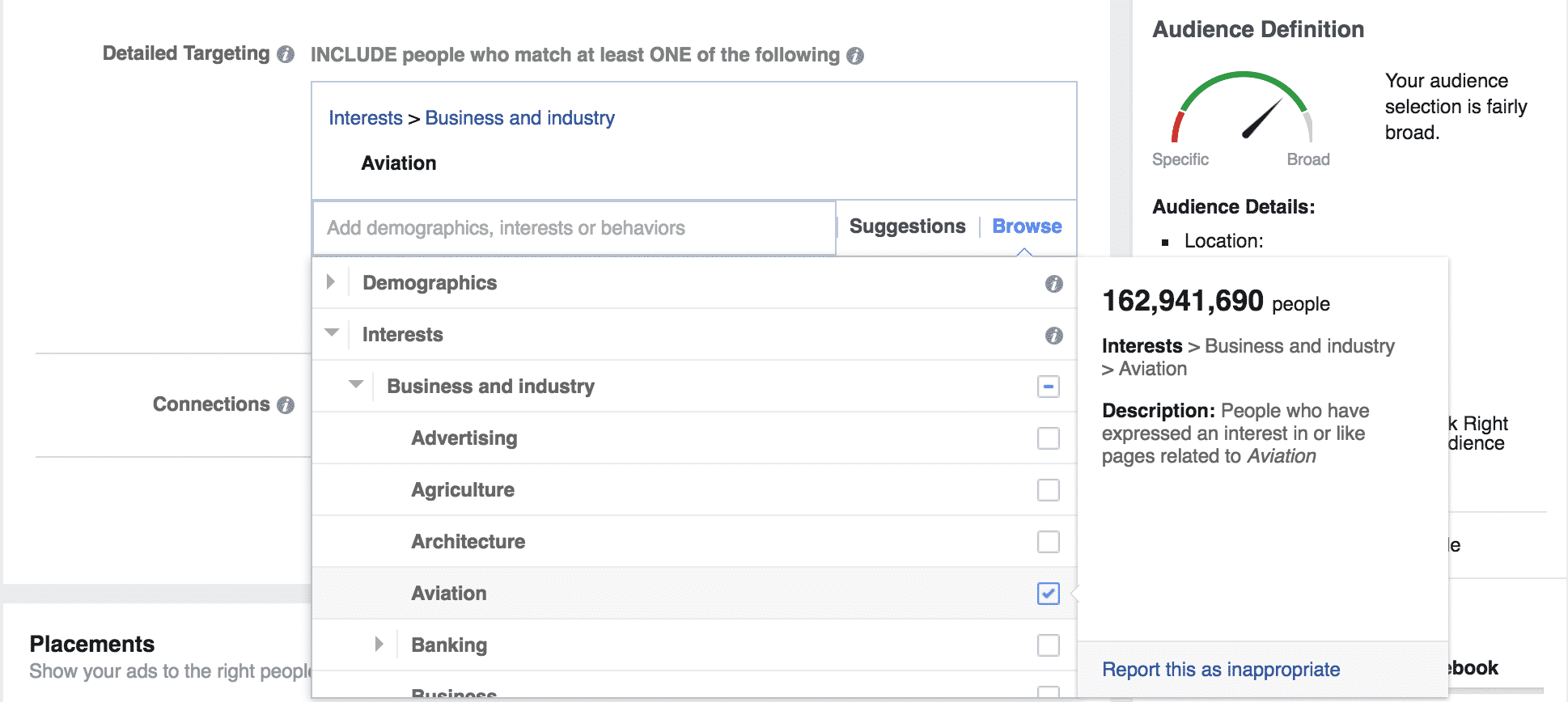 However, I may not know it, but maybe most people with an interest in aviation love building airplane models. They don't convert regularly on ads in my industry.
Instead, maybe most people with a love for ballet also have aspirations to become pilots (they soar through the air on stage, so they want to soar through the air in a plane…work with me here, it's just an example).
Obscure as it might be, I should be targeting people with an interest in Ballet.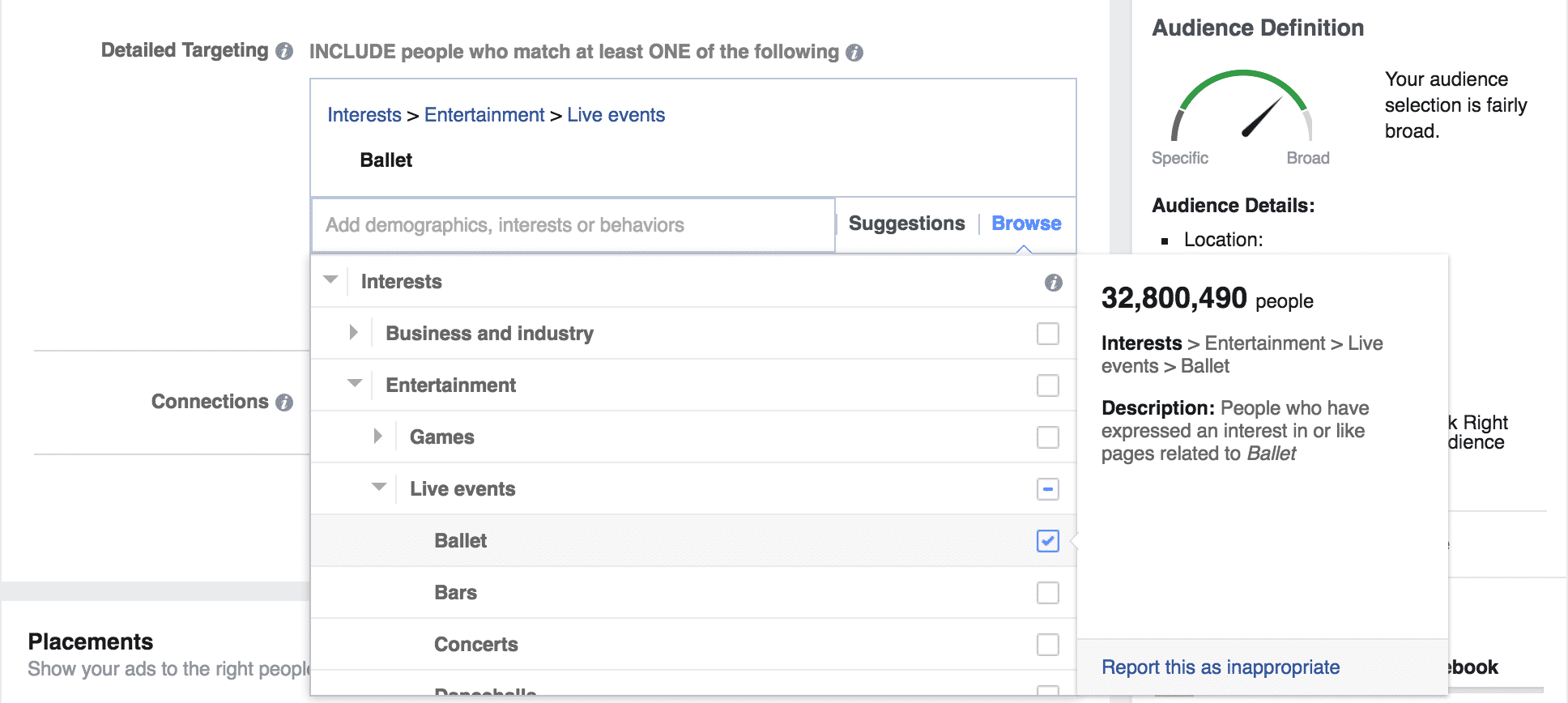 Of course, since I don't know that my "ideal" audience is dominated by ballet lovers, I'm not going to target them. I'm going to make the logical choice, Aviation.
As a result, I'm going to end up targeting the wrong audience and I won't get the conversions I'm after.
With Targeting Expansion, however, Facebook will expand my targeting to include interests that are more likely to produce the results I need.
In the case of our aviation school example, Facebook knows that ballet aficionados are always on the lookout for flight training programs, so they automatically expand my interest selections to cover people with an interest in ballet.
My ads end up in front of the right audience and I get lots of signups!
Case Study
Now, on the surface, this sounds like an interesting option, but I often find that putting an algorithm in charge of my ads doesn't produce great results.
However, I was curious to see how Targeting Expansion would affect my campaigns, so I went ahead and tested it!
For my test, I set up two identical ad sets with the same targeting. The only difference between the ad sets was targeting: one was using the Facebook Targeting Expansion, one was not.
Simple enough, right?
I let the ads run for about a month and then pulled the results. Here's what I discovered:

To my surprise, Targeting Expansion actually produced 43.8% more conversions at a 28.2% low cost-per-conversion than my normal targeting.
So, maybe high-flying ballet dancers isn't such a far-fetched idea…
What's particularly interesting here is the fact that the clickthrough rate for my expanded targeting ads was actually lower.
My expanded ads received more impressions, but actually drove 7 fewer clicks (134 vs 141). However, the conversion rate for my expanded ads was 68.7%—over 50% higher than the conversion rate of my standard ads!
That means I was paying for fewer clicks and getting a lot more conversions.
Obviously, this wasn't a particularly massive test, but the results were statistically significant (ρ = 0.01).
With these results in hand, I feel fairly confident that Facebook's interest targeting was delivering higher quality traffic to my landing pages than my normal targeting—at least, for this campaign.
Conclusion
To be honest, while I'm excited by the potential of Targeting Expansion, I'm curious to see how expanded ads perform in additional campaigns and accounts.
The idea seems sound enough, but it will be interesting to see how effective Facebook's algorithm really is—I'll update later when I have additional results!
By the way, if you're curious about trying Targeting Expansion or would like me to take a look at your Facebook account and offer some suggestions, let me know here or in the comments. I'd love to help!
Have you tried Targeting Expansion? What did you think? Do you think this new targeting option will be useful?