Hip Hip Hooray: Instagram Essentials for Medical Practices
by Cydney Hatch • November 5, 2018
The medical field is full of quality images! Whether it's X-rays, comparison photos or MRIS, medical practices have visual content readily available.
So, if that's the case, why not make it work for your practice instead of having them sit in your filed folders?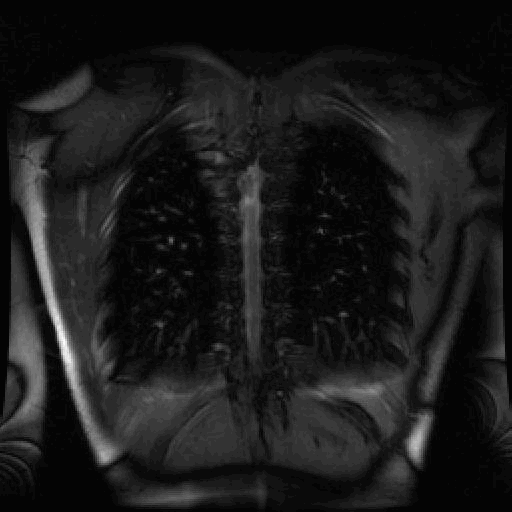 Since images and medicine go hand in hand and Instagram has 500 million daily users, solely focusing on visuals is a great way to get in front of patients!
Whether you are reading this article to figure out if Instagram is right for your practice or you are struggling with growing a following, we can help you!
Instagram Essentials for Medical Practices
In this article, I will share essentials on how to harness the power of Instagram for your medical practice.
Setup a Business Profile
Switch your Instagram account from a personal page to a business page! A lot of medical professionals make the mistake of not creating an Instagram account and by doing so, they are missing out on a lot of meaningful tools to better promote their practice!
By November 30th, 2017, 25 million businesses had started to an Instagram business profile! A lot of people have made the switch because there are a lot of perks to having a business account:
Trackable Analytics: Only business profiles get access to key metrics such as impressions, reach, website clicks and profile views on Instagram.
Advertising: Whether you want to grow your followers, boost practice awareness, promote a campaign or generate conversions Instagram advertising is definitely worth considering. Learn more about Instagram advertisements here.
Easier Contact: An Instagram business profile allows you to display key contact info such as an email address, physical addresses or phone number which makes contacting your practice a whole lot easier for potential patients!
Scheduling: This year, Instagram has made changes to its API ,which now allows business accounts to schedule posts through verified third-party tools. This saves you time and therefore lets you do more for your practice!
If you want to make the switch, go to the wheel looking settings button on the top right corner of your IG page account. You will see the option to "switch to business page", click, confirm and voila! You are now set up as a business account!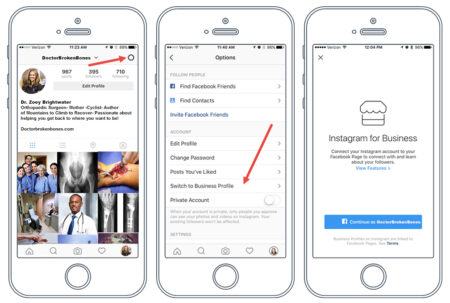 If you question whether o not you have made the switch, a quick way to check if you have a business profile is check your "Edit Profile." If you see the "Promote" button then you are utilizing Instagram business! Yay!
Once you have made the switch or set up an account make sure to fill out all of your practice information, including website, bio, category, and the contact options so it is as easy as possible for people to contact the practice.
Compelling Visuals
Instagram is obviously visual, so you want to have strong visual branding guidelines to give your patients a consistent experience across all of your business platforms.
A lot of other businesses struggle with visuals, but the medical field is full of visually compelling elements. Visuals, one of the hardest things in marketing, are at your finger tips and you can easily share quality content with your audience.
Obviously, you need to respect the privacy of patients and their information, but there are a lot of fascinating medical images you can share on your Instagram account that can help drive traffic:
X-rays, MRIs and CAT scans
Surgical rooms
Medical drawings (the less grotesque approach)
Relevant study graphs and infographics
Post-operation recovery steps (multiple photo slides)
Before and after images from patients
Medical staff and doctor headshots (accompanied by short bios)
Partnership and event photography you participate in
School teams and patient groups that you work with
Some creative examples from doctors offices include:
Doctor ZDoggmd used a socially popular trend "elf on a shelf" to creatively market his doctor's office with a hint of humor.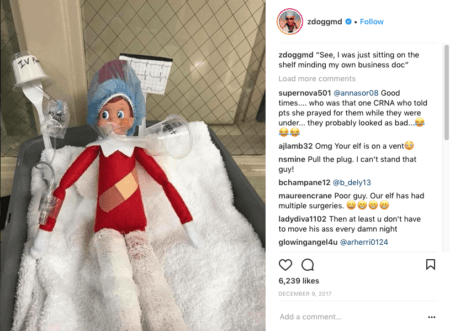 Doctor Miami shares a plastic surgery procedure that is informative and interesting. Definitely not for the weak in the stomach!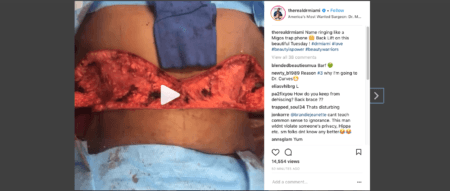 Doctor Pimple Popper shares an impressive before and after photo of one of her patients which gives hope to many who might be struggling with acne! These are powerful examples of your services and your success rate.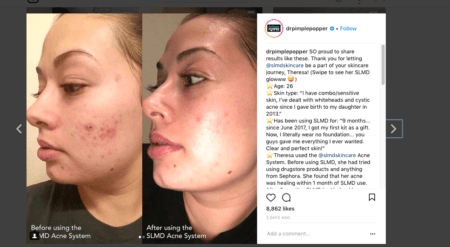 Whether you realize it or not, your practice has a range of imagery that people will find interesting and informative! Think about how you can creatively use the images you deal with every day as a way to educate, intrigue and tell your practice's story!
Meaningful Content and Captions
There are several easy ways to write Instagram captions and content that will produce reliable engagement with your patients. Let's take a look at a few of them.
Voice
If you haven't identified your marketing voice, ask yourself: what are the qualities and values I want to promote? Brainstorm, make a list and use it to be thoughtful in your visual and written Instagram content.
In general, Instagram users don't expect or want formality. Of course, it depends on the industry and audience, but you should strive to keep things true to the personality of your practice and the personalities of your staff!
An example of this on Instagram would be Kate Duke who is an ACNP-BC Board Certified Nurse Practitioner. She is also passionate about being a "Mentor, Empowerer of Women.,Public Speaker, Influencer, Lover of Carbs."
In her account, you can see many personality filled posts talking about her life as a nurse practitioner!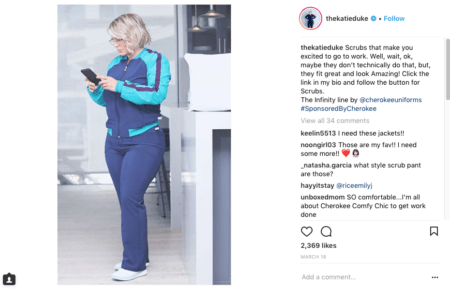 She stands out as a personable, engaged and passionate medical professional, as compared to the assumed "stiff, unapproachable and anti-social" personality many people unfortunately associate with doctors.
Meaningful Caption Prompts
So, if you are not outgoing, creative or one of the "beautiful" doctors featured frequently across social media there are many ways you can write meaningful content to help you stand out! If you are struggling to write something witty, fun or engaging, ask yourself the following:
Are you bored with your caption? If that is the case, your target audience will most likely be snoring too! If you find yourself feeling "blah" think inside the mind of your audience: What would be interesting to them?
Are you being helpful? Many people on social media are trying to find tips, tricks, and inspirations. Are you informing your audience about your practice, medical expertise or service? Are you teaching them and helping them be more informed?
Are you giving your audience things to respond to? The internet is a special place where people want to share their thoughts, feelings, and opinions. One of the easiest ways to get more comments on your photo is by using the caption to pose a question or an opinion they can respond to. An example of this would be to ask your potential patients what the most annoying thing about having adult acne is. This can be paired with a promo or something to help with that question/answer caption!
Are you inspiring your audience with captions? We all want a little bit more positivity in the world. People want to escape the reality of the world to be inspired, built up and influenced. Share body image, wellness or fitness quotes that can apply to your practice!
In today's world, the less you have to read, the better!
Instagram is no exception. If anything, it's a place where people want to read even less, so captions need to be short, sweet and to the point!
Instagram for medical practices should be posting quality content consistently for full marketing effect.
Educational Videos
Visuals, particular videos, are the key to marketing success in the social media world. In fact, 25% of Instagram's advertisements are now in video format with a click through rate of 1.84% (and that number is on the rise).
Since Instagram is the ideal platform for visual content, it's a no-brainer that Instagram videos and running video ads will help drive new traffic, conversions, and followings to your medical practice.
A perfect example of video content that can be intriguing to your potential patients is creating an "explanation video." Manhattan dermatologist Michelle Henry addresses ingrown hairs, which is a burden to a lot of people, in a video that is informative and explains the "why/what/how" they happen to her patients.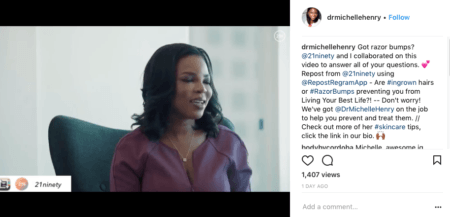 Not only does this video make her look like a skin expert in her field, but it also shows she cares and wants to better the lives of people who suffer from the skin problems she treats.
Another great example is Doctor Mike Varshavski's "top facts" video that informs patients on three facts about green tea and how it can help their health!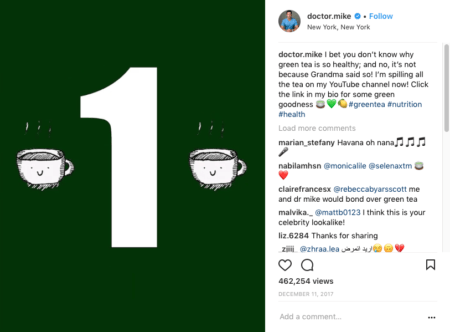 He is answering questions about a substance many people have questions about which is intriguing, socially relevant and helpful to viewers.
Like these two video examples, you too can create video content that can set you apart as a leader, informative, empathetic and companion during a potential patient's health journey.
Useful Hashtags
Instagram posts with at least one hashtag average 12.6% more engagement than those with no hashtags, according to a study by Simply Measured. So use hashtags when they are relevant but make sure it does not interfere with a customer reading experience! Some helpful hashtag tips are:
Use periods to break up captions and hashtags. Once you create the perfect caption for your image, tap the 123 key. Select return and then enter a period, dash, or asterisk. Repeat those steps at least four-to-six times. Because Instagram caps off captions after three lines, the hashtags won't be viewable to users unless they tap the more option.
Put hashtags in your comments! Want to forgo the typing, period and asterisk? Forget it! Just put your hashtags in your comments below! (make sure its the first comment). Once other people leave a few comments, the hashtags won't be viewable!
Make sure you use thoughtful hashtags that feature your hospital, body parts involved, location, and other medical terms. Look up hashtags ahead of time and see which ones have high traffic!
Examples: #doctorlife #dentistlife #healthtips #plasticsurgery #heartbypass #happyhearts #Utahhealth.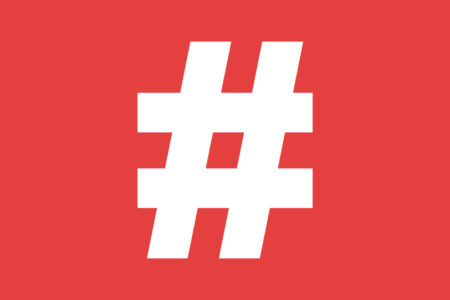 By spreading out your hashtags from your captions, you can create a pleasant visual experience for your target patients to read without a lot of hashtag clog up! Hashtags will also help with general exposure if someone looks up specific hashtags!
Engage with Followers
If you do not reach out to other accounts and engage with your followers than what is the point of having an Instagram account? People like to engage with brands and practices because they care.
When looking at your main news feed and like, comment and engage with other doctors and accounts you are following. Engage and respond to followers who ask a question and share their opinions, especially the consistent ones for your account!
Responding and engaging can be time intensive but you will be happily surprised at the growth and reciprocated engagement you receive when you show a little love on Instagram. Having more engagement, likes and comments makes Instagram's algorithm happy and will increase your overall impressions and brand exposure.
Call to Action
If you want to dabble with paid posts and advertisements on Instagram, Call to Action buttons might be a great first step!
Organic Instagram posts do not include clickable "call to action buttons" (CTA)…but paid posts do! The different CTAs available include Book Now, Learn More, Sign Up, Download, Watch Now, and Contact Us.
With an Instagram call to action post, you have a call to action button slapped right on the picture or video making it easy for the viewer to click and act. This can be a quick way to get a potential client to book an appointment or consultation directly on the specific website pages you want.
CTAs can be made more powerful by incentivizing your followers with a promo or new service with limited space. Look for creative ways to get your potential patients to act.
Cross Promotions
Instagram is about spreading the love as much as it is about amazing visuals. It's truly a love fest called "cross featuring."
Does your post feature another Instagram user? Does your practice partner with other offices for services? Look for ways you can cross promote and engage with your medical community that is in line with your practice specialty.
By cross promoting, you create a "you scratch my back, I'll scratch yours" type of action that can be a quick way to boost your following!
A simple way to do this is through location tagging on your Instagram posts. When you post something that involves another business or practice, it's important to tag that business or location.
Instagram has two fields that allow you to tag a person or location. These fields appear after you've edited your photo, on the final screen before you publish your post.
From here, tag the business' account in the "Tag People" field, and mark your location in the "Add Location" field. By taking this extra step, you begin a conversation with that business and show your followers that you are active in the local community.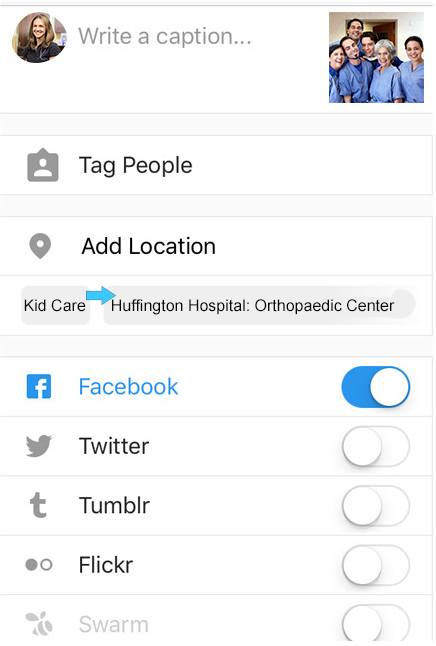 By tagging local businesses and locations in your Instagram post, you increase making connections with your patients outside of your practice.
Generally, cross promotion is a helpful way to build your presence in the community/network. It builds credibility and helps your business grow!
CONCLUSION:
Hip Hip Hooray! You now have essential steps in making your medical practice's Instagram account successful!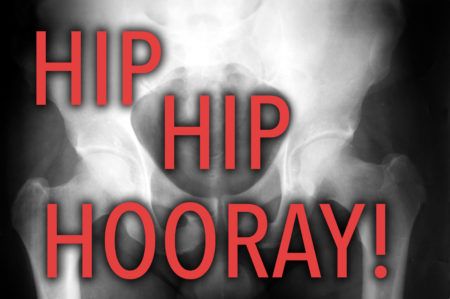 Instagram for medical practices can be a powerful visual tool to connect with potential patients and ones you are already treating. If you implement these essentials steps you will see significant changes in your medical marketing results. Be different, be creative and get that whole practice involved.
If this all seems a little overwhelming to you, don't pass out! If you'd like help with your social media marketing efforts, let us know here or in the comments. We'd love to help!
What do you think of Instagram for your medical practice? Scary or exciting? What medical marketing trends have been successful?