YouTube Advertising: Is It Worth Your Time and Effort?
Social Media
•
Video Advertising
•
Cydney Hatch
February 18, 2019
YouTube has become a video search engine many people have come to love, even those less tech-savvy. In fact, we spend a billion hours a day on YouTube, more than Netflix and Facebook video combined!
Yes, people love YouTube, but the major question remains for many businesses: is it a platform worth advertising on?
The answer is yes…in some cases.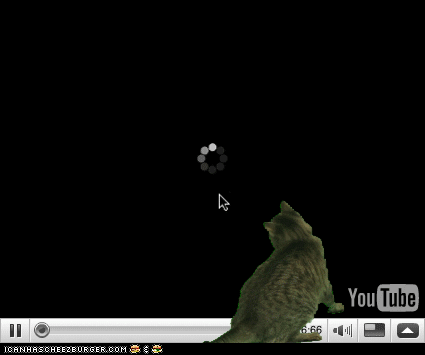 With YouTube getting over 30 million visitors per day, there is no question YouTube is a powerful tool for branding and marketing. The catch is, it requires a lot of time and money on the advertisers part to make it effective. So, is it a good fit for everyone? Probably not.
While you can definitely find success on the video platform, in this article we will talk about whether or not this is the best advertising fit for your business and how you can market your videos successfully on the platform.
YouTube Advertising: The Basics
Video advertising on YouTube is different from other platforms like Google or Facebook Ads because of the way a view is counted: You only pay for a view if the user passes the 30-second mark or watches the entire video.
Since this is different and there are a lot of things to consider when starting a YouTube campaign, it might be worth going over what is required of businesses and what your options are.
Let's take a look at some of the things you should know when looking to advertise on the video platform:
What Types of Ads YouTube Offers
There are a few ways you can display your videos on YouTube. Let's go over the different YouTube ad layouts you are able to run with:
Non-Skippable Video Ads 
Non-skippable video ads must be watched before a YouTube video can be viewed. Long non-skippable video ads may be up to 30 seconds. These types of ads can appear before, during, or after the main video.
When a viewer watches the ad the advertisers have to pay and the creator gets paid. If your landing page is set up correctly and your videos are engaging, you will be able to capture leads.
The catch here is every time your ad comes up, you will pay for it. These will typically be used by businesses with bigger budgets!
YouTube TrueView Instream Skippable Video Ads 
TrueView skippable video ads allow viewers to skip ads after 5 seconds if they choose. The ads can be inserted before, during, or after the main video.
Instream give the viewer the option to watch your ad or skip it. Once the viewer watches 30 seconds of your video, the creator is paid and the advertisers are charged.
YouTube Display Ads
Display ads appear to the right of the featured video and above the video suggestion list. Display ads may run across all areas of YouTube, except on the homepage.
If a view is interested in your product or service and they see your Display, you should get a click.
YouTube Overlay Ads 
Overlay ads are a transparent advertisement that appears on the lower 20% portion of your video. This ad type only appears on desktop and laptop computers. Viewers can also exit the ad at any time. These tend to cause problems as there are false clicks and many YouTubers do not enjoy seeing them.
 YouTube Midroll Ads
Midroll ads are currently available for videos over 15 minutes.
These ads are spaced within the video—similar to the way TV commercials roll out during a program. Viewers must watch the ads before they can continue to view the rest of the YouTube video.
Advertisers can insert ad breaks at natural pauses throughout the YouTube video for the better, more streamlined viewing experience. These ads only appear on desktop, laptops and mobile devices.
YouTube Sponsored Cards 
Sponsored Cards display content that is relevant to the YouTube video, such as products featured in the video.
Viewers see a teaser for the card for a few seconds, then they can also click the icon in the top right corner of the video to browse the cards. This is available on desktop and mobile devices.
How Much Does YouTube Advertising Cost?
As a marketer, you are probably assuming that video advertising is expensive, but YouTube makes video advertising pretty affordable. Remember, with YouTube advertising, you pay per video view whether it's for a full video or 30 seconds.
A typical video ad view costs between $.106 and $.30 per view, depending on your video quality, targeting, and marketing goals.
How to Figure Out If Your Ads are Working
There are dozens of different metrics you can measure to gauge your video success, but it will truly depend on your business's specific goals. That said, it's generally worth at least quickly looking at these video metrics to see how your campaign is doing:
Views: The number of times people watched or engaged with your video ad. This will help you see the audience you're reaching.
Clicks: The number of times people clicked on your video. This can help you understand how engaging your ad is to people who see it.
Video viewership: This allows you to see what share of viewers completed 25%, 50%, 75%, and 100% of your video ad. It helps you understand where your audience is losing interest. This can also help you understand how you can improve your messaging!
Why YouTube Advertising Will It Work For You?
After looking at what is required, you might be wondering after all the effort why YouTube advertising is appealing…
The answer is simple: Videos have emerged as one of the most popular content formats for lead generation (in fact, YouTube marketing performs better than television ads!).
Videos tend to have a higher level of engagement among viewers and thus provide better returns. Social videos are believed to receive nearly 1200% more shares than text and images. On top of that, Google claims that people who watch YouTube ads to completion are 23 times more likely to visit or subscribe to a brand channel, share a brand video, or watch more by the brand. Even those who don't watch to the end are 10 times more likely to do one of those things.
So, with that said, is it the right fit for your business?
The answer is it depends on a few factors, most of which being what your business is and the content you are creating.
If you already have a creative and compelling video that works on brand awareness, then definitely go for it but to really map out if YouTube advertising is worth your time, consider some of the following:
Advertising Budget
Depending on what industry you are in, some products or services monetize better than others when it comes to video ads. So, unless you have tons of views (and I am talking about millions), the ad income isn't that great typically.
You can find an in-depth breakdown of how billing works (and how you can manage your video advertising costs) in the Google Ads Help Centre.
Content Promotion
A lot of YouTube success really comes down to the type of content that a video contains and how well it will go "viral" and resonate with people. So, as a business who is considering investing a lot of resources into video creation, you need to ask yourself if the content and products you are promoting are engaging enough to make it worth the investments.
For example, there is a huge difference between Squatty Potty's advertisements and Australia's Department of Finance advertisement:
From a viewer numbers standpoint, Squatty Potty killed it but the biggest difference is the content put out by both businesses. Unfortunately, Australia's Department of Finance published a stilted and clumsy recruitment ad that did not do a great job at drawing in new talent into their graduate program.
So, when looking at your products, services or business, you need to come up with engaging content that people will:
Enjoy seeing
Remember
Want to take action on
Squatty Potty is not only creative, fun, and memorable but it also has calls to action at the end which craftily entertain people enough to want to get more information.
Like these examples, look at what you are trying to promote and see if there is content engaging enough to be successful.
Sponsorships and Influencing
Yes, there are tons of ways to make money through influencer marketing on YouTube but if you are solely relying on this and not getting millions of views, it's not going to work out for you.
The most common money-earner, by far, is through AdSense earnings. It is unlikely that you will be in a position to even think about merchandising, sponsorship, subscriptions, or even successfully building up as an affiliate until you have built up your numbers to the point where you are receiving a decent level of advertising income.
So, unless you become a viral sensation or create content people love, you will most likely not make the money you think you will on YouTube!
Building a Brand
If your goal is to build a personal brand, YouTube is a great way to get top funnel recognition and traffic to your other online platforms. It doesn't help as much with corporate brands, but the investment is well worth it from a personal branding perspective!
Generating Leads
If you want to collect leads, YouTube is a great channel to do so, the only catch is it takes time and its not the first step in a marketing plan.
Putting a video up does not mean you will see instant success. When thinking of a strategy, first focus on building a branded community and then drive people to other videos on YouTube or a specific landing page after you have already established yourself!
Tips For Better YouTube Advertising
If you feel YouTube makes for a great fit after going through the points above but you want some more help on how to make YouTube effective, let's take a look at ways you can help your YouTube advertising efforts in the next section!
Choose the Right Ad Format
The first complicated fact about YouTube advertising is that there are many different ad formats available. From display ads to skippable ads, you will need to test out which ones perform best for your content specifically.
This will require some trial and error in both content and placement within the platform!
Upload Text-Based Transcripts
Like much of Google Adwords content, many people put up the necessary and forgo the long-hand detailed content needed to improve their listing.
Do not assume YouTube will know what your video is about so make sure you manually upload a transcript to your videos. Although this takes more effort, it will help rank your video for the right terms and topics! (there are tools out there, like REV, to help with transcript writing for cheap, so do not be discouraged).
Add Interactive Elements
There are tons of ways you can add value to your videos, including interactive elements that will help significantly in your call to actions! YouTube has features like buttons, showcase cards, end screen options and more to help encourage viewers to take action.
It can be as big as James Corden's end screen suggestion or it can be as subtle as Mikaela Long's small subscribe button below: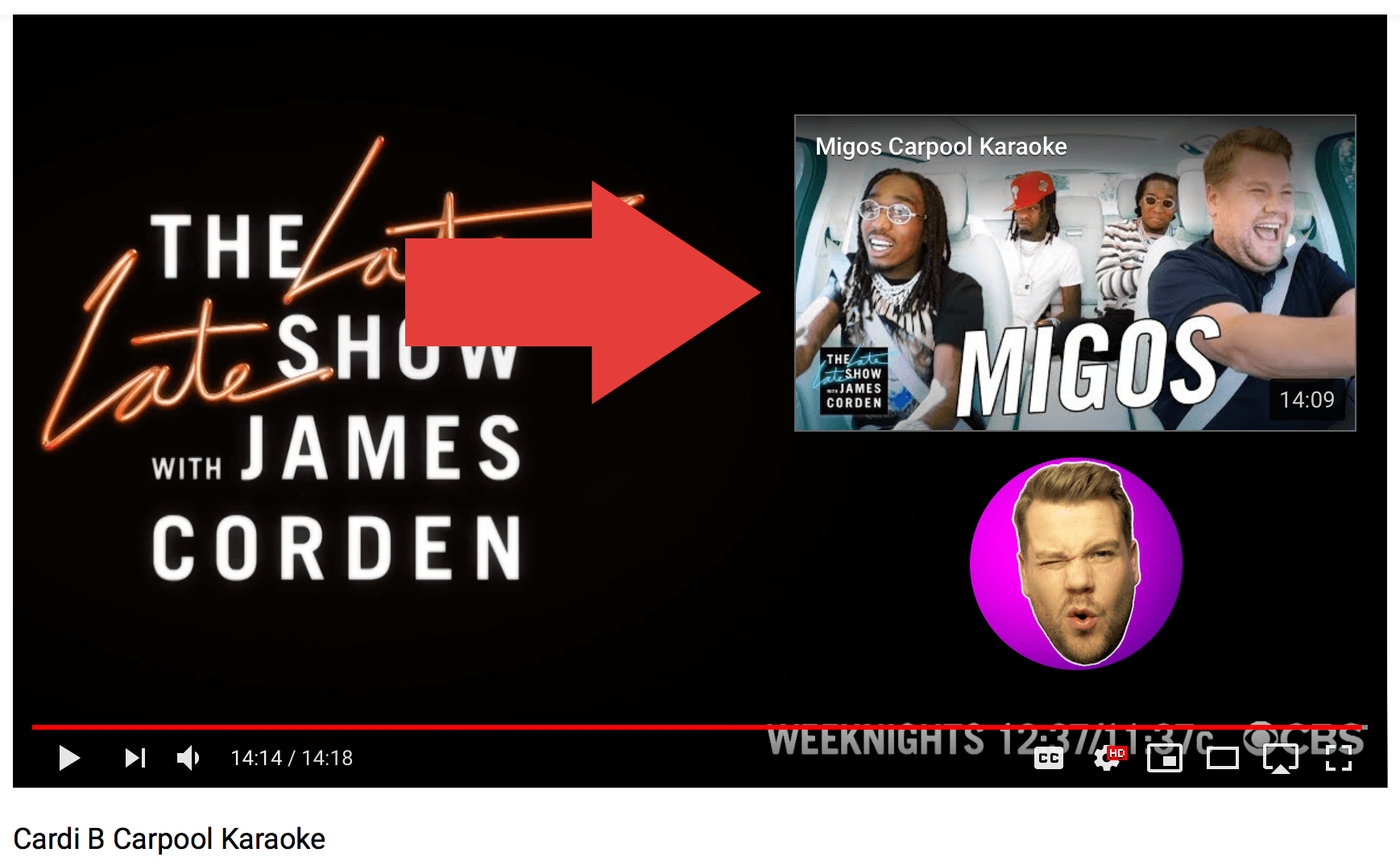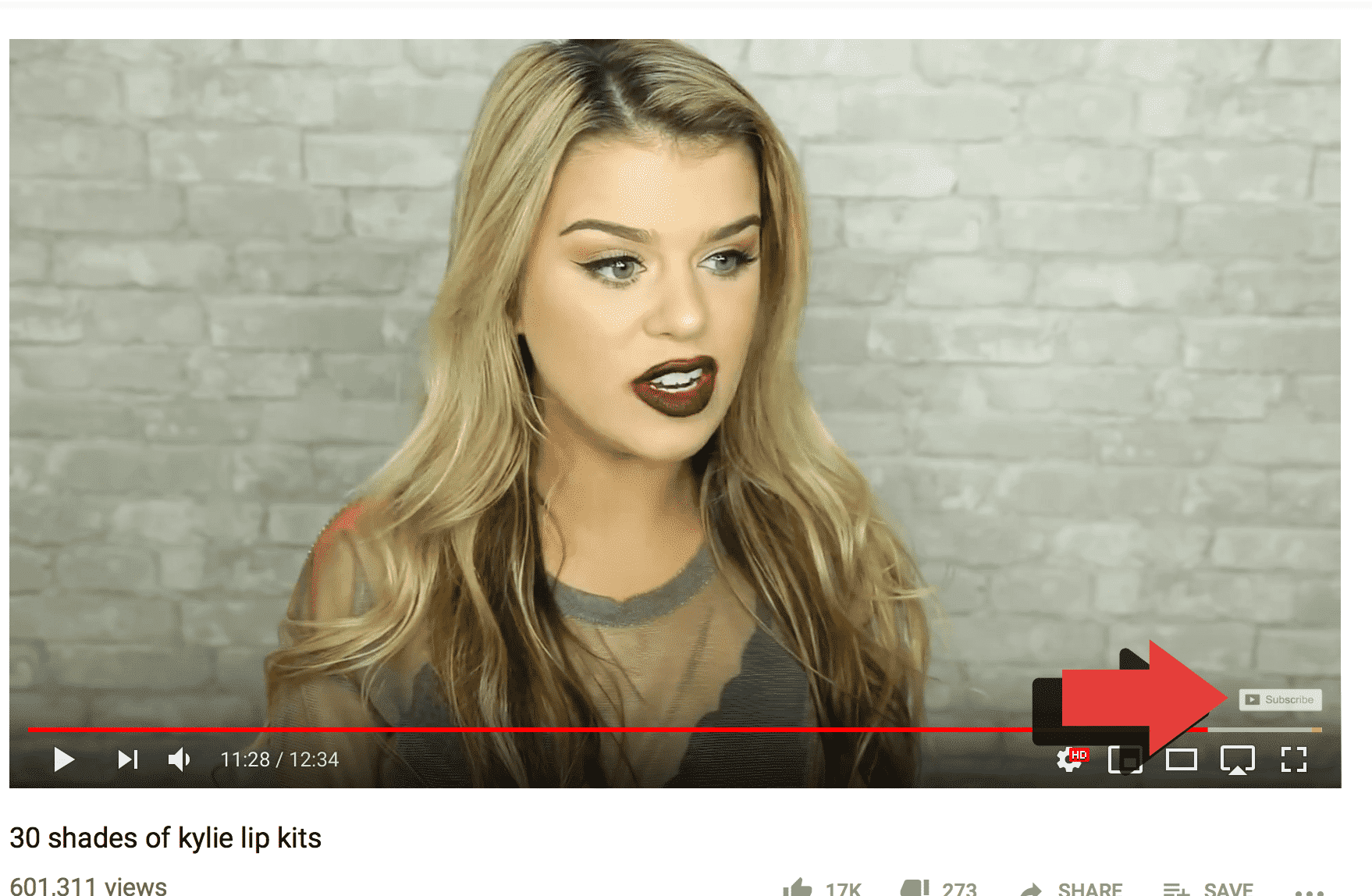 Having a great ad is one thing, but actually getting tangible results and new business from that ad is another, so explore the options available to you in helping your video ads be more actionable!
By doing so, your videos can perform faster!
BONUS: Use YouTube Cards
A YouTube card is teased with a small "i" symbol, which the viewer can click to expand. You can time this appearance so only users engaged with the video and content will see the notification.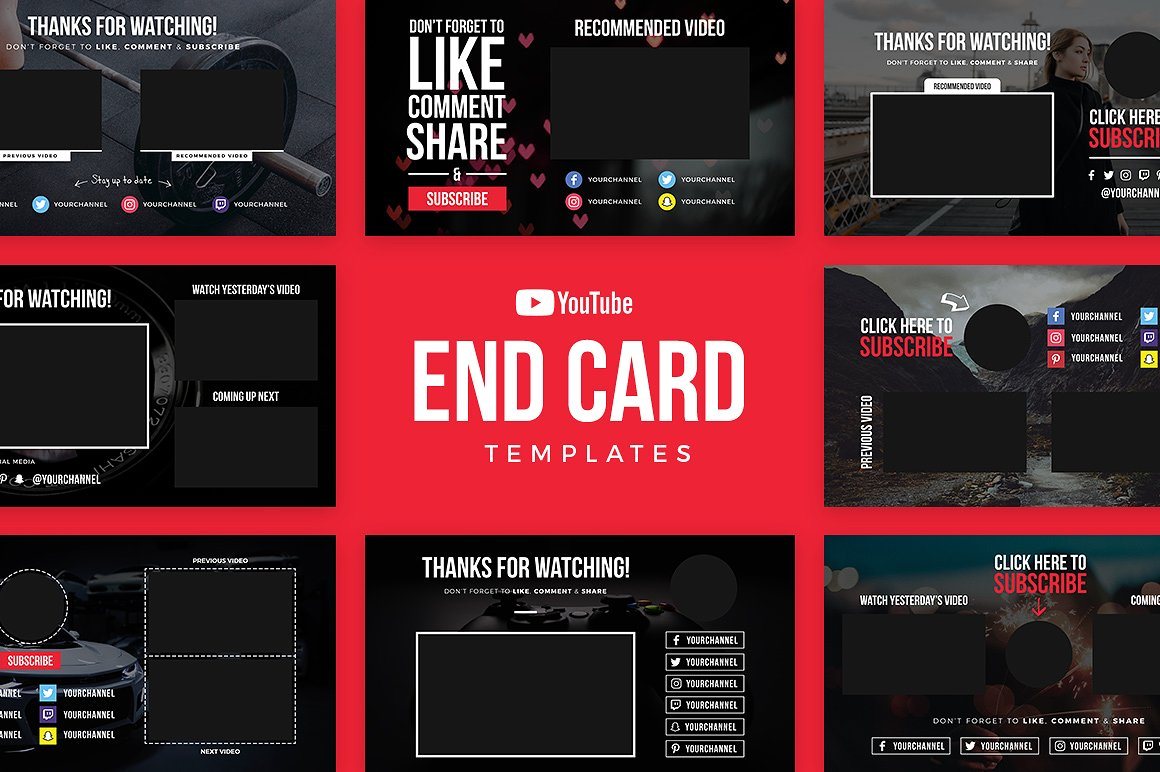 With cards, like the ones of Creative Market above, you can feature a product related to or featured in the video to drive product purchases. You can also use cards to drive fundraising donations, traffic to a URL, or traffic to other videos.
Each format will allow you to customize the card with text, images, and other options.
Create Branded Thumbnail Images
Like a Google map listing, you want to ensure you're putting your best foot forward when it comes to your video visuals…so make sure your ad has a great thumbnail image.

Design or use a high-quality still image from the video to entice a viewer to click on your video.
Find the Right Keywords
Similar to Google, if you target the wrong keywords you won't be getting much love from YouTubers! When searching for the right keywords, don't just go after the ones that have the highest traffic, focus on the ones that are also related to your video.
The very first part of the process is brainstorming. You write down all the terms that you think your audience might be searching for when they want to come across you, your products or something like your products. From there do some research with competitors and keyword planners to see how you can refine the list to best fit your ad.
Take Advantage of YouTube Targeting Options
Just as you should with other digital advertising, you need to target people who are actually interested in your content! Why waste money on unqualified people are who are not relevant to your message or offerings?
YouTube allows businesses to take great detail in who sees their ads through different types of targeting. Be sure you are narrowing down your audience to what makes sense!
Leave a comment