How to Make the Most of Your Ad Scheduling
Think ad scheduling is a "set it and forget it" setting in your AdWords campaign?
Think again.
On average, more than half of the accounts I either audit or start managing don't have a clue when they should run their ads. Most of the time, they run their ads at all hours of the day without purpose or a clear reason as to why.
The end result? Lots and lots of wasted money.
Obviously, that's a situation you'd like to avoid, so let's take a look at how to schedule your ads in ways that save you money and improve your results.
Ad Scheduling
First, let's discuss what ad scheduling is. Ad scheduling with AdWords and/or Bing allows you to set custom times throughout the day when you want your ads to run including specific hours of each day.
Some companies (like eCommerce) run ads 24/7 because they don't need to be in the office to answer the phone or respond to a lead that has just come in. On the other hand, customer support lines probably only want to run ads during business hours.
Setting Up Ad Scheduling
To set up ad scheduling in AdWords, open up your account, select the campaign you want to modify/add your ad schedule, then go to the settings tab of your selected campaign.

Here you will see your ad schedule overview. If you scroll down a bit, you should be able to customize the times and days of the week you want to show your ads by clicking on the "+ Ad Schedule" button.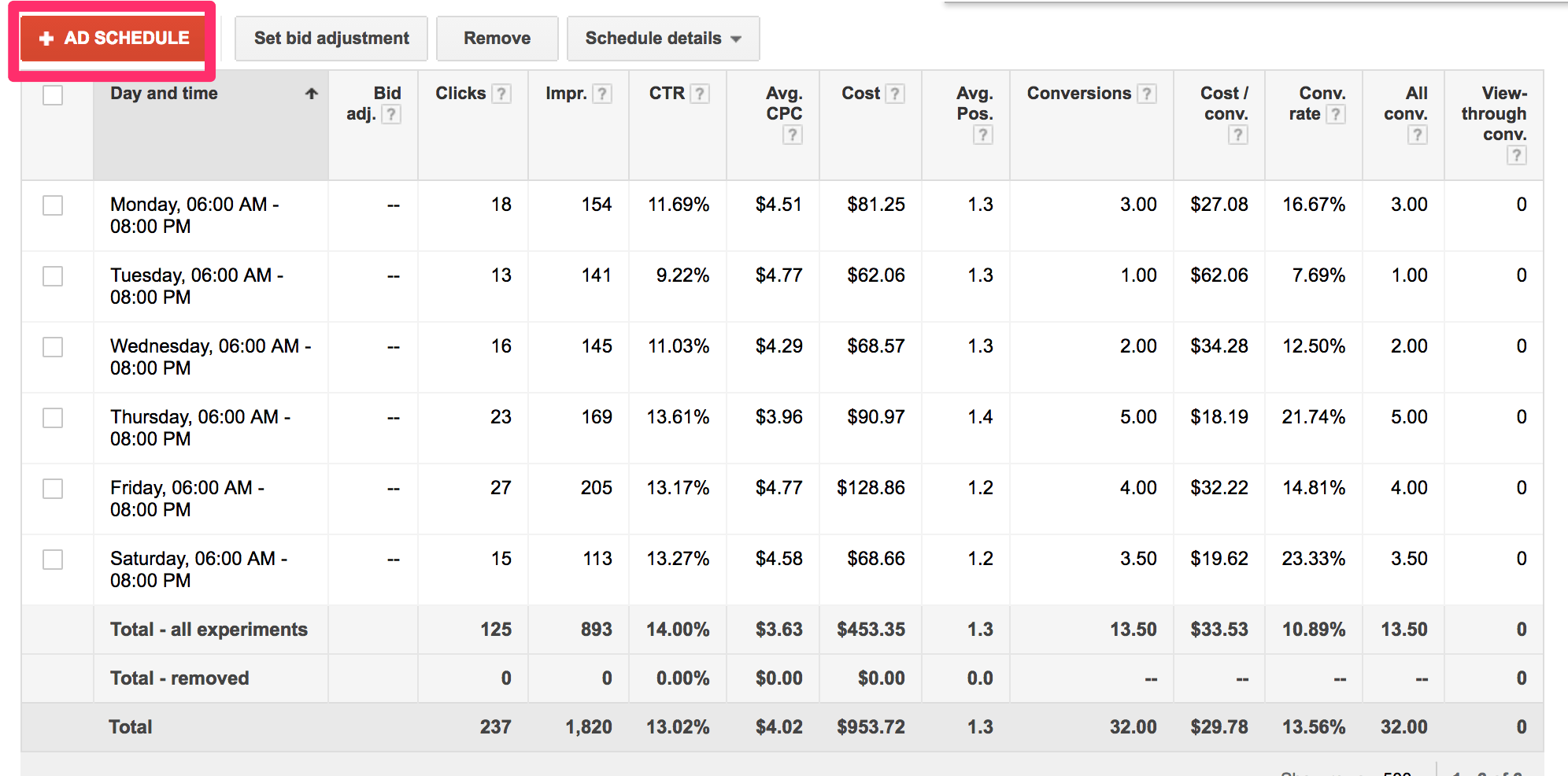 This will show you all days and hours of the week in either a 24- or 12-hour format.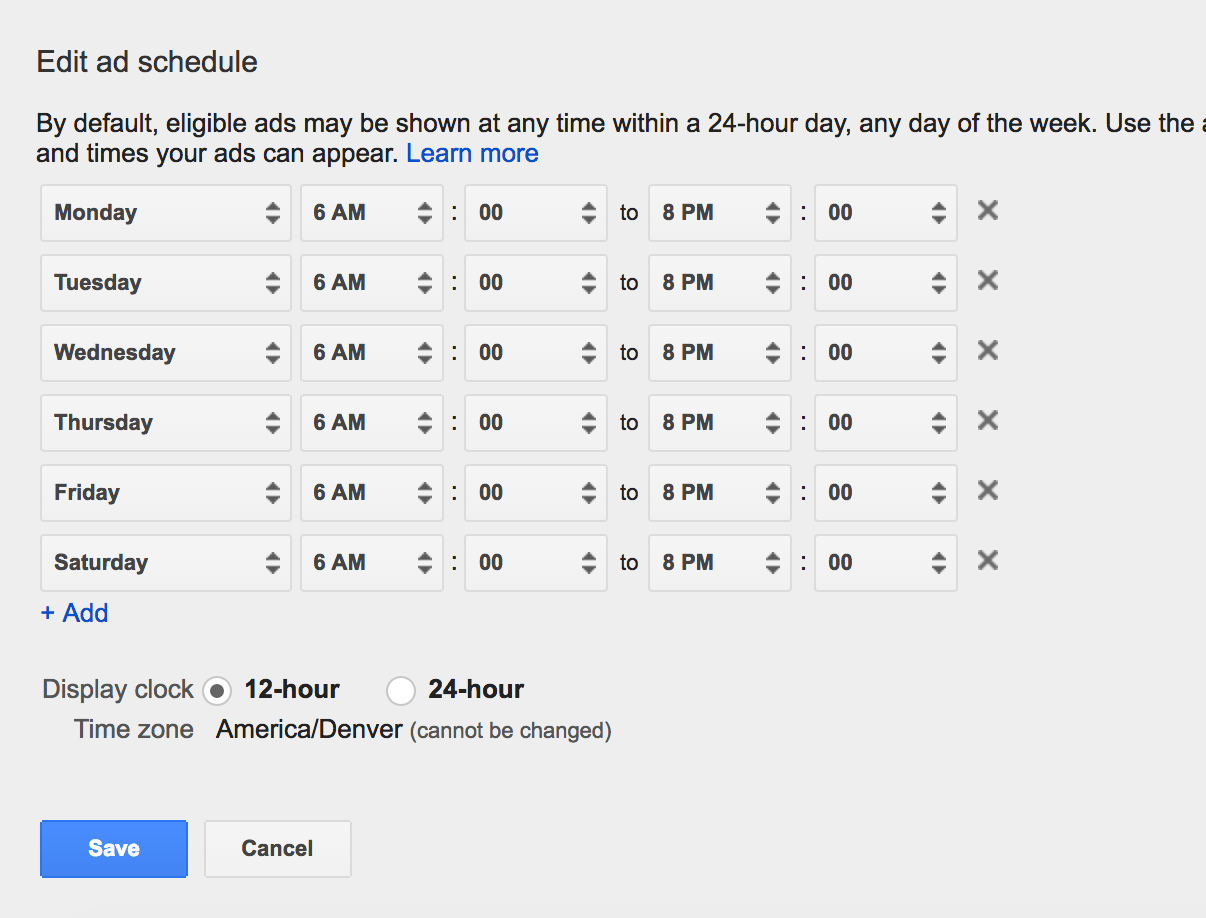 Pick when you want your ads to show and hit "Save".
After you set and save your daily ad schedule, you should be able to set your bids based on specific hours of the day and days of the week. For instance, Mondays drive the best results for this client, so on Mondays I am willing to spend 5% more for my ad clicks.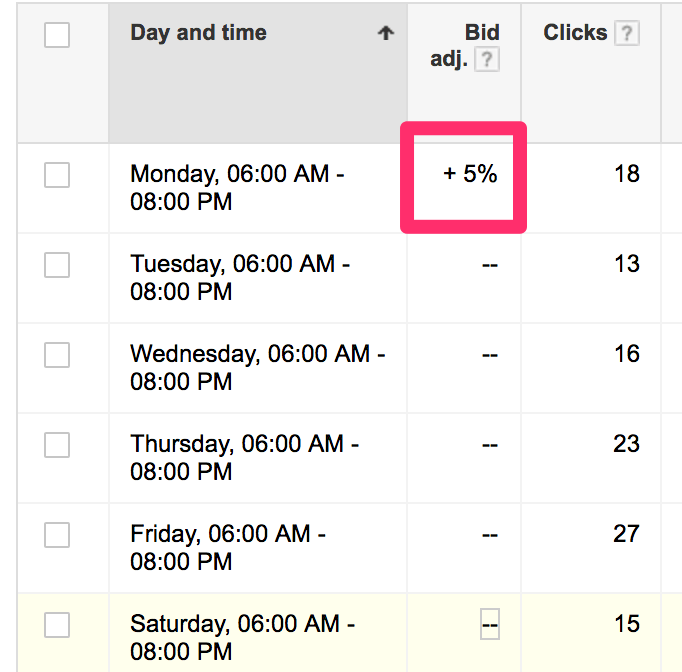 Easy enough, right? Setting up ad scheduling is fairly straightforward, but I see many businesses who come to Disruptive Advertising thinking once their ad scheduling is set, you can move on and focus on other areas of their account for optimization.
In reality, nothing could be further from the truth. The longer you run AdWords campaigns, the more you learn about exactly when your ads should be displayed and when you should be bidding more or less.
Optimizing Your Ad Scheduling
Now that you know how to set up ad scheduling, let's talk about how and why you should adjust your ad scheduling. This is often overlooked by companies advertising on AdWords and Bing Ads, which means all the more competitive advantage for you if you take the time to optimize your ad schedule
Although there are a lot of areas you may want to focus on outside of as scheduling, there are a number of reasons how you can improve this setting within your account.
Time of day bid adjustments. Depending on when you are busiest or would like to be the busiest, try increasing bids during specific hours each day to improve your ad rank.
Day of week bid adjustments. There are a lot of ways to use this. For example, if you have a larger workforce on the weekends, try increasing bids just on Saturday and Sunday all day or certain segments.
Call only campaign. If you have a service industry business and want to attract more calls than form leads, you could try creating a separate campaign called a call only campaign (for more information on setting this up, click here). Call only campaigns don't have a link to a landing page or website. Instead, when someone clicks on your ad they are prompted to call the number listed within the ad. Call only ads are great to run during your busiest times of day. Then, once the rush is over, you can switch back to your normal ads.
Each of these ad scheduling tactics can make a big difference to your business, so give them a try!
Case Study
To show you how ad scheduling can benefit your business, let's take a look at how scheduling call only ads helped out a client of mine in the auto service industry.
Originally, we were running basic search ads for this client from 8 am – 6 pm. In the ads and including on the landing pages we promoted the user to call the place of business for the best pricing.
This worked well, but not well enough.
So, we decided to try adding in a call only campaign. This also worked well, but we were still not where we wanted to be in terms of having a standout account.
After discussing things with the client and digging through their analytical data, we found that users who were clicking on our ads after 1 pm spent twice as long on the site as users who were searching during the morning. Since the majority of traffic seemed to spend less time on the site in the mornings, we figured that morning users were in a rush while users later in the day had more time and preferred to do their research before making a call or filling out a form.
To address this situation, we decided to run call only campaigns from 8 am to 12 pm and then run standard search campaigns from 12-6 pm.
As a result, calls increased in the mornings and forms steadily increased in the afternoon. This was hardly a surprise, though, because now we were catering to the users current need during specific hours of each day.
Conclusion
Ad scheduling might seem like a "set it and forget it" part of your paid search campaigns, but it is actually a key part of an effective advertising strategy. If you aren't regularly optimizing your ad scheduling, you can easily end up spending too much on the wrong clicks…and too little on the right ones.
By the way, if you'd like me to take a look at your ad scheduling settings and give you some specific ideas to try, let me know here or in the comments. I'd love to help!
How do you approach ad scheduling? How have you seen ad scheduling changes affect account performance?
Leave a comment