AdWords for Law Firms: 9 Foolproof Strategies
by Ana Gotter • March 23, 2018
People rarely search on Google for legal-related terms unless they're actively in the research stage and looking for a firm to hire. AdWords can help you intercept these customers, putting your ad immediately in front of relevant users who are searching for firms just like yours.
AdWords for law firms and attorneys can look a little different than it does in other industries, especially with the competition in the field being so fierce. To help you gain the edge on your competition, connect with relevant leads, and improve your ad ranking, you can use these 9 foolproof AdWords strategies just for lawyers.
1. Bid Higher, But Only Strategically
When it comes to AdWords for law firms, competition is high, which can quickly raise the bid rate and ad costs. In order to stay competitive and earn top ad rankings, you'll need to bid a little higher…but only strategically.
Bidding high on all your ad groups might just drain your ad budget a little too quickly, so it's best to find your most profitable keywords and bid higher on those. These may not necessarily be your highest volume keywords (though they could be), but instead would be the ad groups that send you the most conversions.
As you get more clicks and conversions, that higher bid will become even more valuable, and you'll be able to rank higher. You'll be outbidding competitors on the ads that you can afford to increase ad spend, and you'll still stay in the positive for ROI while getting more results.
2. Emphasize What Makes You Unique
If you were to google your city and the term "lawyer," you'd likely see a great big list of different law firms stacked next to each other in ad results. This would likely still be the case even if you had specified for your exact specialization, too.
If you pay enough attention, you'll see that a lot of the copy on each ad seems to be carbon copied from the next.
Even if you aren't pulling in the highest ad rank, highlighting what makes you unique can help you stand out and get you the click instead of your competitors. This is important on landing pages, but it's particularly important in ad copy when potential clients are essentially comparing options out of a line-up.
Let's look at the following example. I searched for "Virginia business lawyer." The first two ads are pretty generic. The first offers nothing of substance, and the second repeats the benefit "save money" twice, so you feel like there just isn't a whole lot going for them. The third, however, uses copy to stand apart.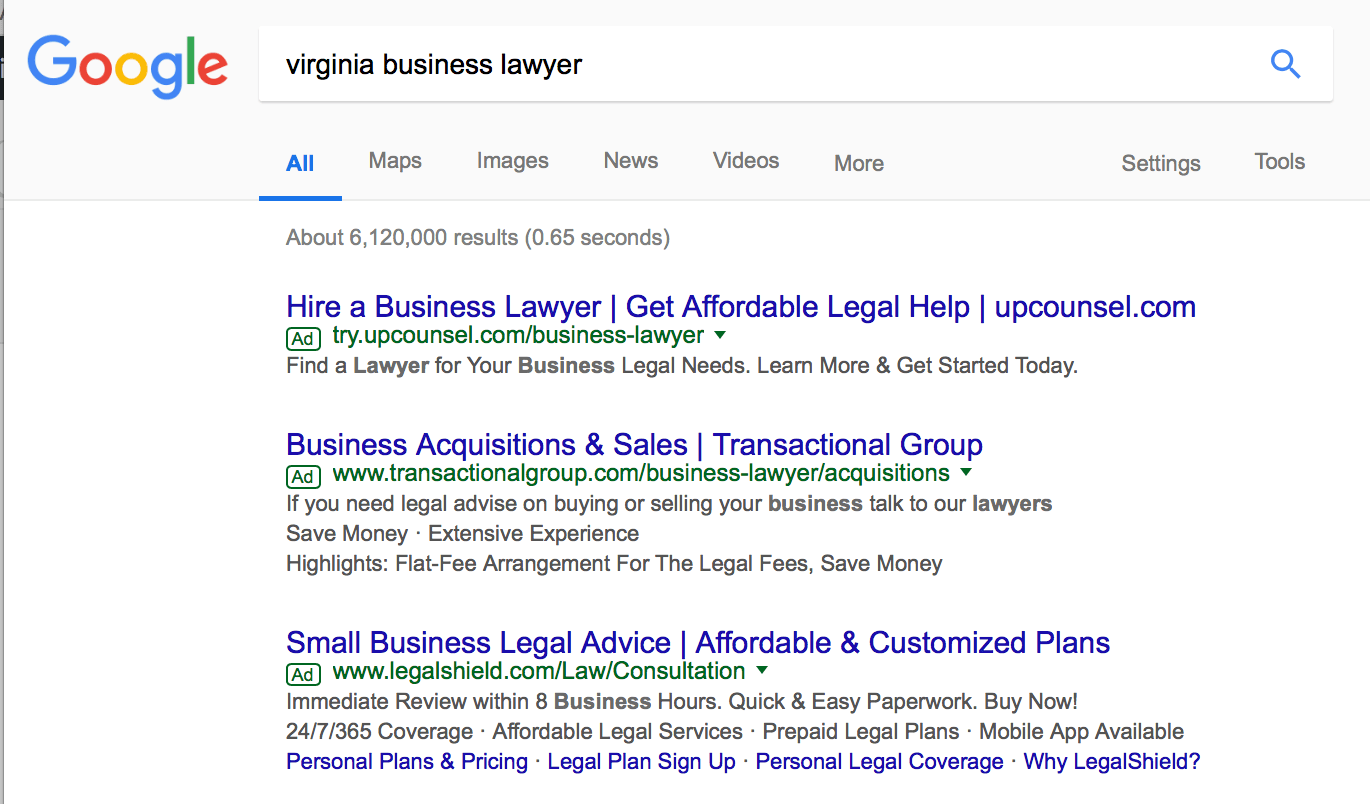 In this ad, Legal Shield mentions that there's an immediate review within 8 business hours. Even if this was standard, it makes them look good to mention it because most clients won't know that and the thought of waiting for other firms to get in touch may sound unbearable. They also use phrases like "quick and easy" (which is enhanced by the mobile app info), they highlight complete coverage, and affordability.
Out of the three, that ad would be the one I clicked. Otherwise, I'd start looking at organic searches, because the first two ads seemed pretty run-of-the-mill, which is the last thing you want your ad to be.
3. Prove Your Firm Isn't a Big Risk
AdWords for law firms works well, because if someone is searching for a law firm online, there's something at stake. Maybe they're hoping to win money, or afraid of losing it. Perhaps they're trying to get a job back or keep custody of their children, or just protect their business from liability.
No matter what their specific scenario is, you know that something big is at stake.
Because of this, reducing the risk they face by hiring your firm will be a big plus. Do what you can to put potential clients at ease, and demonstrate that your firm isn't the risky option.
To do this, your AdWords ad copy could highlight benefits like:
Free consultations
Flat-rate pricing (so there's no surprise fees later on)
Number of cases won
Combined years of experience
Achievements awarded to the firm
Both AdWords campaigns in the example below are stronger than average, but the second listing is the one that presents the best low-risk features to potential clients.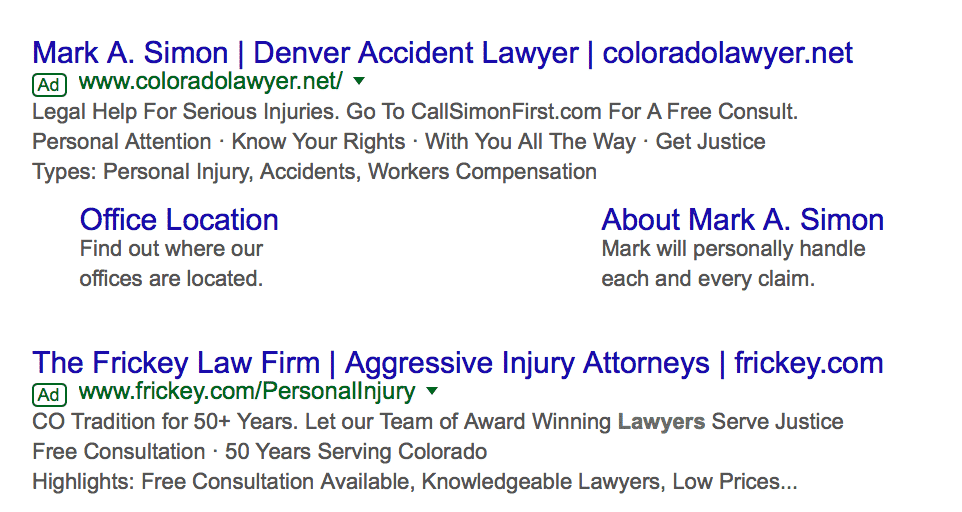 4. Use Negative Keywords
Law is an exceptionally intricate field, and in addition to specialities, some lawyers may only take on certain kinds of cases. In order to avoid getting irrelevant placements and paying for clicks from the wrong audience members, you can use negative keywords to weed out searches that aren't a good fit for your business.
In Florida, for example, I've seen a business law firm that only catered to traditional small businesses, not freelancers and consultants.
With negative keywords, you could include "business lawyer for freelancers" if your firm only served traditional businesses. Similarly, if you specialized in family law but don't offer adoption services, use "adoption family law" in your negative keywords.
Ultimately, negative keywords can save both you and the users searching some time and energy, so it's a win-win situation.
5. Maximize Space with Ad Extensions
Ad extensions can be added during the ad creation process and they let you share more information with users seeing your ad. The more information is automatically a good thing, and having an ad that takes up more physical space in the SERPs can also help grab attention quickly.

One of the most important ad extensions that law firms in particular should utilize is the call extension. Because of the sensitive nature of legal matters, people are more likely to call with concerns and questions than in most other industries (where live chat is overwhelmingly preferred). If people are in a rush, making it easy to call you can always help you get the lead instead of sending them to your competition.
6. Never Forget Your CTA
We can get so busy trying to jam-pack our limited ad space with features, services, and unique benefits that it's easy to forget the call to action (CTA). The CTA, however, is an important part of any advertising content, including AdWords for law firms.
By including a strong CTA in your ad, you can increase the likelihood that users will feel compelled to click or call. Even if it's a small increase, anything helps when you're talking about a new client that could bring thousands of dollars in profit to your firm.
If you're unsure of how to do this, the example ad below is fantastic. They use the CTA "Get Answers Now!" to increase conversions, and it may just be my favorite law firm CTA I've seen.

Your CTA should be brief, and it should contain strong action verbs. If you need some inspiration, you can check out an awesome list of action verbs here.
7. Send Traffic to the Right Landing Page
For law firms with different specialties or practice areas, it's exceptionally important to make sure that traffic from your ads goes to the right landing page. This can help increase your quality score (improving your ad ranking), but it can also mean more conversions after users decide to click.
If you send users right to a specialized landing page that for services that the ad indicated they're looking for, you'll be able to show them exactly what they need right away. Since users have the attention span of a goldfish, this is essential to keeping them on your page. If they have to look too hard, after all, they'll likely navigate back to the search and see if they can find what they're looking for on your competitor's site instead.
In addition to describing what your firm can do for your clients, you should also have several things immediately available on the site. These include:
Your phone number
A live chat icon if you offer it
A strong CTA to get in touch
A link to an FAQ in case users aren't ready to convert just yet
8. Use Geo-Targeting
If you're an attorney in New York, you likely aren't exactly a great fit for a potential client in Alaska. In addition to bidding on location-based keywords like "aurora defense lawyer," you should also utilize geo-targeting to make sure that your ads are only shown to people in relevant locations.

When using AdWords for law firms, you can include and exclude areas by state, zip code, county, and city.
9. Create Niche Campaigns
If your law firm has different audience segments searching for different services, niche campaigns can be an excellent way to go. The more specific your targeting is, the more relevant your ads will be to the people who see them. This means more clicks and more results.

By creating tighter ad groups, you can write ads focused on specific needs of specific customers. Employment lawyers, for example, may run separate campaigns for employers and employees, as these would be two distinct audiences with different needs. If needed, use negative keywords to ensure that the right ads are shown to the right audiences.
AdWords for Law Firms
Lawyers sometimes have to get creative to find solutions at work, and when it comes to AdWords for law firms, you'll need that creativity to drive new leads. With these nine foolproof AdWords strategies created specifically for law firms, you'll be able to connect with more relevant traffic, get more clicks, and outrank competitors in no time.
Looking for a little more help with AdWords for your law firm? We've got you covered. Get in touch and see how we can help you.
What do you think? Have you tried AdWords for law firms? What were some of your best tactics? Share your thoughts and questions in the comments below!