All Google Ads Extensions [Assets] + HOW to Optimize Them
You can take plenty of steps to ensure that your Google Ads are more efficient and profitable, increasing their odds of success.
Great keyword research. Robust and relevant copy. The right bidding strategy.
And, of course, Google Ads Extensions.
Google Ads Extensions (recently rebranded as "Google Ads Assets") are outstanding ad features that can significantly increase your CTR and conversion rates. Even better: They're free to use and may lower your CPC!
Sounds great, right?
If so, read on! This guide will cover everything you need to know about the most updated versions of Google Ads Assets, including what they are, how they can help your campaigns, and how to use them.
EDITOR'S NOTE: Throughout this guide, we'll be interchanging between "Extensions" and "Assets." Both are one in the same.
What Are Google Ad Extensions?
Google Ads Extensions (aka Assets) are snippets of additional information you can add to the ads that users see on search engine results pages (SERPs). They can extend the word count and number of links included in your ad. They can also add interactive elements, like clickable phone numbers or lead forms.
There are different types of Google Ads Extensions, giving you plenty of options for what kinds of information you want to add and in what formats.
If you've ever noticed that some ads look different than others in the SERPs, with additional links or different types of offers, you saw ads with Assets attached.
You can see a Google Ads Extension in the screenshot below, which features additional links and page descriptions to different pages on the advertiser's site.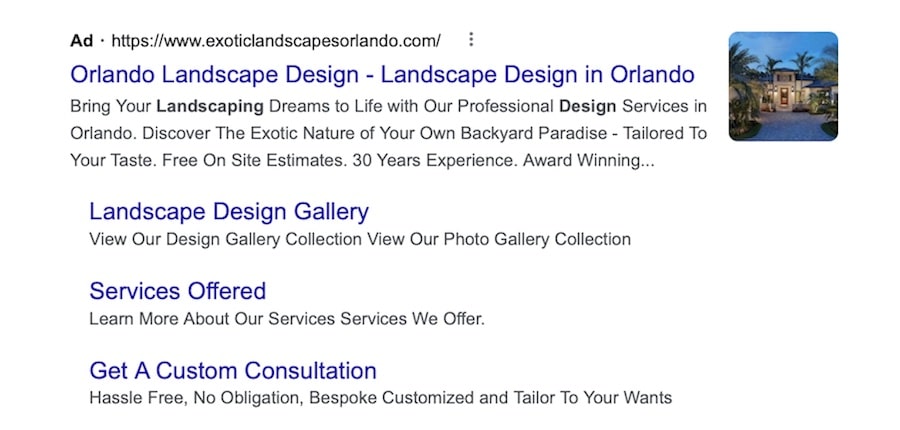 Why Do Search Ads Extensions Matter?
Google Ads Extensions are useful as a search ads feature.
First, they can expand the effectiveness of your ad by giving users more information to help them convert. This may include adding the following:
Phone numbers to make it easy to call you with a double-tap on mobile
Additional site links to direct users to different landing pages that they may be interested in
Pricing or promotional information to inform their buying decision
The more information, the better, especially since ad space is so limited in traditional ad formats. This makes it easier for users to find the information they're looking for faster.
This brings us to the second benefit: They look different and stand out. In some cases, they will take up much more real estate in the SERPs, automatically drawing user attention straight to them. Which ad out of the two below grabs your attention, for example? If you're like most people, it will be the ad that takes up 4x the space as the other, with additional links and more information.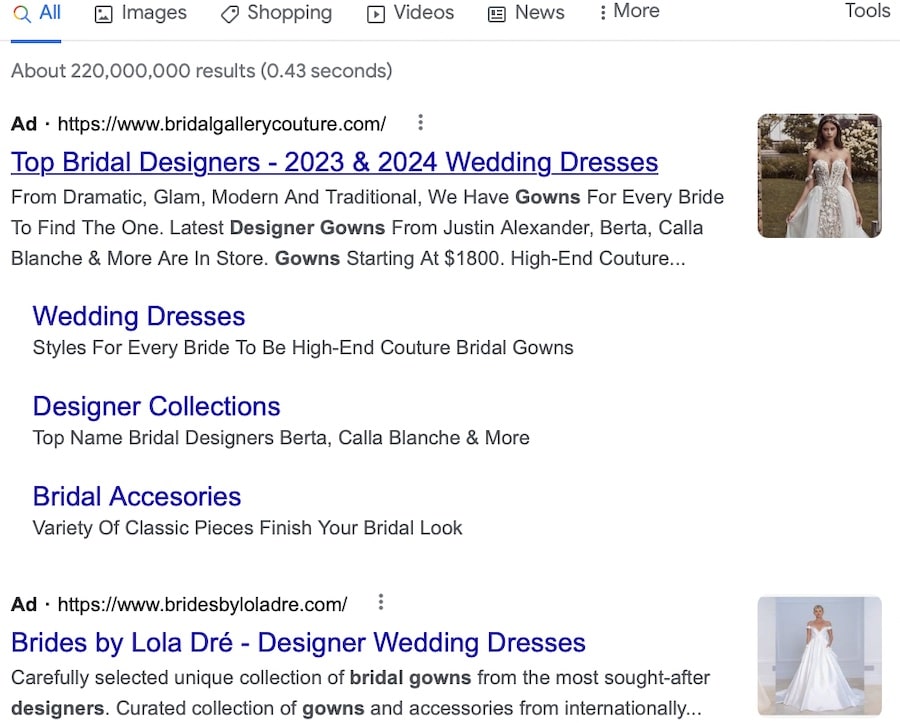 Both of these aspects can help lead to a higher CTR. According to Google's data, adding Assets to your campaigns can lead to a 10-15% increase in CTR on average.
As a reminder, a higher CTR is great for two reasons.
1) Not only does it help increase the number of people clicking on your ad and entering the digital sales funnel (which is excellent
2) But it also can improve your Quality Score. A higher Quality Score can mean lower CPCs, and thus a higher ROI.
How to Create Ad Extensions
You can create Extensions from your Google Ads dashboard.
Start on the home page of your dashboard, and then find "Ads & assets" in the left hand navigation bar. Click on "Assets."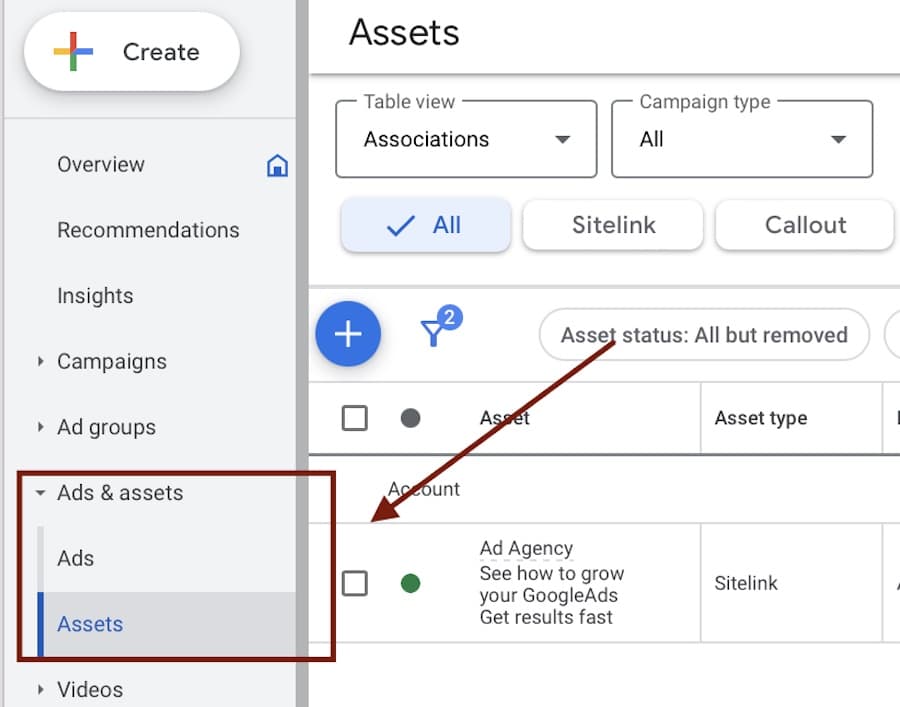 Once you do this, you'll see all of your existing Assets and have the option to create new ones. To create a new Asset, click on the blue + in the top left corner of the page.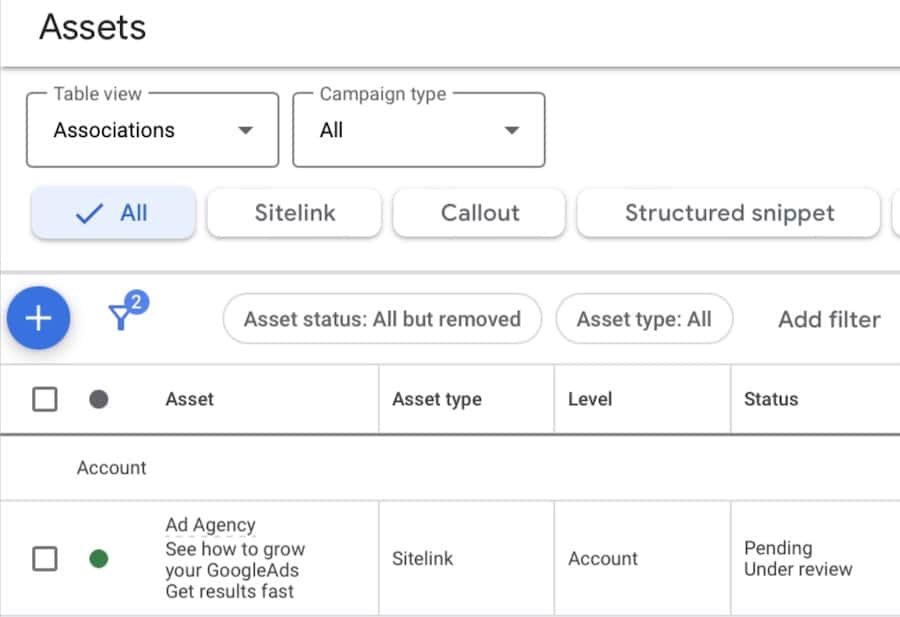 When you click, you'll be shown a list of different Assets to create. Pick the Asset type you want to create. (We will go over all the different types of Google Ad Extensions shortly.)

You'll then create the individual Asset. Google will ask you to assign the Asset to an account and to fill in the necessary information needed for this particular Extension. Make sure you preview how it will appear before saving.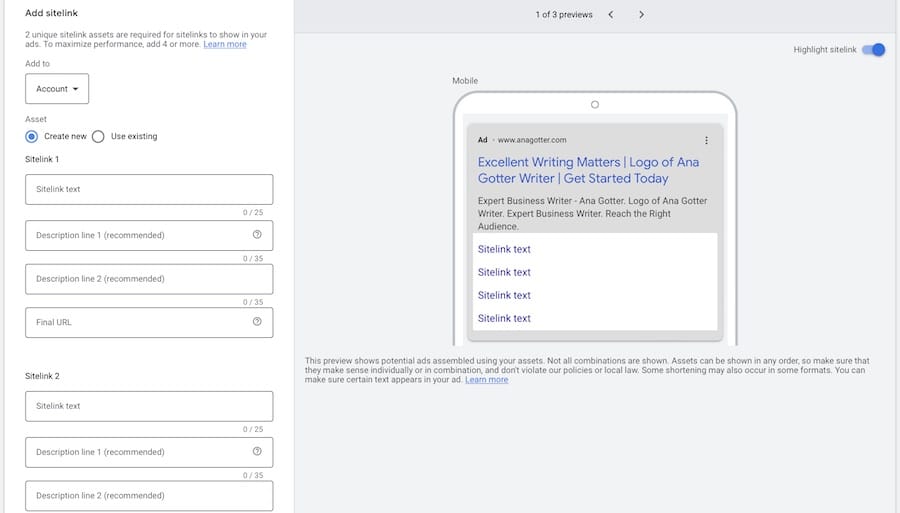 How to Add Extensions to Your Campaign
More good news: it's not only easy to create extensions, but it's also easy to add them to your campaigns.
During the ad creation process, you can add Assets when setting up your creatives.
Throughout the ad copy section, you'll see options to add different types of Assets, like sitelinks, to your ad.
At the bottom of this page, you'll also see the option to add "More asset types" to your ad. If you click on that drop-down menu, you can add different Assets to this ad.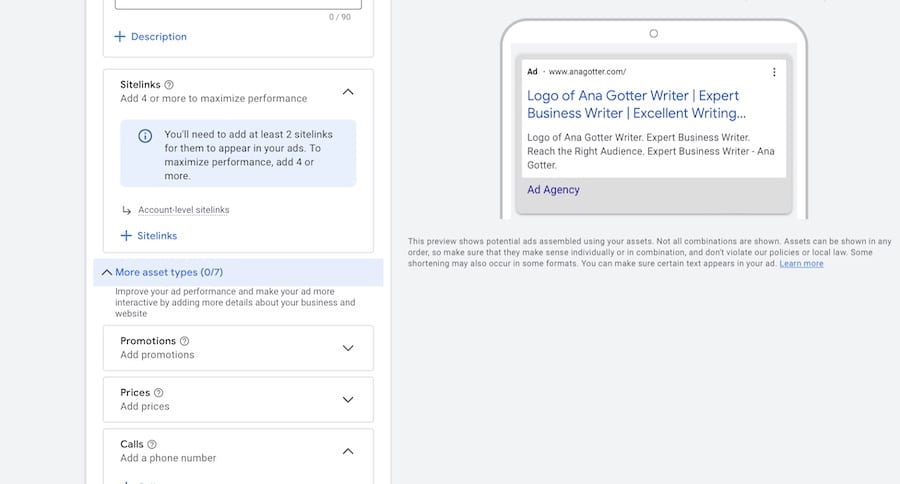 Google allows you to create different Extensions and add multiple options to your campaigns. As the ad is served, they'll automatically determine which (if any) Extensions to include in your ad. As a result, adding as many Assets as relevant to your campaigns is often a good choice.
The Different Types of Google Ad Extensions and When to Use Them
We've already mentioned that there are many different Extensions to choose from. Let's look at all ten types of Google Ads Assets currently supported and how they can advance your campaigns. (And, of course, we'll go over some Google Ad Extension examples, too!)
1. Structured Snippet Extensions
Structured snippets are one of the most frequently used types of Assets. They allow you to add short snippets of information that essentially act as CTAs, which, when clicked, will take users to key pages of the company's site.
In the example below, the ad features links to key pages that will help get searchers where they need to go.

Some, for example, will want to look the law team over and get a quick look at their experience. Others will want to see testimonials to establish trust, and others still will see "Facing Criminal Charges?" and immediately think "YES!" while they click.
Structured snippets can be used for almost any ad campaign.
When used for campaigns designed to attract users early in the buying cycle, they should contain links to introductory information, like "About Us" pages and information on key products or services. Use them to show users the information they're most likely to look for when making a purchasing decision.
The only time you definitely shouldn't use this Asset? When you have a single-page website.
2. Call Extensions
Call Extensions are another popular one, and they work by featuring your business's phone number at the top of the ad, next to the site URL.
On desktop, this will just show up as a phone number that users can use to call the business; on mobile, this number is clickable, and someone can call your office in just two taps.

3. Call Out Extensions
The call out Asset type is a little different from other options on the list. This Asset will add copy within your ad, but the new copy isn't actually clickable.

In the above example, "Free Moving Quotes," "24/7 Live Support," and "Long Distance Moving" are call outs that you might add in. You get 25 characters for each individual call out, which gives you valuable real estate that you can use to share important, click-winning information.
Call out Extensions are most frequently used to concisely highlight the benefits of the products or services you're advertising. These quick call outs can provide the information needed to differentiate you from your competition, so don't write them off just because they aren't hyperlinked.
4. Sitelink Extensions
Sitelinks are a personal favorite, because they do a magnificent job capturing user attention. This extra attention can mean more clicks (and conversions) for the advertiser.
This Asset allows you to create hyperlinked, clickable headlines that send users to key pages on your site, and feature a quick description under each one.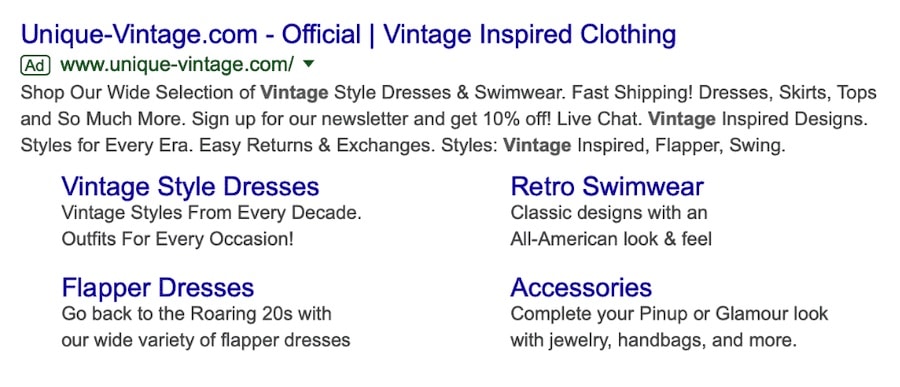 These are, essentially, like structured snippets on crack. They're more noticeable, and the additional information under each link will increase the likelihood of relevant clicks. Use the text to explain what makes you different and the value each page has.
5. Location Extensions
Location Assets are another option that are pretty much exactly what they sound like.
They add your business's address to the bottom of the ad, along with your operational hours if you feature it. When users click, they'll be taken to a Google map showing your location, and they can instantly get directions to where you are.

This Asset is an excellent choice if you have a brick-and-mortar location where you actually serve clients. They're an essential choice if geographic location will heavily influence whether or not someone decides to do business with you.
A marketing consultant may not need this, even if they have a physical location; a hair salon, however, definitely would.
6. Price Extensions
Price extensions allow you to quickly showcase how much a given product or service costs, listing an item, linking to its specific URL, and then featuring pricing and qualifying information.
You can add pricing information for multiple products. Users can see this by clicking on "More," which opens a drop-down menu with additional products not shown upfront in the initial ad.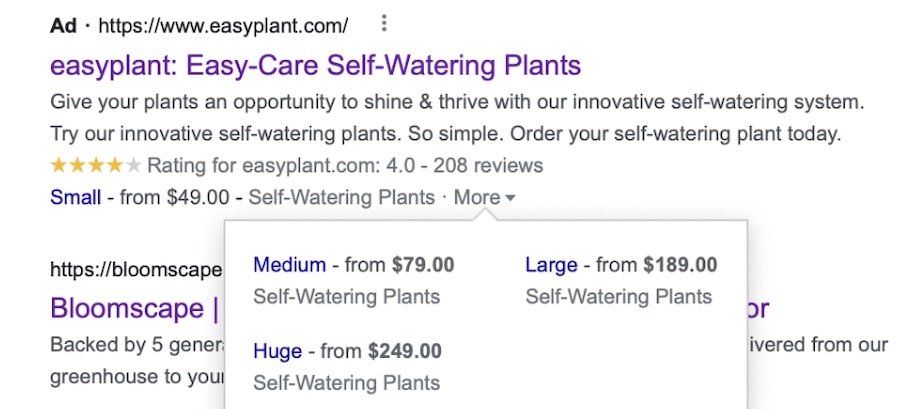 This is a great opportunity to make your ad even more competitive by offering highly relevant information upfront.
Price, after all, is a huge factor that can shape someone's buying decision. The transparency of having the price readily available upfront can increase clicks if you're within the range that the searcher is looking for. It's better to start with what you know instead of what you don't, after all.
And if the price is out of range from what the searcher is looking for? That's ok, too, because you don't want to pay a lot for clicks with no chance of conversion. This extension can actually prevent that, ensuring you're wasting less ad spend on irrelevant clicks.
Price extensions can work well when you want to feature a few specific (and often popular) products or services. They can also show starting price ranges for different product categories like we saw in the example above.
7. App Extensions
Users spend 90% of their mobile time within apps, so if you have an app, using Google Search Ads is a great way to promote it. Ideally, you'll want to use the App Extension to do so. App extensions are mobile-only Assets, and they'll feature the name and logo of your app next to a clickable "Install" CTA at the bottom of your ad. They can be the central focus of your ad, or be more like an add-on designed to give users an additional option to complete the task at hand.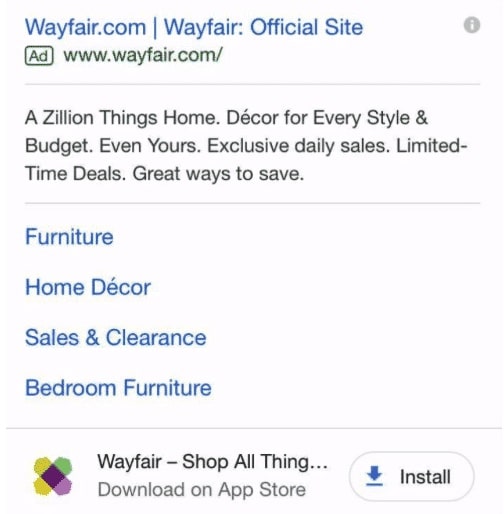 Even if users are searching for something your brand offers (like clothes or furniture) and not necessarily looking for your app, this Asset still lets you add it to your campaign. Many users may prefer to download an app even for a shopping experience if they're on mobile, so this can earn you app downloads and conversions.
8. Lead Form Extensions
The lead form Asset type is a little different than others on this list because it asks users to submit information instead of sharing information with them.
It's a mobile-only Extension that allows you to collect crucial qualifying information from searchers. This is an outstanding way to drive more lead generation because it's easy and convenient for users, and they're able to reach out without having to head to their desktop or navigate a full website.
When users see ads using this Extension, they'll see a CTA button encouraging them to get in touch. After clicking, users are able to complete a lead form, sharing information about the products or services they're interested in, their contact information, and additional information.
You can see how it works in this video from Google:
Lead forms are outstanding when trying to capture lead information so your team can reach out to the user.
They are often used for "custom quotes," "applications," or "to set up an appointment." All are highly effective ways to get people in your funnel early, even while they'll still be researching other options.
9. Affiliate Location Extensions
The affiliate location option is a solid choice if you sell products as a wholesaler to different retailers or dealers.
This Asset looks like its traditional location counterpart, but it will feature the different affiliate sellers of your product instead of sharing your address.
Car dealerships are a great example. People can go to Honda's website, pick a car, and get in touch with a sales representative. Many, however, want to find a local dealership and do a test drive in person.
The ad below used an Asset to share the locations of affiliate sellers (aka dealerships) in their ad, giving searchers access to information they're likely to be looking for.

When users click on the affiliate location tag, it will open a map that shows the different affiliate locations. Users can then visit the websites of the individual affiliates, see their phone numbers and operational hours, or get directions to go straight there.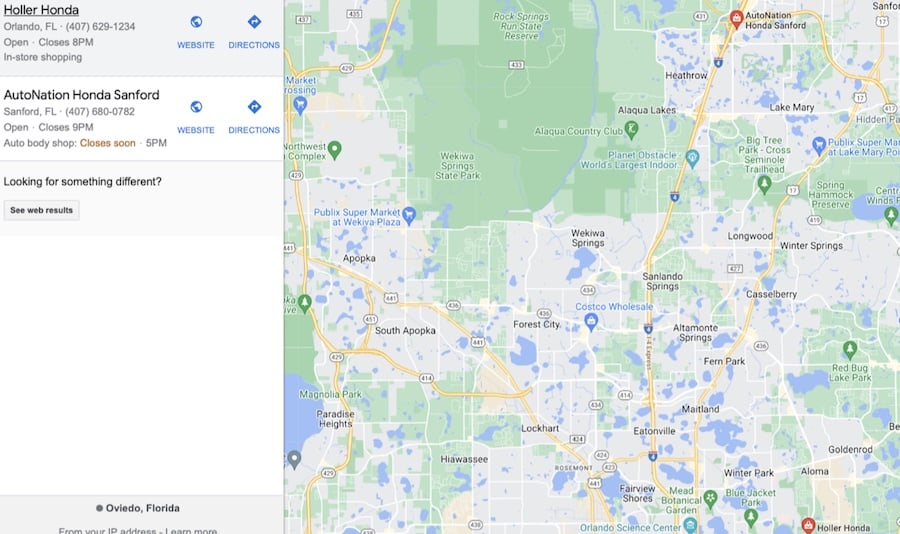 There are so many brands that sell their products both online and through affiliate sellers in different locations.
You commonly see affiliate sales with beauty and grocery brands, but any eCommerce brand distributing physical products through third-party retailers can use this Asset.
While the Asset may not drive clicks to your site and instead direct them to your affiliates, it could send the user to a place where they're most likely to convert. This can be a huge win, whether you're selling bags of artisan potato chips or luxury sedans.
10. Promotion Extensions
Last on our list, we've got promotions!
These Assets are an outstanding way to leverage urgency to drive more clicks and fast sales because they allow you to showcase current offers and deals.
With promotions, you can add a snippet sharing information about the deal and (if applicable) a coupon code.
In this example, an eyeglasses company advertises a "New Year's" deal with 30% off new styles. Users can click and be taken to the page featuring discounted products.

And in this second Extensions example, you can see a flour company sharing 10% off the first order with a coupon code attached.

The appeal for this Extension is easy to see. Everyone loves a great deal and saving money, and these ads promise to give you money right from the second users first interact with them. In a busy and overcrowded SERP, this can go a long way in causing users to click on your ad first and potentially converting.
Pro tip here, though: Make sure that these Assets are always up to date. First-purchase offers are typically pretty evergreen, but if you're promoting short-term sales, having the ads on a schedule may be a good choice. The last thing you want is users clicking, excited for discounts, only to be disgruntled and annoyed when they find the sale is over.
Conclusion
Google Ad Extensions are an all-win, no-lose situation. They don't cost you anything extra and may save you on ad spend in several ways. Of course, the direct increase in the CTR also doesn't hurt.
By increasing the amount of space your ad takes up, you give it more visibility and share more relevant information with searchers. And since Google automatically chooses which Assets to place in each SERP, you can add as many as you'd like to a campaign and leave the heavy lifting up to machine learning.
And when choosing which Assets to create for your campaigns, keep the following in mind:
You can (and often should) add multiple Assets to your campaign for the reasons given above, as long as they're relevant to the ads you're creating
You can create multiple versions of each type of Asset and test them
Google's "Assets" section on the Ads dashboard will show you information about the performance of ads associated with individual assets, including cost, impressions, and interactions
Want some assistance choosing which extensions you should add to your campaigns and how to optimize them? Send us a message and find out how we can help you.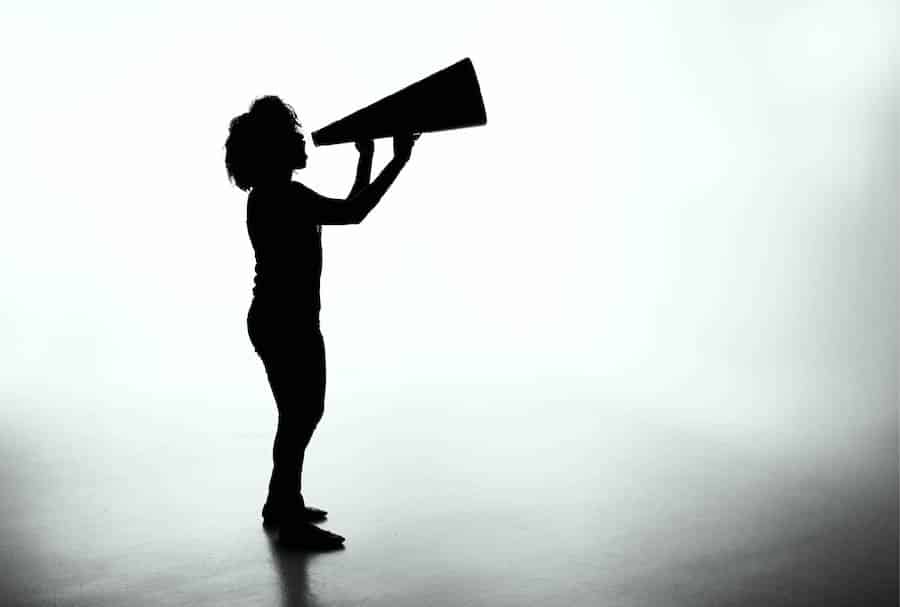 Leave a comment