Estimated Conversions: May the Data Be Ever in Your Favor
by John Thuet • January 4, 2014
Logo from the Pratt Institute.
It's a new year, and I'm sure you are probably looking forward to the many shiny new resolutions that you're going to not complete … but one thing us PPC Marketers are always excited about are any updates that Google AdWords will come out with. One such update that graced our desktops in late 2013 was Estimated Conversions.
This major conversion tracking update introduces a few new aspects and possibilities to the following three areas (one of which you may have already heard of):
Estimated Cross-Device Conversions
Bridging the gap between advertisers and the numbers they need to make educated decisions has been a long-time goal for Google. To do this, they focus their efforts on measurement tools to record conversions.
An issue we previously had as advertisers was to try and figure out how our target audiences performed before they converted. I say 'previously' because launching estimated total conversions was a giant step toward solving this dilemma.
Here is how it works: Since more and more of our target audiences are linked to their google account across multiple devices, Google can now track when a person clicks on a google.com ad on one device, and then completes the purchase or conversion on a different device later that day.
Here is a nice little graphic our friends down at Google created to show you what I mean: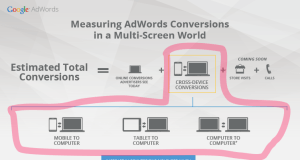 Image taken from the Google AdWords blog.
Calls as Conversions
This one you may have already heard of. Google now has the ability to add any phone conversions to your main conversion data in AdWords. All you need to do is use Google's tracking number when creating your call extensions.
At the campaign level, you can go to ad extensions and then call extensions. When adding a new number, make sure you select the option for "Show my ad with A Google forwarding number…". Here is a graphic to show what option you need to select.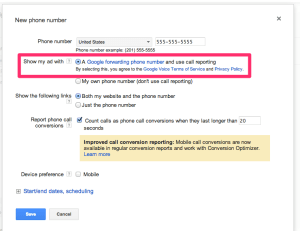 When this is selected, Google will start to track calls as phone conversions, and then are added to the estimated total conversions (to be explained next).
Estimated Total Conversions

Since we already explained the above two Google updates, the Estimated Total Conversions metric basically is the combination of the data from your basic online conversions you've known and loved + Cross-Device Conversions + Calls + Store Visits (this one is coming soon…hopefully).
This graphic shows it all, as well as some cool data on what industries benefit most from this data. It's pretty interesting, so check it out: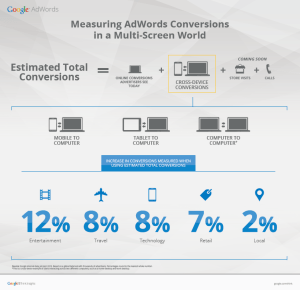 Image taken from the Google Adwords blog.
So now that I've spent 424 words explaining the update, let's be unconventional by discussing (last instead of first), the possible benefits and issues that may have come to your mind throughout this process:
Benefits for Marketers

Increased visibility into mobile traffic: From the estimated cross-device conversions, you could see which ad groups are possibly driving, for example, 10% of their traffic from mobile devices. If this is the estimated conversion, then you could adjust your mobile bid up 10% for the test.
You can make assessments on keyword bidding and adjust accordingly.
Deeper insights into your sales process allowing you to see how your target audience is moving through your sales process. You may have a high percentage of people starting their sales process on their phones and then completing the purchase later when they are at home on their computers. This is valuable data, as that would tell you to push more budget toward mobile ads, for example.

Potential Issues

The data is ESTIMATED. Obviously that would mean you would have to trust Google's numbers when making your decision. Google gets these numbers from looking at the data from the users who are logged in to their account across their devices, and infers the trend to your account as well. As more and more users are getting used to cross-device syncing, this data will most likely become more and more statistically significant, so this isn't a huge issue for me personally.
High conversions required to even show data in your account. Unless the keyword you want to test is getting 50+ conversions per day, you won't even be able to see any estimated conversion data.
For now, there is no device segmentation for estimated total conversions…fail.
Last, but not least, getting us to buy into these metrics. The above mentioned issues could potentially be too much for marketers to want to take the data seriously enough to test it on our accounts.
There you have it, a little year-end 'gift' from Google to bring us closer to our clients data. Happy New Year and may the data be ever in your favor.