How to Effectively Advertise Your Franchise on AdWords: Location Settings
Trying to advertise a franchise on AdWords? It can be a daunting task.
To be honest, when I first started working with franchise clients at Disruptive, I wondered if I'd ever be able to drive the kinds of results my clients needed. However, with time and ingenuity, I've managed to crack the code on how to run a profitable franchise campaign on Google AdWords.
Since I'd love to spare you the frustration I went through, I've decided to write a series of articles about how to set up and manage franchise campaigns in AdWords. In this article, we'll start by taking a look at how to use your location settings to cut your cost-per-lead by 30%.
Multi-Location Franchises
Before we get into that, however, let's define what a multi-location franchise is. Here are some of the types of multi-location franchises that we've worked with here at Disruptive:
Auto Repair
Car Dealerships
Hotel Chains
Law Offices
Medical Offices
Obviously, this is far from a comprehensive list, but these examples should give you a feel for what sorts of multi-location businesses this article applies to.
Creating a Multi-Location Franchise Campaign
Getting a franchise AdWords account is fundamentally the same as getting any AdWords account set up, so I'll refer you to the video below for step-by-step instructions on how to create an AdWords account.
As you build out your campaigns, it's important make sure that each franchise location has a unique landing page with different location phone numbers, addresses, and hours of operation, etc. This will make your tracking data more accurate and increase your conversion rates.
Assuming that you've set up account correctly, have location-specific landing pages and at least some firsthand experience creating campaigns in AdWords, let's focus in on one of the biggest challenges of franchise advertising on AdWords: your location settings.
Setting the Right Location Settings
One of the big problems with running a franchise campaign in AdWords is picking the right location settings. You have businesses in locations all over the state, country or even world.
How do you set your campaigns up to run the right ads in the right places for the right searches?
To start, it's important to break each location out into its own campaign. This allows for proper geo-targeting, which becomes particularly important if you have locations that are close in proximity to each other. Otherwise, you could end up with overlaps in your targeting (competing against yourself is bad).
Use the following location setting once your target radius is set:

Now, you may wonder how someone who lives outside the targeted area, but works inside the target area, finds the location they are looking for.
To capture this particular audience, you need to create multiple locations that are city-specific within a single campaign: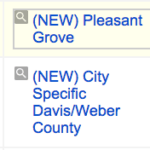 Along with the new city-specific campaign, we want to change the 'location options' setting to include the audience outside a particular radius of a location.

Instead of targeting a specific city, as we did in the individual location campaigns, we are targeting a much broader area (multiple counties), so that our audience can find the location they are looking for even though they may be searching from 2 counties away.
What You Can Expect from City-Specific Campaigns
In my experience, simply creating these sorts of city-specific campaigns cuts the cost-per-lead by around 30.5%. For example, here is how things played out for a client of mine in the auto industry:
Normal Location Campaign

City Specific Campaign

As you can also see, the conversion rate also increases considerably with city-specific campaigns. In addition, if the campaign/location is limited by budget, this strategy allows for more traffic to the location at a much lower cost.
In addition, putting a bit more thought into the original campaign can help secondary campaigns develop, ultimately increasing lead volume and profitability. If there are locations that are particularly struggling, these specialized campaigns are often times what can pull a location out of a slump. It is amazing how often we see accounts that are set up without proper settings and targeting.
A city-specific campaign strategy seems straightforward enough, but few advertisers dial their campaigns in to this level because—let's be honest—it's a lot of work! However, if you really want (or need) to take things to the next level, you need to be willing to put in some extra time and effort.
Conclusion
To run a successful franchise campaign in AdWords, remember the fundamental rule of franchising: location, location, location! Your location settings are just as important as your physical location.
After all, if you aren't effectively advertising your locations, what's the point of having a franchise?
By the way, if you'd like me to take a look at your current franchise advertising strategy and give you some tips, let me know here or in the comments. I'd love to help!
How have you seen your location settings affect the results of your franchise campaigns?
Leave a comment