5 Easy Tips to Increase Return On Ad Spend With Gmail Ads
by Ana Gotter • December 17, 2018
Email lists are exceptionally valuable because they allow us to deliver our messages straight to our customers' and leads' personal email inboxes. This is a sacred space, and they're sure to at least read over every subject line to scan for important information they need to read. I am not proud of this, but I am on top of my email inbox a million times more than the actual, physical mail that comes to my house.
But what if you could land your email inside the inbox of customers and clients that you haven't connected with yet? Or the ones who have checked out your site but haven't actually purchased or subscribed to your email list?
Gmail ads allows you to do exactly this, and in this post we're going to go over 5 strategies to increase your return on ad spend with these ad campaigns.
What Are Gmail Ads?
Gmail ads—also sometimes called gmail sponsored content—allow you to display ad campaigns as sponsored messages in a user's inbox. Aside from a green "Ad" tag attached to them, these ads will show up like a regular emails above the rest of the contents of your inbox.

When you click on the ads, they'll open similarly to a typical email. You'll often see an image-based message with a clickable CTA. On the right hand side, you'll have the option to see a quick summary of the ad and click there as well.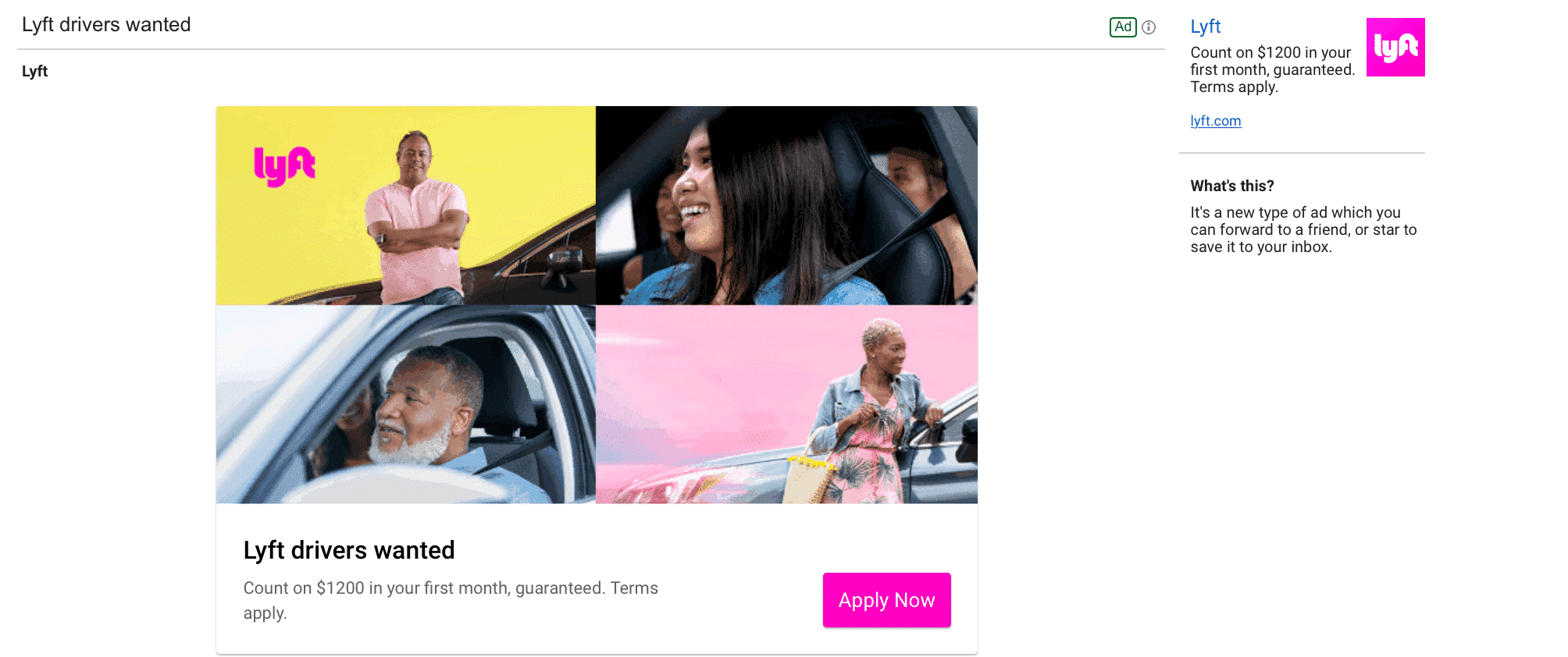 Because we all check our email a million times a day, you have a good chance of having these ad campaigns seen. And, since we pay such close attention to what's there and only a few promoted ads will get through at any given point, there's less competition and an increased likelihood that users at least read your initial offer.
You can create gmail ads through the Google Ads platform, where you'll manage and monitor them. In order to create Gmail ads, you need to choose "Display ads," and then "gmail ads."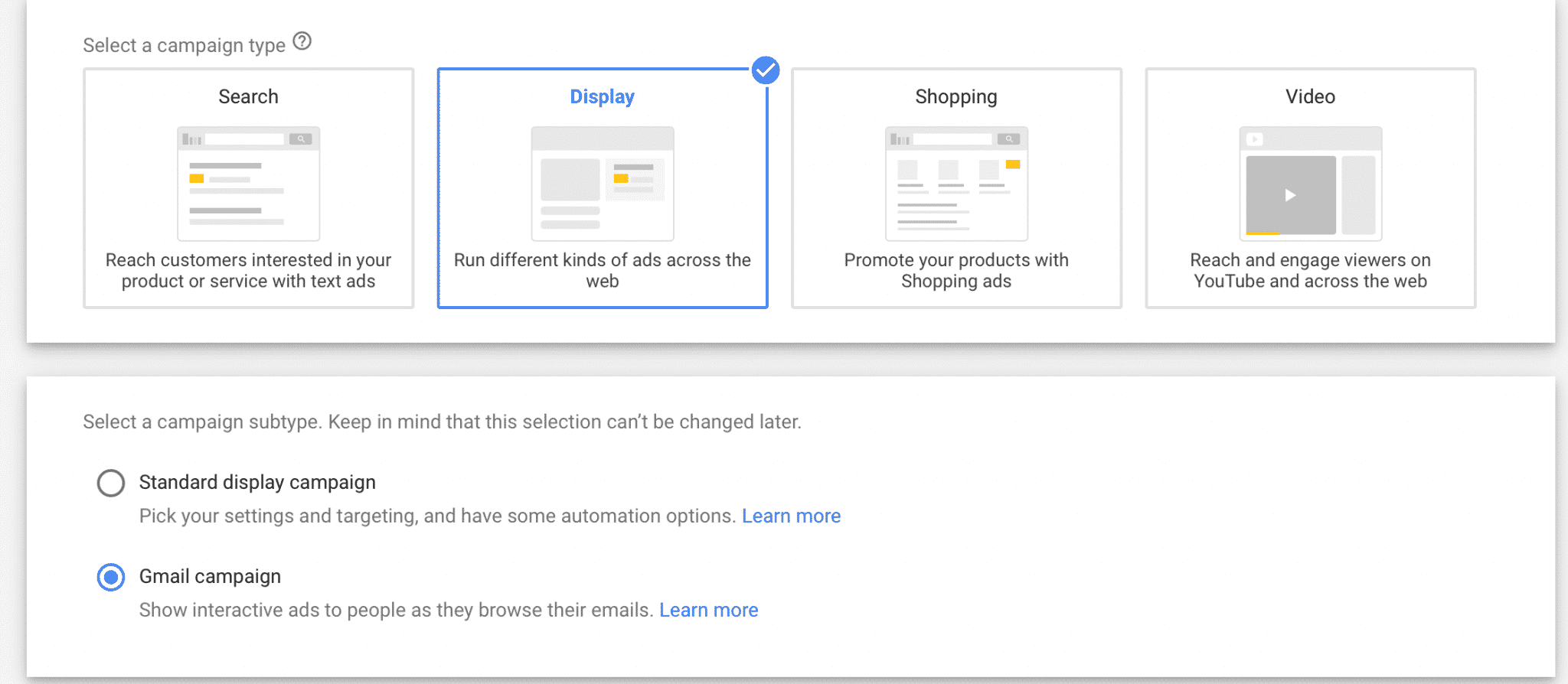 There's a lot of great opportunity to use gmail ads well and get great results, so let's take a look at our 5 best tips for optimizing your campaigns for clicks and increasing both return on ad spend and ROI.
1. Be Strategic About Your Audience Targeting
There are three main options for gmail ads when it comes to audience targeting:
Keyword targeting, which will show your ads to users who have searched for or expressed interest in certain search phrases
Audience targeting, which allows you to remarket to specific groups of users (including those who have somehow interacted with your business in a specific way)
Demographic targeting, which lets you target based on location, age, gender, household income and whether or not you're a parent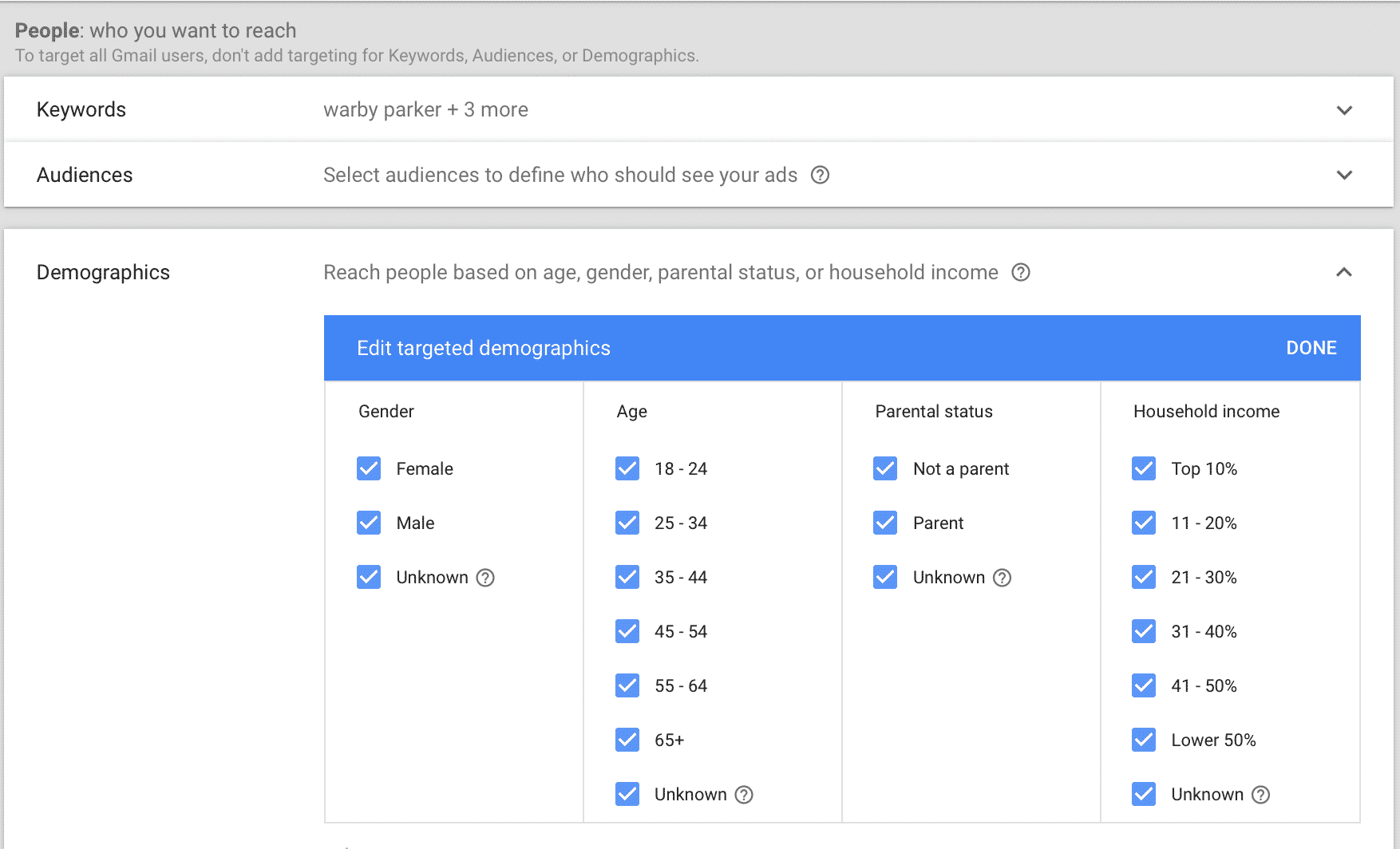 Be strategic about the marketing tactics that you choose.
Remarketing will probably be your best shot at direct conversions, because users will be familiar with your brand and more likely to purchase. It allows you to showcase competitive offers—especially those with discounts or deals like free shipping—to an audience that's already interested in what you're doing.
Keyword targeting combined with demographic targeting, however, is the way to go if you want to connect with cold audiences who aren't familiar with you.
If you choose to go this route, ensure that your headline explains quickly why users should open. Unlike conventional display ads, you only get 20 characters to tell someone why they should care instead of a full-sized image or video. Once they click, great, then you get that opportunity—but the headline has to get them to open that email first. Keep your headlines relevant and demonstrate value immediately.
2. Test Out Conservative Automation
Conservative automation, for those familiar with Facebook Ads, is a little like Facebook's lookalike audience feature. It allows you to target customers similar to the ones that you've targeted while maintaining your current CPC.

If you're running a relatively broad-appeal campaign or have a hyper-targeted audience, you can use the conservative automation option to let Gmail ads help you connect with customers who are like the ones that you're manually targeting. This can be particularly beneficial if you're utilizing a remarketing campaign or a customer match campaign, targeting specific users based on their relationship with your business.
Aggressive automation won't be a good option for many campaigns, because getting "as many customers as possible around your current cost per customer" can yield an awful lot of irrelevant placements. Quantity is good, but quality always needs to come first.
3. Throw in Some Emojis
This is a really simple tip, but it's a good one. And I say this as a copywriter who typically does not like adding emojis into my copy because I dislike how they look: emojis in email subject lines get results.
To be specific, email subject lines containing emojis actually increase open rates by 254%. That's an enormous improvement and it means that those tiny, eye-rolling, crying smileys can be key to getting a lot of clicks on your gmail ads.

A quick and easy way to add emojis to your ad's headline is to find the emoji of your choice here, copy it, and paste it directly into the headline when creating your campaign.
4. Target Competitor Keywords
Unless you're using dynamic keyword insertion, targeting your competitors' keywords is a great way to poach a few of their customers or potential customers. That's true for Gmail ads, too.
When you're choosing the keywords that you want to target, go ahead and throw in a few branded competitor keywords, especially big-name ones. If you sell eyeglasses, target keywords like "Warby Parker eyeglasses" or "Lens Crafters."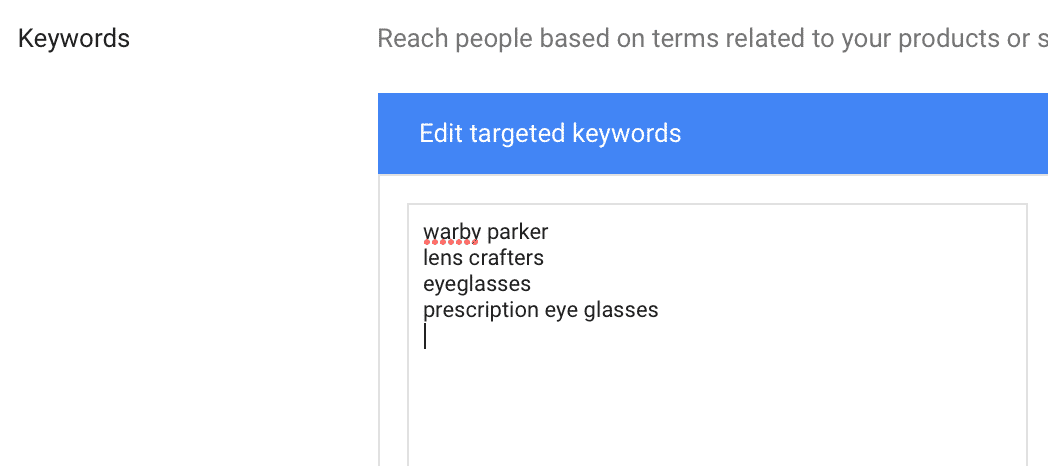 If you aren't sure exactly what branded terms customers are searching for, do a little digging with keyword research on your competitors' names and see what you can find.
5. Use Short, Impactful Subject Lines
Email subject lines are a lot like blog post headlines; you want to know exactly when you're getting into when you click that open button, or else you might end up feeling like your time was wasted.
Short is important for email copy because it increases the likelihood that users will read your message (it's also worth noting that you only get 20 characters for the headline itself). In addition, it's important to make sure that you're able to portray offer and relevance quickly, explaining why they need to open it.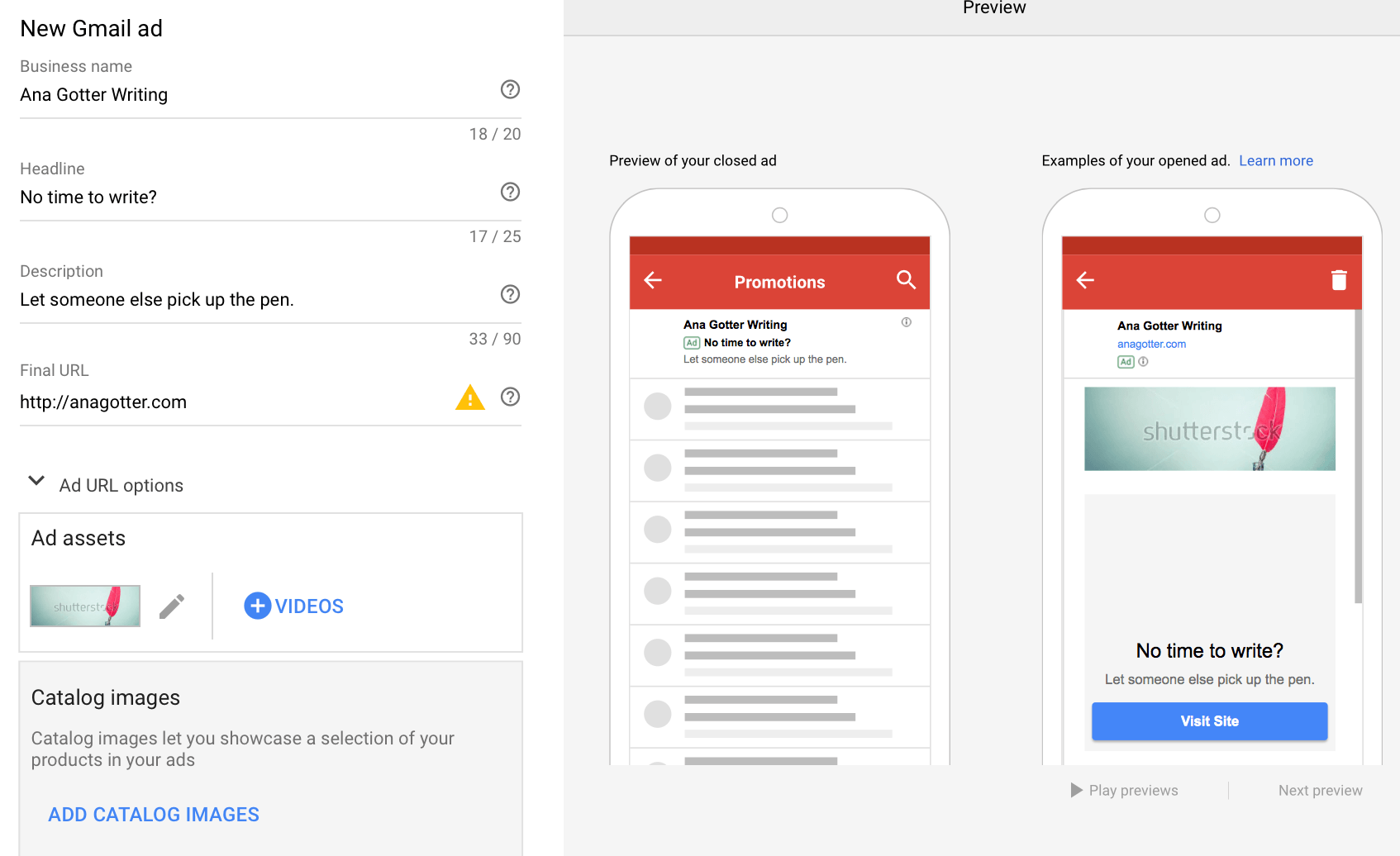 Let's look at the gmail ad example below. I received this in my inbox today. It's timely and relevant, because I'm a small business owner who doesn't have employer-provided health insurance, and it's open enrollment time.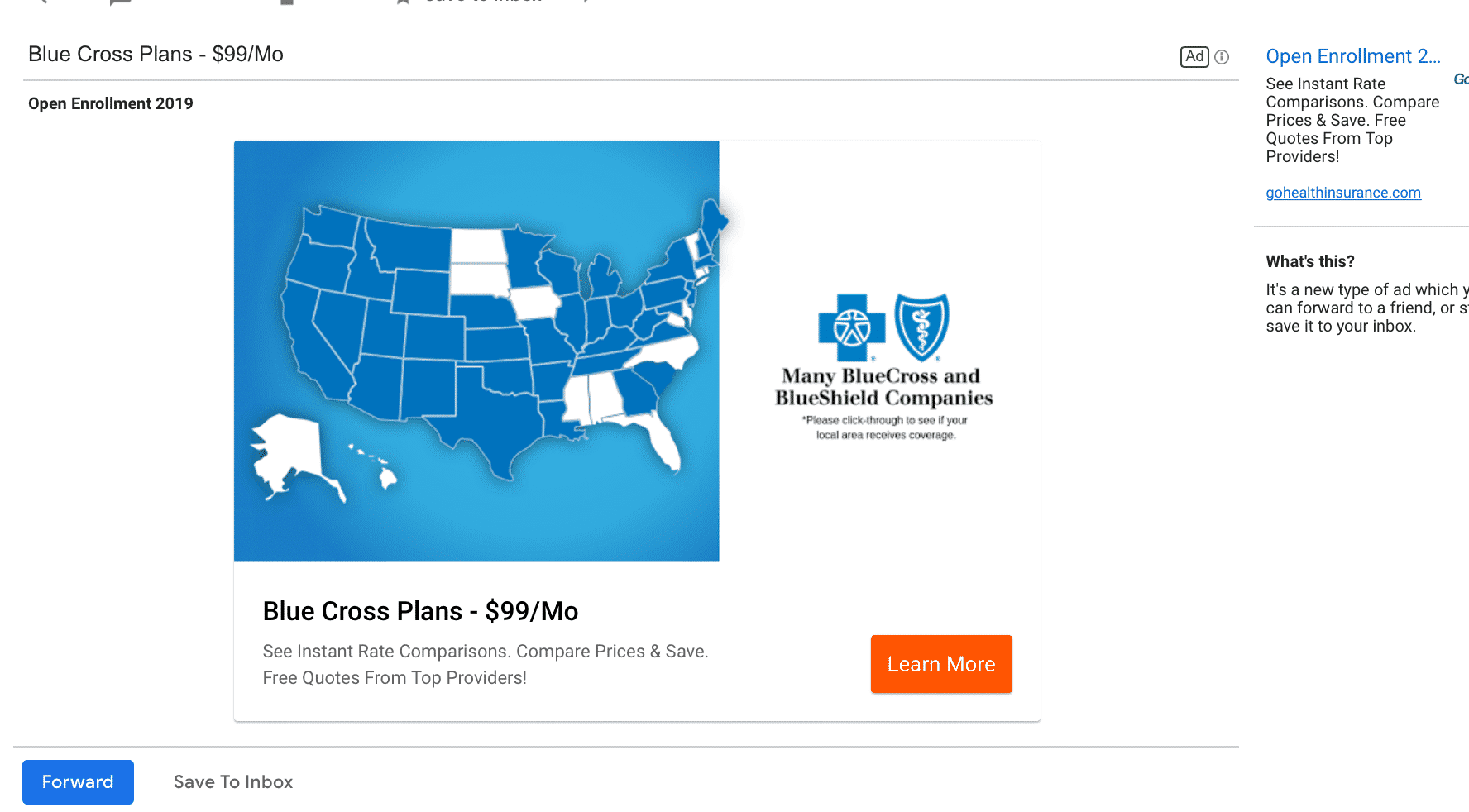 Seeing a promise of "blue cross plans – $99/month" almost demands you click. It's a reminder that now is the chance to get that healthcare and it dangles that really-terrible-plan-but-oh-so-affordable premium price point to get you to not only open the email, but head over to the landing page, too.
On the landing page you'll be disappointed to find that for $99 a month you might have to exchange your firstborn for medical care, but at least they did get you there.
Conclusion
Gmail ads are an excellent opportunity to land in your potential customers' inboxes, even if they've never interacted with your business before. There's less competition for their attention and they typically have to at least review the message long enough to decide they want to delete it so they can clear away that notification. That's a big opening that you won't get on other platforms where it's easy to scroll past your ad without a second thought.
By following the best practices outlined above, you can maximize your ROAS and your ROI, making your campaigns as profitable and effective as possible.
If you want to invest in Gmail ad campaigns but aren't sure where to start, get in touch with us here and see how we can help.
What do you think? Have you ever used Gmail ads for your business? How do you get the best ROAS from your campaigns? Share your thoughts and questions in the comments below!