AdWords Remarketing: Everything You Need to Succeed
by Jenny Hatch • January 15, 2016
Remarketing campaigns (also referred to as retargeting) allow you to show ads on the Search and Display Network to people who have visited your website previously. It is a great way for companies to stay in the forefront of potential customers minds.
Remarketing campaigns can be used by most companies. Certain sensitive categories of companies can't use remarketing (for example, if you're a law firm specializing in divorce suits). So, before creating a remarketing campaign, it's a good idea make sure that your product or service is eligible for remarketing.
Remarketing campaigns are available on Google, Bing, Facebook, etc. This post will discus how to set up Google Display Remarketing and give you some tips and tricks for Google remarketing that can be applied to other remarketing platforms.
Set Up
Setting up a remarketing campaign isn't any more difficult than setting up any other type of Google campaign.
In AdWords, click +Campaign and select "Display Network only".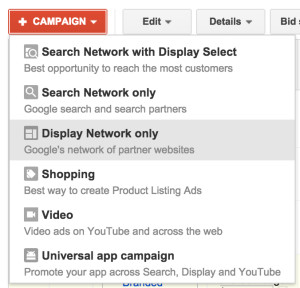 Next, give your campaign a name and choose the "Marketing objectives" option.

Now, choose a Marketing objective. Typically this will be "Visit your website" or "Buy on your website."

Assign a budget, locations, bid strategy, and any additional settings you'd like to specify. I'd recommend choosing a manual bidding strategy without Enhanced CPC as you get started.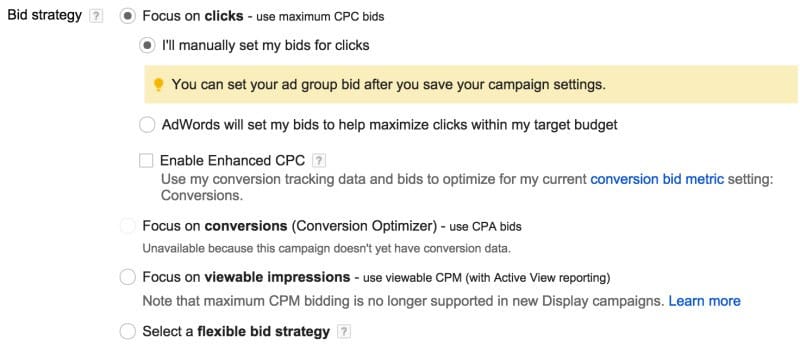 Next click "Save and continue" to go to the Ad Group creation page where you name your ad group, enter a bid and a landing page URL, and choose how to target ads.
In the targeting section, choose "Interests & remarketing (in-market audiences)".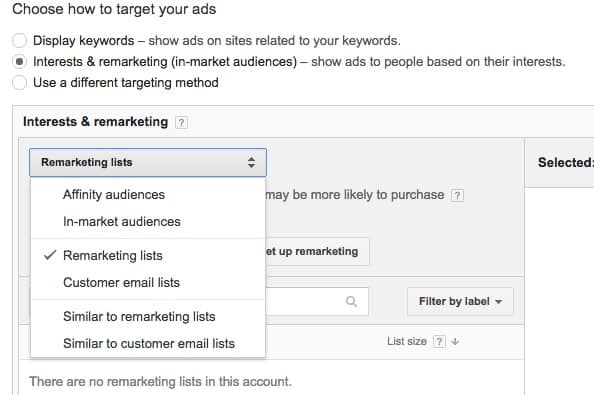 From the drop down, choose "Remarketing lists".
Next you have the option of using dynamic remarketing ads. If your company has a product feed and an online store, check this box. This customizes the remarketing ads toward the exact products people were looking at.
Now it's time to create a remarketing list if you haven't previously. If you have previously created a remarketing list, choose the list from the drop down and proceed on your way.
If you haven't already created a remarketing list, choose the "Set up remarketing" box.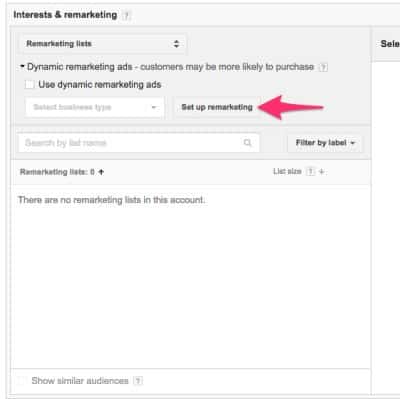 A pop up will pop up complete with the AdWords tag you will need to add to every page of your website right above the </body> tag. Put that tag on your website or email it to someone who knows how to do that. 🙂 Then hit continue.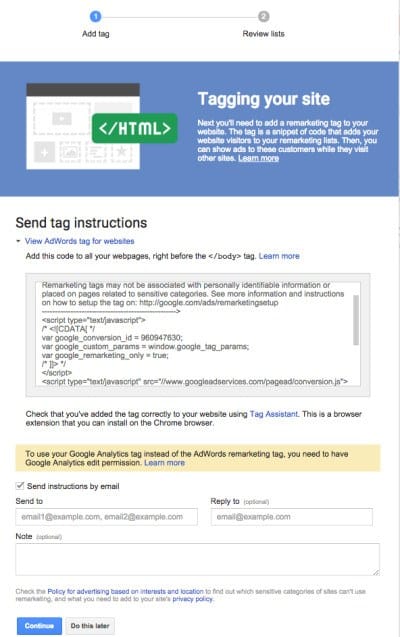 You have created your first remarketing campaign! Back in AdWords it will show up in the box that was previously empty. Select that list and hit "Save and continue".
You are now taken to ad creation. If you need tips on creating stellar ads, check out this post.
Congratulations on creating your first remarketing campaign! Now, you're probably wondering if there are any best practices or tips for remarketing. Don't worry, I got you covered below.
Tips & Tricks
Now that you've created your first remarketing campaign, its time to set yourself up for success. Narrowing down your targeting, which sites and devices you show up on, and setting up custom remarketing lists will help you show up in front of the right people and maximize your conversion potential.
Targeting Options
Retargeting allows you to choose how long a member is on your list, how often your ads show to list members, what genders and ages to remarket to and more.
It is a good idea to not drive potential customer crazy by stalking them for way too long online. To avoid doing this, set your list membership duration for the remarketing list to a typical buying cycle—13 months if you sell an annual product or subscription, 30 days if you sell a monthly subscription, etc.
Frequency capping ensures that customers are reminded versus bombarded by your company. You'll need to find the sweet spot for your company depending on your product and buying cycle, but it's a good idea to evenly spread the impressions across time rather than bombarding at once.
Gender and age targeting can be very important depending on your business. If you are a trendy professional women's clothing store, chances are you don't want to be remarketing to men (unless its Christmas and your campaign is all about surprising your significant other).
You probably also want to narrow down the ages you are targeting—18 and 85+ year olds might not be interested in the clothes you are selling or able to afford them, so you might choose to exclude these ages.
Making sure that your targeting is reflective of your buying cycle and target audience will ensure that your ads show up to those who are most likely to convert—saving you money and improving your conversion rate.
Site Content & Devices
You can narrow down which sites and devices your ads will show up on to ensure that you aren't showing up on sites you don't want associated with your brand or sites that don't convert for you.
The options here range from general topics to exclude—crime/police sites, juvenile sites, forums, social networks, error pages, in-video content, below-the-fold, apps, etc—to excluding specific sites.
Devices can also be excluded or included based on what you find converts for you.
Narrowing down sites and devices you advertise on allows you to choose to be in front of your audience when they are most likely to convert.
Create Different Remarketing Lists
By creating different remarketing lists, you can segment potential customers based on how close they were to converting, products they bought, webpages they visited, etc.
By segmenting these groups, you can test different messages to them that are more related to their interests. For example, I might offer a 20% off coupon to those who abandoned the shopping cart versus showing our newest products to those who have converted previously.
You may find that these different lists have slightly different targeting, click through rates, and conversion rates.
Treating each of these groups differently will increase conversions.
Conclusion
When used effectively, AdWords remarketing will help increase conversions by staying in front of potential and past customers.
Adding custom targeting and demographics, advertising on the right sites, and segmenting remarketing lists are best practices to assist in maximizing conversion potential.
By the way, if you'd like any help setting up or optimizing your retargeting campaigns, let me know! I'd be happy to help.
What have you found to be effective with your remarketing efforts? Let me know below!