4 Easy Strategies to Drive Local Traffic With Google Ads
by Ana Gotter • February 5, 2019
Many small businesses assume that Google Ads are only useful for driving on-site traffic. It's easy to understand where the misconception comes from: it's a lot easier, after all, to click on an ad than to get in your car or call an Uber and head to a brick-and-mortar location. And it's definitely more difficult for businesses to track when that actually happens.
It is a misconception, though, because with the right strategies in place, you can absolutely use Google Ads to increase foot traffic to your local business. You need to optimize your ads a little differently than you do if you are exclusively focused on site traffic, but all it takes is a few quick tweaks and your ads will be ready to go.
Wondering how to drive local traffic with Google Ads? It's easier than you'd think, and we're going to look at 4 fast strategies that will help you increase foot traffic to your business with your Google Ads campaigns.
1. Use Location-Targeting
The first step to getting more local traffic is to ensure that your ad is only being shown to users who are actually close enough to you to physically make it to your store. Ecommerce businesses, after all, aren't typically bound by geographical restrictions, but you will be if you want to increase store visits.
When creating each ad campaign, realistically consider what proximity users are willing to travel to see you. If you're an experienced lawyer, someone might be willing to drive an hour; if you have a taco truck, it has to be the best taco truck ever for someone to make that same trip.
After you've considered what specific regions, cities, or zip codes you want to target, enter them into the location targeting that you'll encounter during the first step of ad creation. You can choose to target or exclude the areas of your choice. This will ensure that only people within your defined locations will even be able to see your ad, preventing those who can't visit you from viewing the campaign while giving you more relevant placements.
2. Incorporate Location-Based Keywords into Ad Groups 
Location-based keywords can unsurprisingly help you pop up in the local searches that often dictate or affect foot traffic and store visits. Last week, I didn't search for "AC repair," I searched for "AC repair Orlando," and immediately saw a variety of local companies who would actually be able to help me.
Targeting those location keywords like "Huntsville restaurant" or "Dallas accountant" will help you have a higher relevance—and thus ad rank—when your audience is searching for those specific terms, meaning that you could be the one who gets the click and the in-person visit. The ad below didn't show up at all for "dog training" or "puppy training" keywords, but it ranked first for "puppy training Orlando."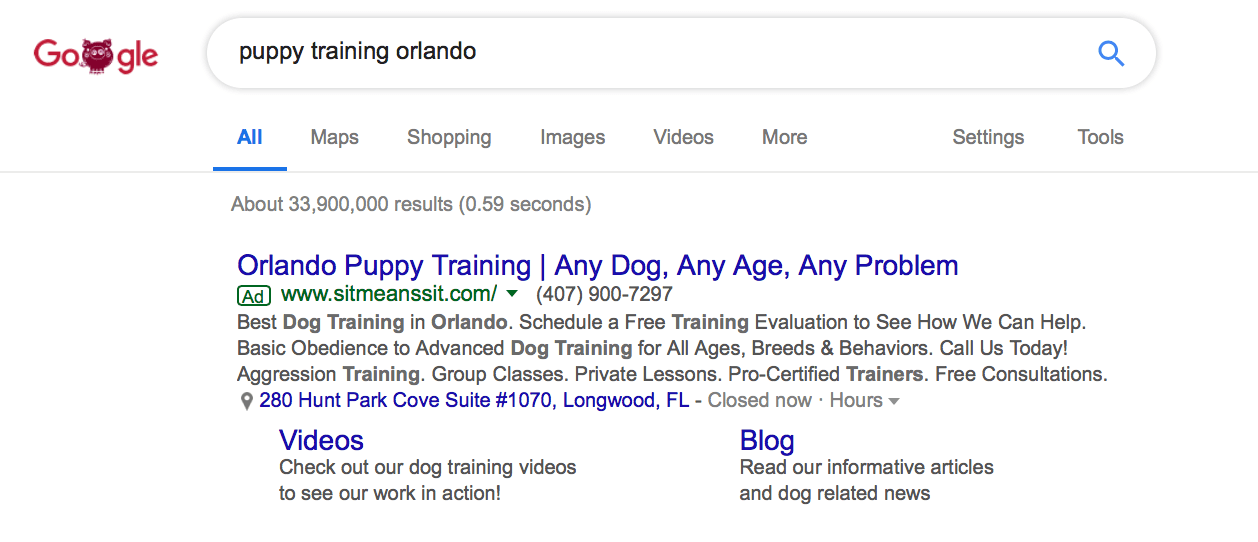 As a side note, you shouldn't be using location-based keywords exclusively for your campaigns, especially if you're using phrase match or exact match keywords. Location targeting will ensure that you're only showing up in geographically relevant searches, after all, and using only location keywords could isolate you from audiences searching for more generic terms instead. A healthy mix is typically a good choice.
3. Choose the Right Ad Extensions
Ad extensions allow you to share additional snippets of information on your ad, giving you more space to capture viewer attention and explain why you should be the business that they come to see. They're free, and they have a tendency to boost CTR, conversion rates, and ad rank while lowering CPC.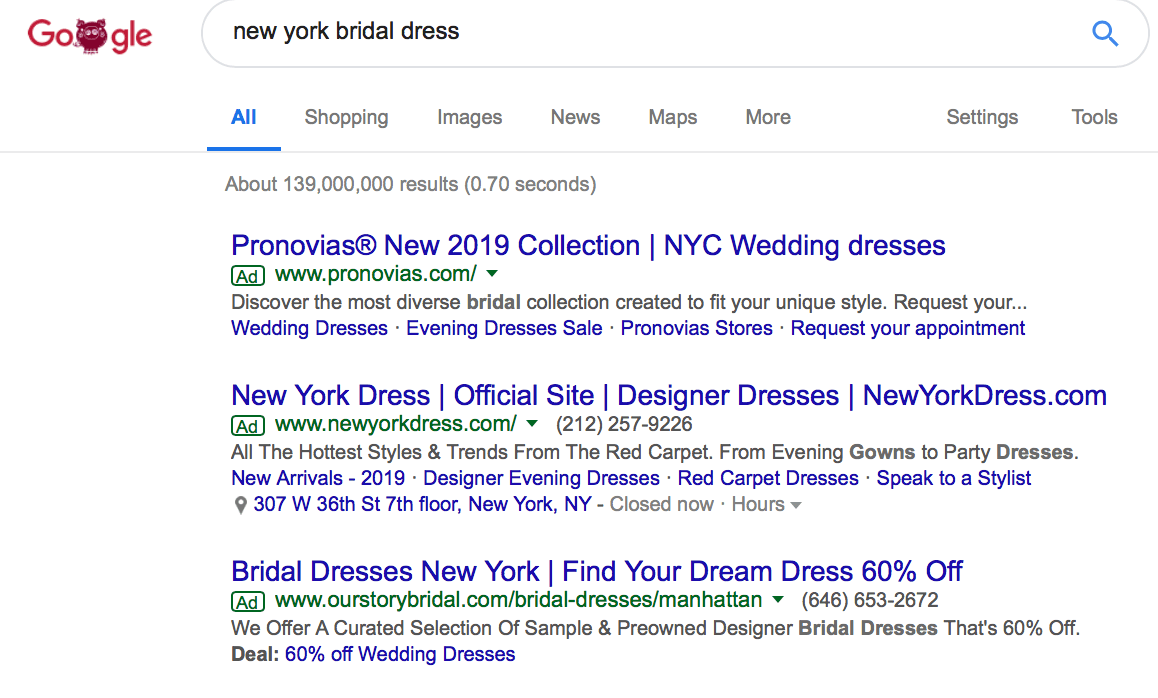 There are different types of ad extensions, and each one serves a different purpose. You can add multiple extensions to each ad, too, and since they don't cost anything, there's all pros and no cons here.

When it comes to extensions for local businesses, the following options can help you generate more in-store traffic.
Location extensions, which allow you to feature your address below the ad campaign. Users can click, and they'll be taken to Google Maps where they can receive instructions for how to come see you.
Promotion extensions, which highlight any great deals or sales that you're offering. This can give you an edge over other competitors and encourage users to come stop by and see you first.
Call extension. Someone might want to know if you have a certain item in stock, or have a question about your services. Having that call extension—which showcases your business's phone number—easily accessible can make the difference between whether or not they'll make it in to see you.
4. Optimize Your Ads With Dayparting
Dayparting is the practice of scheduling your campaigns to only run during certain hours of the day or certain days of the week instead of at any point within a generic time frame. And for brick-and-mortar stores, utilizing dayparting so that your campaigns run only during your open or in-operation hours can be something worth testing.
Mobile users are typically trying to find a solution to an immediate need when they search on Google. If they're searching for a bakery right now and your ad shows up but you're closed, it could mean you're paying for a click that will never yield a conversion.

Dayparting can come at a cost. Desktop users, after all, are still inclined to research businesses and may do so a day or so in advance before venturing out to come find you. Running ads only when you're open might run the risk of isolating users, especially if they're typically searching during your off hours.
If you think dayparting is right for you, run a split test to find out. It's the best way to see whether or not it can help or hurt you, and watch specifically for actions taken like clicks to a site or a phone number being called.
Conclusion
Driving on-site traffic doesn't have to be the only goal you're optimizing for, you just need the right strategies in order to ensure that the campaigns are equipped to drive local traffic to your store, too. These 4 tactics will be key in helping you get more visits to your store so that you can establish relationships with new clients, sell more and help to make your business more prominent in your community.
Are you working on PPC campaigns to drive foot traffic to your local business and looking for a second opinion? Get in touch and see what we can do for you.
What do you think? What strategies do you use to ensure your Google Ads drive local traffic to your brick-and-mortar business? Which have been most effective for you? Share your thoughts, experiences, and any questions in the comments below—we can't wait to read them!