How to Grow Your AdWords Account the Best Way
At Disruptive, I've had my fair share of clients and encountered all levels of knowledge and confidence in my abilities. I've heard "I don't know what AdWords is,"  "are you sure you've done this before?" and everything in between.
Each client has an idea of how things should be run and what their account should be targeting; but, as their account strategist, it's my job to help them successfully grow their account. AdWords success isn't necessarily an easy task (otherwise, I'd be out of a job), but it is achievable.
In this article, I'm going to explain the best ways to grow an account. Best doesn't necessarily mean fastest, but it is the cheapest and most sustainable. Here are the "do's" and "don'ts" for growing your account in the best way possible.
Do's
When kicking off an AdWords account, you need research the keywords that you want to target and how much it will potentially cost to show for those keywords. The Keyword Planner lets you to see an estimate of how much your keywords will cost and how many searches are being performed on those keywords (because something that gets you one click a month isn't initially worth going after).
Go to the "Tools" tab at the top of your Adwords account, select keyword planner, and under "Plan your budget and get insights for keywords," put in the keywords you want to research.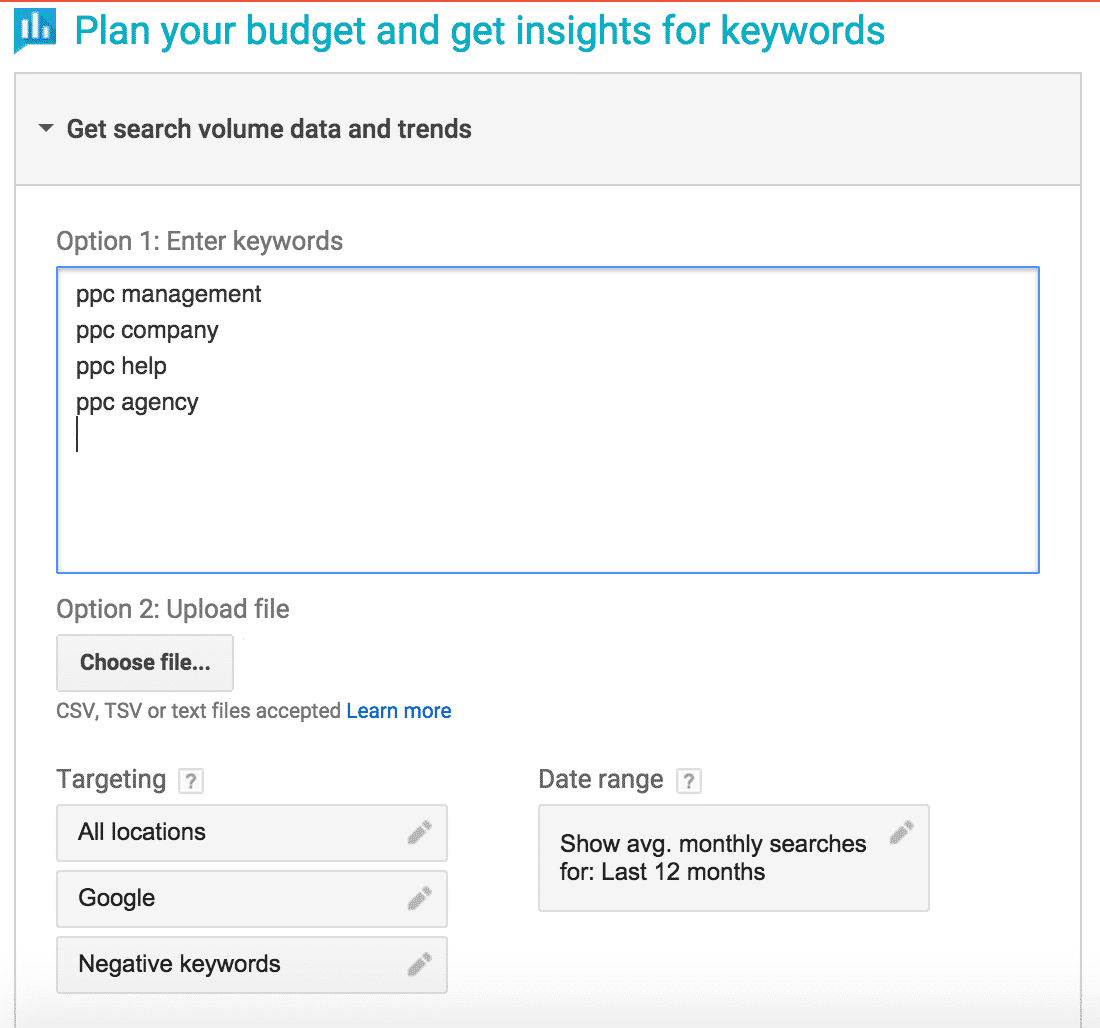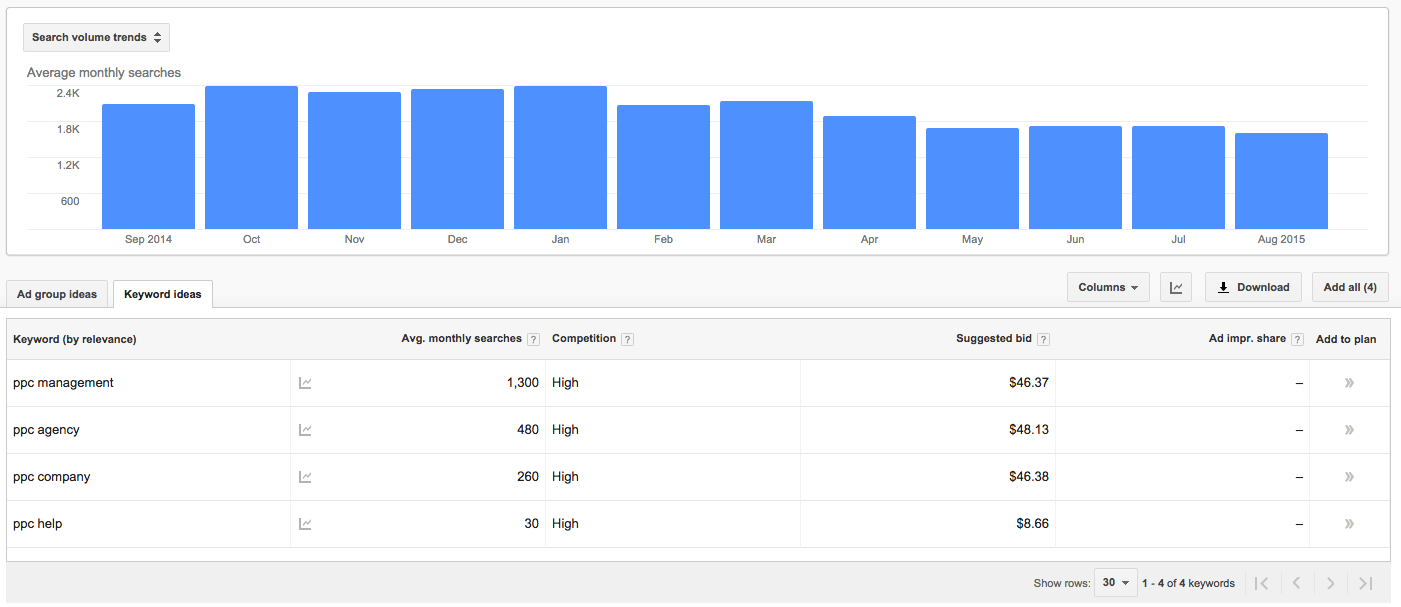 You'll want to focus on keywords that are very relevant to your industry and highly searched. The trick is picking the right amount of keywords that allows you to gather data quickly on what's working and what's not. We recommend starting out with a smaller set of high intent keywords, that will definitely drive clicks. Then, you can use the search query report to add additional keywords in the future.
How would you select new keywords for your account?
Look at the searches that people used to get to your ad, and add in those relevant keywords. Pay attention to the amount of people who've submitted the same search, and what your cost for conversion is for those potential new keywords. This is also a good time to exclude any searches that you don't want to show for in the future. Remember: the more relevant you are for users, the higher your click through rate will be.

Now that you're adding new keywords to the account, make sure that you revisit your original keyword selections to make sure that your keywords are all performing at the cost per conversion that makes sense for your business.
The account strategists at Disruptive do this process on a weekly basis to optimize how our clients' AdWords accounts are performing. It's important to rinse and repeat this keyword research as your account gains data.
Don'ts
The Shotgun Approach
Some clients have the idea that it would be best to start with a large keyword set so that if they'll show up for anything that pertains to their industry. This may seem like a good idea, but it makes gathering substantial data difficult.
By taking a shotgun approach, your budget is spread thinly over all of the keywords which means you can't gather the info needed to know what keywords are the best and what ones to avoid. Optimizing your account becomes guesswork, and you'll be leaking money every day until you get enough data.
We're Number One!
Another thing that can be detrimental is thinking that you need to be in the 1.1 spot for all your keywords. Being at the top is great, and your ads are being seen, but you may be in an industry where people shop around. This means they click on your ad and the other two below and end up converting on the third try, while you're spending extra money to be their baseline.
The data needs to determine what position is best for your business and that means that maybe being in that top spot isn't the answer. I've had account that performs better in position 2 and 3 than in position 1. That's because people see the same type of landing page in ad number 1 and 2 (because everyone copies their competition) and once they get to my ad and landing page experience they've shopped around enough. It all depends on your industry and what the data tells you.
In the End…
It's best to expand an account from keywords that you know are profitable, rather than trying to narrow your focus from a wide selection of keywords.
If your AdWords account is taking that shotgun approach, never fear! It's not too late to give your account a targeted and profitable overhaul. We can take a look at your account and tell you exactly where things are going wrong with our full (and free) PPC proposal.
Leave a comment