Why Isn't Your Google Shopping Campaign Working?
by Andrew Warren • August 1, 2017
On the surface, setting up a Google Shopping Campaign looks simple. You hook up your feed, segment your products, set your bids, maybe even tack on a promotional message and then sit back and watch the money roll in.
No problem, right?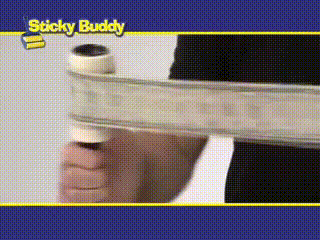 Unfortunately, for a lot of companies the process doesn't work out quite that simply. Since Google rolled Shopping Campaigns out as an AdWords option, we've helped a lot of clients who have struggled to integrate their product offerings into a Shopping Campaign.
---
Updated August 1, 2017
---
It's taken quite a bit of effort and some in depth conversations with our Google Support Shopping Specialist (a lengthy title, to be sure), but we've learned exactly how to setup and run a Shopping Campaign with minimal difficulty. Sure, it's not always as simple as it looks, but it can be done as long as you avoid these 4 common pitfalls.
1. Include Barcode and Brand in the Feed
There are a lot of things to include in your product feed—title, description, product category, product type, availability status, site link, price, etc—but, above all else, you must have two things: your barcode number(s) and the brand.
These are critical to your feed!
Google uses your barcode and your brand to determine which keywords trigger your product ad. Unlike a typical AdWords campaign, you don't get to choose the keywords for a Shopping Campaign ad. Google chooses for you by scanning all the titles and descriptions associated with your product.
In other words, the keywords for your ad are the sum total of all the terms Google believes are relevant to your product based on the product titles and descriptions listed by you and your competitors.
Where do you get barcodes for your products? If you are purchasing product from a distributor or getting products dropshipped to your customer, you should be able to get this information from your supplier(s). If you manufacture your own products then you are responsible for purchasing UPC's for each product and getting them registered.
If your barcode and brand aren't in your product feed—or if you have a custom product that doesn't have a barcode and brand—you can still sell your product, but you'll need to set it as a "Custom/Unique" product.
By setting your product as "Custom/Unique", you're telling Google to use the Google Product Category you set for your product to determine which terms your product shows for. That can work, but it means that your ad for that product will be linked to a group of generic terms Google has tied to that category.
The more generic the terms, the less relevant your product is likely to be the triggering search. To make matters worse, generic terms are more competitive and have a higher cost-per-click. Double fail.
Moral of the story—if your product has a barcode and brand, make sure it's in your feed.
Practical Tip
For the barcode, Google is specifically looking for your Global Trade Item Number (GTIN), your Universal Product Code (UPC) and/or your Manufacturer Part Number (MPN). You also need to have a corresponding brand associated with each product.
If you don't have two out of three of these product identifiers, you'll need to set the column "Identifier Exists" to "FALSE." This will set the product as a "Custom/Unique" product and show your product based on the pre-defined list of terms associated with the Google Product Category you set for your products.
Not a great situation, but sometimes that's your best option.
Depending on how you build your feed, you'll want to use the structure below to input that attribute across all products that don't have at least two unique product identifiers.
2. Set Your Feed Up Right
Unfortunately, a successful Shopping Campaign requires more than just the right barcode and brand (you've got those in your feed now, right?). If you really want front-end sales, you need to have your back end set up correctly.
To put it simply, poor data in your eCommerce platform equals poor quality in your product feed.
Most eCommerce companies are focused on getting their product out there and making sales. That's the fun (and fiscally rewarding) part of being an online retailer. However, what these companies often don't realize is that it is the structure and organization of products in the back-end of their platform that determines whether or not they get those all-important sales.
It might not be fun, but getting your product feed (the foundation of your online sales platform) set up right is well worth the effort.
A Few Things to Look At
There are three major areas that you need to optimize in the back end for Shopping Campaign success. You'd think a lot of these would be obvious, but we've seen clients neglect them over and over.
1. Title
The title should be concise and describe the most important and relevant aspects of the product…while containing less than 70 characters. Since Google chooses which keywords trigger your ads, you can't use some of the same tricks (like exact match) that normally work for standard ads.
Instead, make sure your titles describe your product precisely. The goal here is encourage someone who is looking for your product to click while screening out searchers who are looking for something else.
Generally speaking, it's best to avoid using flowery descriptions or sales terms in your title. While you might use a title like "Hot Ann Taylor Dresses" in a text ad, it's more effective to use a title like "Blue Ann Taylor Summer Dress" for Shopping Campaign ads. Customers clicking on your ad are looking for a specific product rather than a website of products, so give them what they're looking for.
Practical Tip
Ideally, it's best to structure your title depending on whether or not the brand is well recognized.
If the brand is well known, the optimal format is: Brand – Title – Dimensions. For example, "Rugknots – Traditional Ikat Rug Red/Brown – 8 x 10′.
On the other hand, if the brand isn't as well known—use this format: Title – Dimensions – Brand. In this case, "Traditional Ikat Rug Red/Brown – 8 x 10 – Rugknots" would be the preferred title.
2. Description
Along the same lines, make sure your description is well-written and highly informative. Google gives you a pretty big character limit for your description, but we recommend keeping it to 500 characters or less. Looking at Shopping Campaigns is a lot like window shopping for most customers—they want to be able to process your products quickly and easily.
You also want to make sure that you are using a lot of naturally placed keywords. You might not be able to directly choose what keywords trigger your product, but Google does choose your keywords based on the words associated with the product in your (and your competitors) title and description.
Having good keywords in your description not only helps reassure your customer that they've found the product they were looking for—it's also your only real way to affect the keywords that Google associates with your product.
3. Color
Setting up color in the back end is your way of ensuring that your product doesn't show up for the wrong search. After all, you don't want customers looking for "brown leather couches" to click on your ads if the only color you've got in stock is black.
If you have multiple color options you want your customers to be aware of, it's best not to include alternate colors in your product description. As we've discussed, Google looks at your description to decide which keywords trigger your ad—you don't want a customer to click on your "black leather couches" ad simply because it contains the phrase "also comes in brown" if you've run out of brown couches in the stockroom.
Practical Tip
The simplest way to alert customers to other options without the risk of having Google associate the wrong keywords with your product is to include some sort of "Available in other colors" (materials works too, if that applies) note in your product description.
3. Get a Dynamic Retargeting Campaign Running
Retargeting campaigns are great for everybody. After all, they showed an interest in you once, so staying top of mind is an easy way to lure them back in. This works particularly well for eCommerce, where a lot of the purchase decision is often driven by emotion. They might have said "no" the first time, but the more times you tempt them, the more likely they are to give and buy your product.
Odds are, if you've used the internet before, you've probably been targeted by a dynamic remarketing campaign.
Remember when you were looking at that fancy pair of galoshes a while back? You decided not to buy them, but then those galoshes haunted you around the web for the next two weeks until you were convinced that the galoshes gestapo was following your every movement. Only then did you finally cave and buy those galoshes.
Galoshes Gestapo: 1. You: 0.
That's dynamic remarketing.
Normally, setting up a retargeting campaign in AdWords takes some effort and creativity. Fortunately, for Google Shopping Campaigns, Google does most of the work for you—provided you've got a well-structured feed (please tell me your feed's in order by now…).
Here's how it works.
The campaign pulls the image and information from the products the consumer viewed on your site and references them to your product feed. Then Google dynamically inserts the product info from your feed into an ad template.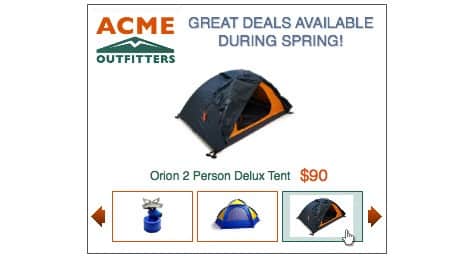 Nice! All the extra credit of retargeting without the extra work! Google has even made an extensive list of templates for you to use, so all you have to do is plug and play once your feed is done and you've installed the dynamic remarketing tag on your site.
So, even if you don't drive a ton of traffic through retargeting, it's still a great part of any campaign. Extra sales for very little extra work? Sign me up!
4. Setup Value Tracking
Tracking advertising ROI is important for any company, but it never ceases to amaze me how few companies actually know what kind of return they are getting on their advertising dollars.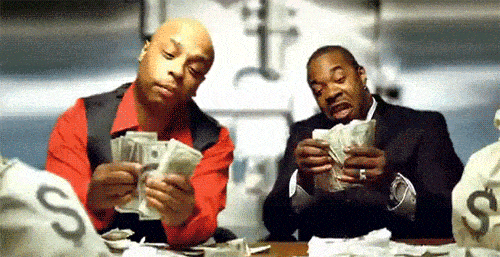 For eCommerce companies, determining ROI is particularly easy. With just a little bit of effort, you can actually track your revenue-per-click and compare it against your cost-per-click. With those two figures in hand, it's a straightforward process to determine what's working and what isn't.
Value tracking allows you to focus your time and money where it really counts. It also gives you a data-driven way to make changes to products that aren't performing well. Since it's so easy to implement into a Google Shopping Campaign, it's silly not to use it!
Conclusion
Setting up a Google Shopping Campaign is not the same thing as setting up a successful Google Shopping Campaign.
If you want to get the most out of your online store, you're going to have to do a little extra work. Fortunately, a little extra effort today makes huge differences tomorrow, so it's well worth the time to make sure your feed is set up right (including that barcode and brand…) and that you have a good retargeting campaign and value tracking in place.
By the way, if you'd like any help optimizing your eCommerce campaigns, let us know here or in the comments. We'd love to help!
Still have questions? Have a problem we failed to cover here? Leave a comment below and we'd be happy to help you out!