How to Nurture Leads When You Don't Have the Bandwidth
by Ana Gotter • January 28, 2020
We all know the importance of lead generation. Plenty of businesses invest hundreds or thousands (if not hundreds of thousands) of dollars into trying to identify, reach, and attract new potential leads so that they can hopefully nurture them into customers. This is all crucial, of course, to expand your client base, avoid the stagnation or recession of our business, and allow for growth.
And that's all well and good. You know that lead generation is a necessity. But what about when you simply don't have the time and bandwidth to actually nurture those leads?
When this is the case, the best brand-building, lead-generating ad campaigns in the world will let you down, especially in fields where there's a more extensive lead generation process. Service-based businesses and high-value products, for example, typically have more involved lead nurturing processes that can last days, weeks, or even months.
Fortunately, if you're short on time and resources, there are solutions. In this post, let's take a look at exactly how to nurture leads when you don't have the bandwidth so that you can scale.
Why You Should Still Prioritize Lead Generation
Before we dive in, this is a common question that I think it's important to tackle.
Some businesses believe that they shouldn't even be worried about lead generation if they don't have the bandwidth to accommodate the process, because what are you going to do when these people are actually customers? What will you have time for them then?
This can be true in some instances. I'm a freelance content writer, for example, and if I don't have time to nurture leads, it means because I'm working on a full schedule where I'm booked weeks in advance. Trying to tackle lead generation takes active working hours away from me, reducing the profit I can make as a result. At this point, lead nurturing would not be a smart choice for my business unless I expected the end of a big contract.
For most businesses, though, this isn't the case. Plenty of service-based businesses need an incoming list of clients to keep the schedule full.
HVAC repair and installation companies, for example, may be up to their ears in repairs over the summer in Florida but need to ensure that they're generating leads so that they'll have sales in the cooler months, too, or business gets a lot tighter. Real estate agents also always need a list of leads to follow up on, because their clients won't be coming back for a few years at least.
And there are some businesses where lead generation is long or complicated, but once the sale is made, it's just easy profit moving forward. This may be the case for some businesses selling software or some high-value items like cars.
In most cases, you never want to stop the lead nurturing process completely. It's essential not only for growth, but to ensure that you don't fall backwards, too.
Now that we've covered that, let's take a look at how you should nurture leads when you don't know where you'll find the time.
Set Up Autoresponder Lead Funnels Now
Email autoresponders are excellent for nurturing leads, and they'll do so on an automatic and very scalable basis. That way, you don't need to reach out to each individual lead to stay relevant—you can set up a funnel once that's designed to move users closer to conversion.
With more of your funnel automated, you'll have more time for the leads who actually need assistance in the process, making the entire system more effective while reducing the time burden on you and your team.
Here's how it works. Let's say that you sell an app that allows businesses to track and sell their inventory more effectively and through a mobile device. You get users to become leads (and obtaining their information) by getting them to download the mobile app for a free trial. That's the lead generation act.
Now, for best results during the lead nurturing process, you typically won't want to leave them to their own devices. Some leads may immediately explore the tool completely on their own, see the value, and make a purchase. Many more may not.
Either way, having an autoresponder email funnel set up to explain the value of the product during the period of the free trial is an outstanding choice. The first email could welcome users to the tool, and show them the basics of how to get started.
The second email could elaborate on inventory reporting features and talk about why this helps you, and link to a page on your site that discusses this more in detail. A third could show leads how to predict inventory turnover and how to prepare with your tool. As the emails keep coming, users will continue to see more and more value.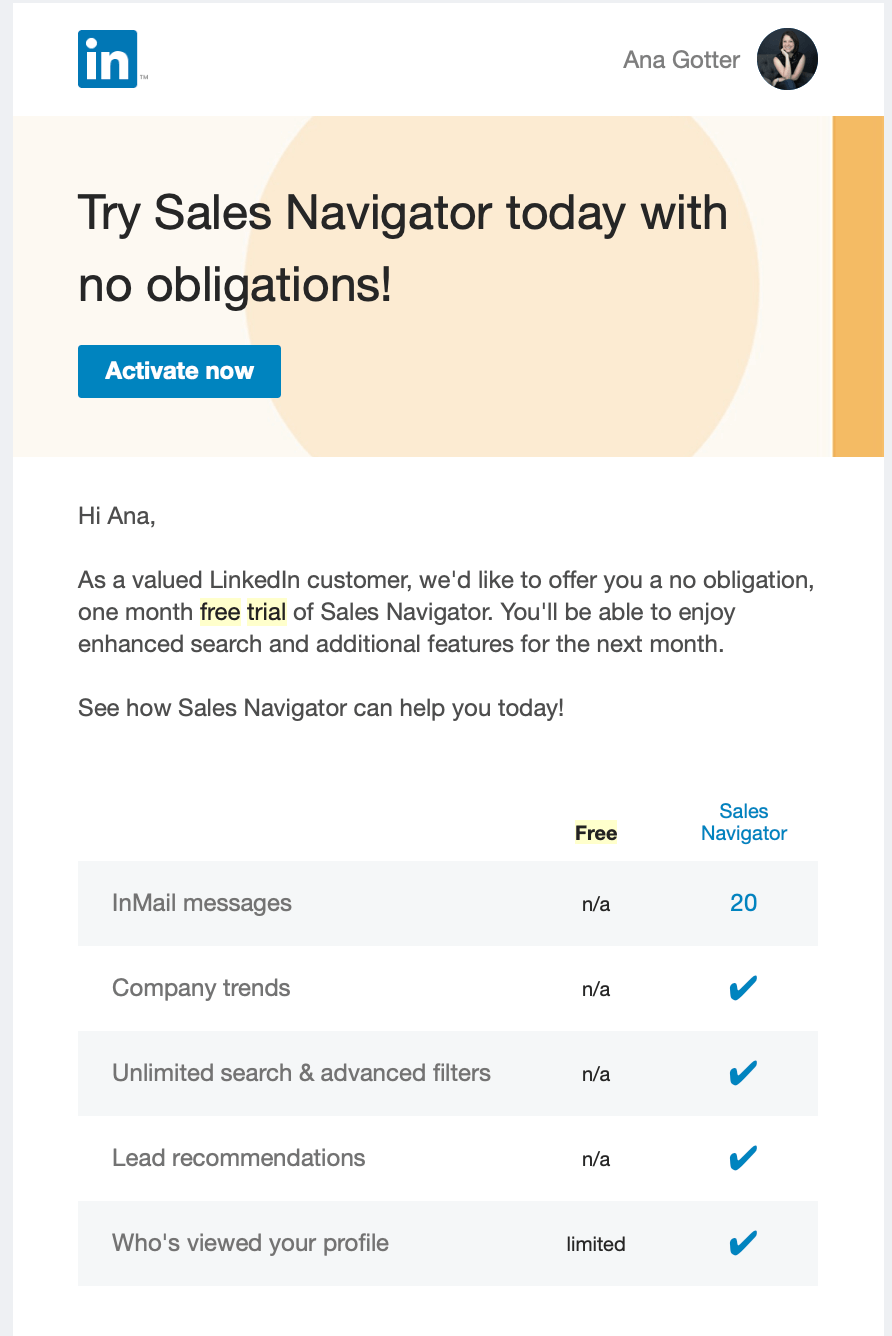 Let's look at another example, and go back to those HVAC companies. Someone may buy a new-to-them house and realize that their AC unit is 20 years old, held together with duct tape, and will no longer be able to be professionally maintained within two years (yep, that was me.). They may reach out initially to get quotes, but the costs are too high right after moving.
Having email campaigns that are designed to keep that door open and the relationship good will put you at an advantage over your direct competitors, who that person definitely called when she was shocked by your 8k price tag.
Automated emails sharing maintenance tips, reminders of how HVAC systems drop like flies in the summer, and sharing news about temporary sales or drops in price are all good choices. You can use templates to create these quickly, and even recycle content year-over-year. Just make sure that you're staying relevant, and if you automate the emails whenever possible, it's less you need to manage.
Leverage Retargeting Campaigns
Retargeting campaigns can help you with your lead nurturing efforts in the same way that email lead nurturing campaigns can.
PPC platforms like Facebook, Instagram, LinkedIn, and Google's Display Network are strong choices here. Show users ads that detail some of those perks of the products at hand, and hit them with reminders to purchase or discount codes.
Retargeting campaigns, like email, will keep your brand relevant in the leads' minds, which is a crucial part of lead nurturing overall. Continue to show value and share competitive offers, and these automated campaigns can take some of the burden off of you, too.
Use Automated CRM Software
CRM software is designed to help you keep up with all of your leads and customers, and it's a lifesaver. Even if you're a small, one-person or three-person business who doesn't think they have a need for CRM software, it's something you should absolutely look into.
There are some incredible tools available that will streamline the lead generation, nurturing, and tracking process for you, making any time you put into lead nurturing significantly more effective. Many allow you to manage leads in one place, create canned responses to send to set up meetings or ask if the lead needs assistance, and alert you if it's time for a follow-up. A
ll of this saves you a ton of time, so even if you only have a sliver of bandwidth, you can focus it on actually engaging with your leads instead of trying to find and organize them.
Hubspot, for example, has an incredible CRM system that makes it easy to keep track of individual clients, where they are in the sales funnel, the company they work for, and the deals you're working on. They have a free CRM software option, and a paid version with more extensive features.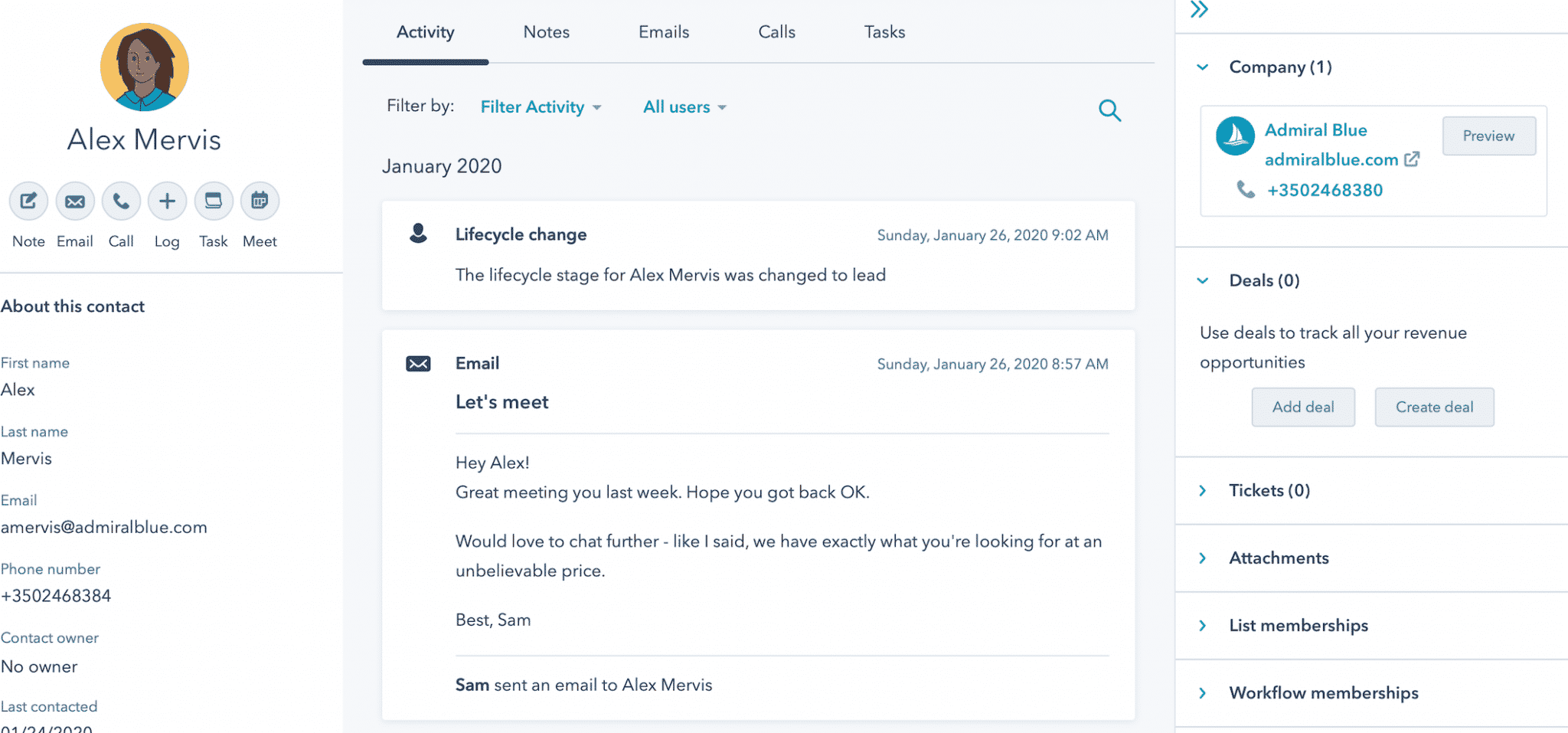 Salesforce is another great option with advanced features. They have automation, collaboration, and analytics features that can help you better identify warm leads, reach out quickly, and get results fast.
There are plenty of other CRM options out there, too, at varying price levels. If you're struggling to figure out how to nurture leads when you don't have the bandwidth to do so, look for those that offer automation. This will be a game-changer for you.
Connect with Leads on Platforms like LinkedIn
In some cases, you don't need to be focusing on converting a sale today, and you just want to keep the door open for the future. You want to build relationships, but you definitely don't have the bandwidth to do so.
For these situations, consider connecting with potential or current leads on platforms like LinkedIn. Professional social networks are an excellent way to meet new leads and work on building the rapport and relationship over a period of time. Your connections will likely be exposed to any content you're sharing, including tips that demonstrate your expertise or that allow you to showcase your company's greatest assets.
You're doing this publicly and in a low-pressure environment, so they aren't being actively sold to, and you can reach a large number of audience members while promoting your business in general.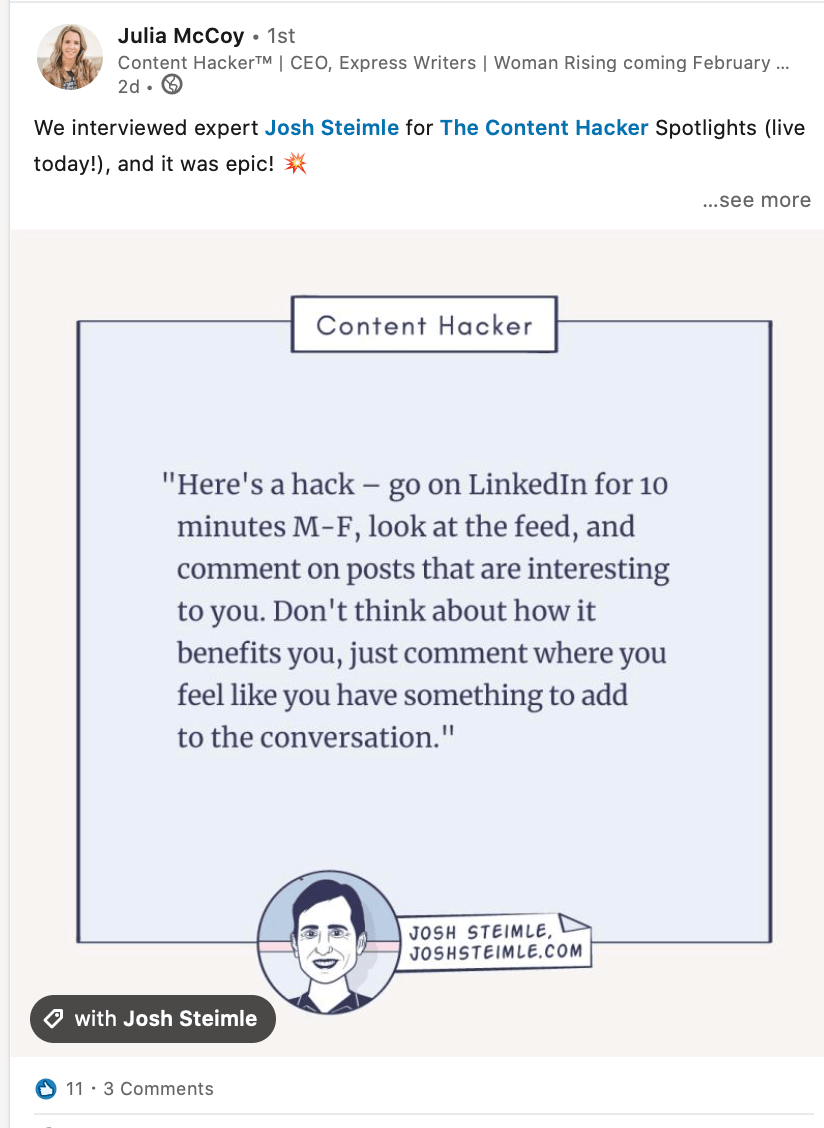 For this approach, you'll want to reach out to the right people early on, but that's the most difficult part. You're hopefully already engaging on LinkedIn (even if it's just responding "awesome!" and tossing a like someone's way), so stick to that plan and share great content. When you do, the leads may come to you when they're ready to convert, which requires less work on your end.
Final Thoughts
It's no easy challenge, trying to determine how to nurture leads when you don't have the bandwidth to really do so in a conventional sense. It's still essential for most businesses, however, to find a solution to help them overcome this. You're busy now, but if your customers start disappearing to natural churn rates and you don't have anything (or anyone) waiting in the pipeline, that's not great news for your bottom line.
You've worked hard to get where you are. Knowing how to nurture leads even when you're short on time and resources will ensure you keep moving forward instead of going backwards.
Looking for a little help with lead generation or campaigns that can aid in lead nurturing? We've got you covered. Get in touch to learn more about what we can do for you.
What do you think? Have you struggled to figure out how to nurture leads when you don't have the bandwidth? Which strategies do you use to connect with your leads in spite of this? Share your thoughts and questions in the comments below!