The Small Business's Guide to Branding
by Jacob Baadsgaard • October 12, 2017
We call all tissues, "Kleenex," and we use "Google" as a verb even if we're using something Bing or Yahoo. In some parts of the country, all soda is even called "Coke." Does that mean that all tissues are made by Kleenex, all search engines are run by Google or all sodas taste like Coke?
Of course not!
However, each of these brands has become such a dominant presence in their industry that their name has become a synonym for their product. That is brand awareness at it's finest. Just imagine what it would be like to be the Kleenex or Google of your industry!
While companies like Google or Kleenex are industry powerhouses because they offer a great product, they are household names because of great branding. The good news is, branding is a tool available to businesses of all sizes, and it's something that all businesses should actively be using.
In this post, we're going to go over exactly what branding is, why it matters and how small businesses can develop and cultivate the brand that will help them stand out.
What is Branding?
Your brand is a combination of how you choose to present yourself to the world and how your audience perceives you. You control how you talk about your brand, but that's only part of your branding—your customers control the other part.
After all, if your brand message is all about quality and your customers think you sell cheaply made products, odds are that your brand won't be viewed as the "high quality" brand in your industry.
When it comes to the elements of branding that you control, you have a lot of options at your disposal.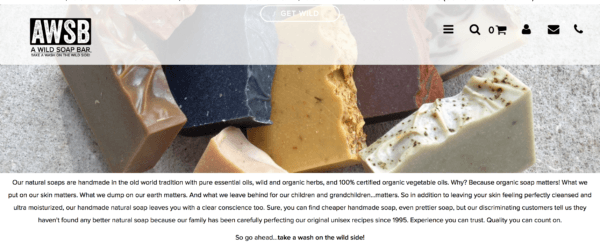 For example, you can include visual representations (like logos) or specific language that you use to describe your business (like taglines, or emphasizing certain services).
Why Branding Matters
Branding is what sets you apart from your competition and helps you to totally dominate your industry. Really good branding should speak for itself, so when customers come to visit your site, they quickly get the gist of who you are and what your brand's story is very quickly. Ideally, this will help convince them that you're the right person for the job.
It's the same reason you'll see marketers label themselves as "growth hackers" or "PPC experts" even if they offer other marketing services. It's the same reason you'll see some brands focus on how "eco-friendly" their product is, or how it's "upscale" or "boutique." This specificity is the basis of their brand and quickly tells customers who they are and why they should buy.
How to Create and Develop Your Brand
Before you start developing your brand message, you need to ask yourself one big question: who is your target audience and what can you do for them?
This is something that all businesses should consider up front when developing their product, services, and business model, but many leave it at that and never look further. They see and advertise their product only as "graphic design software," for example, instead of "graphic design software for non-designers."
By focusing on what the product is, who it helps and why it helps them specifically, you'll be able to focus on which parts of your business you want build your brand around.
Once you've decided what makes your business unique, you can dig into the branding.
Developing Branding
Start with your business's name. Choose something that perfectly represents what you want people to think of when they think of your your business.
For example, I've seen a lot of marketers and consultants eventually shift from having a site at their own name, like "Jane Doe Marketing," to an agency-type name like "Revise Communications." Brand names should demonstrate your personality—like Disruptive Advertising.
Next, focus on your site copy, which will reflect your social media copy. Come up with a killer tagline or header text to grab users and explain why they should purchase from you.
Botolino Gelato, for example, focuses on their brand story of how they actually came from Italy—the gelato is not only organic, it's authentic.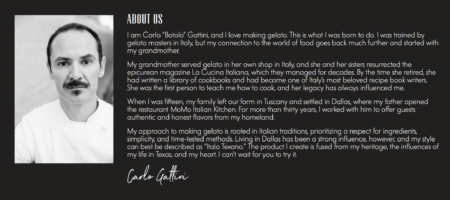 Once you've come up with your tagline, move on to web design and logos. Even the design colors you choose for your site's background matter.
Playful brands that belong to businesses like boutiques or restaurants can have bright, vibrant, contrasting colors. Divorce lawyers, on the other hand, should usually avoid a site featuring shocking yellows and oranges.
Finally, start using social media, your blog and email marketing to drive home your brand's story and elevate your branding as much as possible. Represent what you want the brand to be on a daily basis, so customers will share your vision the same way you do.
What About Rebranding?
Go check out your business's website and your social media. Now take a look at three of your immediate competitors. Do you stand out? What makes you different? Do you give off the impression you want, and do you feel like you're emphasizing the right aspects of your business?
If not, it may be time to rebrand.
Instead of being a "social media management tool," you can become "the premiere social media management tool designed for small businesses." Emphasize the customization option for your food packaging business or how all the food at your restaurant is sustainable or locally-grown.
Once you figure out what you want your new brand to be, you can tweak the copy and the design elements online (and in-store, if needed) to match it.
An outside perspective never hurts when it comes to branding or rebranding. Don't be afraid to seek out a business or marketing consultant who can step in to offer advice on where to go next.
Conclusion
Your business's brand can—and will—make or break your business. That is not a hyperbole, or even a slight overstatement, it's fact.
Your brand will help you stand apart from your competitors and will make all the difference in your long-term success. If you're feeling stumped on where to go or you feel like you've hit a plateau, don't be afraid to hire a branding consultant and take on rebranding—better now than later.
What do you think? How did you develop your brand? What are some of your favorite examples of small businesses that have branded themselves well? Leave us a comment and let us know what you think!