Dynamic Landing Pages Cut Our Cost Per Lead in Half
by Casey Walrath • November 10, 2015
Today I wanted to highlight an example of how dynamic landing pages helped cut cost per lead in half for a client in the IT industry. The client had been directing traffic to their homepage, which featured entirely static content. We took that page and—as we do for most of our lead-generation clients—created a new landing page variant to test using Unbounce, which lets us quickly test new variants and test.
Here's what we came up with: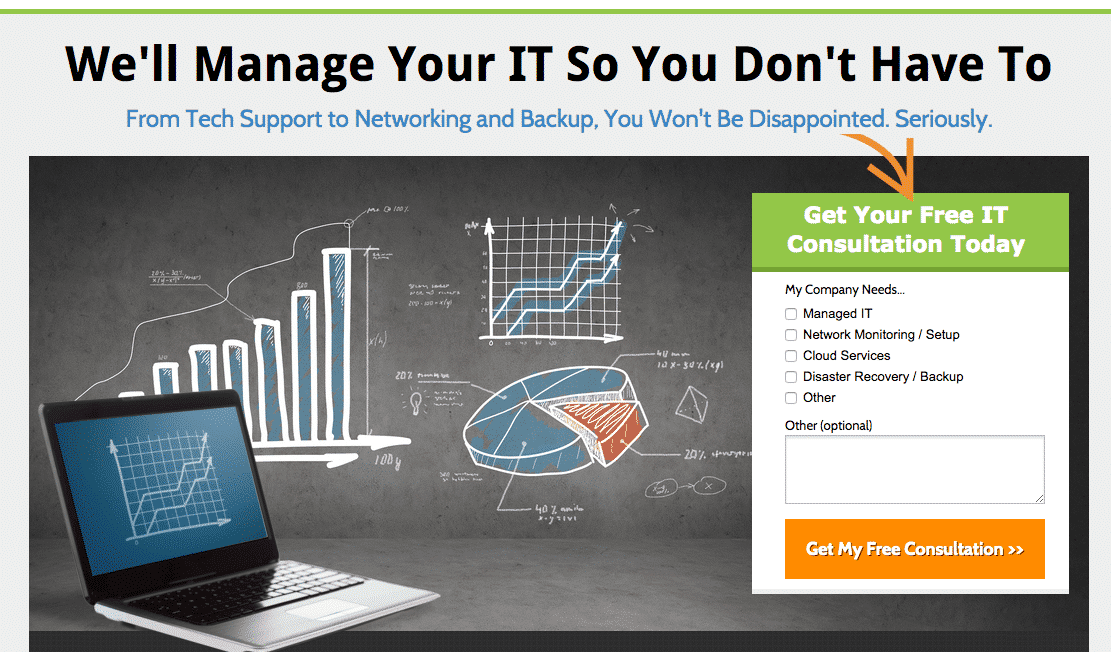 Now, what this screenshot doesn't show is that—thanks to Unbounce's dynamic text replacement feature—we could make the headline and other elements say whatever we needed just by altering a few URL parameters:

For example, we could replace the text KEYWORD with "IT Outsourcing," "Email Help," "Helpdesk Support," or anything else just by changing a little bit of text (which is now even easier to do with the new AdWords Upgraded Final URLs).
After letting the new dynamic page run for a full week, the results spoke for themselves:

After some first day technical glitches, cost per lead immediately dropped in half (and kept dropping with other PPC management improvements!) and lead volume rose dramatically, all from a little dynamic landing page conversion rate optimization.
Ways to Use Dynamic Landing Pages
So, we've seen how dynamic text improved results for one specific client, but what about you? Let's talk about some specific situations where dynamic landing pages can help your digital marketing efforts:
1. Marketing Similar Products with Different Keywords
It's helpful to have a landing page tailored specifically to each product or service you offer in order to maximize your keyword relevance. But, if your services are similar enough, you can point traffic to the same landing pages and use dynamic text for specific offers, which saves time and avoids spreading your conversion data too thin over multiple pages.
For example, for a company in the oil & gas investment industry, you might have a landing page headline like this:

Assuming your actual offer is a PDF file with investment information that is helpful regardless of whether the visitor searched for "oil investments" or "natural gas investments," you could use dynamic text to modify your headline and call to action to be specific to each of those searches without having to create separate landing pages.
2. Advertising Local Services
If your company serves specific cities or locations, you can use dynamic keywords to tailor landing pages to specific cities, neighborhoods, or zip codes. The pest control landing page below not only uses dynamic keywords for the city name, but also for the specific pest type, so it's easy to swap out Ants for Wasps, Roaches, Mosquitoes, etc.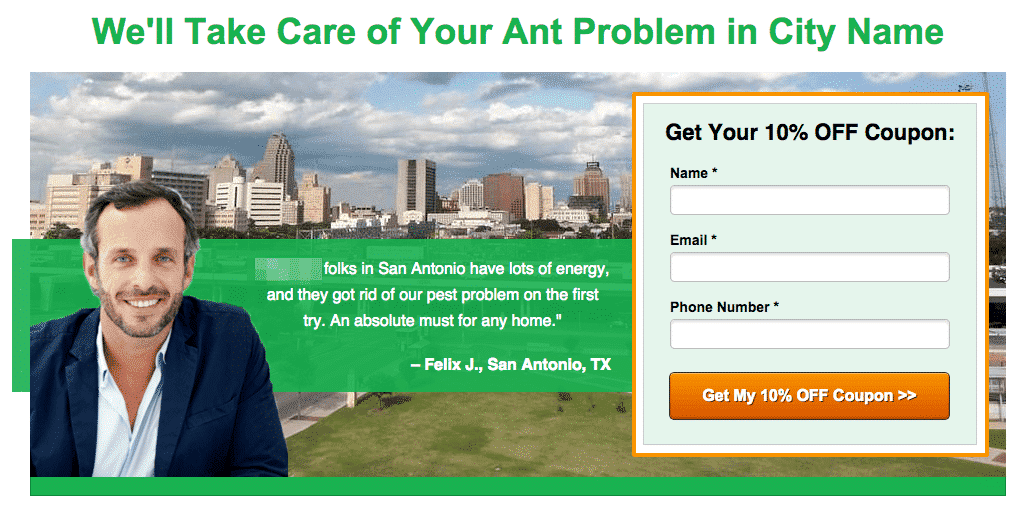 3. Testing Discounts and Special Offers
Suppose you're running an AdWords campaign offering 20% off for online signups and you want to test different offers. Do people convert as frequently with 10% off? How about 25%? With dynamic text, you can simply A/B test a few ads with different URL parameters to reflect your offers and the data will tell you which ones get the best responses.
4. Other Dynamic Page Options
The examples above are all relatively straightforward to implement using a platform like Unbounce; but, for some projects, you may need to code your site if you are trying to do something a little more in-depth. For example, you might load a Google map based on the user's location or dynamically swap out an eCommerce offering based on a user's search history on your site.
More advanced projects like that are beyond the scope of a post like this; but, if you've got a decent web developer, start thinking about ways to dynamically update your landing pages based on the user's search intent (for PPC marketing) or other information you've gathered about your users. The whole point is to deliver a customized experience without having to build dozens of individual pages.
Why You Should (or Shouldn't) Use Dynamic Landing Pages
First, let's start with a caveat: as useful as dynamic landing pages are, it's not always the first thing I'd implement if I were doing conversion rate optimization on a client's landing page or web site. It's more important to have a direct, clear, and concise call to action, a compelling offer, and a coherent visual layout.
But, once you've got all that, adding dynamic elements to your landing pages can result in improved Google Quality Scores, more relevant message match from ads to landing pages and—ultimately—more conversions.
Are you looking for ways to create and implement dynamic landing pages for your online marketing efforts? Lucky for you, we have a whole team of conversion rate optimization designers who can create a custom landing pages for you, along with CRO optimization services for your entire website.
Let us know what you need and get a Free Site Optimization Proposal today!
Now it's your turn. Have you had success with dynamic landing pages? Leave a comment and let us know!