How to Craft an Effective Email Drip Campaign
by Aden Andrus • August 19, 2019
Email marketing is an incredibly easy, affordable way to get more leads and sales for your business. Newsletters, promotional emails, they're all great for staying in contact with your email list.
But there's a problem.
No matter how good your last email was, if someone signs up today, they'll never see it. Once your email has been sent, you can't really send it to the same list again.
This is where email drip campaigns come into play. Whether you call it autoresponders, marketing automation, lifecycle emails or automated email campaigns, the idea behind email drip campaigns is simple: instead of manually sending out emails, you create a set of emails that are automatically sent to subscribers based on a predefined schedule.
If you're not familiar with how this works, here's a quick example from Pardot:
As you can see above, email drip campaigns are designed to nurture people towards some sort of desired outcome. If it's a sales-focused drip campaign, the goal might be to get people interested enough to try a product demo. If it's an engagement-focused drip campaign, the goal might be to build brand awareness and keep people on the line until they're ready to buy.
If all of this feels a little overwhelming, don't worry. In this article, we're going to break everything down and teach you how to set up email drip campaigns that turn passive subscribers into enthusiastic buyers.
What is an Email Drip Campaign?
To put it simply, email drip campaigns are sets of emails that are automatically sent on specific timelines or in response to pre-defined actions. The great thing about email drip campaigns is that they allow you to send out regular, directed emails to users—without having to manually send each individual email.
Basically, drip campaigns enable you to use technology to create adaptive email series that send the right email at the right time—regardless of when that time happens to be.
At this point, the technology behind marketing automation is so sophisticated that your users may not even know that they're in an email drip campaign. You can easily customize your campaigns to include name, company info, etc. In addition, you can build out branching chains that send different emails depending on how people respond to your content.
Now, email drip campaigns aren't the only kind of drip campaign. There are also text drip campaigns, chatbot drip campaigns, direct message drip campaigns, but for the sake of keeping things simple, we're going to focus on email drip campaigns in this article.
Drip marketing can be as complicated or straightforward as you want. Some email drip campaigns are just a linear series of emails sent to new subscribers that welcome them and give them a few handy tips. Others are incredibly complicated drip with multiple branches designed to qualify potential customers and steer them towards the ideal content. Regardless of how simple or complex your goals are, email automation makes it easy to send the right emails at the right times.
How Can You Use Email Drip Campaigns?
By now, you hopefully have a sense for just how flexible email automation is. Once you have someone's email, the sky's the limit. All you have to do is figure out what you want to accomplish and how to craft the right emails for the job.
For example, here are just a few of the things you can do with an email drip campaign:
Nurture leads. Need to turn leads into sales? Email drip campaigns can be one of the easiest ways to build interest in your products or services.
Welcoming new subscribers. Want to thank people for signing up for your newsletter and set expectations for what people will get? Email drip campaigns are the perfect tool for the job.
Onboarding. Want to simplify your onboarding process? Email drip campaigns are a great way to walk people through your onboarding process.
Abandoned Shopping Carts. Having a hard time getting people to come back and actually, you know, make a purchase? With a little clever email automation, you can get them coming back in droves.
Recommendations. Need to upsell people? Deliver customized email content? Email drip campaigns are an easy way to do either of these things.
Renewals. Looking for a way to encourage people to sign back up for another year? Why not send them an automated email shortly before their current period expires?
Engagement. Got an old, inactive email list that you want to reinvigorate? All you have to do is spend a little time creating an email drip campaign.
Courses. Running an online course and don't want to deal with creating and sending countless emails? Create them once and send them infinite times with email automation.
Hopefully, this list has helped spark a few ideas for different types of email drip campaigns that you could try. Now let's take a look at what it takes to actually create a drip campaign.
How to Set Up a Drip Campaign
Email drip campaigns are definitely more complex than your basic email marketing, but the fundamental ideas are still the same. You need to pick an email automation platform, figure out who you're targeting, what your goals are and then craft emails that help you achieve those goals. The biggest difference is that with email automation, you also have to come up with an appropriate timeline and schedule out your emails.
Let's take a look at each of these steps in more detail.
Picking an Email Automation Platform
When it comes to creating email drip campaigns, there are a lot of tools you can use. In fact, most email marketing tools offer some level of email automation. So, if you're already using a tool like Mailchimp, you may want to start with that.
If you're looking for more advanced tools, here are a few different marketing automation platforms to consider:
Each of these tools has its strengths and weaknesses, but they'll all do the job. The biggest question is how complicated you need your campaigns to be and what additional features you need.
Identifying Your Audience
As with any marketing, email drip campaigns are all about understanding who your audience is and where they are at in your funnel. But, with email automation, this is even more important because you are directly trying to come up with a sequence of emails that will nurture people from where they're at to where you want them to be.
Fortunately, you do have some information to help you out.
Email drip marketing is trigger-based marketing. Something happens and as a result, users enter your email drip. Since you decide what the trigger is, you can control who enters your drip campaign and ensure that the right people are receiving the right emails.
In general, these triggers take one of two forms: an action on your site or in your app or a user meets some sort of criteria.
Action Triggers
Action triggers are the classic email drip triggers. Someone subscribes to your newsletter, fills out your form, makes a purchase, downloads the trial version of your app, etc and it triggers your drip.
The idea here is that people are visiting your site or your app and doing something. Whatever that something is, you get their email as part of the process and drop them into a relevant email drip campaign.
Criteria Triggers
Criteria triggers are a little more complex. Most of the time, these triggers rely on backend information. Someone signs up for your software but hasn't used it for a week, a regular user of your service is about to reach the end of their subscription, the holidays are coming and you want to reach out to customers from the last holiday season, etc.
Here, your email drip isn't directly triggered by some sort of user action. Instead, it's triggered by some sort of criteria that the user meets. That criteria is important to you in some way, so it triggers an email drip that will hopefully evoke the desired response from the user.
Using Your Triggers
In either case, your trigger tells you a lot about your audience. In fact, since the trigger is usually the motivation for the campaign, you should have a good sense for who your audience is and where they're coming from.
The trick, then, is to figure out how to get them to do what you want them to do.
Are you trying to get them to re-engage with your business? Get more familiar with your business and mission? Encourage leads to buy? Drive repeat traffic to your site? Knowing who you're targeting and what you want them to do will help you figure out exactly what kind of campaign to create.
Writing Your Emails
As with any email marketing, the emails in your drip campaign need to be well-thought out and designed to grab people's interest. Remember, even though you're writing all of your emails at the same time, your audience will receive them separately, so your emails should be able to stand on their own (and stand out from the rest of the email marketing content in a subscriber's inbox).
To help you out with that, here are some tips on how to craft compelling emails for your drip campaigns:
Subject Line
Your email subject line is the first thing people see when your email shows up in their inbox and it's a deciding factor in whether or not people will actually open your email. Your subject line needs to grab people's attention and make them want to see what the rest of your email has to say.
Fortunately, your subject line doesn't have to be all that long. According to Campaign Monitor, most subject lines are only 41-50 characters long: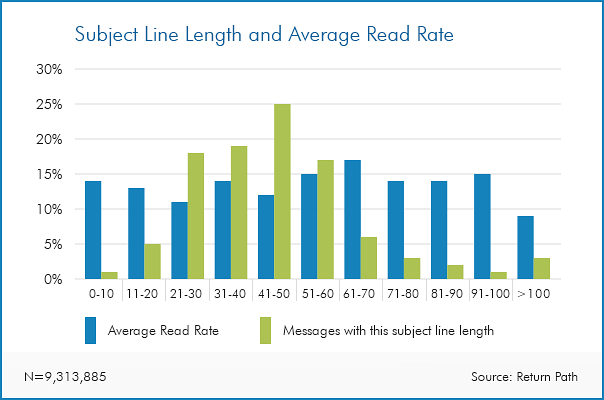 Since you don't have a lot of words to use, you'll want to get to the point quickly. This is especially true these days, because most people check their email on their phones, where email subject lines get cut off early if they're too long.
For more email subject line examples and ideas, check out this list of highly effective subject lines and see if there's something you can adapt to meet your needs.
Email Marketing Copy
After your subject line, the actual copy of your email is the next most important part of your email. A lot of people like to focus on creating pretty emails, but as long as the design of your email doesn't detract from your content, what you say will usually matter more than what your email looks like.
Since your target audience probably gets a constant stream of emails in their inbox, it pays to keep your email copy short, sweet and to the point. This is where all of that prep work pays off. Focus your email copy on things that your subscribers care about…and that support the overall goal of your email.
For more specific tips on how to write great email copy, check out this blog post!
Email Design
While the actual design of your email isn't quite as important as your subject line and copy, if your email looks so bad that it distracts people from your content, that's a problem. In addition, since people will probably read your email on their phones, your email design also needs to be mobile-friendly.
Fortunately, most email automation platforms offer a wide range of email templates that you can use to create attractive, user-friendly emails. The good news is, there are a lot of valid ways to design your email. So, as long as you don't sacrifice readability, you can feel free to take almost any approach.
For more drip campaign design ideas, check out this blog post!
Setting Up Your Campaign
Up till now, most of the process has been fairly similar to any marketing email. You're still writing emails, the only difference is that you're probably writing more emails.
Now, it's time to actually put your drip together.
While every email in your drip should be interesting on its own, your emails should work together to nudge people along towards your end goal. Think about the different steps in your journey, what sort of content your audience will need at that step and when that content should be delivered.
This is where your triggers become particularly important. Does it make much sense to send a coupon right after someone has made a purchase? Is someone who downloaded an eBook ready for a heavy sales pitch? Are new users going to be ready for in-depth technical content?
As you put your drip campaign plan together and begin scheduling emails out, you need to get into your customers' heads. Try to plan out your content in a way that makes sense and provides value to them. That way, your emails will be interesting and meaningful, instead of irritating.
Your customer experience needs to be at the forefront of every planning decision, from content to the order of your emails to your emailing frequency. Honestly, there aren't a ton of hard-and-fast rules when it comes to crafting drip campaigns, because everything depends on your customers. It's all about creating an experience that works for your subscribers and encourages them to take the next step towards your goal.
Conclusion
Not only are email drip campaigns a great way to save time and effort, they can also help you get a lot more out of your other marketing campaigns. After all, not every potential customer who clicks on your ads or visits your site is ready to buy today.
But, if you can get them into a drip campaign that keeps them interested and moving through your funnel, you can significantly increase the number of customers your marketing produces.
And that, ultimately, is the power of email automation. It doesn't always produce an immediate return on investment, but it's one of the most effective ways to move people through your marketing funnel. Fortunately, if you use the tips we've covered in this article, it shouldn't be too difficult to get your own campaigns set up and working for you!
By the way, if you'd like some help setting up or improving your email drip campaigns, let us know here or in the comments. We'd love to help!
Are you just getting started with email drip marketing? Have some good ideas you'd like to add? Leave your thoughts in the comments below.