12 Fast Email Copywriting Tips That Will Boost Your Conversion Rates
Email marketing is an excellent addition to just about any marketing mix. It's a low-cost marketing option that allows you to quickly reach the majority of your past and current customers while delivering relevant messaging straight to them.
Fortunately for all of us, consumers prefer email marketing, too. Consider the following statistics from Hubspot:
More than 59% of marketers say that email is their best source of ROI.
99% of consumers check their email daily, and more than 50% check their personal email account more than 10 times per day
73% of Millennials want communications from businesses to come to email
Email marketing can be effective and cost-efficient, but like all marketing content, you can't just phone it in. It's not enough to simply send out the same, run-of-the-mill emails over and over with slight changes, hoping this time customers will click or convert.
If you're doing this, you'll see your open rate suffer and it could eventually drive customers away—both from your subscription list and potentially even your brand.
Email copywriting isn't difficult as long as you're using the right strategies and optimized copywriting techniques. In this post, we'll take a look at 12 fast email copywriting hacks that will increase your open rate and your conversions quickly.
1. Start with a Strong Subject Line
If you can't get users to open the email, you'll never get them to convert. Starting with a strong subject line catches their attention and will make them more interested in what you have to say and more likely to convert.
You always want to make sure that your subject line is a simple sentence and easy to read and understand quickly. It needs to get the point across on desktop and mobile (the latter of which has a smaller subject display space), and you want it to be enticing. To be safe, keep the entire subject line to 50 characters or less.

Aside from these basics, you can try implementing the following tips in your subject lines to increase their open rates:
Use personalization, including the customer's name. This draws attention fast.
Create a sense of urgency with phrases like "ending soon!" or "quick, the slots are almost gone."
You can incorporate emojis to help your email stand out, but test this carefully and do it sparingly.
Explain why the email is relevant to users (see: "You won't want to miss this 24 hour flash sale" or "Our policies have changed.")
Utilize UGC or reviews, using something like "See the moisturizer that sold out in twelve hours flat."
Tell them what's inside while still keeping them curious. They want to know about that moisturizer that sold out in twelve hours flat, or what your policy changes are.
While you're testing these subject line strategies, skip the following:
Writing in all caps. Don't do this. People hate it.
Using the "Re: Your Best Vacation Ever" when it's not actually a reply. This worked to get open rates at first, but people are familiar with it now…and they're over it. No one likes to feel tricked.
Not checking emojis before you use them. I once saw a farmer's market use only two emojis (a peach and an eggplant) that have alternate meanings, and it caused an enormous uproar. Emojis sometimes have hidden meanings, so double check those before you use them.
2. Utilize Audience Segmentation
Audience segmentation is an overall email marketing strategy, but it should be reflected in your copywriting, too. This is the practice of dividing up your audience based on different factors, like their past purchases, their stage of the funnel, or how long ago their last purchase was.
I've regularly gotten campaigns from clothing stores that are petite specific, for example, and only ever get emails from pet stores about dog products since I don't own any other animals.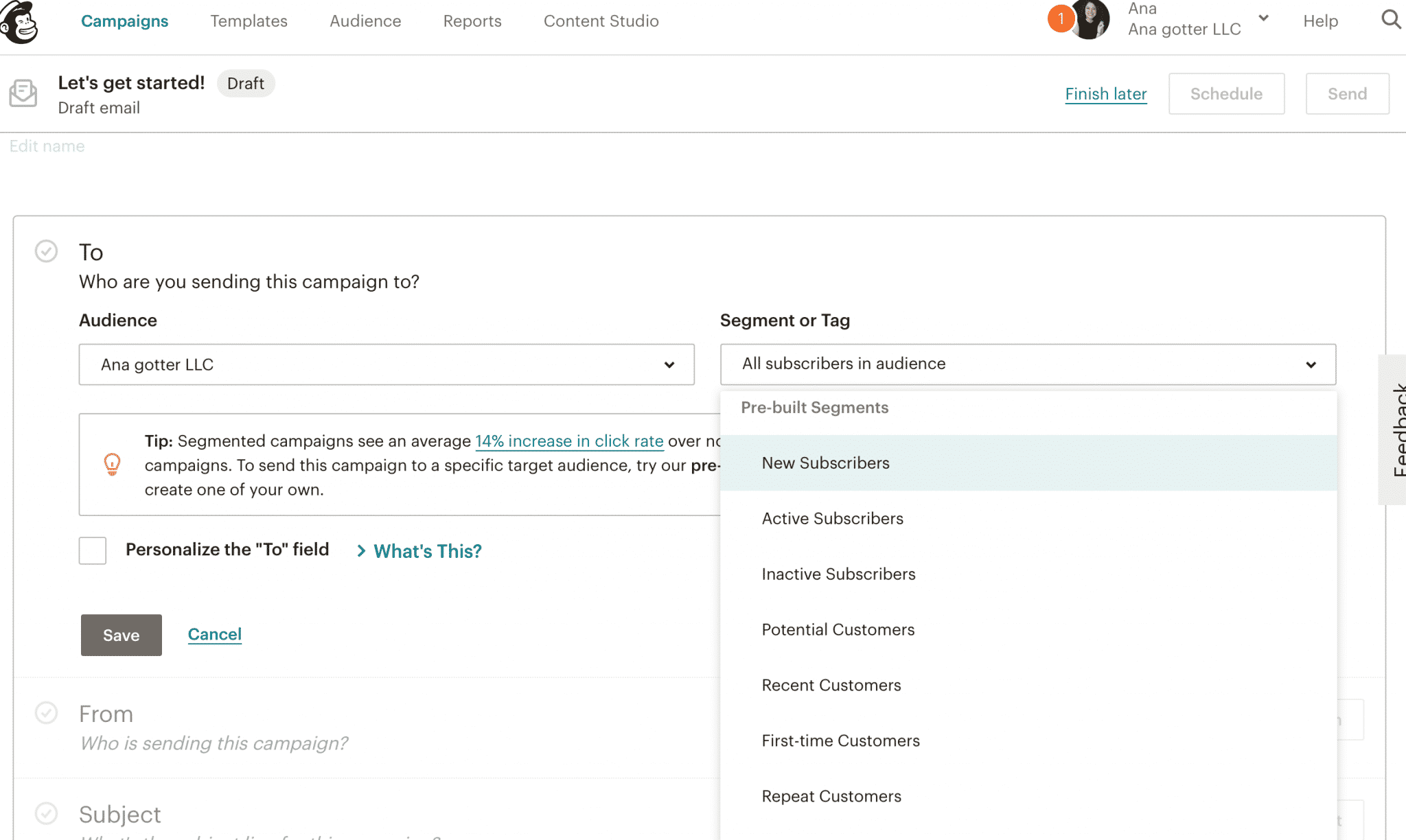 Most email marketing tools allow for audience segmentation like MailChimp in the example above. Go in with a specific strategy of what audience you want to reach, and then create copy specifically for them, using language they'll respond to.
The pet store I mentioned earlier, for example, has used dog-specific language cues like "bark" or "belly scratches" or "chasing squirrels," and I've never gotten an email that uses cat-, fish- or hamster-specific language.
3. Have Short, Interesting Autoresponders Ready to Go
Believe it or not, this is a copywriting tip that some brands overlook.
You want to have autoresponders ready to go, which are all triggered based on specific actions that a user takes. This can include welcome emails, order confirmation emails, and abandoned cart email series.
Here's the thing that many brands forget, though: your autoresponders shouldn't just show up because they should, they should actually be interesting.
Someone signed up for your email list. You can show them the standard "Hey, thanks for joining us, let us know if you need anything, here's our social." This is fine. It will be a lot more effective, however, if you send them something that's a little more interesting. People will remember it more, and they'll be more likely to open future emails from you because you captured their interest now.
The order confirmation email above is simple, but it's using storytelling to keep people engaged and getting them even more onboard with the brand. Autoresponders don't have to be—and really shouldn't be—boring, even if it's a simple order confirmation.
4. Start with the Lede
In certain types of content (including blog posts), it can be really helpful to draw users in with a story and then get to the point.
That's really not what you want to do with most email communications, though. Treat email more like journalism than a personal essay, and get straight to the point and start with that lede.
You should at least hint at it in your subject line, and then make the bottom line of your email immediately clear. Don't build up to it—start with it right off the bat.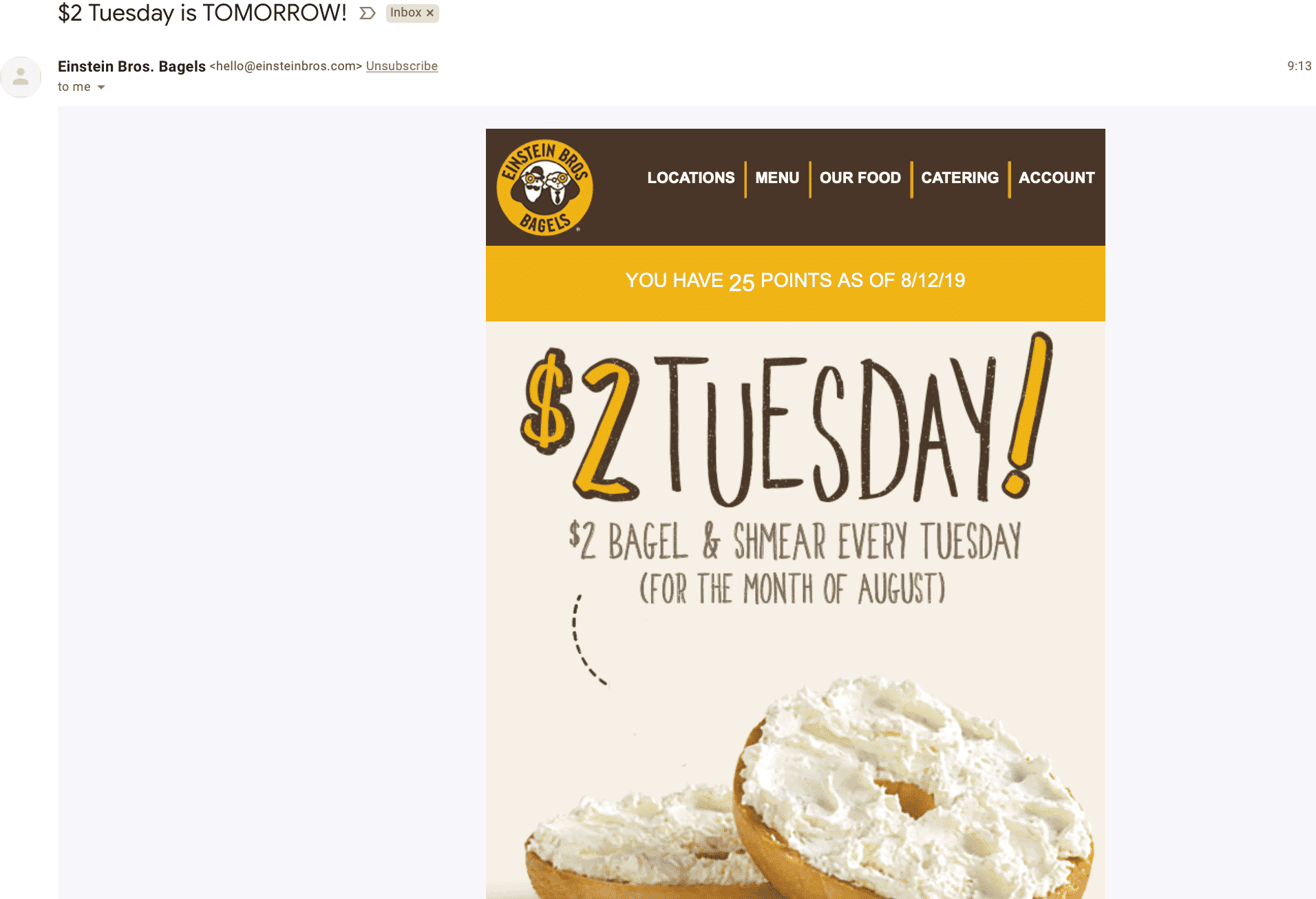 This will help users decide if they want to keep reading or not, and it will also allow the point of the email to show up in the preview text. Preview text can determine whether or not users decide to open the email, and kicking the email off with what it's all about will get users on board a little faster. 5. 5.
5. Make It Scannable
This is a simple tip, but it's an important one. Most people go through their email quickly, and they're looking for the value in what they're reading fast.
Scannable content is key, because people can find essential information a little easier and it will help you get your message across so you can get more users to convert.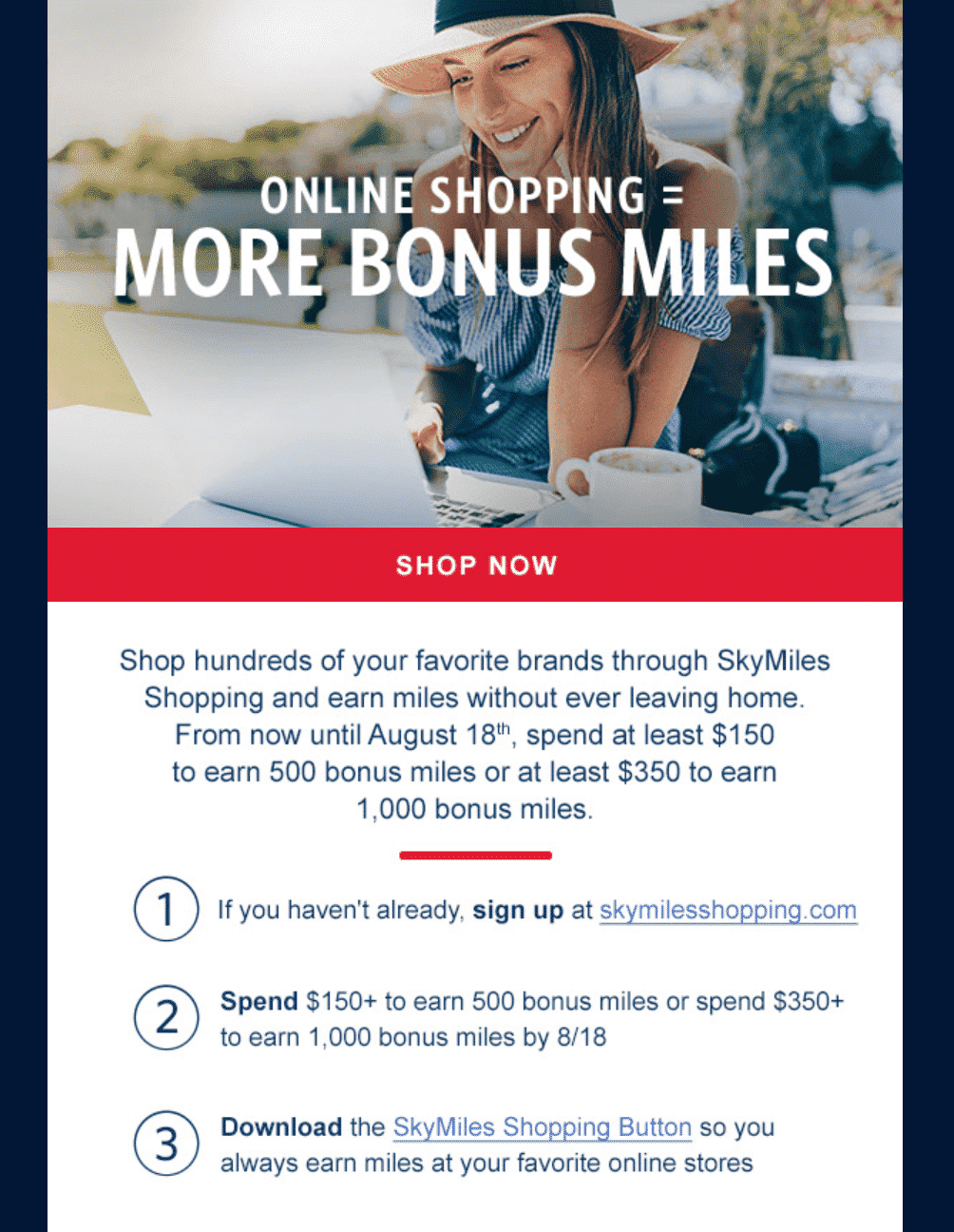 Use different sizes, colors, and fonts of text to break things up. Use short paragraphsy, include lots of white space, and incorporate bolding or italicizing in order to emphasize the fast facts you want people to pay the most attention to.
6. Implement Personalization
Personalization is a great strategy, and not just for the subject line. You can reach out to the customer using their own name, making it feel like the email—which is then tailored to their interests—really was written just for them.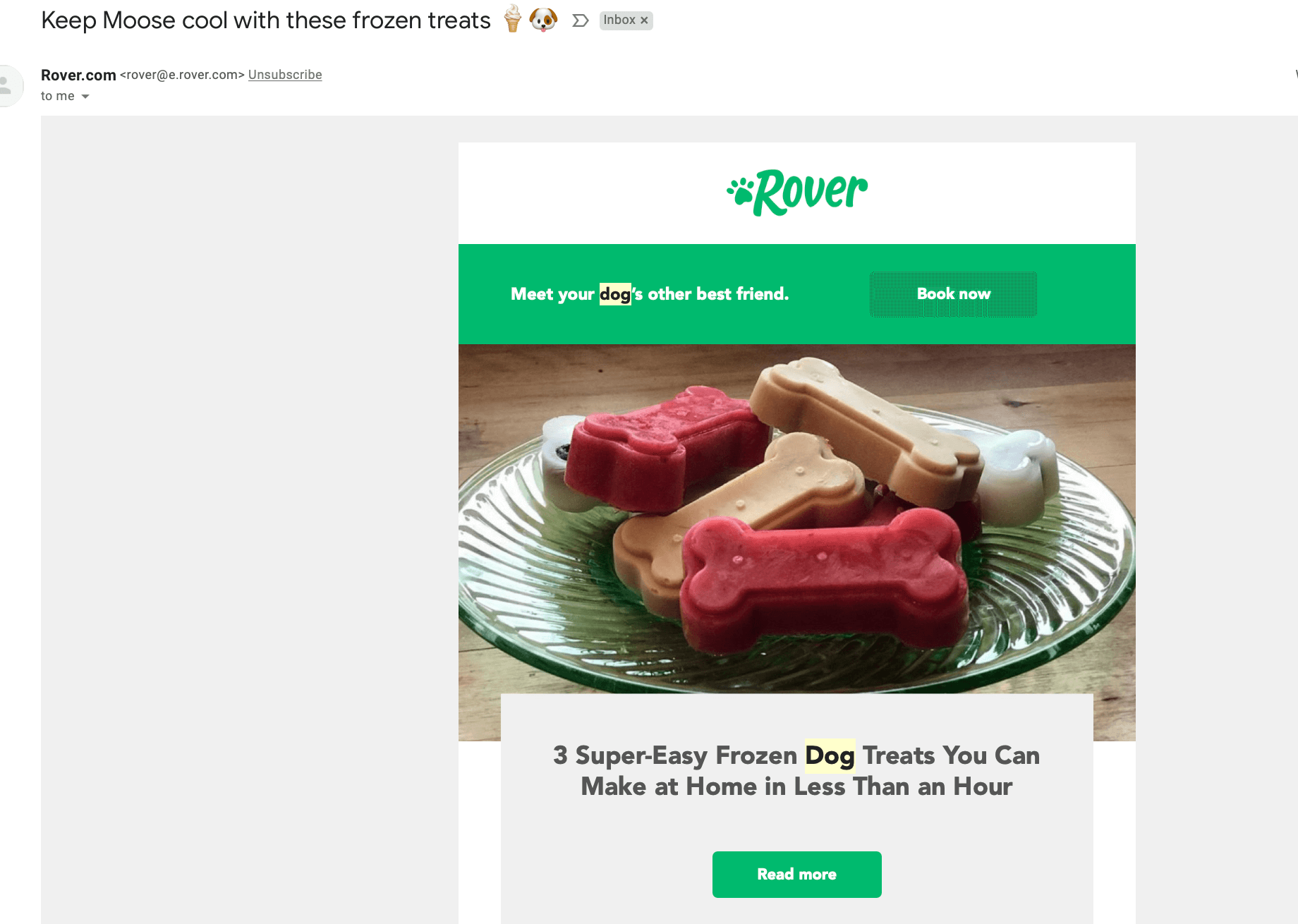 You don't just need to get personalized with the customer's name, too. If you want to get creative, you can mention their pet's name, like the example above, which uses one of my dog's names. I also have a home inspector who sends out recall information to past customers, and always includes my home address in the email to show that it's relevant to me.
The more personalized the email is (even if you're using just a simple coding trick to auto-fill that info in), the better the chance at conversion.
7. Opt for Friendly But Calm
We've all come across emails that seem like they were written by people who were actively shouting at us, even in excitement. YOUR ORDER IS COMING!!!!! feels a little psychotic, somehow, (and maybe a little passive aggressive), even if you had good intentions.
You want to appear friendly and enthusiastic but still calm and reasonable, keeping you conversational but still professional. The email example below from Lume shows how to do this. They use exclamation points, but only one at a time, and a single smiley face emoji does its job. They don't take it too far, making it feel more authentic.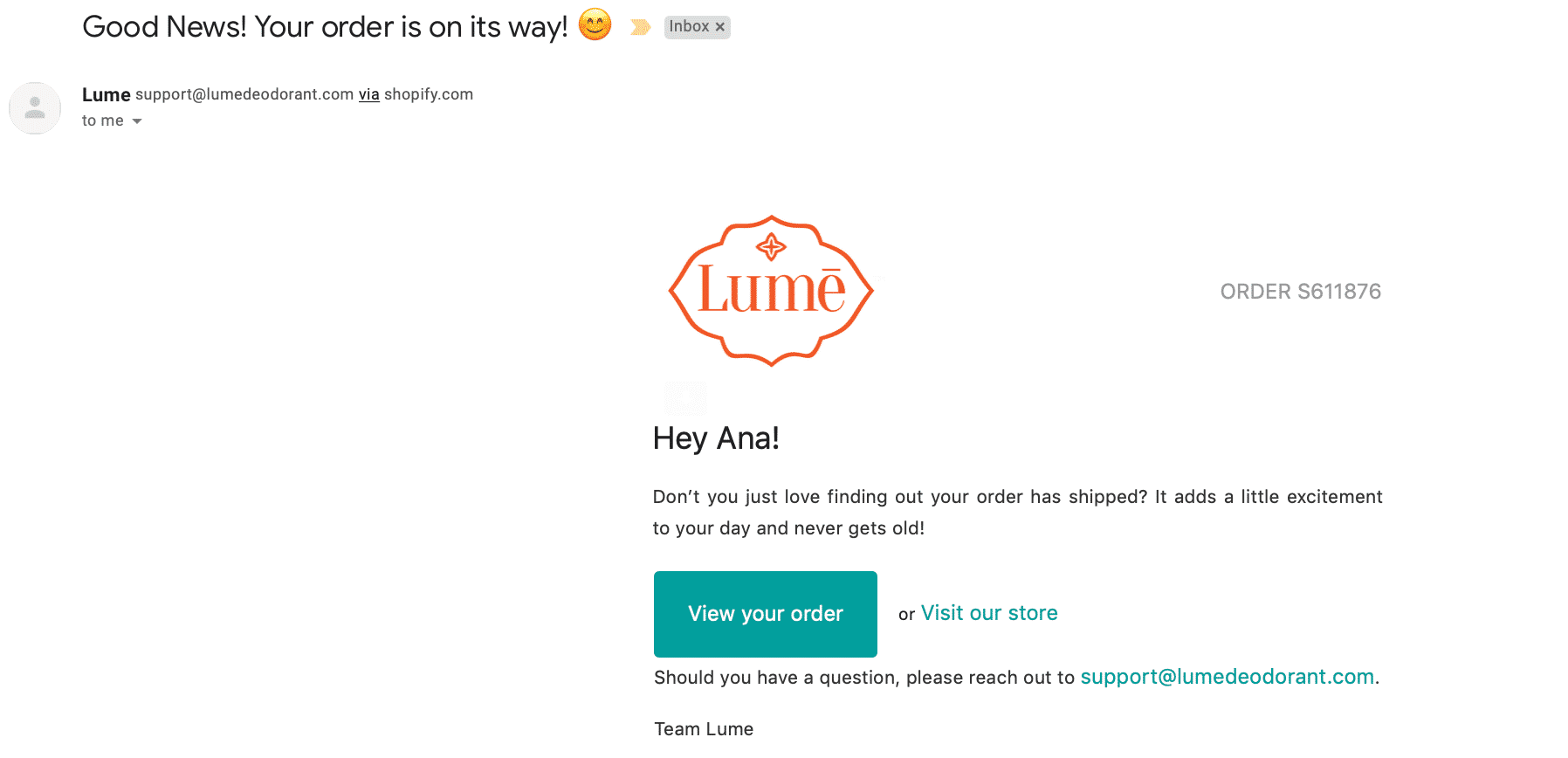 8. Use Simple CTA Buttons
CTA buttons are the way to go for email marketing, as they can lead to a direct increase in clicks over traditional hyperlinked text. They're often in a contrasting color to the rest of the email, helping it jump out, and uses simple phrasing like "Shop Now" or "Learn More" or "Schedule Your Call."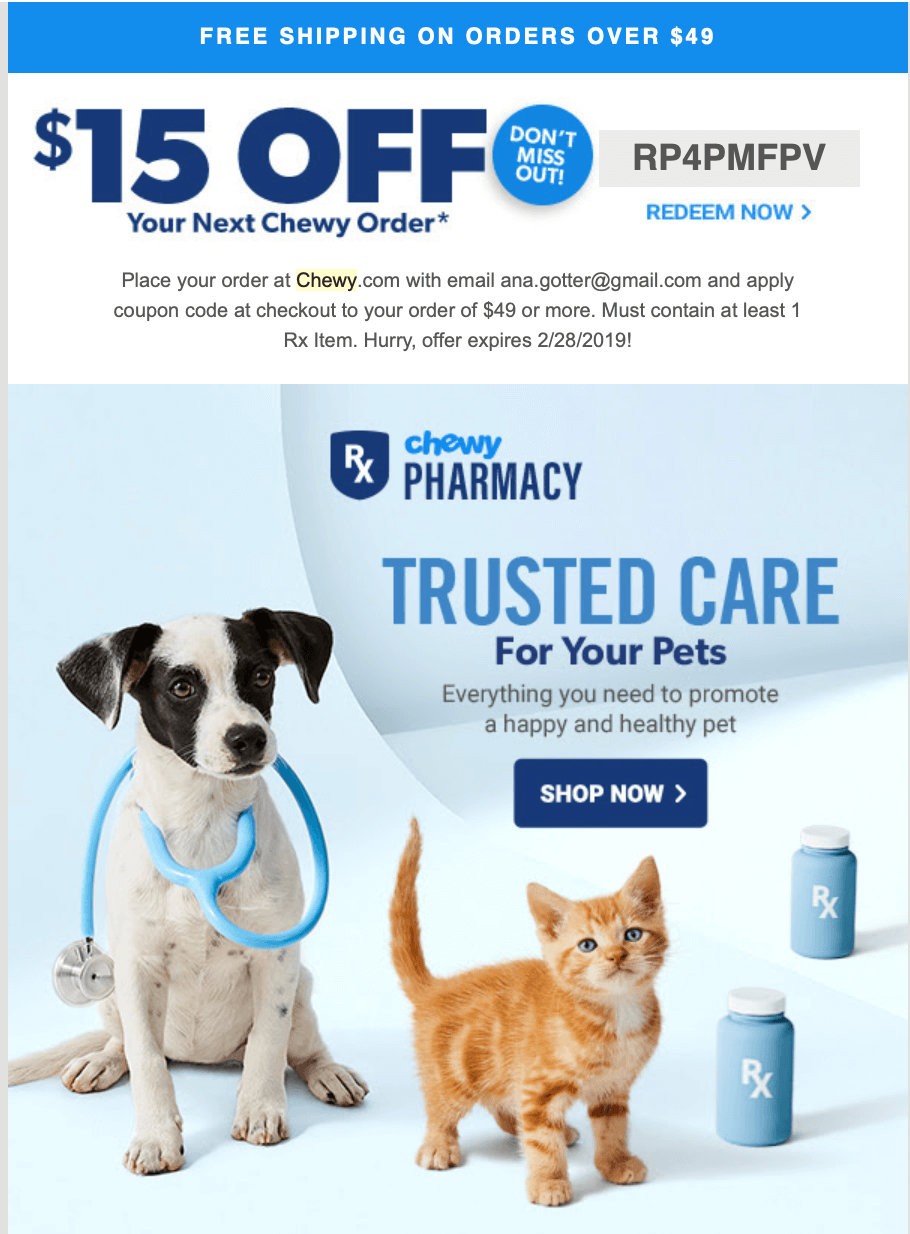 Your entire email should be leading up to this single CTA, driving users to take whatever action you're suggesting. The CTA itself should be simple, because the rest of the text builds to this and supports it.
9. Include Testimonial-Focused Campaigns
User-generated content and testimonials can carry an enormous amount of power in any kind of marketing campaign, and that goes for email, too.
Featuring testimonials in any shape and size can go a long way in driving conversions. It's all about what other people are saying about your product, after all, so leverage these here to increase clicks and purchases in your email, too.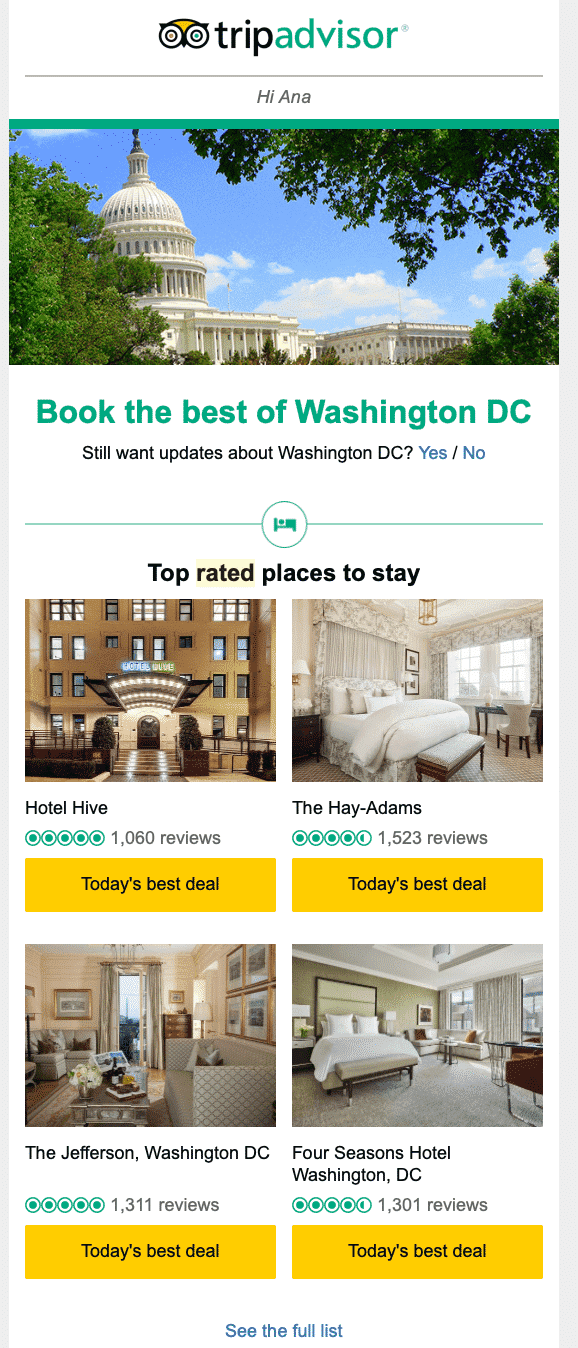 You can use "top rated" products or locations with a star rating, like Trip Advisor does here. You can also use brief snippets of customer reviews next to pictures of specific products, or list a few to promote a single product or service. Keep them easy to scan, and put quotation marks around them to show it's a quote while using the customer's first name.
10. Leverage That FOMO
The Fear of Missing Out (or FOMO) is a strong selling point. It can create urgency, which is a natural selling tool, and make people feel like they should act now. This is all based in loss aversion psychology, where people are more afraid of losing something than they are of not gaining it.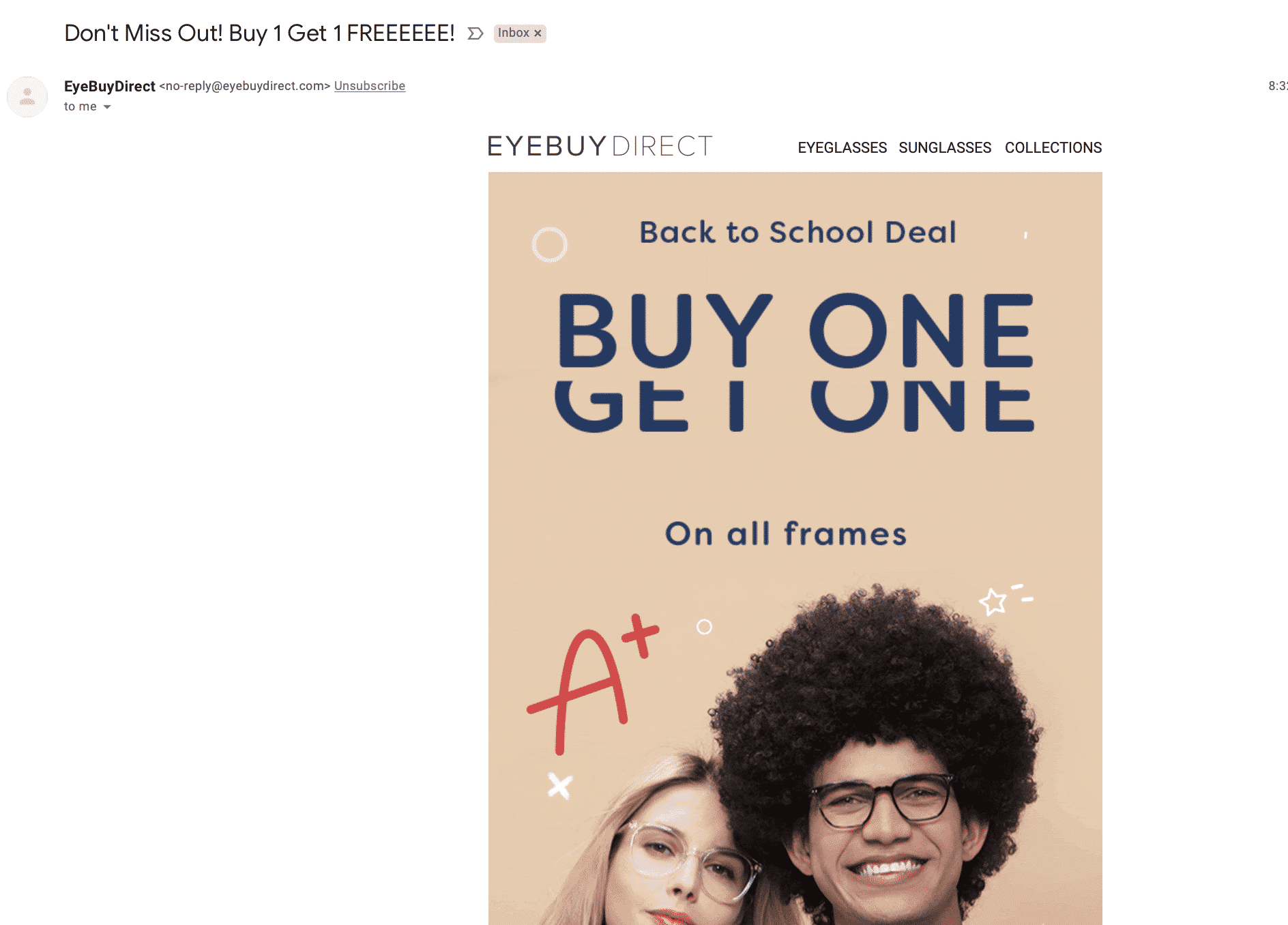 Phrases like "don't miss out" can work, but even subtle-but-not-really-subtle copy like "This sold out in 12 hours last time," or "See what everyone is raving about" can work well, too. If the products are getting high reviews or flying off the shelves, you want to know why, and you're more enticed to purchase because otherwise you might not get the chance at this amazing thing everyone loves. 
It's effective, especially when you use it only occasionally to help the campaigns stand out even more.
11. Keep It Fresh
Email marketing should be interesting. I know it seems like plenty of other brands forget about that and just recycle the exact same copy over and over, making just small tweaks. This isn't what you should do.
Think about it. If Old Navy emailed you the same content about different products, would you keep clicking? Of course not.
Change up your emails. Use a combination of different copywriting strategies. Factor in stories, urgency, FOMO, branded language, news and updates, and even educational content. Teach users how your products or services work, how to get the most out of them, how to maintain them, etc.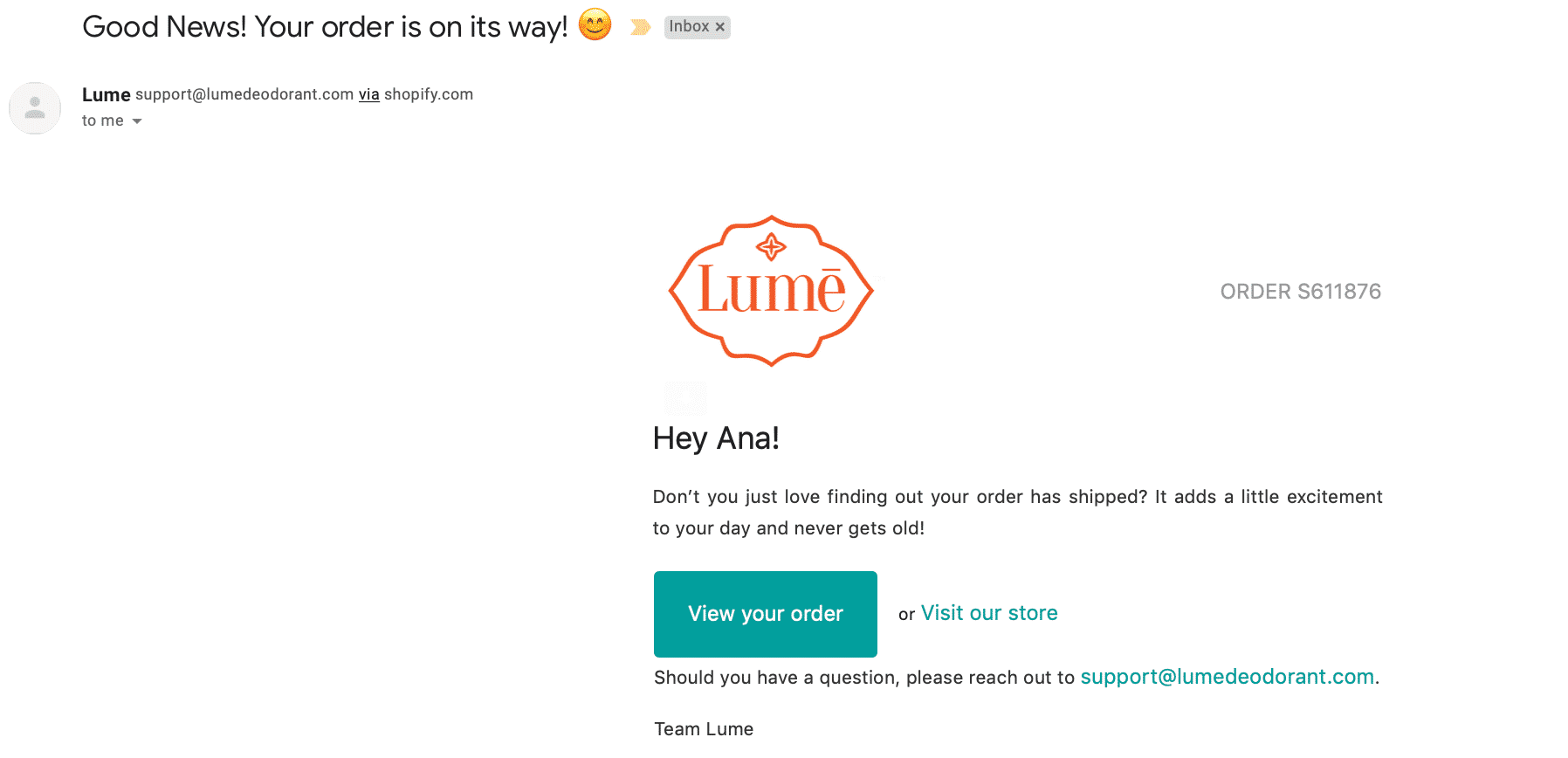 Keep your email campaigns new and fresh, just like you would with your social media posts. Go slightly off the standard script, peppering in more branded language, and it can make a big impact on how people receive them.
12. Use Analytics to Find the Best-Performing Copy
This simple tip is a good one. As you're writing and publishing your email marketing campaigns, you want to stay on top of the analytics to see what's actually working for your audience. You may find that certain subject lines—like those using personalization—increase open rates, or that your audience seems to respond to certain CTAs more than others.
Most email marketing platforms offer native analytics that will show you the open rates, click rates, and potentially conversion rates for each email. You can see if they've downloaded attachments, too, which is useful in its own right.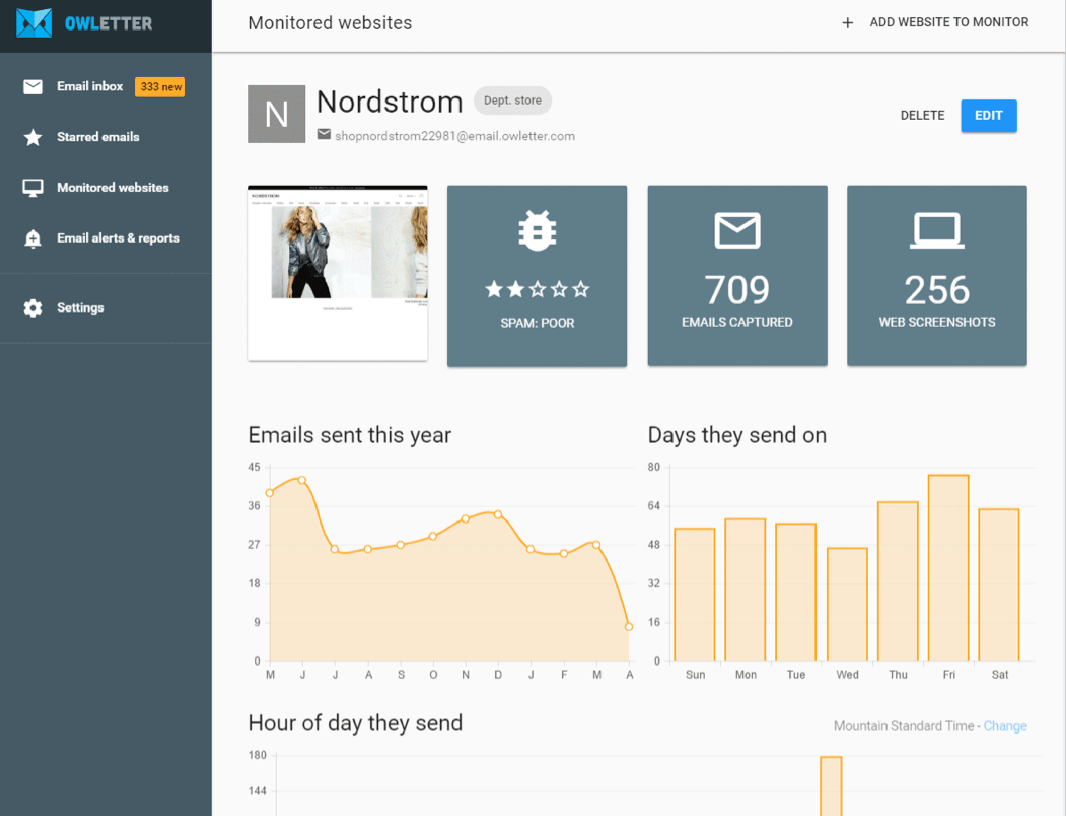 In addition to checking your own analytics, you can also use tools like Owletter to peek in on your competition's email marketing performance, too. Owletter (pictured above) is a personal favorite because they'll show you all of your competitors' emails and detailed metrics like how often they were opened. In addition to testing your own strategies, you can snag a few of their strategies, too.
Final Thoughts
Email marketing is sometimes seen as an afterthought to "exciting" options like influencer marketing or PPC advertising, but it's important in its own right.
The ability to reach people who have expressed interest in you with targeted messaging is an incredible one, especially when you can do so at such a low cost. And unlike social media marketing's declining organic reach, if you send an email, it will 100% show up in a user's email. They can either delete it or open it, but they have to pay attention. With these strategies, you can ensure that it's the latter and that you get more clicks and conversions, too.
By the way, if you need some help with your email copy, let us know here or in the comments. We'd love to help!
What do you think? What are your best tips to increase open and conversion rates in your email marketing campaigns? Which strategies have you found most effective? Share your thoughts and questions in the comments below! 
Leave a comment