5 Tips for Making the Most of Call-Only Ads on Google
by Ana Gotter • December 28, 2019
Google Ads is an incredible ad system, and it's most commonly used to show your campaign to relevant members of your target audience. The typical goal is to try to get them to click to your site and then hopefully take an action like making a purchase or filling out a lead form.
Sometimes, though, the focus isn't on driving clicks at all. This is the case in call-only ads on Google, which, as you may have guessed, focus exclusively on driving phone calls to your business. If this is the case, you may want to check out call-only ads on Google.
In this post, we're going to take a look at a few effective tips you can use to increase your success with these campaigns.
What are Call-Only Ads on Google?
Call-only ads on Google can be great choice when phone calls are the most effective way to drive results. This may be the case with service-based businesses who really need to get in touch with the customer.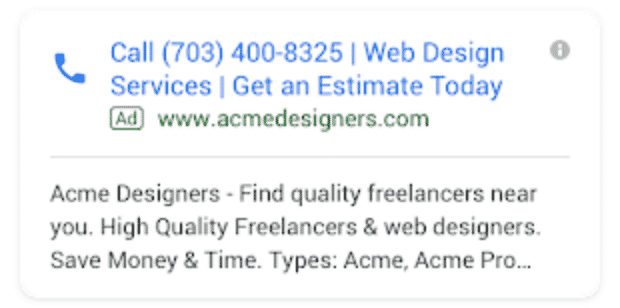 A doctor's office, for example, needs to talk to the potential patient to get their information, and a plumber really needs to talk to the customer to hear what's wrong and set up an appointment.
If this even sounds like something that might be a fit for your business and your ad campaigns, consider testing them and see how they perform for you. When you do, just make sure you follow these best practices…
1. Include Copy That Explains Why Users Should Call
Your headline is going to be made up of your business's phone number in big, blaring numbers. That's good. You want people on mobile to click and call, and people on desktop to view and call.
That's not all you need to actually get people to call, however. You need to convey why people should actually call you instead of your competition. Plenty of your competitors will use conventional ads with call extensions, giving them more room to plead their case. You only have a few characters, so you need to make them count.
This isn't convincing, after all:

All I see is a phone number and "WEST ORANGE ELECTRIC" repeated a bunch of times, which doesn't exactly scream "competent" to me.
This call-only ad, however, does a much better job of explaining why users should call.

Here, they mention that they've got all county towing and emergency towing and that they're there to help when you're stranded. That's all you need to feel comfortable calling in an emergency.
2. Explain What Your Business Is
I have three dogs. I've unfortunately been in the position where we've needed emergency vet care late at night, or I needed to call a vet to ask their opinion at 2 AM while one of the pups threw up something that looked suspiciously like my favorite pair of shoes. (Fortunately, everyone survived, save my pair of $20 flats, RIP).
If I called the ad below expecting to speak to a hotline (which was the search I entered to trigger this ad) and just wanted a basic question answered, it would be a waste of a call and their ad spend. Even though I searched for hotline, this number is a vet finder—they'll pair you up with an emergency vet that is open and send you that way in-office.

A good lesson here, too, is to make sure that you've got relevant ad targeting with the right negative keywords set up, but making sure to mention exactly what your business offers is useful, too. "The Veterinarian finder" and "Call now to find a vet to help you" do a good job of letting me know whether this is a fit for me or not.
3. Target High-Intent Keywords
If you're opting for call-only ads, you really don't want people who are just doing research and who have time to click around lots of sites. You want someone who pretty much is intending to call you right now.
Think plumbers targeting those with flooded kitchens, or personal injury attorneys targeting those who are ready to take legal action.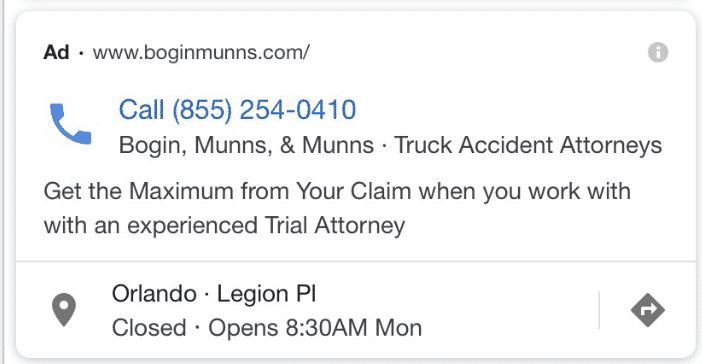 High-intent keywords do cost more, but they're really your only shot at driving action on call-only ads that will translate into results. If people aren't relatively immediate in terms of their intent, they'll click on site-based ad campaigns instead. They've got time to research, after all—why not?
4. List Some of Your Services
You have extremely limited space in your ad copy for Google's call-only ads, but that doesn't mean you shouldn't give people a preview of what they can expect from you.
If you aren't going for an emotional appeal to a pain point (think the "stranded in the middle of nowhere" approach in an earlier example), listing your services is a solid option, even if you can only list a few.
Let's look at two ads here. The first uses a call extension with a conventional ad, while the second has a call-only ad. The former clearly has more room in the ad campaign (which is one reason you should test both formats and see what works best, because it may be the former!), but they still do a much better job with the copy.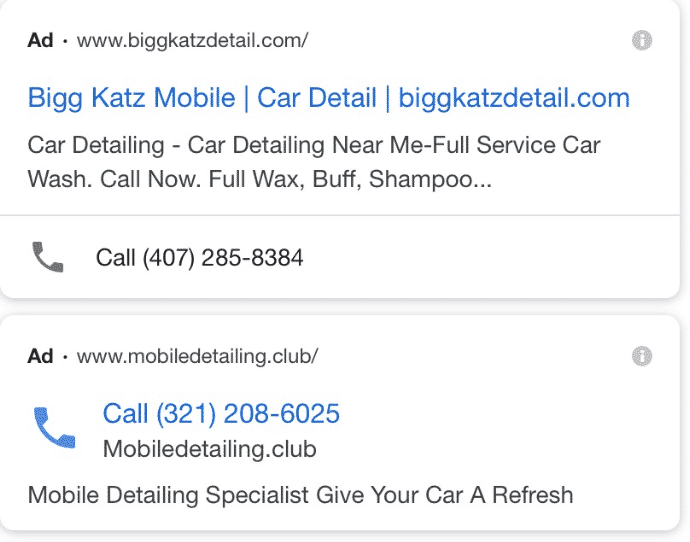 Listing services like "Full service car wash" and "full wax, buff, shampoo" tell you what you can expect. Meanwhile "Mobile Detailing Specialist Give Your Car a Refresh" doesn't tell me much at all.
Use your copy wisely, and if you think it would benefit you, prioritize listing those services.
5. Use Dayparting
Unless you have an around-the-clock team or an answering service helping you out, the last thing you want to do is run call-only ads on Google when you won't actually be there to answer the phone. Around 80% of callers just won't leave a message if they hit your voicemail, and a large majority won't call you back later, either.

Ad scheduling and dayparting can help with this. Set your ads to only run during the hours and days when someone will be available to answer those calls. Otherwise, you're setting yourself up for a lot of wasted ad spend and potential lost customers.
Final Thoughts
Google's call-only ads aren't going to be the right fit for every campaign, or even for every advertiser. That's okay. If you think they may be a fit, it's important to test them out, and when you do, try to bid on the high side to see what sort of results you get. Someone who actually picks up the phone has a solid chance of being a higher intent lead than someone who is just in the idle research phase, so it could be well worth it.
That being said, testing is key. You may find that using conventional Google Ads campaigns with call extensions can yield better results at a lower cost. This is different from advertiser to advertiser, so testing is the only way to find out.
Need help managing your Google Ad campaigns? We've got you covered. Let us know here.
What do you think? Have you ever used Google's call-only ads? How did they work for you? Share your thoughts and questions in the comments below!