Everything You Need To Know About Google Search Ads
by Saunder Schroeder • January 21, 2022
By Saunder Schroeder
You've probably heard a lot about Google Ads and the ways they can help you promote your company. It's all true — and the good news is, you can use Google Ads to knock your next marketing campaign out of the park.
If you've never used Google Ads before, you may be wondering: What are Google search ads? This guide will explain everything you need to know about how the ads work, how to set them up, and when to use them. Keep reading to learn how you can get started.
What Are Google Ads, and How Do They Relate to Digital Advertising?
Google is the most popular search engine on earth. Experts estimate that around 5.6 billion Google searches are performed every day, for an annual total of 2 trillion searches. When you use Google Ads, you capitalize on the incredible reach of the Google search engine to get your brand and your products in front of customers.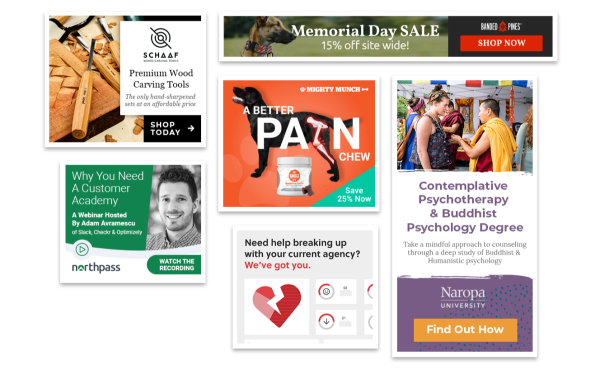 Different Types of Ads
There are five different types of Google ads. Here's how they all work.
Search Ads
Google search ads are the simple, text-based ads that appear on search engine results pages (SERPs). These ads are typically short and to the point. They just include the name of your business and a short description of what you're selling.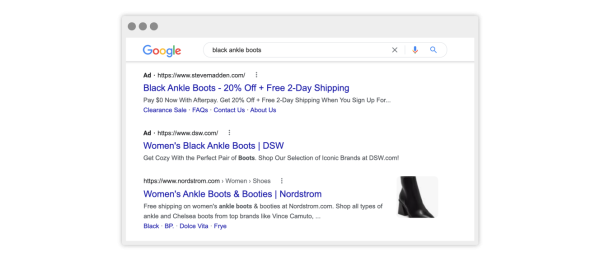 Dynamic Search Ads
Google can tailor ads so that when consumers search for a particular item, an ad pops up for closely-related content on your website.
Suppose a consumer is searching for black ankle boots, and you are a women's footwear boutique. If your website lists black ankle boots, then Google can instantly create an ad for the boots on your website. When the consumer clicks on the ad, they get taken directly to the item on your website.
Dynamic ads can be valuable tools for promoting particular products. However, they will only work if your website is up to date and lists all of your merchandise.
Responsive Search Ads
Google's responsive search ads are similar to Google's dynamic search ads. They pop up to advertise specific products that are listed on your website.
However, there's a key difference. Google pulls the content for dynamic ads directly from your website. With responsive ads, you need to create a list of possible ads for your products that Google can then match with consumer searches.
Standard Text Ads
As the name suggests, standard text ads are simple, text-based ads for your business. Unlike dynamic and responsive ads, they don't advertise specific products, but they promote your company as a whole.
Standard ads give you 25 characters for your headline, and then another 35 characters for your description. You can also opt for an expanded text ad, which allows you two headlines, for a total of 30 characters.
Display Ads
Display ads don't appear on a SERP. Instead, they pop up on screen while consumers are browsing online. Display ads appear along the side of a website, in Gmail, or even in a video. All the places where ads might appear are called the Google Display Network.
Display ads use a mixture of text and images to get consumers' attention. Since they behave like an organic element of the browsing experience, they can be very effective at promoting your business.
Video Ads
Google video ads appear on YouTube, which is owned by Google. You're probably aware that YouTube has a huge audience. About 122 million active users visit the site every day, making YouTube a great way to get your brand message out to as many people as possible.
Just like other search ads, Google video ads are tied to specific keywords. When someone searches YouTube for a video, an ad with the relevant keywords will pop up at the start of their video.
Bear in mind that most YouTube users get impatient with long ads — so try to keep your ad short, engaging, and to the point.
Product Shopping Ads
Google shopping ads target consumers who are ready to make a purchase and are actively seeking out a specific product. They appear as a mixture of image and text. They can either focus on one product at a time, or they can group a few products from one of your lines. Google will create the ads for you by using the product data found in your Google Merchant Center account.
App Promotion Ads
If you're an app designer, you can use Google's app promotion to run ads across search, Google Play, Youtube, Discover on Google Search, and the Google Display Network.
You'll just need to create a few lines of text along with a bid for what you're willing to pay for the ad, and Google will create the ad for you.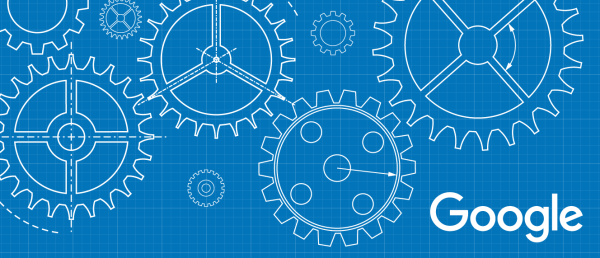 How Do Google Search Ads Work?
Google search ads can sound complicated, but they're actually pretty straightforward.
Here's how it works. You create a short ad for your business. Then you select a group of keywords relevant to your business. For example, if you're selling women's shoes, you might choose keywords like boots, high heels, and fine leather.
When consumers use Google to search for your keywords, your ad will appear in their search results on YouTube or the Google Display Network. Every time a consumer clicks on your ad, Google will charge you a fee. You determine the fee through a bidding process.
Deciding on a Bidding Strategy
Google sells its ads through a bidding process. When you take out an ad, you set a bid rate, which tells Google how much you're willing to pay when consumers interact with your ad.
Google gives you a few options when it comes to bidding. It's important to take the time to consider your choices and select the bidding strategy that's right for you and your business.
Cost-Per-Click (CPC)
Cost-per-click is one of the most straightforward strategies. You pay each time someone clicks on one of your ads. The price that you'll pay per click fluctuates, but you can set a maximum per-click bid to establish a cap.
Cost-Per-Thousand
Cost-per-thousand is often used with display ads. Instead of paying per click, you pay per thousand views.
Cost-Per-Engagement (CPE)
When you use cost-per-engagement bidding, you'll only pay when consumers actively interact with your ads. For example, if you're running a lightbox ad, you'll pay every time that a user hovers their mouse over the ad for at least two seconds.

Ad Rank and How It Affects You
Google ranks ads according to a complex set of factors. Your bid — the amount that you're willing to spend to get your ad seen — is one of the most important factors. So is the overall quality of your website.
The higher your ranking, the higher up your ad will be displayed. If your ad ranks low, it will be displayed below your competitors' ads.
Quality Score and Why It Matters
Your ad quality score impacts your overall ad rank. Google crawls through your website to assess the relevance of your website and your ads to consumers who search using your keywords. If Google decides that your website isn't really representative of the keywords in your ad, you'll likely wind up with a lower ad ranking.
Setting up an Ad Campaign
Setting up an ad campaign takes a lot of work. But as long as you keep track of the steps involved, you should be fine.
Setting a Goal for Your Ad Campaign
Do you want to increase your conversions, or are you looking to generate new leads? Whatever your goal is, make sure it is clear and quantifiable, so that it's easy to measure your success. As long as you have clear benchmarks, Google Ads makes it easy to track your goals and assess your return on investment (ROI).
Choosing Your Desired Campaign Type
Once you've set your campaign goals, it's time to think about which type of ad campaign will serve you best.
Do you want to run search ads, or do display ads meet your needs best? It's a good idea to look through the different types of Google ads, discussed in the section above, to decide which is right for this new campaign.
Setting a Budget and Bidding Strategy
Each campaign is different. Sit down to assess your goals and your budget. Once you've determined how much you can afford to spend on this campaign, you can determine which bidding strategy is right for you. You'll find an overview of the different bidding strategies above.
Deciding Where Your Ad Will Appear
Google gives you a lot of choices about where your ads will appear. If you run a search ads campaign, your ads will appear on SERPs, either just above or just below the organic search results. You can also run a display ads campaign so that your ads appear on the side of other websites while consumers browse online. Or, you can run a video ads campaign, so that your ads appear on YouTube. These are all good options, and you just need to pick the one that suits your needs.
Add Any Extensions
You can add extensions to Google ads if you want more space to convey information about your product. Google won't charge you extra money for an extension. However, you will need a higher ad ranking to display your extension.
Google Keyword Planner: The Keyword Tool for Ad Campaign Planning
Google offers a free tool, the Keyword Planner, to help you determine the best keywords for your ads. The Keyword Planner will give you a list of keywords that are relevant to your business and will show you the typical results from those keywords, as well as the cost involved in using them.
How To Measure the Success of Your Ad Campaigns
There are several different metrics you can use to assess the success of your ad campaigns. Here are a few of them.
Return on Ad Spend (ROAS)
ROAS measures the amount of revenue that your campaign brings in per dollar spent. To calculate ROAS, simply divide the revenue you collect from the campaign by the total cost of the campaign. An ROAS of at least three is considered good.
Click-Through-Rate (CTR)
Your click-through rate is the number of times a consumer interacts with your ad, divided by the number of times your ad appears on-screen. CTR is expressed as a percentage. For instance, if your ad appears on screen 100 times and five users click on it, the ad has a CTR of 5%.
Cost-Per-Conversion (CPC)
You can calculate your cost per conversion by taking the total cost of your campaign and dividing it by the total number of conversions that are attributable to your campaign. It's a bit like ROAS but looks at a more granular level.
When To Use Search Ads
Google search ads are a great option for many businesses. They're especially well-suited for companies in the following circumstances.
Smaller Marketing Budget
If you're operating on a lean budget, then you need to make sure that every marketing dollar counts. Google ads have a low entry cost and can yield a high ROI.
Supplement Your SEO Efforts
Many businesses choose to use Google ads to supplement their SEO efforts. You can increase your SEO by running a blog, optimizing your website, and increasing your social media outreach campaigns. Google ads are a great way to round out that effort.
Increase Your Reach
Google ads can be a welcome way to broaden your audience. If you're a niche brand looking to expand your range, a Google ad campaign might be able to help.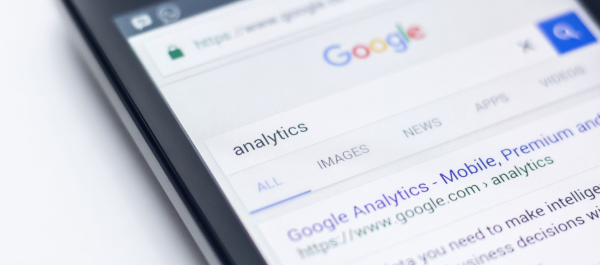 Benefits of Search Ads
Using Google ads yields some great benefits. Here are just a few of them.
Target Customers Based on Search Intent
Google ads target customers who are already interested in the kinds of products and services that your company provides. In many cases, they're already prepared to make a purchase. That potentially saves you a lot of time when it comes to generating and developing leads.
Doesn't Require Large Budget
Google ads are a cost-effective way to market your business. The ads are low-cost, and you can determine the size of your campaign to make sure that you don't go over budget.
Results in Higher CTR
Even when Google ads don't result in conversions, they still drive traffic to your website. That high CTR allows you to build new leads for the future.
Google Search Ads Summarized
If your business is seeking to expand its brand awareness without spending an exorbitant sum on marketing, then Google ads might be the right choice. There are many different options when it comes to the price, appearance, and focus of the ads. It's a good, easy-to-customize option for many companies.
Not sure where to get started with your next Google ads campaign? Disruptive Advertising works with businesses just like yours to take their ad campaigns to the next level. Visit us today to learn more about what we can do for your company.