5 Ways to Spend Less Time in Google Ads Manager
by Aden Andrus • October 7, 2019
If you've ever spent any time working in the Google Ads Manager, you've probably come face-to-face with a cold reality: Google Ads isn't nearly as easy or intuitive as Google makes it out to be.
To make matters worse, keeping your Google Ads Manager account in tip-top shape takes a lot of ongoing time and effort. You can't just spend a few hours setting things up and let it run. You have to constantly watch, evaluate and optimize your campaigns.
For a busy marketer or business owner, that can be a lot to stay on top of. You've got better things to do with your time than pour over data in your Google Ads account.
The question is, how can you spend less time in Google Ads Manager without sacrificing results?
In this article, we're going to take a look at several different things you can do to get more in less time. Google Ads will never be a set-it-and-forget-it advertising platform, but by following the suggestions below, you can save a ton of time and headache.
Should You Hire a PPC Agency?
To be honest, if you want better results with less effort, the easiest solution is to…hire an expert to do it for you.
Now, this might seem a bit self-serving, but hear me out. Whether it's Disruptive Advertising or the lawn care guy, hiring a specialist to take care of things for you is usually the best way to get the results you want—without having to do all the work yourself.
But, unlike paying someone to take care of your lawn, hiring a good PPC agency usually puts more money in your pocket, not less. Sure, you'll have to pay a management fee, but a good agency has experience, skills and connections that you'll probably never have.
As a result, they'll probably be able to get a lot more out of your account than you ever could…even with a lot of time, effort and money.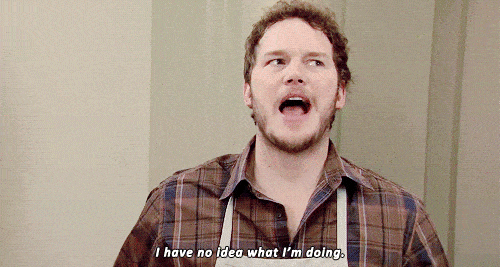 So, if you're looking for the surest, simplest way to spend less time in Google Ads Manager—all while getting better results—why not ask us to help?
Click here to let us know you're interested and we'd be happy to audit your account and show you what we can do—and we'll do it all for free!
Oh, and if we're not a good fit, we'll let you know and get you pointed in the right direction. What do you have to lose?
In any case, whether you choose to hire us or somebody else, if you're looking for a way to spend less time managing your Google Ads, you should really consider hiring a PPC agency. 'Nuff said.
Spend Less Time in Google Ads Manager
If hiring an agency is off the table or you'd really just rather do things on your own, there are still a variety of ways to improve the overall efficiency of your Google Ads Manager account.
Now, you should be aware up front that most of these strategies take a little time to implement. But, by investing a little time now, you can save yourself a ton of time and work in the long run. Let's take a look.
1. Automated Rules
Automated rules have been a part of Google Ads for years, and they remain one of its most effective and underutilized features. In fact, I often wish that other platforms like Facebook Ads had more options for creating automated rules, because they can be such a great way to save time and money.
In a nutshell, Google's automated ad rules use "if/then" criteria to dictate when and where automated changes will be made in your account. This allows you to automatically pause campaigns, adjust keyword bids, pause keywords based on performance, get alerts based on changes in performance and much, much more.
For example, here's a rule that increases the budget for a campaign if the cost is under $0.45 and the conversion rate is over 10%. This rule runs every day and alerts the client if there's a problem.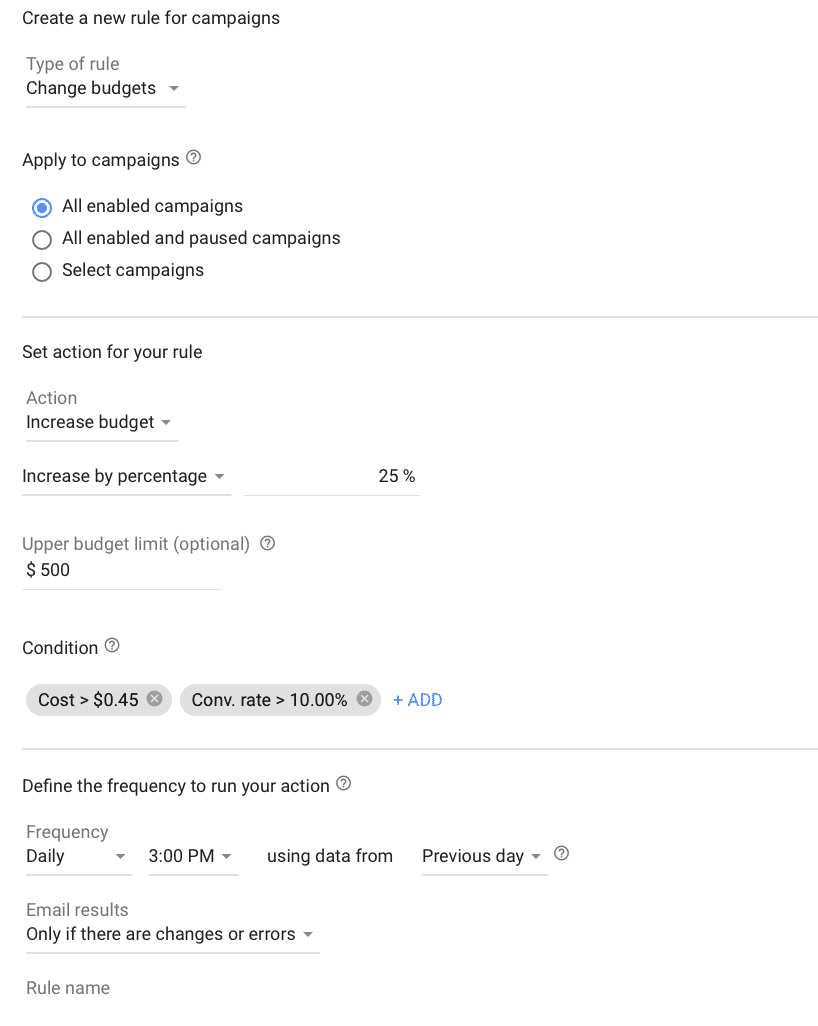 So, if you constantly find yourself making the same tweaks over and over in Google Ads Manager, automated ad rules can save you a ton of time. They also work as great failsafes, just in case you're worried that a campaign will go haywire when you're not looking.
There are so many potential ways to use automated ad rules that we won't go over all of them here. For more ideas on how to use them, though, check out this blog post.
2. Bidding Strategies
If you're like most of us, what's the most common thing you change in Google Ads Manager? Your bids.
Unfortunately, figuring out the right bids for your keywords can be very difficult and, to make matters worse, it's often a moving target. You can finally find the perfect balance between cost, clicks and conversions…only to have it all change when a competitor tweaks something in their account.
To help with this, Google has spent years trying to find ways to effectively automate bidding.
For a long time, Google's automated bidding options were less than helpful for most advertisers, but all of that has changed over the last year or two. Now, Google's ability to respond instantly to changes in the marketplace and automatically adjust can often produce better results than many refined manual strategies.
In addition to potentially making your campaigns more profitable, automated bid management can save you time by putting Google in charge of your bid strategy. Unlike manual bidding, where you bid on clicks, automated bid strategies revolve around the goal of your marketing efforts.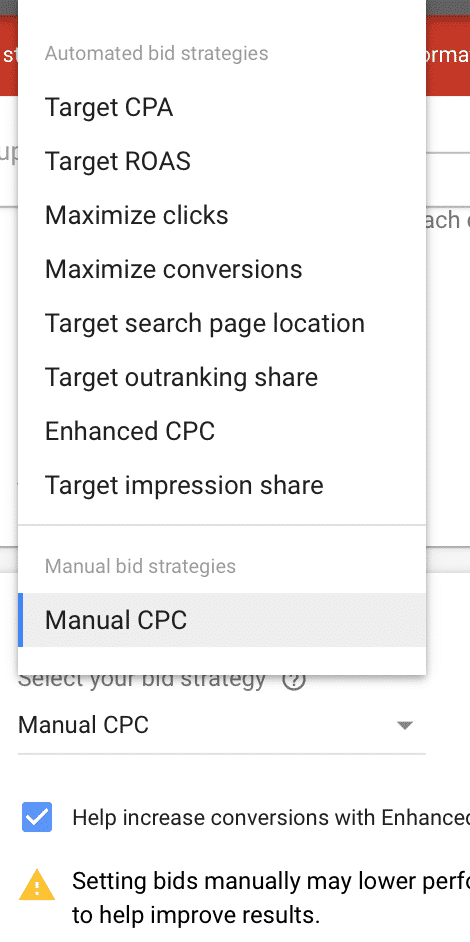 Based on your goals, Google's algorithms automatically set bids that maximize the likelihood of you achieving your goal.
How does Google do it? Well, Google's algorithms estimate the likelihood of a click, conversion or whatever else your goal is based on what Google knows about a user who is eligible to see your ads, including:
The device they're using
Their demographics
Location
Time of day the search is made
Their operating system
As you can probably imagine, this is a level of detail none of us are privy to or could hope to calculate on a search-by-search basis. The only downside is, the success or failure of your ads is dependent on how accurately Google's algorithms can predict a user's behavior.
Given our experiences with these algorithms, they seem to be pretty good at their job, but they won't be a fit for everyone. Still, if you're looking for a way to reduce the amount of time you're spending in Google Ads Manager, automated bid strategies can be a great place to start. To learn more about each of these bidding strategies, check out this article.
3. Keyword Insertion
Dynamic keyword insertion is one of the oldest ways to save time in Google Ads, but it's still just as useful as it was when it was first introduced.
To put it simply, in advertising, specificity sells. The closer your ad matches a user's search, the more likely they are to notice it, pay attention and see it as a potential solution to their problem. It's simple science.
The only problem is, creating and managing an account with a different ad for every single keyword can be overwhelming.
For example, let's say you sell kitchen appliances and cooking tools. You want to advertise a sale on KitchenAid mixers, electric tea kettles, juicers and blenders. You could create a separate campaign for each of these appliances with different keywords and ads for each product, but with dynamic keyword insertion, you don't have to.
Instead, you can simply create an ad that reads:
Great Prices on Small Kitchen Appliances! | Save 20% on Kitchen Appliances!
Need to stock up your kitchen? Want to cut down on prep time? We've got you covered.

Then, using keyword insertion, you can make the "small kitchen appliances" phrase dynamic, so that people who search for "electric tea kettle" will see this ad instead:
Great Prices on Electric Tea Kettles! | Save 20% on Kitchen Appliances!
Need to stock up your kitchen? What to cut down on prep time? We've got you covered
The second option is a lot more specific and it lets users know that yes, you have exactly what they're looking for. As mentioned above, that makes your potential customers a lot more likely to click and convert.
Now, all that being said, dynamic keyword insertion has kind of a bad rap thanks to ads like these: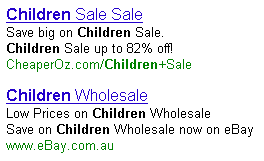 So, if you decide to create ad copy with dynamic keyword insertion, make sure that your ad copy makes sense (and is appropriate) for all of its variants. Otherwise, your oh-so specific ad will end up doing more harm than good.
For more information about how to set up and to use dynamic keyword insertion effectively, along with a few other ad copy automation tricks, check out this article.
4. Automated Reports
One of the best things about Google Ads is the in-depth information it provides on just about any and every aspect of your advertising. Sadly, many advertisers don't take full advantage of all this potential.
But, if you take a little time to play around with the Google Report Editor and create some automated reports, you can keep a close eye on your campaign performance without leaving your inbox.
The Google Report editor provides a massive number of options for reviewing and displaying data about your accounts. You can have your data show up in almost any format you like, whether that's a standard data table or the well-beloved pie chart.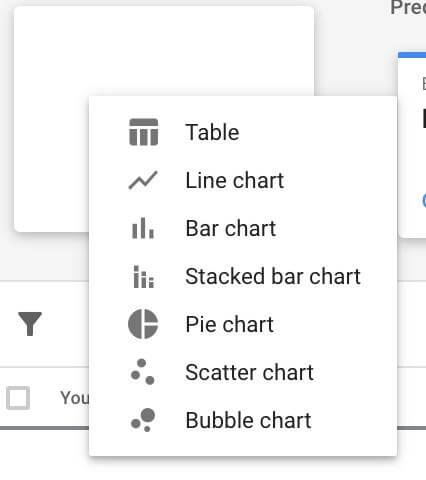 Once you've built out your reports (click here for a few easy ideas to try), you can have them emailed to you on a regular basis.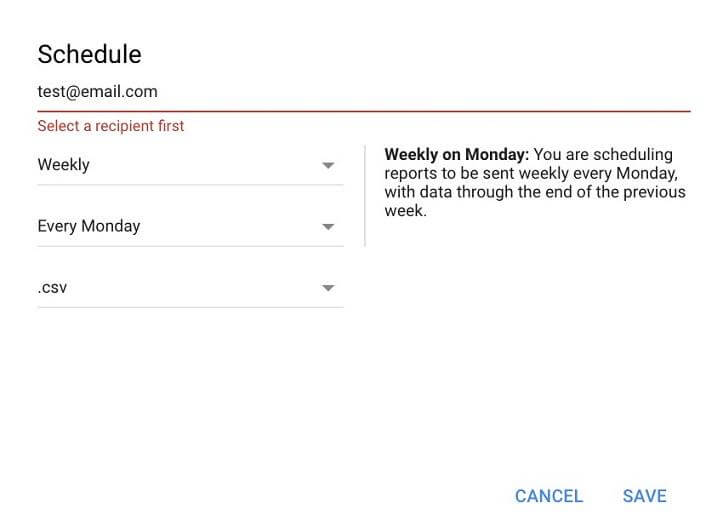 Now, instead of having to log into Google Ads Manager and hunt around for the data you need, you'll get it delivered right to your inbox—at whatever frequency you want!
5. Dashboards
Finally, when you do log into your account, creating a few at-a-glance dashboards inside the Overview tab can help you stay on top of the most important information in your account.
A lot of time spent in the Google Ads Manager is wasted on hunting for specific insights. Google Ads didn't have a dashboard feature for a long time, so this tab is often very underutilized.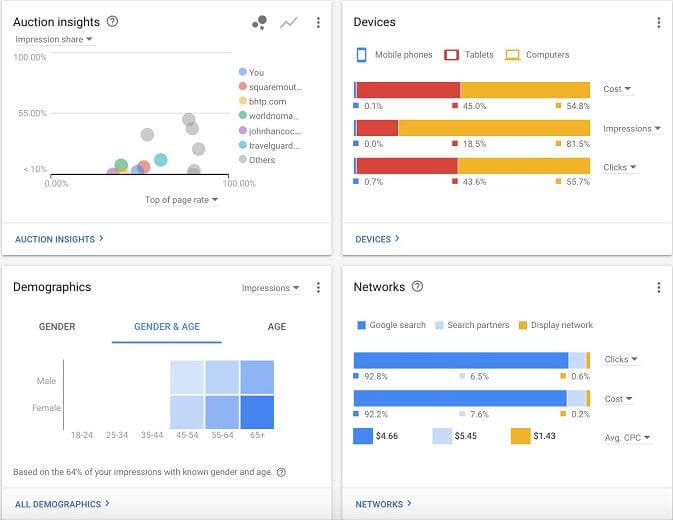 Unfortunately, while you can't decide which widgets you want to have on your dashboard, you can customize them somewhat to focus on the information you need the most. This can make your Google Ads Manager experience much more efficient and save you from hours of opening campaigns, changing columns and adjusting date ranges.
Save Time in Google Ads Manager
While Google Ads probably won't ever be the easiest advertising channel to use, if you set things up correctly, managing your campaigns doesn't have to take all day. By applying the tips above, you can get better results faster and get back to managing the rest of your business.
Of course, if you really want to make the most of your Google Ads campaigns, you could just click here and ask us to give you a hand, but that's entirely up to you. Either way, we'll be here on the blog to help point you in the right direction.
How do you make the most of your time in Google Ads Manager? Any helpful tips you'd like to add? Leave your thoughts in the comments below.