Google's Performance Max (PMax): Your Guide to Success
by Joseph Jones • August 15, 2023
You've probably heard about Google's Performance Max campaign type that was released in 2021 and might still be wondering, "What is PMax?" We've seen the incredible difference PMax ad campaigns make for our clients, and we hope you will give them a try too.
In this article, we will delve into Google Performance Max and provide you with valuable tips on how to use it effectively. Ready to jump in?
What is Google Performance Max (PMax)?
Google Performance Max (PMax) is an advanced advertising campaign type offered by Google Ads. PMax puts automation and conversion goals on center-stage and gives users a more hands-off yet higher-performing experience. After an initial setup process with your ads, PMax takes the wheel and with Google's vast data and real-time learning, it aims to accomplish your goals on your budget.
Performance Max campaigns puts your business goals front and center and allows our automation to target your business goals above all else. This is crucial in order to maximize performance from Google Ads!

– Google
With PMax, advertisers can tap into a wider audience and achieve better results by leveraging the full power of automation and machine learning. It's true that others of Google's Ad types include some machine learning and automation, but PMax really opens that up and we've gotten crazy results from it.
If you'd like to learn more about the results we've seen from PMax campaigns, reach out to us by leaving a comment in the comment section below.
The Power of PMax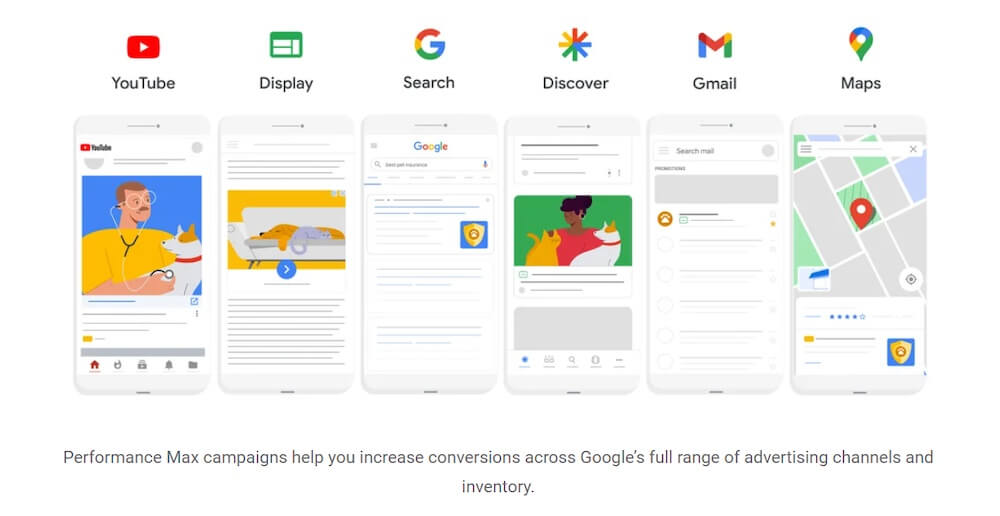 Performance Max campaigns allow advertisers to reach potential customers across a broader range of Google networks, including:
Display
Google Search
Shopping Ad Inventory
Google Maps
Discover Feed
YouTube
Gmail
The key advantage of PMax lies in its ability to automatically optimize your ad creative, placements, and bids based on the performance data it gathers in real-time. By harnessing the vast array of user signals and Google's powerful algorithms, PMax ensures that your ads are shown to the right people at the right time and in the right places (the trifecta of ad success, right?!).

How Do Google PMax Campaigns Work?
Like Smart Campaigns and Responsive Display Ads, Google's PMax campaigns are designed to take the assets you provide and arrange them based on what it knows about audiences–including which platforms to present them on. You specify your conversion goals, your assets, and your budget, and Google basically takes over from there! You can be more or less involved, and you can get previews of possible ad combinations. The assets you enter include:
Images
Videos
Logos
Headlines
Descriptions
Audience signals
You place these into an "asset group" that PMax can pull from.
The Main Difference Between PMax and Other Ad Campaign Types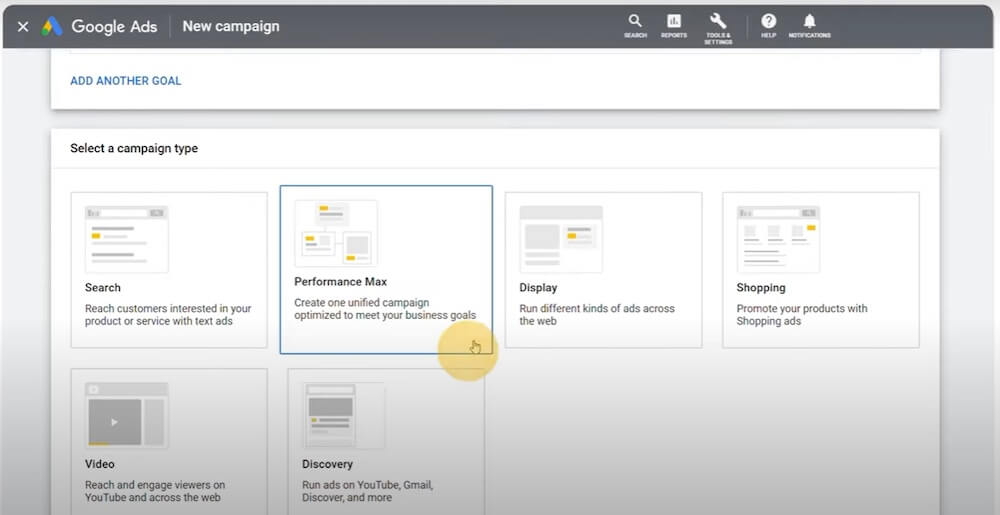 The main differences between the various ad campaign types and Performance Max (PMax) ads are primarily related to the level of automation, ad placements, and targeting capabilities. Let's explore the key distinctions:
1. Automation and Optimization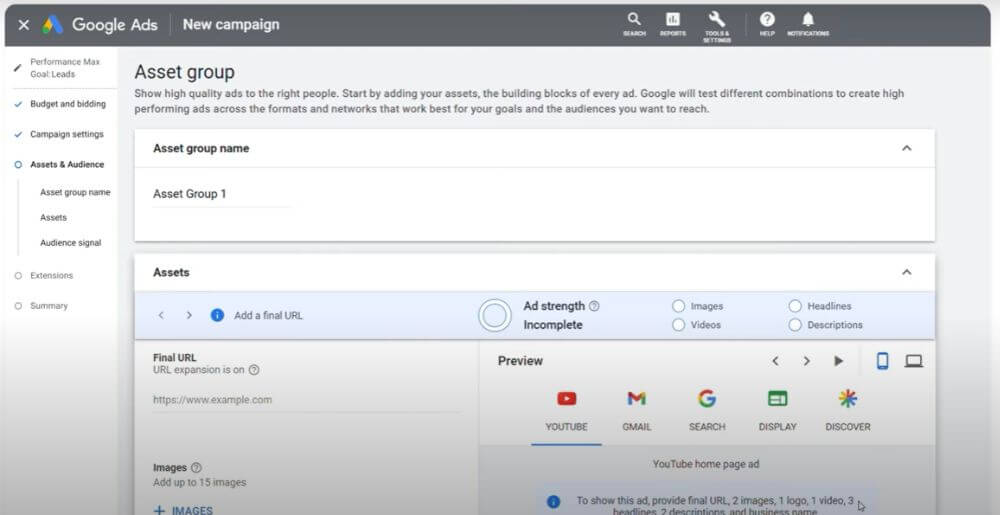 Traditional Search, Display, Video, and Shopping Campaigns: These campaign types require advertisers to manually set bids, create ad groups, and manage targeting options. While some automation is available through bid strategies and audience targeting, advertisers have more control over the campaign setup and optimization.
App Campaigns, Smart Campaigns, and Local Campaigns: These campaigns leverage advanced machine learning and automation to optimize ad performance. Advertisers provide assets and campaign goals, and Google's algorithms handle the rest, including bidding, targeting, and ad placements.
Performance Max (PMax) Ads: PMax takes automation to the next level. Advertisers only need to provide creative assets, budget, and performance goals. The entire campaign setup, optimization, and targeting are automated through Google's machine learning algorithms. PMax ads use data from multiple Google networks to deliver the right ads to the right users across various platforms.
2. Ad Placements
Traditional Search Campaigns: Ads appear on Google's search engine results page when users search for specific keywords or phrases.
Display Campaigns: Ads are shown on websites, blogs, and apps that are part of Google's Display Network.
Video Campaigns: Video ads are displayed on YouTube and Google's video partner sites.
Shopping Campaigns: Product ads appear on Google's search results page.
App Campaigns: App ads are displayed across Google Search, Google Play Store, YouTube, and other Display Network properties.
Local Campaigns: Target users with ads across different Google networks to drive store visits and actions.
Performance Max (PMax) Ads: PMax ads have a more comprehensive approach. They can appear across Google Search, Display, YouTube, and Discover, leveraging multiple networks and platforms to reach potential customers–and again, it's automated, so you don't have to set them up individually. Nice!
3. Targeting and Reach
Traditional Campaigns: Advertisers have greater control over audience targeting through keywords, interests, demographics, and placements.
App, Smart, and Local Campaigns: Targeting is primarily automated, and advertisers set campaign goals to reach specific user groups.
Performance Max (PMax) Ads: PMax uses a combination of automation and data from various Google networks to automatically optimize ad delivery and reach the most relevant audience.
4. Campaign Goals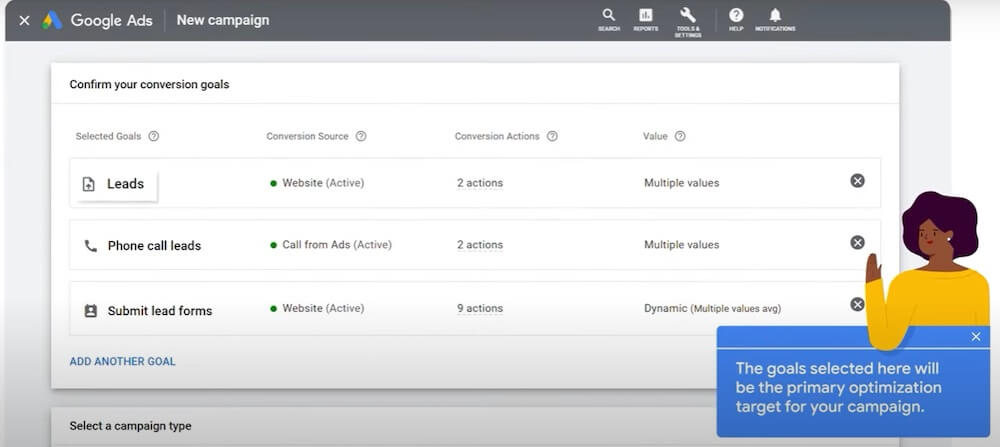 All Campaign Types: Advertisers can set specific campaign goals, such as website clicks, conversions, app installs, store visits, and more.
Performance Max (PMax) Ads: PMax is completely goal-oriented. It maximizes performance across various goals, ad formats, and channels using real-time learning and audience insights, all geared toward reaching your specific goals.
Traditional campaign types offer more manual control over setup and targeting, while PMax ads leverage advanced automation and machine learning to optimize ad performance across all Google networks and platforms. PMax is designed to simplify the advertising process while maximizing results for advertisers, making it a compelling option for those seeking an efficient and effective advertising solution with less guesswork.
7 Tips for Using PMax Effectively
Align Your Campaign Goals: As PMax is strictly goal-driven, making sure you have clearly defined advertising goals is key. Whether it's increasing website traffic, driving conversions, or boosting brand awareness, aligning your objectives will help Google's complex algorithms optimize your ad delivery.
Quality Ad Creative: Although PMax is designed to automate creative optimization, the quality of your ad creative remains crucial. Create visually engaging and compelling ads with clear CTAs that resonate with your target audience. Refer to Google's Asset Group article to learn more, and note that you will need video.
Utilize Audience Signals: Providing audience signals to Google gives the machine something to learn from – suggestions on audiences you think most likely to respond well to your product or service.
Leverage Performance Insights: Regularly monitor the performance of your PMax campaigns and gather insights on what's working and what's not. Use this data to make informed decisions, optimize underperforming ads, and refine your overall strategy.
Audience Segmentation: To maximize the impact of PMax campaigns, segment your audience based on relevant attributes such as interests, demographics, and behavior. Tailoring your messaging to specific audience segments can yield higher engagement rates.
Budget Allocation: Distribute your budget strategically across different Google networks and platforms to reach your audience effectively. Don't stop running your other campaigns while you are testing PMax. You need time to see what results you can get. Consider adjusting your budget allocation based on performance data to optimize campaign outcomes.
Stay Updated with New Features: Google continually updates its advertising platform, introducing new features and improvements. Stay informed about the latest advancements and embrace new functionalities to stay ahead of the competition.
Features of Google Performance Max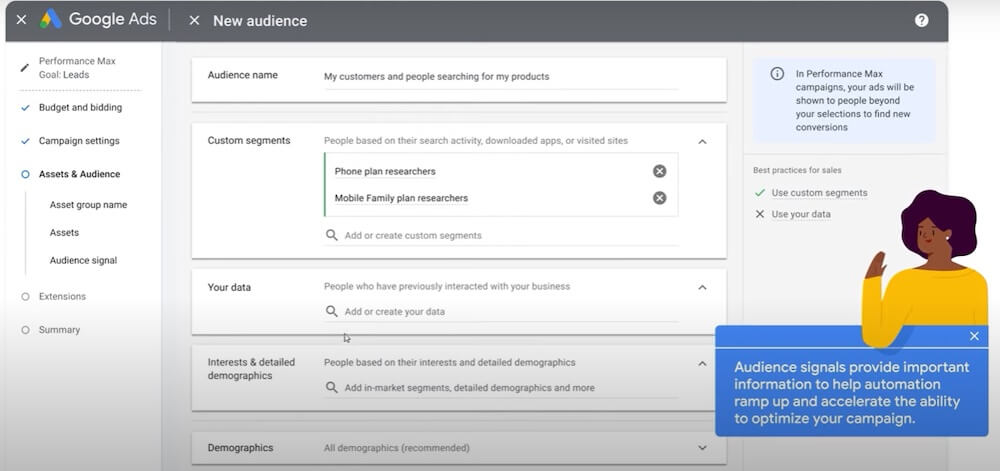 The key features of PMax campaigns include:
Audience Signals: Rather than audience segments or keywords, you can target by giving Google "hints," by offering audience signals that alert Google to a segment of users you think are more likely to convert.
Asset Groups: Performance Max moves from ad formats to Asset Groups which include a set of assets that are all related to a single theme or audience. Multiple asset groups can be created per campaign.
URL Expansion: Using machine learning, the default URL Expansion feature chooses a landing page, based on customer insights. You can opt-out of this, but only by using exclusions, or URLs you DON'T want included. If there are pages you don't want used, make sure you let Google know.
Reporting and Insights: PMax includes new reports that explain what the machine learning is doing and which signals it is utilizing. This data can help you adjust your strategy.
Google's Performance Max In a Nutshell
Google PMax ads represent a groundbreaking leap in the world of online advertising. By harnessing the power of automation and machine learning, PMax campaigns can significantly enhance your advertising performance across all Google networks and platforms.
At Disruptive Advertising, we have seen the effectiveness of PMax. By following the tips provided in this article, you can make the most of this cutting-edge campaign type.
So, are you ready to take your advertising game to new heights? Give PMax a trial run, and unlock the full potential of your Google Ads strategy. If you need any assistance with setting up or optimizing your PMax campaigns, feel free to reach out to us at Disruptive Advertising. As a Google Partner, our team of experts knows Google Ads inside and out and would be happy to help you make better use of your advertising budget.