From Zero to Hero: Building Out Your B2B Buyer Personas
by Aden Andrus • February 21, 2021
One of the biggest challenges of B2B marketing is really nailing down your target customer.
With B2C marketing, things are often fairly broad and straightforward. If you're selling massage guns, your target market is people with back pain. Depending on your price point, it might be a subset of that market, but most of your customers will be well-described by 1-3 good buyer personas.
For B2B businesses, on the other hand, your buyer personas can often be much more specific. If you offer shipping solutions, your value proposition and key selling points will differ greatly depending on what sort of business you're marketing to.
In addition, the right marketing channels and marketing approaches for different types of customers often varies a lot in B2B marketing. Some buyer personas may prefer email. Some like conferences. Some respond to PPC advertising. Others rely on word-of-mouth referrals.
If you rely on a "one size fits all" approach to B2B marketing, you may be able to land some sales, but you'll miss out on a lot of potential opportunities. To really make the most of your B2B marketing, you need to deeply understand each of your buyer personas and the most effective way to engage with them.
In this article, we're going to talk about what goes into an effective B2B buyer persona, why your buyer personas matter and what you need to think about to put together effective personas for your business.
Why B2B Buyer Personas Matter
For most B2B businesses, specificity is the name of the game. Your clients have specific needs and specific problems that they need help with.
For example, if you offer shipping services, you might market to both home delivery pharmacies and industrial piping companies. However, how you market to each of these types of customers will be different because they are looking for different things from a shipping partner.
A home delivery pharmacy is often shipping time- and temperature-sensitive products. The drugs they're sending out could be worth thousands of dollars and if they are warm for more than an hour or so, they could be ruined.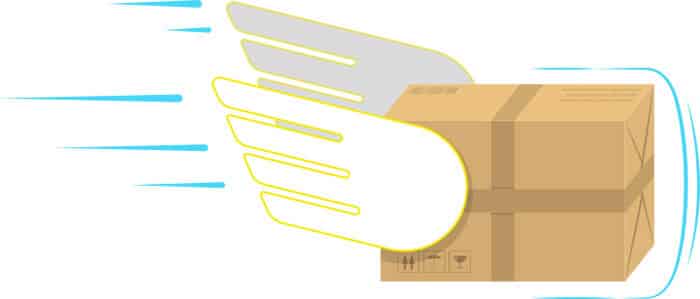 With that in mind, a home delivery pharmacy is going to be looking for a delivery solution that can reliably get their shipments to their destination within 24 hours. They also need insulated shipping containers and ice packs. Finally, they need to be sure that their shipments won't be left in a hot van for hours on end.
In contrast, an industrial piping company has very different priorities. Their products are large, unwieldy and heavy, so they are primarily interested in durable shipping containers and keeping their shipping costs down. They need their products to arrive on time, but they aren't dealing with strict temperature challenges and their customers generally order well in advance.
If you don't understand the different needs and priorities of these different types of customers, it's going to be next to impossible to market to them effectively.
And yet, that's what many B2B businesses do.
Rather than taking the time to really build out effective buyer personas, they instead take the easier, one-size-fits-all route…and then wonder why it's so difficult to get good returns from their marketing campaigns!
Getting to Know Your Customers
To be effective at B2B marketing, you have to understand the issues and challenges each buyer persona is dealing with. You need to know what sort of journey your buyers are on, how to market to them at each step of that journey and which key influencers you'll need to convince to get to the next step of the journey.
You're still selling the same products, software or services, so there will be some overlap in pain points and needs between buyer personasa. But, if you don't understand the priorities, values and problems your customers are dealing with, you'll never be able to communicate with them effectively.
Who Are Your Buyers?
If you're not sure who your buyer personas are, it's time to sit down and do some research. Take a look at your current client or customer list and ask yourself the following:
Who are our best customers?
Why do we love working with them?
What industries are they in?
What industries do we like working in?
What types of businesses are the most profitable/produce the most revenue for us?
If we could only market to businesses in one industry, which industry would we choose?
If that industry wasn't an option, what industry would we go after instead?
These questions should help you nail down which types of clients you should be building your buyer personas around.
Even if you feel like you have a pretty good sense for who your target personas are, it still may not be a bad idea to reassess things. Sometimes, industries that were once great for your business have become less interesting. Other times, you may not realize who your best clients are until you take a step back and look at the data.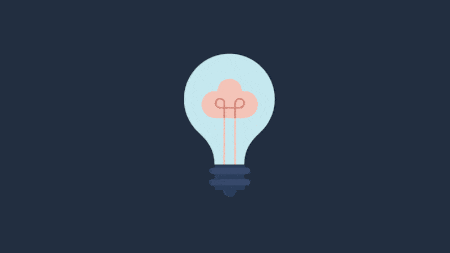 Once you know which types of clients you want to market to, get on the phone and call up your best customers. Try and get answers to the following:
Why did you pick our business? What made us stand out?
What problems does our business solve for you?
What were you doing before you started working with us?
Why do you love working with us?
Where/how do you like to learn about suppliers/vendors/partners/etc?
These questions will form the foundation of your buyer personas. They'll teach you the why motivating your persona and what you can do to appeal to that why. The more you invest in getting to know your customers, the better you'll understand their industry and how to market to other businesses like them.
Using Your Buyer Personas
When you only have one marketing strategy and message, it's hard to straddle multiple industries with competing priorities. However, once you understand the priorities and motivations of your different buyer personas, you can use that knowledge to create vertical-specific messaging and then target each persona separately.
In addition, certain personas respond better to certain marketing channels. Part of figuring out your personas is figuring out the right channels to use and how to target each persona within that channel.
For example, Bizible asked marketers in a variety of industries about which marketing channels they focused on. Here are the findings they reported for the manufacturing and healthcare industries: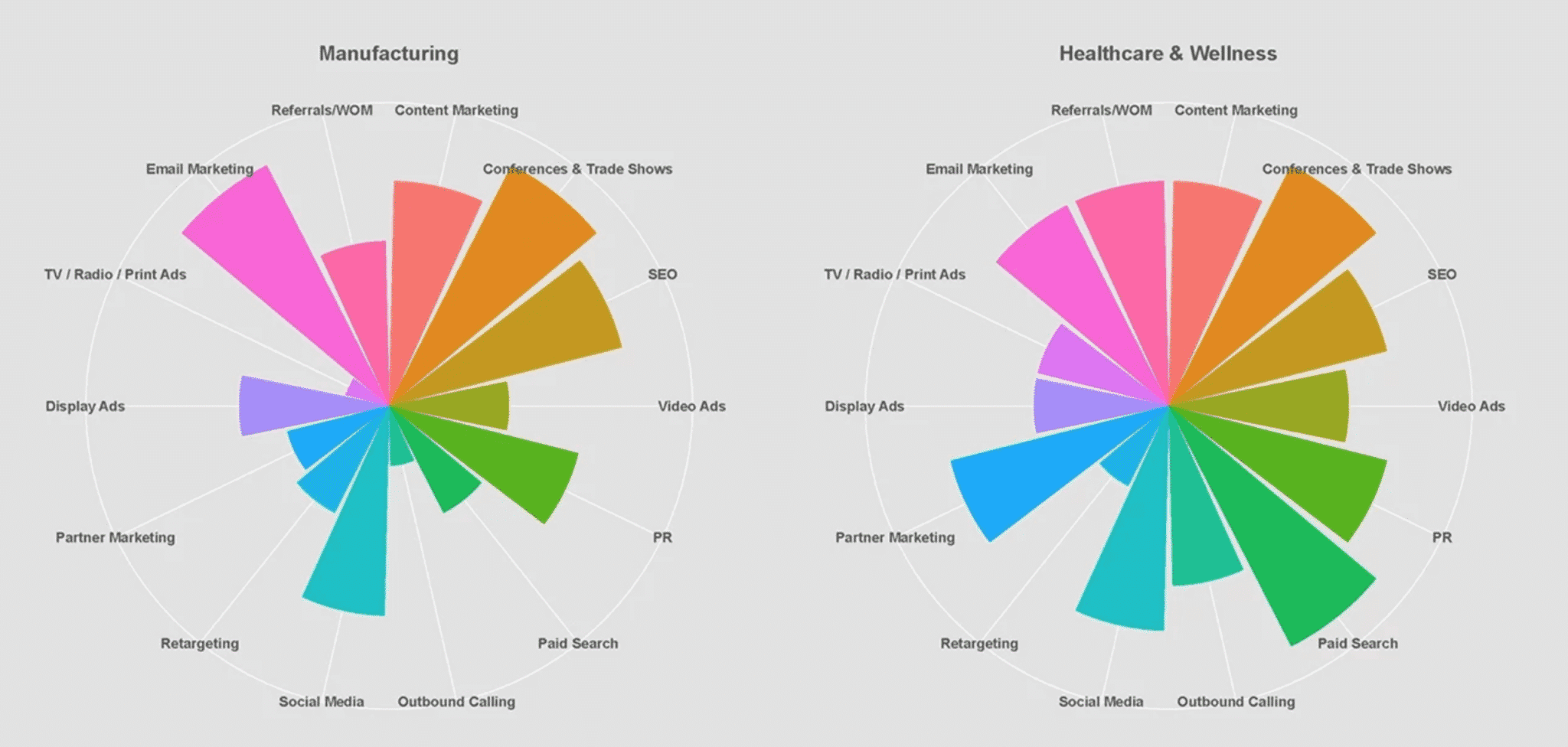 As you can see above, paid search is a huge marketing channel if you're targeting the Healthcare & Wellness sector. If you're targeting manufacturers, it may not be the best place to focus your efforts. However, email marketing is a great way to approach businesses in the Manufacturing space.
So, in the case of our hypothetical shipping company, here's how they might use this information for their home delivery pharmacy and industrial piping buyer personas:
Piping Pam

Primary marketing channels

Email marketing
Content marketing
Conferences and trade shows
Social media
Search engine optimization

Core messages

We're the most affordable way to ship heavy and bulky products
Sturdy packaging solutions for large and small deliveries
Reliable delivery times
Trusted by piping companies across the nation

Pharmacy Phil

Primary marketing channels

Paid search
Conferences and trade shows
Public relations
Content marketing
Partner marketing

Core messages

Guaranteed next-day delivery, nationwide!
Affordable insulated packaging options
Specialized delivery vehicles and drivers
Obviously, this is just the tip of the iceberg, but it should give you a good sense for the thinking behind a good B2B buyer persona. Each aspect of your persona and marketing strategy should be specific to the needs and preferences of your persona.
Conclusion
If you're a B2B marketer and you don't have well-developed buyer personas, it's time to take your game to the next level. Even if you already have some personas built out, hopefully this article has given you insights into how to expand, refine and use those personas.
The better you get to know your customers and the more time you put into your buyer personas, the more helpful they will be. It takes some work, but when it comes to B2B marketing, good buyer personas can be a game-changer.
By the way, if you'd like help putting together your personas (or help with your B2B marketing in general), let us know here or in the comments. We'd love to help!
How do you feel about your B2B buyer personas? Did you pick up any tips from this article that you're excited to implement? Leave your thoughts in the comments.