Finally, A Clear Guide to Setting Your Facebook Audience Targeting
by Mike Arce • October 22, 2015
Facebook advertising is a monster of a marketing investment. But, if you're reading this, you probably already know just how important Facebook is for business. So, whether you love it or hate it, if you're going to invest in Facebook advertising, you want to do it the right way.
Here's a clear breakdown of setting your Facebook audience targeting… a necessary evil that all marketers need to learn!
Audience Research
Before you set your audience targeting, you need to know who your audience is. There are two awesome ways to do that. The first is through Google Analytics. Under "Audience," research who visits your site the most based on demographics, interests, location, and more. For Loud Rumor, the majority of our visitors are females between 25-34 years old.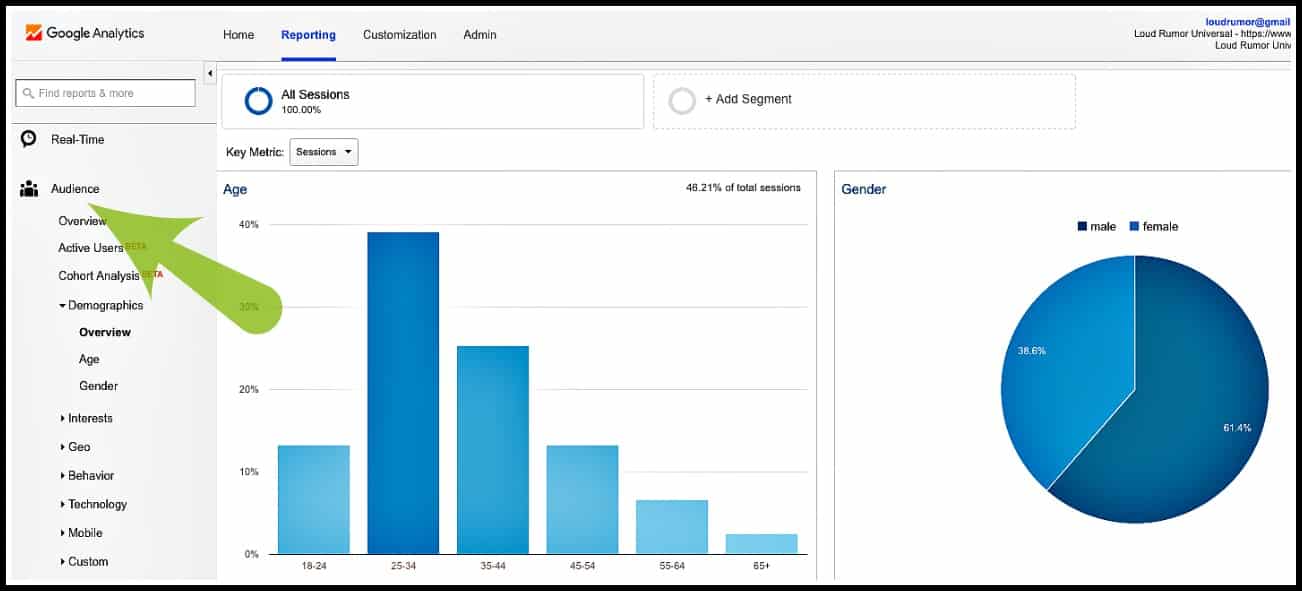 After you gather this information, look at your current customers. It's important to refer to people who have already invested in your services or products—they're the ones you want to continue to target!
This data may not necessarily match your Google Analytics data; but, chances are, there's quite a bit of overlap. Focus on that overlap. That's who you want to target with your Facebook ads.
Facebook Audience Targeting for Small Businesses
Small businesses in particular will want to focus on location targeting (we'll get to the other targeting options a little later). This one is really important, though, because if a local business doesn't set their specific target area, it'll probably eat up its budget advertising to people who will never be a quality lead.
So, if you're a dentist in Scottsdale and you forget to specify that zip code or area, your ads will target all of the United States. Whoa! That adds up quickly.
On the other hand, if you're a small business that serves a major city, target that city. If you service a suburb within a major city, target that suburb. You can do this with zip codes as well.
Then, from the location setting, you'll want to get a bit more specific…
Broad vs. Niche Targeting
Some businesses think they have to hit a certain audience size or range with their Facebook ads. That's not necessarily true.
You could have an audience size of 250,000 people and only get 50 people who convert. You could also have an audience size of 1,500 and get 900 people that convert. So, while the latter is a smaller audience, it sees better results.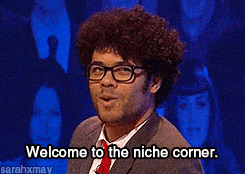 Now, if you use Facebook advertising for branding purposes rather than conversions and lead generation, you might want your audience to be very broad. That way, as many people as possible see your business' ads, logo, message, and so on. This would be a different end goal.
But, if your intent is to sell a product or service, you'll want to be niche and get in front of people who want to invest. Here you'd want to focus on higher conversions rather than higher reach for branding.
So, while your audience size is definitely relevant, what you want to focus on is targeting people who want what you provide. If you notice after time that your audience is too small or too big and you aren't getting the leads you anticipated…refine or broaden it! That's what's great about Facebook, you can test it on the fly.
Facebook Audience Targeting Options
Here is where you'll get into the nitty gritty of your Facebook audience targeting. You have 7 main options here. Within each of these 7 categories are other sections that allow you to get really granular:
1. Location
As mentioned earlier, this is probably one of the most important settings for small businesses. You can target your audience by city, state, zip code, country, and actual physical addresses. So, if you wanted to target a university, shopping center, etc., you could do that. From there, set a radius around your location.
You can also target people who only live in that specific location, which is great if you're someone like a dentist (versus people who are simply visiting that specific location). Or you can target "everyone in this location," which includes both residents and people passing by.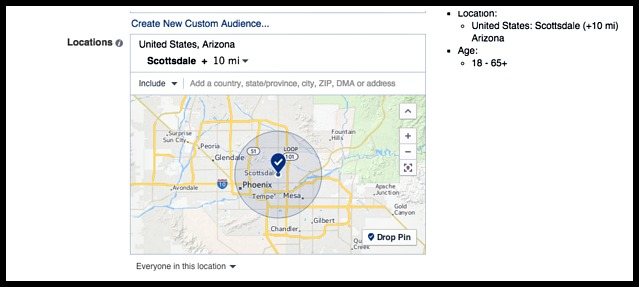 Age & Gender
This is where your Google Analytics/current client research comes in. Even though the majority of Loud Rumor's visitors are females, we actually target both men and women on Facebook because we work with many male business owners who are our clients. So, we want to attract both.
More Demographics
One of our favorite aspects of the "More Demographics" section is the life events. For example, if you're a jeweler, you can market your ads for wedding bands and rings to people who are recently engaged (that's a life event).
If you're a florist and Valentine's day is right around the corner, target people who are in a new relationship. They'll be the ones to see your floral ads and instantly think of their significant other and be more inclined to click. Other life events might include moving, a birthday and so on.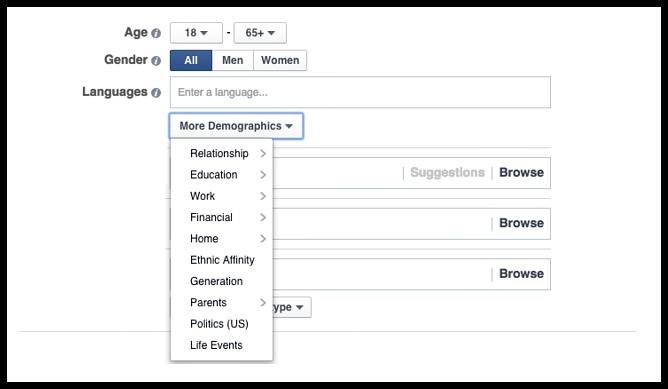 We also use this section to target income. One of our clients primarily works with people of high net worth, so this is where income is super beneficial. We know that their Facebook ads will only be seen by people who make a certain income and this allows us to get better quality leads.
Interests
When someone "likes" a page, Facebook counts this as an interest. So if someone likes the Jillian Michaels or P90X page, this is categorized under a "fitness" interest. And, if you're a small gym or other workout/health business, this is super helpful.
You can specifically target people who like Jillian Michaels or pages similar to "fitness." Facebook compiles this information based on what your audience likes. Also, if you type in a page like P90X, you can click on "suggestions" and Facebook provides a whole list of pages similar to P90X that these same people have also liked. It's awesome.

Behaviors
You can do a lot with behaviors like (for example, target people in specific job roles, etc). One thing we use a lot, though, is "purchase behavior." This allows you to get really specific with your audience based on what they buy and invest in.
So, if you're a chocolate company, you can target people who buy sweets and candies. Or, if you're a carpet cleaning company, you can target pet owners by listing people who buy pet food. The list goes on.
Facebook knows people's purchase behavior because they gather information from third party sites like Acxiom who collect data from multiple companies.
Connections
This targeting option is good to advertise directly to people you're already connected with: people who have liked your Facebook page. But, then you can take it a step further and advertise to people who are friends with people who like your Facebook page.
So for those who like the Jillian Michaels page, your ads can hit their friends as well. Chances are that fitness-minded people like to connect with other fitness-minded people like their friendly workout partners…
You can also reverse this and prevent your ads from showing to people you're already connected with (this is good if you only want to target new customers). That being said, you can use the connections setting to your benefit in a few different ways.
Custom Audiences
You can do a couple things here. The first is create an audience based on a customer list. If you have a newsletter that requires an email opt-in, you can upload that list as an Excel document into Facebook and target those specific people.
Or, if you want to target your current clients, you can specify that with their information as well. This is great if you've added a new service that you want your customers to upgrade to.
Second, you can build a custom audience with retargeting. Simply install the Facebook pixel on your website or specific landing page so that whenever someone visits and eventually leaves, they'll be tagged and see your ads on Facebook.
This is great because you know they're already interested in your services or product since they visited your business online. Now you can follow up by getting your ads in front of them on Facebook.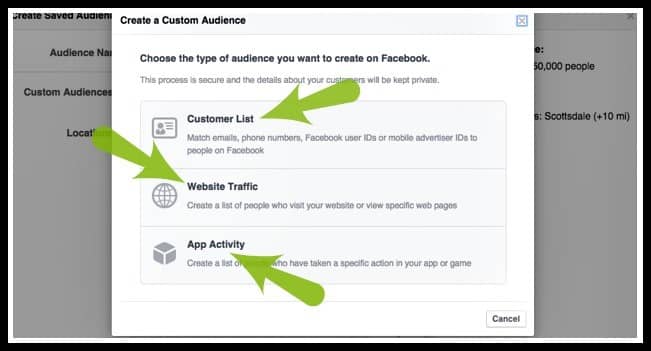 Conclusion
There's a ton that goes into Facebook audience targeting. Since this is probably one of the most important parts of your advertising efforts, you want your ads to get seen by the people that matter most to your business and are most likely to invest. Your audience settings determine who that is.
If you have any questions on what audience targeting is best for your small business, comment below! Whether this is your first campaign or your fifth, you want to make sure your ads are seen by your ideal client. We can help you figure that out.