Think Outside the Box: How to Use Guerrilla Marketing to Connect with Your Target Audience
by Ana Gotter • August 7, 2018
There are a few standard go-to marketing best practices that most businesses use fairly successfully. Content marketing. PPC campaigns. Social media. These channels are all exceptionally valuable and—while you can get creative with the details—they're all pretty straightforward and sometimes even scientific to execute.
Guerilla marketing, on the other hand, is a bit of a different story.
Guerrilla marketing doesn't necessarily happen online, and it doesn't rely on people coming to you in one way or another. Instead, it's a sometimes aggressive and relatively organic form of outbound marketing that places you and your brand where your target audience is most likely to be.
More importantly, guerilla marketing positions your brand to engage with your audience in a way they'll likely be receptive to. It requires outside-the-box thinking and—when executed correctly—it will help you brand stand out in the best possible way.
Curious about how this could work for your business? In this post, we're going to go over everything you need to know about guerrilla marketing and look at examples of past successful campaigns for inspiration.
What Exactly is Guerrilla Marketing?
Guerrilla marketing originates from the term "guerrilla warfare," which utilizes the knowledge of the landscape, the enemy, and the element of surprise to create surprise attacks on enemy combatants. The idea behind its marketing counterpart is to use your knowledge of your audience and how they interact with a space (which can be digital or online) in order to connect them with your brand or products.
Basic methods of guerrilla warfare include:
Setting up artwork or statues in high-traffic areas on the street to promote something
Starting rumors or word-of-mouth marketing campaigns around a brand or product (think the pre-release of the Blair Witch project)
Using digital spaces like online forums or social media to create huge buzz and interaction quickly
Leveraging big events like conferences, concerts, or sporting events to promote a product, with our without the event's permission
Want an example? Chief executive of Pinterest Ben Silbermann wanted to get the word out about his new content-saving site when it first launched, so he'd go to the Apple stores in his area and set Pinterest as the home website on all of the trial computers. When people were using the new computers, they inevitably would discover Pinterest, helping to get the word out.
This was creative, and it clearly worked to help promote the site, which is now an enormous success and marketing powerhouse.
Benefits of Guerrilla Marketing to Consider
Guerilla marketing has several distinct benefits.
It will help you stand out. Because guerrilla marketing typically involves thinking outside the box, it means that you're likely doing something that no one else is. This will help you get that attention that you want, making the campaigns more effective.
It can be effective in connecting you with your target audience. If you know where they are and what they want, this is your chance to use that to your advantage. Since there's a good chance that there will be fewer competitors in this space, that will help, too.
It's often affordable. This depends on your specific strategy, of course, but many guerrilla marketing campaigns are often relatively affordable, especially when compared with potentially staggering costs other other types of marketing campaigns. That Pinterest move, for example? Totally free minus the transportation costs to get there.
What About the Risks?
There's no doubt that guerrilla marketing can be incredibly effective, but it's important to note that there are some risks associated with it.
Trying to leverage other events or symbols for your marketing campaigns can go wrong, because you might offend someone or be escorted away from the venue. On an exceptionally small scale, a lot of women have had that friend they stop inviting to parties, because they just spend the night trying to recruit people for a sort-of-pyramid-scheme-company they work for like Mary Kay or sell to them, annoying everyone there. This does kind of count as guerrilla marketing, but not effective guerrilla marketing.
There's always the risk that something could be misinterpreted, too, which may or may not backfire. In 2007, Cartoon Network ran a guerrilla campaign to promote their show Aqua Teen Hunger Force. The put up 40 LED signs that featured small alien characters from the show ("Mooninites"), and distributed them throughout town.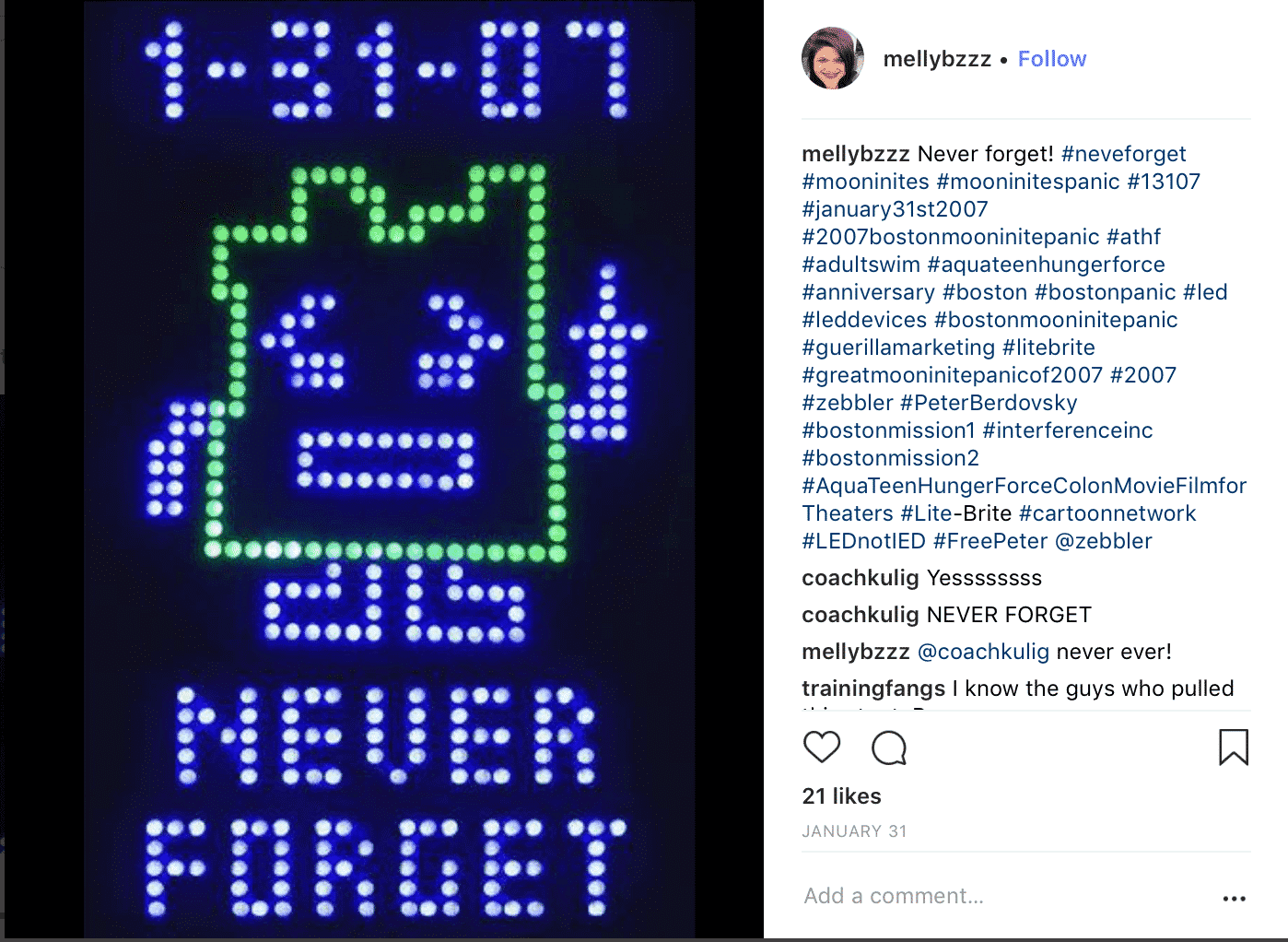 People weren't sure what they were. Some thought they may have been dangerous explosives. Officials were called in, and within two hours, detonated the "hoax device." While it was all sorted out in the end, and the Cartoon Network did get a ton of publicity out of it, they probably would have preferred that their signs were not detonated by the Boston Police Department, who was just trying to do their jobs.
There was also a stunt from Vodafone in 2002 that backfired even more. Two streakers wearing nothing but the Vodfone symbol painted on their backs ran through a huge match in their competitor's Telstra Stadium.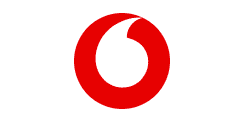 They got a lot of buzz, but even more backlash, so while they got the hype they wanted it didn't turn out how they expected.
Examples of Guerrilla Marketing to Be Inspired By
Guerilla marketing is a relatively abstract concept, so now that we've gone over the risks and rewards, let's take a look at a few more businesses who have implemented these campaigns with great success. While doing an exact repeat likely wouldn't be effective, you can adapt the strategies they use to run similar campaigns for yourself.
GoldToe's Statue Marketing
GoldToe is an underwear company and when they wanted to promote a new line of products, they got creative. They put their underwear on different golden statues throughout New York, including a massive pair of briefs on the famous charging bull statue. The best part? They did this during New York fashion week.
People were lining up to take pictures with it,and it definitely got the attention the company wanted.
Foursquare's Squares
Instead of having a conventional booth like most other businesses at a big convention in 2010, Foursquare literally drew "four square" games with chalk onto the ground. With just that chalk and two rubber balls, they were actually able to get thousands of people walking up to them to play the game. While people were waiting for their turn to play, the representatives showed them how to find the app on their phone and handed out t-shirts, stickers, and more.
IKEA's Parisian Subway Furniture
IKEA wanted to prove the durability of their furniture, so what better way to do that than to place it for public use in a subway station? They set out sofas, arm chairs, and lamps in different locations, all in front of a big backdrop of a bookshelf and an IKEA logo.
The items all had tags with more information on them. It was an undeniable way to capture attention for their affordable but durable furniture.
IKEA has pretty great marketing overall, and has run several guerrilla campaigns in the past. You can learn more about that here.
Tinder's Party Strategy
Ahh, online dating. We can learn so much about marketing from online dating, including, apparently, guerrilla marketing. Swipe-to-like dating app Tinder's early marketing strategy revolved around connecting with their target audience of college students the best way they knew how: the parties.
Tinder invited attractive friends to download the app, and then would attend huge college parties and show the app to a few people there, acting as if they used it. This is a controversial strategy because it relies on a bit of dishonesty, but there's no denying that it was effective.
Conclusion
Guerrilla marketing can be more difficult to implement than other go-to marketing strategies, but that's because it requires a different type of creativity. By using your knowledge of your audience and where they're likely to be—either online or offline—you can create your own guerrilla strategy that will help set you apart from the competition.
Just remember to look at the campaign from all angles. Evaluate it for potential risks alongside potential benefits and you'll be able to protect yourself while promoting your business in creative ways that are sure to help you stand out.
What do you think? What's your favorite example of guerrilla marketing? Have you ever used a campaign like this for your business? Share your thoughts, experiences, and questions in the comments below!