Marketing Home Services Businesses During a Quarantine
by Aden Andrus • April 16, 2020
If you're like most home services businesses, COVID-19 has had a huge impact on your company. This novel coronavirus has swept the world, and between lockdowns and the economic downturn, it's a tricky time for everyone.
However, there is good news.
Unlike many customer-facing businesses like restaurants or gyms, there are still opportunities for home services businesses to thrive. People are spending more time than ever at home, and projects they've been putting off are having a huge effect on their daily lives.
Whether you're in plumbing/HVAC, roofing, home remodeling, garage door repair, lawncare or some other home services specialty, one thing is for certain: there's still demand for what you do.
Just because the country is on lockdown, that doesn't change the fact that things break, grow or need an update. Your services are still needed—you just have to figure out how to find and land those opportunities.
And this is where things get challenging. As COVID-19 has shut down the world, many of your projects may have shut down too. You have time, people have needs…and you don't know how to connect the two.
Well, we're here to help. In this article, we're going to take a look at how COVID-19 is affecting home services businesses and how you can adapt to make the most of this difficult situation. Let's get started.
How COVID-19 is Affecting Home Services Businesses
This global pandemic poses two main problems for home services businesses.
The first problem is the fact that your potential clients may be practicing social distancing. Inviting a stranger who may or may not have the coronavirus into your home may be very stressful for them, so even if they have a need, they may not be willing to reach out.
The second problem is the fact that COVID-19 has hit the economy. Hard. With millions of people already out of work and millions more at risk of losing their job or having their hours cut back, people may not be particularly eager to shell out hundreds-to-thousands of dollars for a home services project.
Especially, when they might need that money for, you know, food in a few weeks?
On the flip side of all that, however, is the fact that people are stuck at home. They're feeling the heat (quite literally in some cases) of those unresolved problems around the house and they feel more motivated than ever to get things fixed.
While the two problems we just discussed are very real and are having a real effect on your business, there are still countless opportunities out there for home services businesses. You might not land as many big, expensive jobs as you'd like, but then again, many people with stable jobs are using the quarantine to take care of major home improvement projects.
The real question isn't whether or not there's work for your business. The question is whether or not you'll be the business they call.
Migrating Online
If your business has been primarily dependent on word-of-mouth referrals or big projects with contractors, you may not have invested a whole lot of time or effort into online marketing.
Even if you have been running online marketing for a while, this pandemic has changed how your potential customers act online. It's time to rethink your marketing strategy and adapt.
If you don't, you can bet that your competitors will.
Home services businesses that successfully adapt to this current situation are the ones that will come out of this crisis stronger than ever. To make sure that your business is one of the lucky ones, you'll want to consider the following.
Optimize Your Google My Business Profile
Google My Business (GMB) is a great, free way to get in front of potential customers in your community.
When someone searches online for a service you provide, Google will show your business as a fit for their search. If they click on your business, they'll be able to see all kinds of information about your business and even visit your website to request your services.
If you haven't set up or claimed your GMB profile, click here to get started.

In a lot of ways, your GMB profile is just like the sort of directory listing you might put in the yellow pages. However, there is one key difference: unlike a directory listing, your GMB profile needs to be optimized for views, clicks and search.
Here are a few tips to help you out:
Use keywords in your business profile and description. This will help Google and your potential customers understand what your business does. The clearer and more descriptive you are, the more effective your profile will be. So, if you do rush installations or emergency repair, be sure to mention that.
Upload images. Pictures sell, especially when people are trying to decide whether or not they should invite you inter their home. As an added plus, many home services businesses don't take the time to add pictures to their GMB profile, so good pictures will help you stand out more.
List your business hours and contact information. You want people to get in contact with you, so make it easy for them to reach out. Just make sure that you make it clear when you're available and have someone ready to answer the phone during those times. If you don't answer, they'll take their business elsewhere.
Putting together your GMB profile is fairly straightforward, but you'd be surprised at how many home services businesses we've worked with that were missing this vital part of their online marketing strategy.
Collect Reviews
When someone sees your business online, they don't really know much about you. They can see what you have to say about yourself, but can they really believe what you're saying?
You're getting paid to say good things about yourself, after all.
This is part of the reason why so many home services businesses are dependent on word-of-mouth. People might not believe what you say about yourself, but if someone else has good things to say about you, you must be good at what you do.
This is why collecting reviews is so important. Reviews are like word-of-mouth referrals, except they're online for the world to see.
The good news is, your GMB profile makes it easy to collect customer reviews online. Best of all, those reviews will show up right under your business's name on Google—giving people even more reason to trust your business.

Customer reviews can make or break your business, so it's well worth your while to call up some of your best customers and have them write you a rave review. Then, every time you're on a new job and make a good impression, send a follow-up email or text with a link to your GMB profile. Ask them to leave you a five-star review and you'll quickly build up a compelling set of reviews.
Get PPC Campaigns Up and Running
In addition to setting up your GMB profile and asking for reviews, you'll also want to start running paid search ads on Google. Remember, your potential customers will be searching for solutions to their problems online—you want to be the first option they see.
While your GMB profile is great, many people won't scroll past the ads at the top of the search engine results page. No matter how good your profile or reviews are, if people don't see it, they won't click or call.
This is why Google Ads campaigns are so important. You need to be in both places. That way, you don't lose out on any potential customers—no matter where they go to find help.
As you put together your Google Ads campaigns, you'll want to make sure that your ad content is focused on the kinds of high-intent customers who are most likely to click on your ads. These customers are usually feeling an urgent need, so make sure that you are targeting the right keywords with the right ad copy.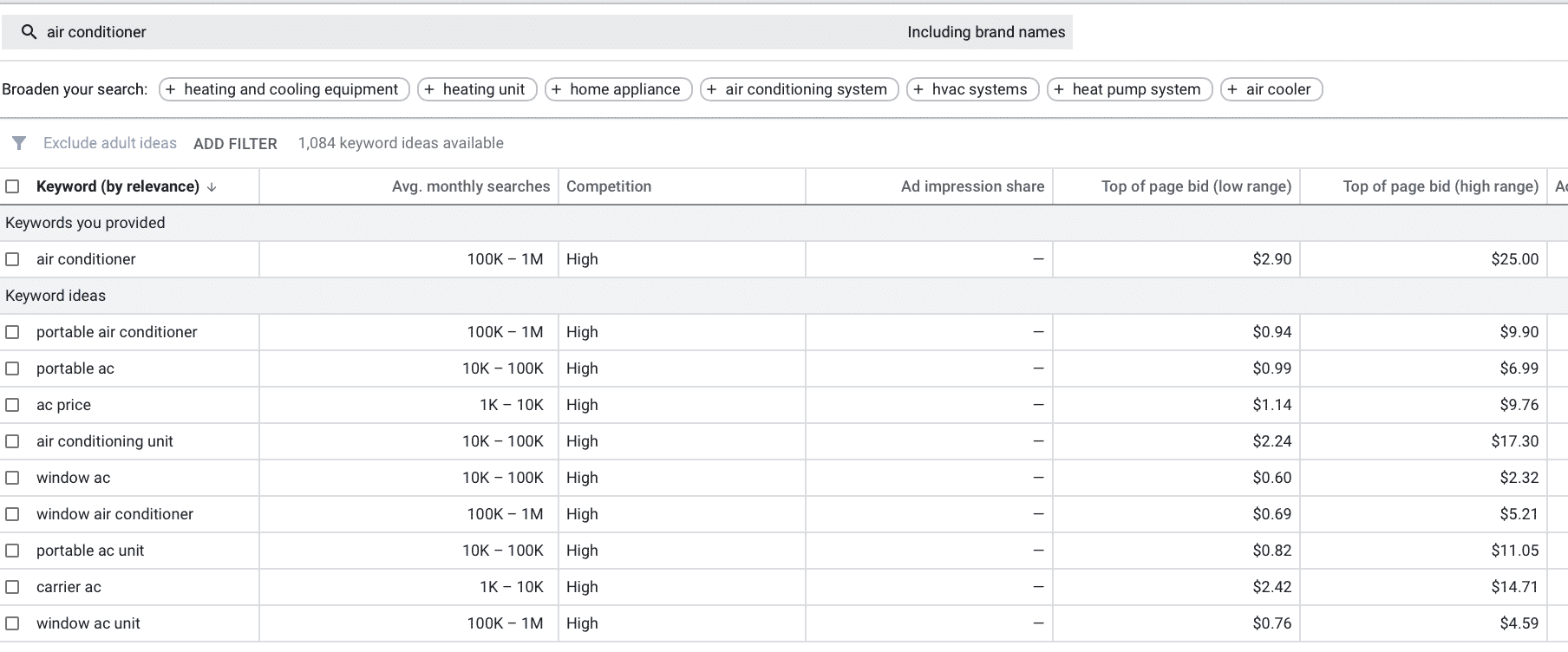 In addition, you'll want to create different campaigns that use different ad groups to target different services or needs. For example, if you're advertising plumbing or HVAC repair, you might create a campaign that focuses on "fast" or "emergency" services and another that focuses on "affordable" or "reliable" installations.

In each of these campaigns, you would then target keywords that you believe your potential customers would use when they were looking for that sort of service. The ad copy would also be specific to that intent.
By approaching things this way, you can ensure that your ads are both relevant and compelling. Your potential customers will search online for a solution, see an ad that is specific to their needs and goals, click it and end up on a landing page that matches the messaging of the ad.
If you really want to do things right, though, why not let us take a look at your business and campaigns and give you some free, personalized recommendations? To let us know that you're interested, just click here.
Conclusion
Whether you've been marketing online for a while or this is all new territory for your business, digital marketing has become the key to running your home services business right now. It's the best, easiest way to get the leads you need to survive the Corona-pocalypse.
If all of this feels a bit overwhelming, don't worry, we're here to help. The Disruptive Blog is full of great recommendations for home services businesses. Or, if you'd like more personalized help, just reach out to us here or in the comments!
How has COVID-19 changed your marketing strategy? What's working for you? Where are you struggling? Leave your thoughts in the comments.