How to Set Up and Run Successful Instagram Video Ads
by Cydney Hatch • February 5, 2018
Let's be honest, we all scroll through hours and streams of Instagram content daily. With 500 million daily users, Instagram video ads are a great way to get in front of potential customers.
In this article, we are going to talk about how to harness the power of Instagram and how Instagram video ads can help you bring in additional business.
Why Instagram Video Ads?
On average "users under 25 spend "more than 32 minutes a day on Instagram." Even users who are 25 and over spend an average of 24+ minutes a day on the app!
In other words, everyone uses Instagram, which means there is a big marketing opportunity for you and your business.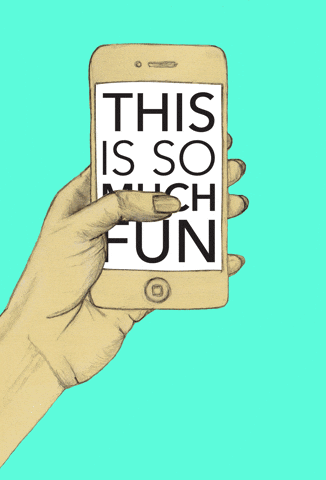 Visuals, particularly videos, are the key to marketing success in today's world. In fact, 25% of Instagram's advertisements are now in video format with a click through rate of 1.84% (and that number is on the rise).
Since Instagram is the ideal platform for visual content, it's a no brainer that running Instagram video ads will help drive new traffic, conversions and followings to your business.
Making the Most of Your Instagram Video Ads
Here are 7 Instagram video ad essentials for you to consider as you create video campaigns:
1. Be Clear with Messaging and Goals
Every good Instagram video ad starts with a plan. When you pick goals you are strategically thinking about the questions and answers you need to solve to create the best content.
Understanding your goals helps you create video for what you are trying to accomplish rather than getting frustrated by videos not driving results.
Before you set up your Instagram video ads, ask yourself the following:
Am I trying to build brand awareness?
Am I looking to build more website traffic?
Do I want more conversions?
Do I want more content downloads?
Knowing what those goals are can change what kind of video you are creating.
For example, a study by Instagram found that 60 percent of Instagram users say that they learn about products and services through Instagram, and 75 percent say that they take actions such as visiting sites, searching, or sharing their likes with friends by word of mouth.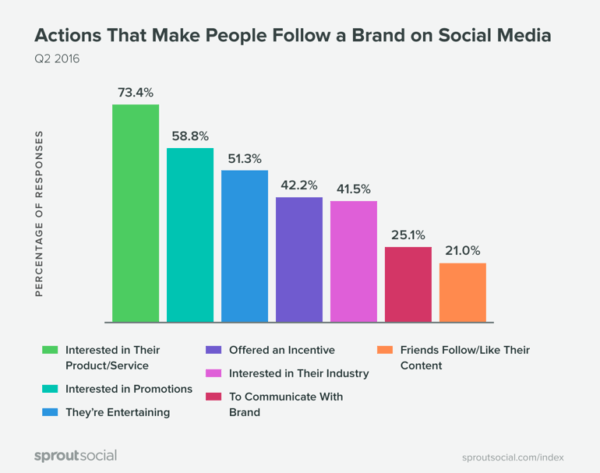 Depending on what your goals are, you might want to make videos that promote a specific product with a specific call to action so viewers will share with their friends. Alternatively, if you are trying to boost brand awareness you might want to focus on creating content that informs.
Be strategic in what action you want potential clients to make. The traffic is there, you just need to direct it.
2. Create Pizzaz for Short Attention Spans
The average attention span for a goldfish is nine seconds, but according to a new study from Microsoft Corp., "people now generally lose concentration after eight seconds, highlighting the affects of an increasingly digitized lifestyle on the brain."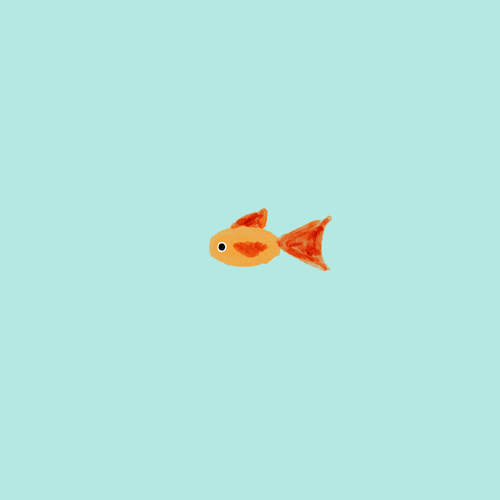 So, if your ad cannot hold the attention of the everyday goldfish, how long do you think potential customers will spend watching it?
Humans need visual hooks! You need to snag a viewers attention within the first three seconds of the video to keep them engaged. Make sure you have a "punchy" approach to messaging!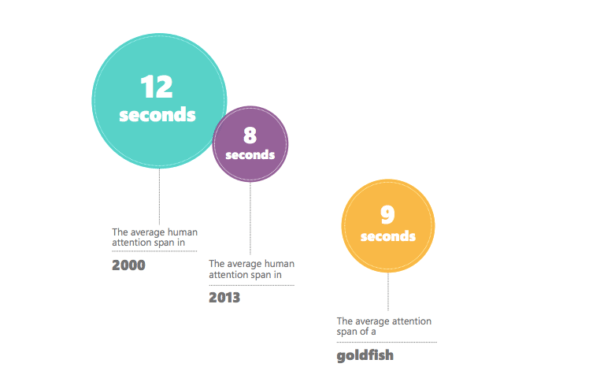 For example, Airbnb launched their "Live There" campaign that encourages people to not just stay at the Airbnb locations but to "live" there. The campaign includes video snippets focusing on popular cities.
https://www.youtube.com/watch?v=RDQCQBialcM
This ad does a great job of catching your eye for a few reasons:
Engaging and beautiful short scenes of a well known and coveted city location
Visual experience people to want to engage in
Portrays simple company messaging that did not overshadow the visuals
Similarly, as you create your Instagram video ads (or consider the ads your video team has created for you), pay attention to how your video grabs your audience's attention. That hook will tell you a lot about how to market your video (and who will respond well to it!).
3. Balance Quality Content and Creativity
Visuals are great for catching attention but Instagram is full of stellar visual content. If you want people to actually do something you also need to create meaningful content.
Meaningful content is eye-catching, but it's eye-catching with a purpose.
Going back to the Airbnb example, they have incredible visuals paired with concise content. They beautifully portray the business in a creative way that does not take away the viewer experience of travel. Instead of directly saying what their company does—asking people to stay at in-home locations globally—they instead state:
Why have a cookie cutter travel experience when you can live like a local?
Once the visuals have grabbed your attention, Airbnb's message turns that attention towards their ultimate goal: getting you to use their service to find an ideal, local place to stay abroad.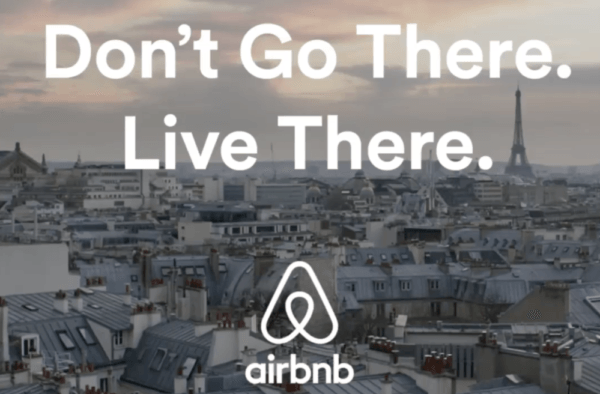 In my opinion, Airbnb clearly gets the principle of creating visuals with a purpose.
4. Write Thoughtful Captions
In today's world, the less you have to read, the better! Instagram is no exception. If anything, it's a place where people want to read even less, making video the perfect advertising solution!
However, while people don't like to read, they also don't usually listen to videos on their phones. The solution? Make sure your descriptions are short, precise and engaging!
For example, check out this ad by Apple: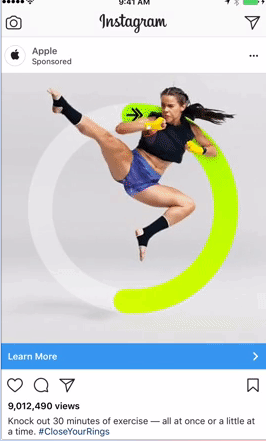 With this video Apple creates a snazzy video with neon colors, slow-motion video but more importantly they created a caption that sends a clear message to the viewer: If you have this watch, you can track your workout and gauge it for best results!
5. Include a Call to Action
Organic Instagram posts do not include clickable "call to action buttons" (CTA)…but paid video ads do! The different CTAs available include: Shop Now, Book Now, Learn More, Sign Up, Download, Watch Now, Contact Us and Apply Now.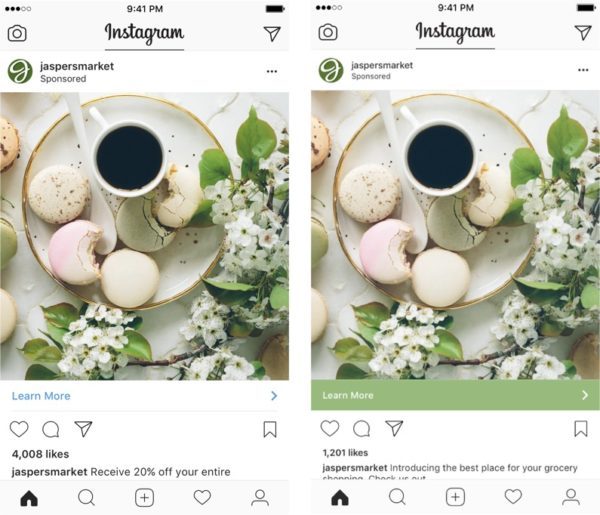 Now, if you are like everyone else on Instagram, you have a website link in your bio section where you hope people will click and visit your website. But let's be honest, this is not an effective way to direct traffic to your site.
Why?
Well, no one clicks on those as it's just too much work for the viewer. So, unless they really care about the service or product, the bio link most likely will not work. You might be lucky to get a dozen clicks a month with 5,000 followers.
With an Instagram video ad, however, you have a call to action button slapped right on the video making it easy for the viewer to click and act. No more profile visiting, you can get clients directly to the website pages you want them on!
6. Create Consistency: Instagram and Beyond
From seeing your Instagram video ad to clicking your call to action button, viewers expect consistency. They should see the same messaging, branding and visuals on all of your platforms.
There's nothing that hurts business action more than a bad landing page. You can have the best ad in the world resulting in  getting engagement and clicks but if your landing page doesn't create the same experience, potential customers will close the page.
YIKES!
Make sure you are not only consistent with your branding and messaging but also your site is mobile friendly. This is 2018!
7. Have Fun with Engagement
Like any social media account, engage with comments! Be a tangible company that cares about the opinions, thoughts and comments of the potential client! Many say that customers are the best way to learn about a company, so make the most of the platform and the communication you can have directly.
Making those efforts might even win people over because you made the extra effort to care and engage.
Conclusion
Instagram video ads have become one of the best ways to grow your business because it has the user traffic consistently hungry for  content but it also helps you directly market to your potential clients in a direct, concise and engaging way.
By harnessing the power of this platform your Instagram video ads should be a "reel-y" great addition to your online marketing strategy.
Incidentally, if you'd like some help putting together a good Instagram video ad campaign, let me know here or in the comments. I'd love to help!
Do you have a favorite Instagram video ad? How do you feel it performs compared to others in its industry and why? Let us know in the comments!