5 Marketing Tools to Try in 2018
Whether you are a blogger who markets their own personal brand or a professional marketer, to be successful you need to find the right marketing tools. I am referring to the marketing tools that make your life easier, the tools that enable you to be more effective and help you do as much as you can in as little time as possible.
A professional chef uses only the best knives money can buy. This isn't a form of arrogance but a carefully weighed decision. In order to do your best, you need to find or acquire the best tools for that job and at the same time, the tools that best suit your needs and working style.
What apps can you use as a marketer? Well, as I have already mentioned above, it depends on your working style and of course, on what type of work you are performing. Today, I am going to present you with some of the best marketing tools you can work with in 2018. It's up to you to choose one, two or even all of them.
Ubersuggest
I came across Ubersuggest recently and got impressed really fast by how easy is to work with this simple yet powerful app.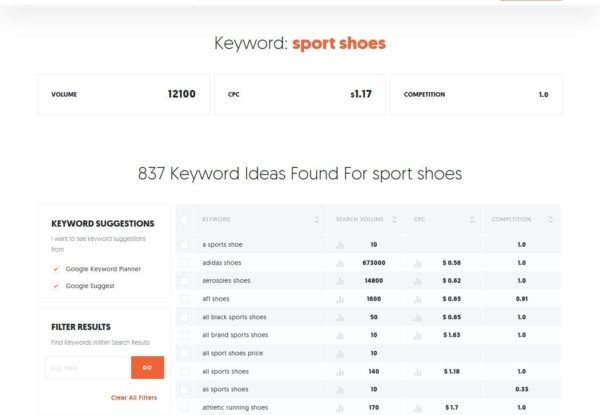 What is Ubersuggest? Ubersuggest is a keyword research tool at its core, but it is in many ways better than any other similar tool I have worked with. To make things even better, it's free.
Using Ubersuggest
First, you have to access the web page. This is a web-based tool so, you won't need to install anything. Moreover, you don't need to create a user on the website, you don't need to log in or pay for anything in order to use the services.
You'll notice the search form available in the header section of the page you have just accessed. From there, you can insert your desired keywords, choose your target language and the type of content you are going to search through.
The results will appear instantly and the web page will look similar to the screenshot above. Unlike the Google Keyword Planner, Ubersuggest gives you an exact keyword count instead of a range of keywords, like Google Keyword Planner does. This is a huge perk and one of the many reasons you should give Ubersuggest a try.
Buzzsumo
If you want to create a fruitful marketing strategy, there's one app you cannot ignore. It's called Buzzsumo and it will make your life easier almost instantly.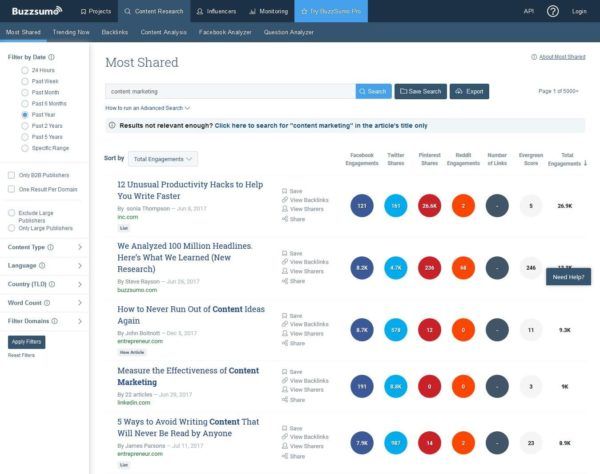 What's it all about? Buzzsumo is a great tool for finding the right influencers that can help you grow your business and increase awareness of your brand. It's also great for studying the social media trends and your competition.
With Buzzsumo, you can find out what your competitors are sharing, what topics they rank best for and so on.
Using Buzzsumo
This is a premium app, so you will need to select the plan that best suits your needs. But, you get a free 7 days trial, so I suggest trying it before signing up for a paid version.
The app is web-based and accessible from any browser which makes it great even for those who are always moving from one device to another. The interface is also easy to understand and work with.
You have to choose the type of research you want to do and the type of content you are researching. For instance, you can perform a search based on trends, on content analysis, backlinks or social media analysis.
Socialbakers
Socialbakers is one of the best social media marketing suites. It includes several must-have apps for measuring your social media success and to improve your marketing campaigns.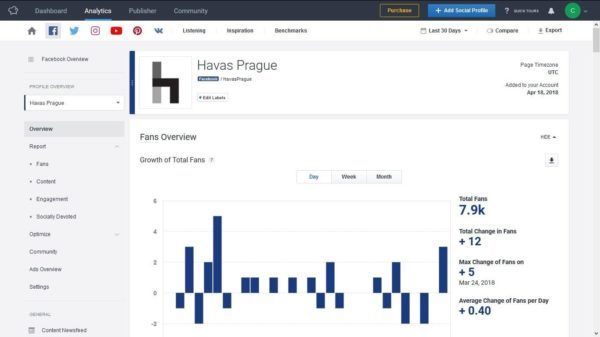 Like Buzzsumo, this app is also a premium tool and therefore, you will have to pay for your subscription. There's a free trial available if you want to get to know Socialbakers better before investing in it.
Using Socialbakers
First, you need to sign up for the service. Choose the free trial option if you want just to check with the app at first. Then, go to your dashboard and connect your social media accounts.
Socialbakers works with Facebook, Twitter, Instagram, Pinterest, and Google+. Once an account is set up, you will get instant access to all the data you need in order to analyze your performance and improve your marketing strategies.
Flipsnack
You need the right marketing tools to research the audience, the keywords, the trends and so on. You also need the right tools to monitor your social media exposure as well and keep track of everything that happens online, related to your industry.
However, all your efforts may prove to be irrelevant if you don't have the valuable content you should share with the audience. Therefore, it's better to focus on the creative aspect of your marketing strategy first.
Flipsnack is the best tool you can get for creating flip books and digital HTML5 magazines. It can turn your PDF files into engaging flip books in just a few minutes and with minimal effort.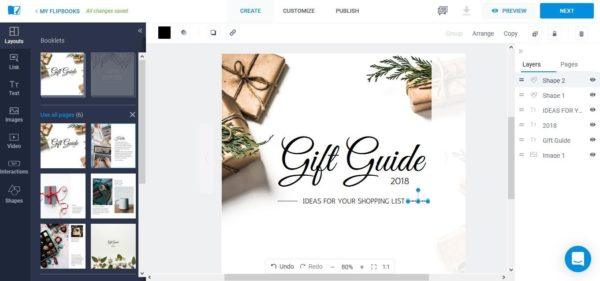 Using Flipsnack
First, you need to sign up with Flipsnack. You can choose a premium account or, you can just go on with the free membership and try the app first.
Once you log in, you get two choices: you can either upload a PDF to transform it into a flip book or, you can choose to create one from scratch.
If you choose to create your flip book, you get access to an easy to understand and work with design panel. From there, you can work based on templates or, by uploading your own images, layer by layer.
HubSpot CRM
If you need a Customer Relationship Management tool, you should first look into HubSpot CRM. They may have exactly what you need and the best part is that their CRM app is absolutely free.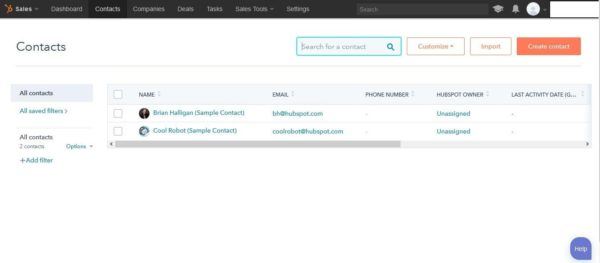 Hubspot CRM allows you to effectively automate tasks that are usually performed by the sales teams. Also, as a marketer, you get instant access to all data required for your present and future strategies for up to 1 million contacts.
Using HubSpot CRM
First, you need to create an account on the app's web page. Afterward, you will get instant access to your dashboard, where you can add your contacts based on several parameters.
For each contact, you can add personal data such as email address, phone number etc based on specific criteria. Also, you can create multiple columns, similar to an Excel spreadsheet and add more info based on actual relevant data, if you do not want to work with the existing presets.
Buzznami
Buzznami is a free, web based content marketing analyzer which allows you to evaluate your current blogging efforts based on content quality and social awareness.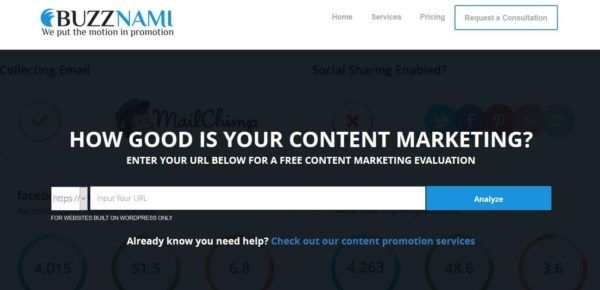 As I have already mentioned before, this is a free analyzer and can be accessed from www.buzznami.com without signing up.
Using Buzznami
All you have to do is access the website described above and insert your blog address in the form provided. The next step is to provide a business email and wait for the results to be delivered to you. It's that simple!
Conclusion
If you want to be successful as a marketer, you need to find the best marketing tools to work with. Also, you need to find the marketing tools that are right for you, the one that will ease your work and help you save time.
In this article, we discussed 5 of the most powerful marketing apps you can use in 2018. They are all web-based applications, easy to access from anywhere, easy to understand and work with. What more could you ask for?
What do you think about these picks? Which of these marketing tools have you tried?
Leave a comment