Niche Marketing: The Secret to Standing Out In Competitive Fields
When you're first creating your business, it's easy to think that your product or service could help everyone. Everyone needs a marketing agency, after all, or a television, or a plumber at some point in their lives. And your product or service will be the best one out there!
But then you realize that maybe commercial plumbing pays better than residential, or vice versa. Or that only certain tech-savvy people are interested in that ultra 4K giant flat screen TV, while most of your current customers can't see the different and don't want to shell out an extra $400. Maybe your marketing services are too expensive for some businesses, or you don't have the bandwidth to scale campaigns up to several thousand dollars a week the way that larger companies.
It's also possible that you run a business that has all of these different audience segments as customers, but that you need to market to them in different ways. Someone dropping several grand a week on marketing won't need an "affordable" agency like a small business would and a small business may only feel intimidated if you talk about that kind of ad spend.
Different groups of people—even within your audience—will respond differently to different messages and marketing content as a result. Niche marketing is the solution and in this post, we'll show you how to use it to better connect with all of your audience… just not at once.
What Is Niche Marketing?
Niche marketing is the process of marketing to specific niches. You can either focus your entire brand on a single niche. Freshbooks, for example, competes with other big-name invoicing softwares by branding themselves as being for "small businesses and freelancers."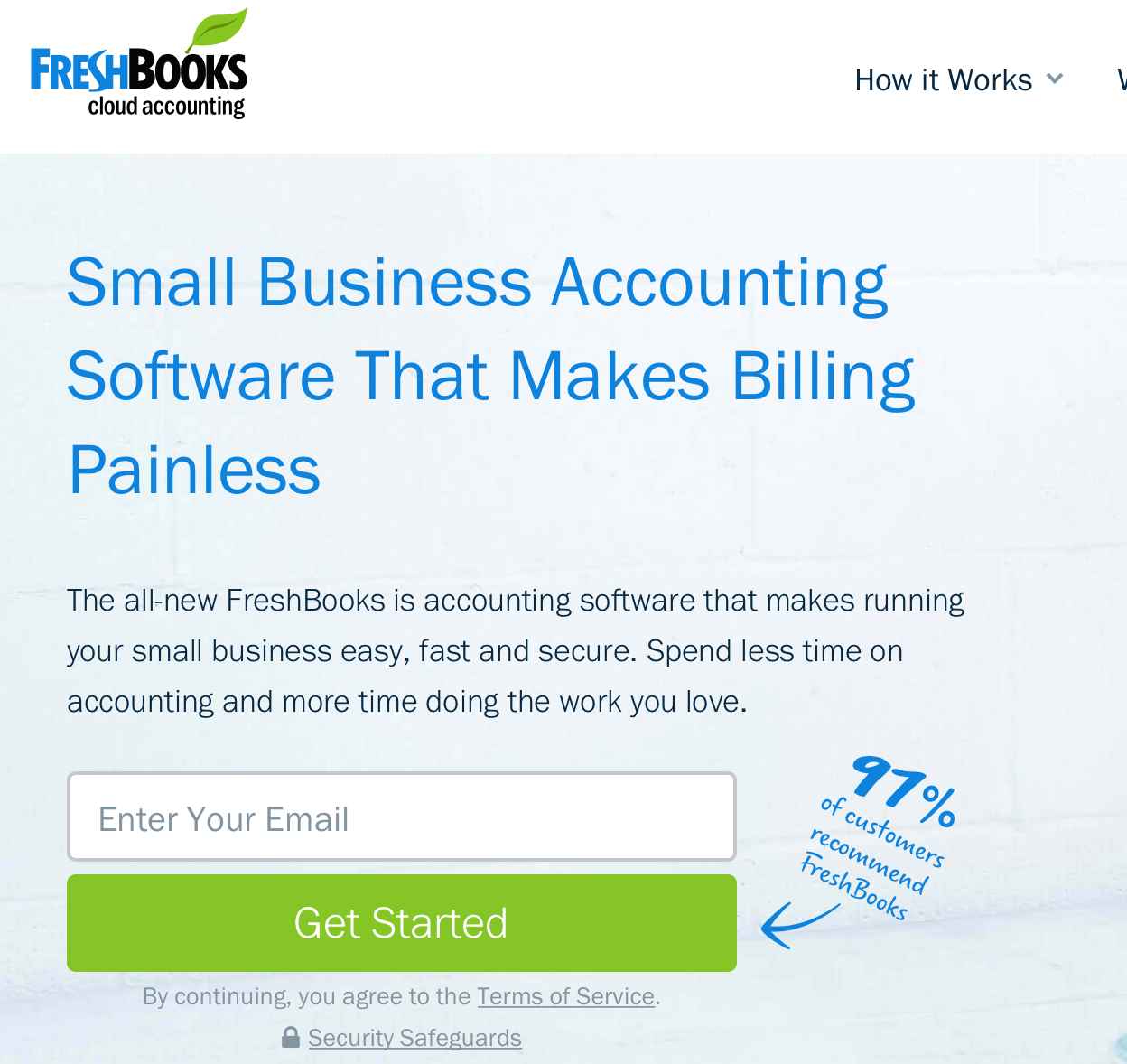 You can also utilize audience segmentation with niche marketing, running different campaigns to appeal to different niches within your audience. This strategy allows you to create the most relevant messaging and offers for each section of your audience.
An example of this can be found in the images below. One ad is marketed to men, and it talks about the convenience of the clothing service and how it means they don't need to go to a store.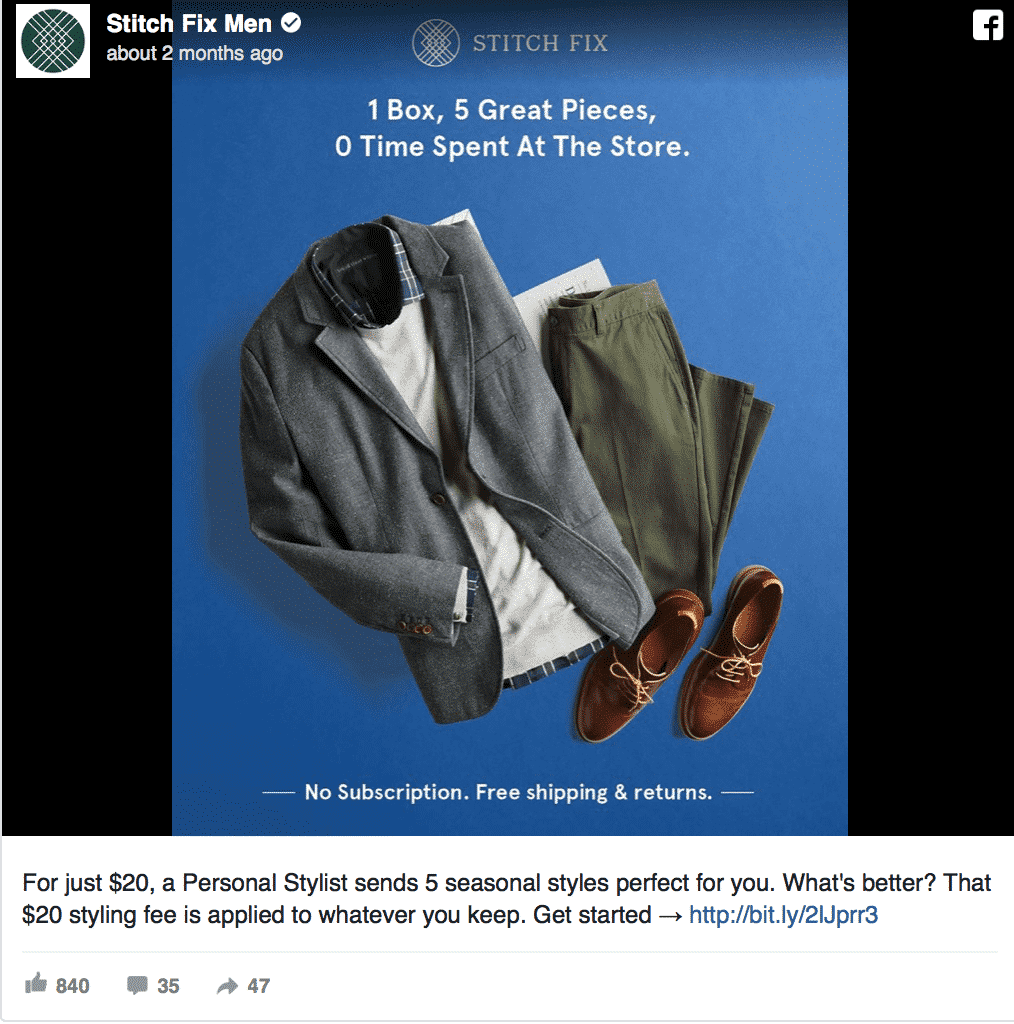 The second is for women and it's focusing more on transforming style and the customizated, exclusive feel of the service. Different messages for different audiences based on assumed pain points, value propositions, and interests.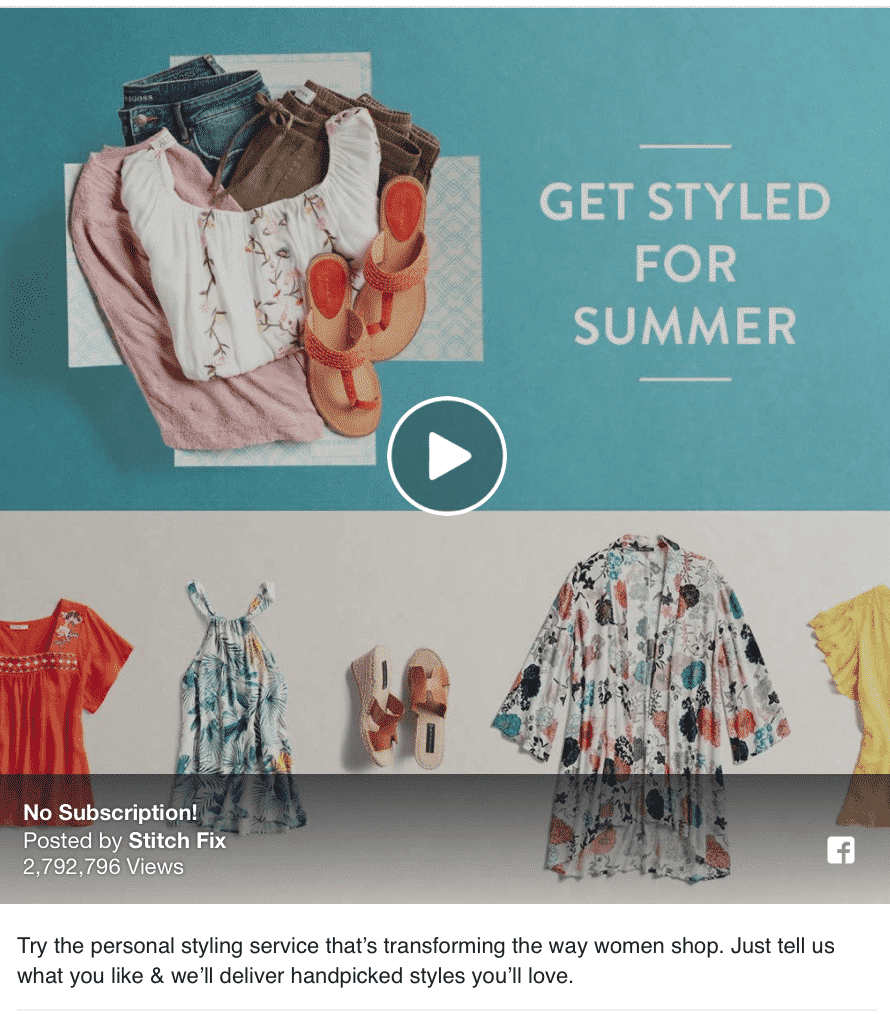 For this post, we're going to look most closely at niche branding and marketing.
The Risk of Losing Audiences with Niche Branding: Myth or Fact?
One of the biggest reasons that a lot of people worry about niching down—especially in their overall brand and not just in their marketing—is that they fear it will mean potentially losing customers.
Frankly, there's a good chance that may happen. But it's still worth it.
Ultimately, as your business grows, you won't be able to help everyone. It's just not possible for most businesses, because you'll be stretched too thin trying to create services tailored to too many different audiences.
It's not just that, though. Niche branding will allow you to say "this is exactly what I can do and this is exactly who I can help." It will help you to stand out and your target audience will know that you're exactly the brand that can help them. You'll lose other potential customers, but at the end of the day, they weren't the customers that you really wanted to begin with.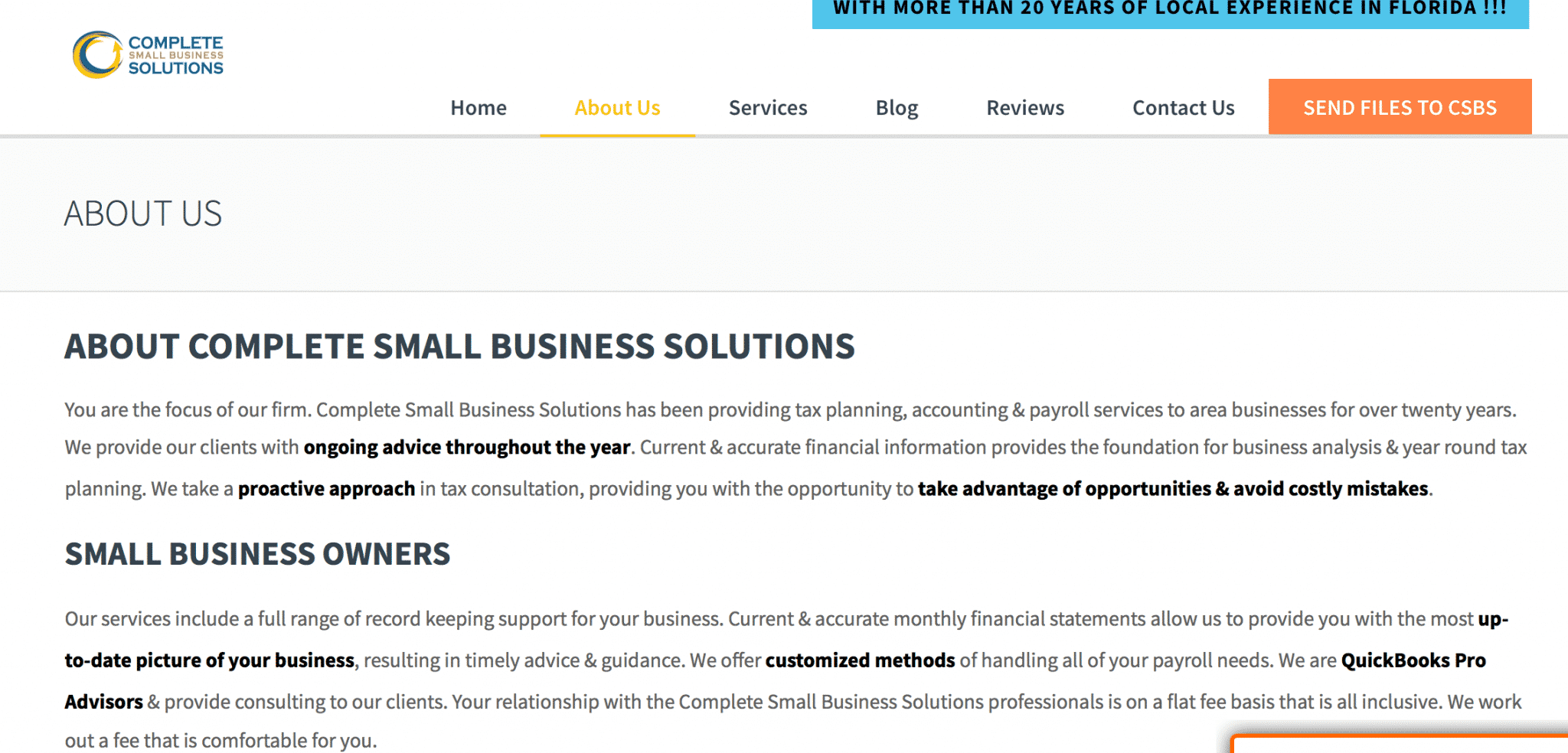 For example, after I switched from saying I was a "writer" to a "business writer specializing in content, ghostwriting, and PPC copy," my requests went through the roof. It was just different enough and it also told people exactly who I could help and what I could do for them.
Need another example? Think about the Cheesecake Factory vs. your favorite authentic, local, hole-in-the-wall Chinese place. You can get almost anything at the Cheesecake Factory and it will be fine, including decent Chinese-inspired food. Their menu, after all, actually needs a search function.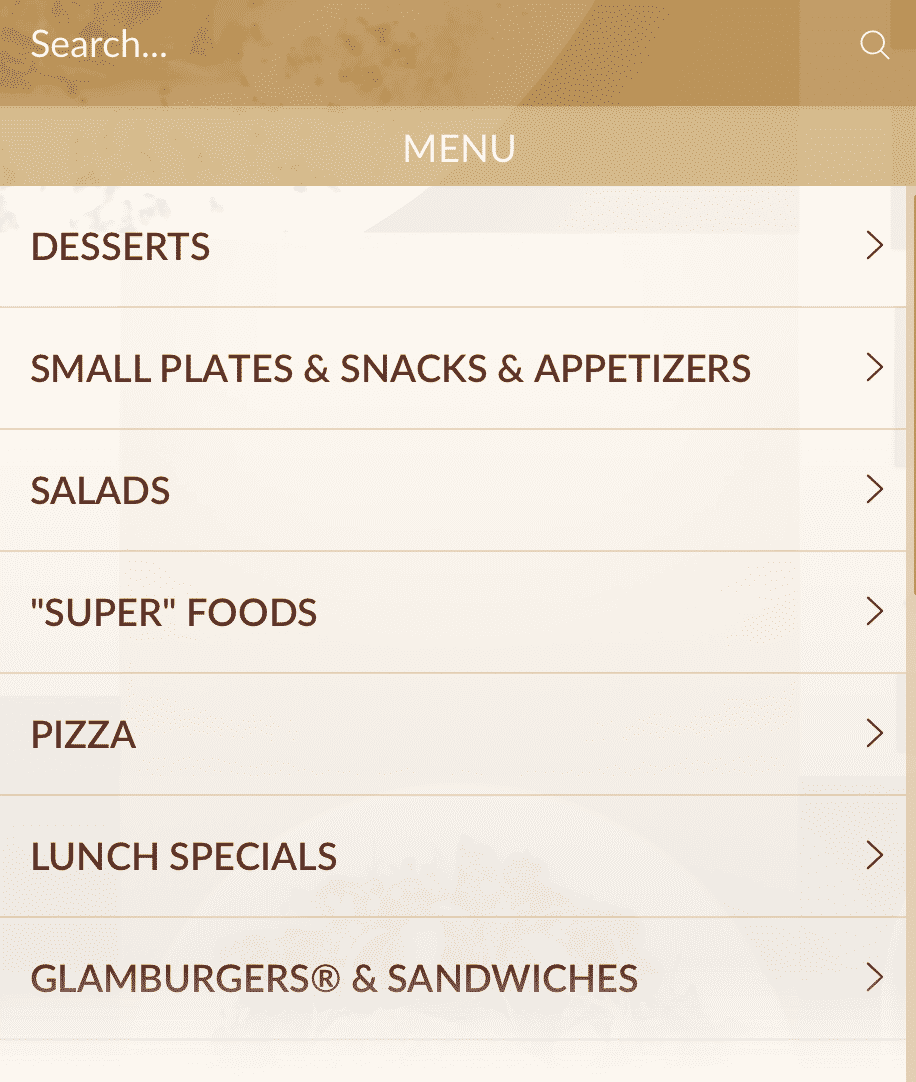 That being said, it's really no different than going to other generalists. But if you're in the mood for great Chinese food, you'll go to the same place every time, because they're the ones that do it best.
How to Choose Your Niche
Some businesses, as we've discussed above, may have multiple niches that they're either branding themselves for or marketing to. Salesforce, for example, has product recommendations based on type of brand and/or organization.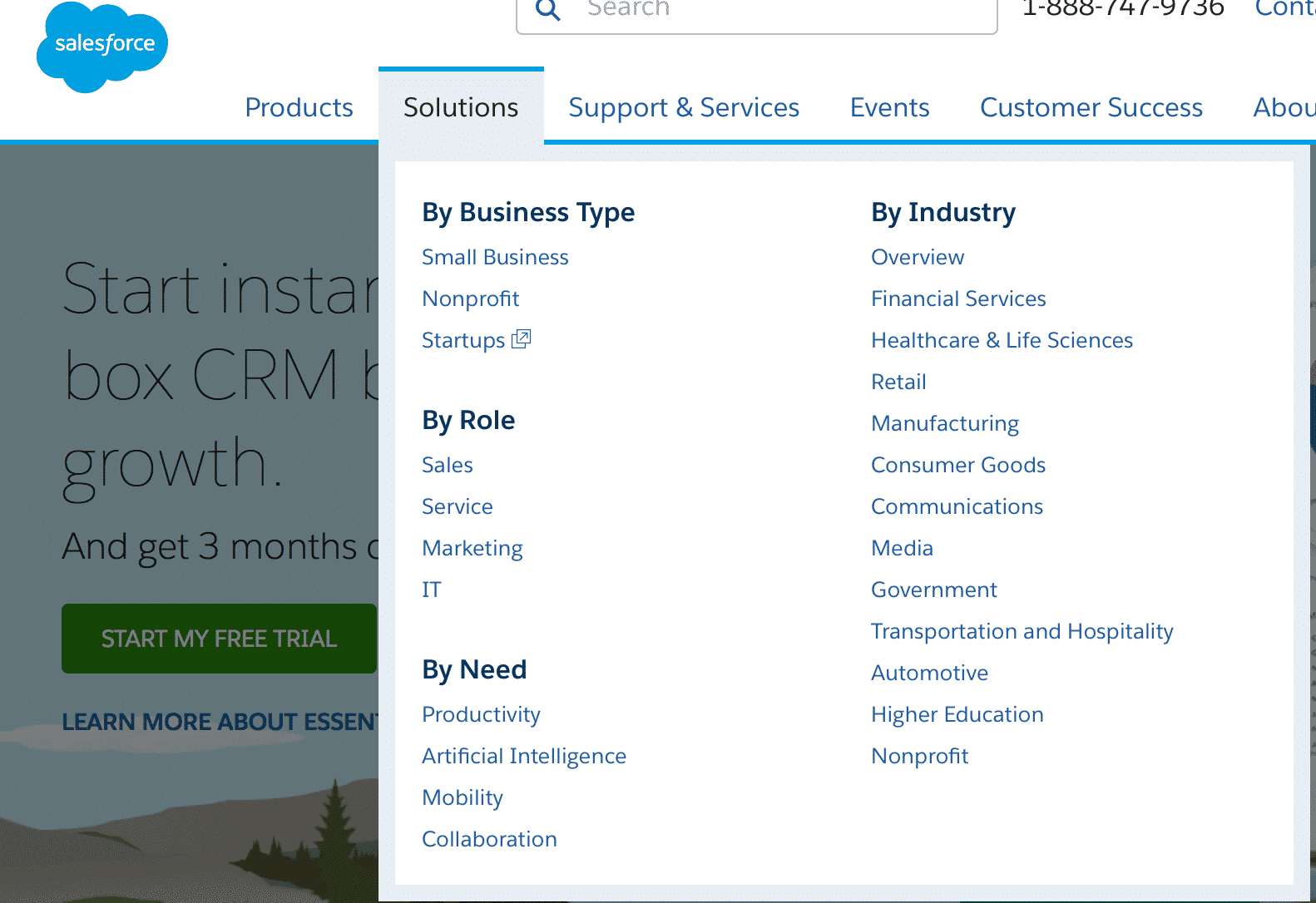 That's fine. For this step-by-step process, though, we're going to look at how to focus in on a single niche to shape your brand around. If you want to go through it multiple times in order to create multiple niches, good on you! Just remember to approach each one distinctly or things will get muddled.
1. Decide Who Would Benefit Most From Your Product
I know that it's tempting to say "everyone," but realistically, who will get the most value out of your product?
A few questions you can ask yourself include:
Do you want to be accessible to everyone, or do you want to have a premium, more exclusive product?
What specific value propositions can you offer? This should tie into the question above. Cost and exclusivity can both be value propositions when leveraged correctly, for what it's worth.
Which paint points can you help resolve? What problems can you solve for your customers and how are you the best one to solve these problems?
What specialties do you have? Marketers who work in PPC and those who work in content marketing do two very different things, even if they have overlapping audiences. That being said, you may find yourself an expert in writing email campaigns for real estate agents, for example, so specialties can be industry- or skill-related.
Will you be a B2B or B2C business? The product itself may dictate this, but it may not. Consider this upfront.
2. Check Out Your Competitors
In many cases, combining steps one and two together can be beneficial. Get a good idea of what you can do for your customers and how you've answered all the questions above and then dig into some competitor research.
Look at how your competition can answer these questions and then see if your answer changes.
What are your unique value propositions that set you apart? Maybe you have more experience than others in the field. What pain points are going unfulfilled? B2C services like doctors, lawyers, or dentists that can offer emergency services or weekend hours, for example, are filling a distinct pinpoint.
At this point, see if you can find any groups of people based on values and needs that may be slipping through the cracks. These individuals may be using a competitor's product, but will likely to be willing to jump ship when you can offer them something no one else is.
3. Look for Commonalities in Your Current Audience
If your business is already up and running, look at the customers that you already have. If you know you want to niche it down, it's time to be honest about a few hard questions.
Which customers do you enjoy helping most…and why? Do some pay better than others or fight you less on price? If you're doing a lot of the same type of work or serving similar audience members even though that was never a focal area for your busines, would you be interested in niching down to serve them exclusively?
Are there certain services that you enjoy more than others?
The contractor who does my yard work, for example, only does regular maintenance. If you need more in-depth landscaping or things like tree removal, he'll refer you to someone else and he told me that he's expanded enough where he doesn't need to offer those services. He doesn't like doing them and they were slowing down his day.
If a lot of people are coming to you for the same services or you seem to be attracting similar types of audience members, that may give you a good clue of where and how to niche.
4. Establish Buyer Personas
You've got your new niche, but that doesn't mean that all of your audience members are clones.
Maybe, for example, you've made the transition from a cosmetics company to an organic-fair-trade-cosmetics-company. Your customers will still be diverse and may include:
High income individuals who don't think anything of paying for premium products and can choose organic everything.
Customers (like Millennials) who might be on a tight budget, but want their money to go towards companies who are fair-trade and morally strong.
People with skin sensitivities or allergies to chemicals found in many products, who buy the products because they have to.
These are all completely different audience segments even within a niched-down business, so you'll still need to breakdown your overall audience to run successful campaigns for each segment.
5. Test
If you're already established and moving more towards a niche brand, you can always test it out first. Launch a new line of products or services for the niche you want to target and see how customers respond.
You can also run marketing campaigns to test what messages and offers your audience engages with. While you may receive validation, you might also discover new products, services, or needs that you can help with, or audiences that you may not have realized you could target before.
Conclusion
Though it may seem like niche marketing and branding could isolate segments of your audience in a negative way, that's unlikely to happen, especially with good targeting in place. Instead, by creating segmented niches and creating content that appeals to specific interests and pain points, you'll be more likely to better connect with the exact customers that you want to build relationships with.
What do you think? Do you utilize niche marketing for your business? Have you found it valuable? How did you choose and define your key niches? Share your thoughts and questions in the comments below! 
Leave a comment