How to Effectively Use Social Proof to Market Your Product
by Aden Andrus • June 3, 2016
Whether we realize it or not, we spend our whole lives gambling.
We gamble with our money. We gamble with our time. We gamble with our relationships. We gamble with what we eat, drink, buy, wear…
We gamble on everything.
The simple fact of the matter is that we don't know how any given decision will turn out for us.
Maybe buying that house is a good idea. Maybe reading that book will be useful. Maybe dating that person will turn out to be the best decision ever. Maybe wearing that suit today will help me get the job…
Life is full of unknowns, so we have to gamble. But, because we aren't stupid, we do our best to stack the odds in our favor.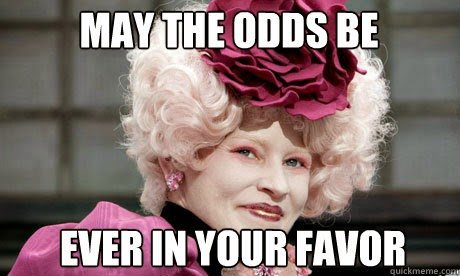 You knew that meme had to be coming, right?
As marketers, it's important to understand that there is some level of perceived risk to every activity. Every decision requires a commitment of some sort and commitments are a risk.
So, if you want someone to decide that your call-to-action is worth the risk, you need to assure them that they are making a safe bet.
There are a lot of ways to do this in online marketing, but one of the most important is through social proof.
Why Does Social Proof Matter?
Unfortunately, most people instinctively distrust marketing material. Generally speaking, most marketers tell the story that puts their offer in the best possible light.
After all, marketers make money off of telling people their product is great.
As a marketer, this means you automatically start in the high-risk corner of your customer's risk-benefit calculation. Maybe your offer is as good as you say it is, but it's hard to believe someone who gets paid to talk about how awesome their offer is.
On the other hand…an actual customer? They'll tell it like it really is.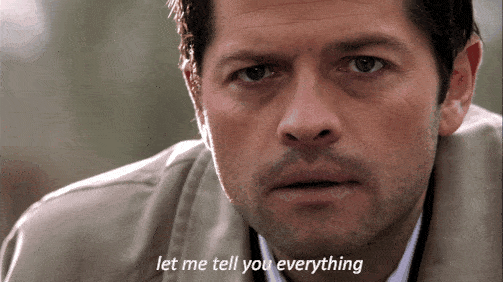 If other people took a gamble on your offer and were pleased with the results, then your offer must be a safe bet, right?
This is why social proof is so important. Social proof is what convinces your potential customers that you are worth a try.
It should come as no surprise that 63% of customers are more likely to make a purchase from a site with user reviews. A security seal can increase sales by as much as 42%!
Why? Because social proof demonstrates that you and your offer are trustworthy. In other words, your offer is a low-risk gamble.
When you do it right, social proof can make a huge difference to your business. However, the opposite is also true.
If your social proof doesn't come off as reputable, believable and trustworthy, it can increase the perceived risk of doing business with your site.
So, how do you use social proof to decrease the apparent risk of your ask? Try the following:
Include Great Testimonials
Hands down, testimonials are the simplest way to add social proof to your site.
Unfortunately, because they are so easy to put together (or even fabricate), testimonials often don't carry a lot of weight.
If you want your testimonial to be believable, you need reputable, verifiable sources.
The more important the source is, the more likely they are to protect their good name. That means they will fight to keep websites like yours from listing them as a source on their product…unless they are actually willing to endorse your product.
With that in mind, here are some ways to put together believable testimonials.
Cite high authority sources. If other business leaders (particularly leaders of recognizable businesses in your industry) are willing to say you're great, that must mean you've got something pretty cool.
More details = more believable. If your testimonial includes enough detail (name, location, job title, etc) that it would be easy to track down your source and verify the quote, the testimonial will be more believable.
Include pictures. Along the same lines, photos further establish the authenticity of your testimonial. After all, if your testimonial was comfortable with you using their photo, your reader can feel comfortable with giving you their business.
Video testimonials. Video testimonials take this principle even further. Video testimonials are even harder to fake and come with the added benefits of inflection and body language. If your video testimonial shows genuine enthusiasm for the product, you can bet that your audience will be interested in your offer.
Embed content. If you have rabid reviews on Twitter, pull them into your site. Reviews on third-party sites can't be tweaked to perfection, so they feel more raw and real.
Include a variety of testimonials. Everyone knows that only a small portion of your customers will be willing to put themselves out there on your behalf. So, if you have several testimonials, a lot of people must love your company (sliders are a great way to feature multiple testimonials without sucking up too much real estate on your page).
According to Reevo, customer reviews increase sales by 18%. But, you can't just put any old testimonial up on your site.
Instead, you want to feature the kind of reviews that make your potential customers think, "You know what? I'd be stupid not to convert."
Post Some Case Studies
Case studies are a fantastic way to allow your potential customers to vicariously experience what makes your product or service worth buying.
In some ways, testimonials are like mini-case studies. They summarize a good customer experience in a sentence or two, providing just enough info to demonstrate that the experience was valuable.
However, many potential customers will want more details. They will want to know how your offer produced great results for your customers. Case studies give them exactly what they are looking for.
Now, not every offer needs to be justified by a case study. Even if case studies are something your audience is looking for, not everyone will read your case studies before they convert.
However, simply having case studies on your site—even ones nobody reads—helps inspire confidence in your offering. After all, somebody had a good enough experience that they were willing to let your write a whole paper about it…
Add Trust Seals
For many businesses, adding a trust seal is the second-easiest way to build trust on your site (right after testimonials). In fact, at this point, if you don't have a trust seal, that may actually increase the perceived risk of converting!
Why do people like trust seals? Well, trust seals are proof that an independent third party evaluated your site and decided that your were trustworthy enough to get their stamp of approval.
Sure, you might be paying for that stamp of approval, but hey, at least you went to the effort to prove you're respectable!
So, which badge is best?
According to the Baymard Institute, Norton Secured is considered the most trustworthy badge. However, if you've got issues with Norton, here's how people perceive different badges: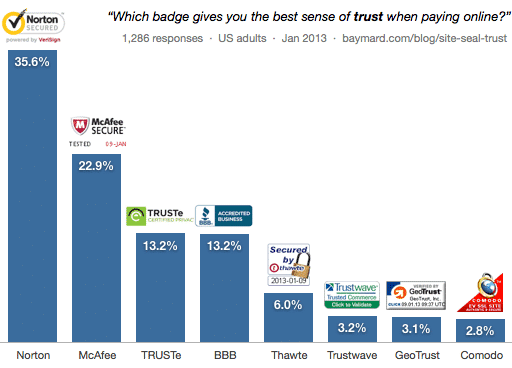 Take your pick!
Share Your Social Media Likes
As content marketing and social media become increasingly important aspects of how your website is perceived, people have begun to measure the trustworthiness of companies by their social media presence.
If you think about it, this makes sense. After all, if 1,000+ people liked your product, your offer is probably worth trying out.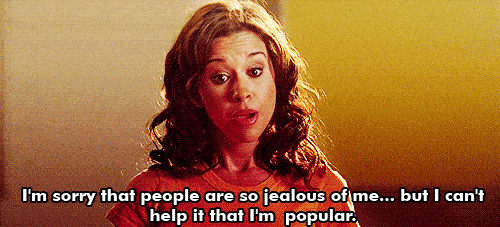 To showcase your social presence, you simply need to add one of the various available plugins to your site. This will allow you to show your visitors how many people love you on social media.
Depending on how popular you are on social media, however, it may not be a great idea to show off your following on each social media platform individually.
For example, if you have 800 total likes/followers, that's much more impressive than 200 page likes on Facebook, 300 followers on Twitter, 150 followers on LinkedIn and 150 followers on Google+.
Wait, I take it back, 150 followers on Google+ would be pretty impressive…
Conclusion
Life is a gamble. Whether they realize it or not, your marketing audience is trying to decide if your offer is worth the risk of converting.
The actual risk of converting may be small, but if your audience thinks that the risks outweigh the potential reward, they won't convert.
This is where social proof comes into play.
Testimonials, case studies, trust seals and social media shares all help show your audience that other people thought your offer was worth the risk…which means your audience can be confident that taking a chance on you is a gamble they should take.
By the way, if you'd like me to take a look at your website or landing pages and give you some recommendations on how to improve your use of social proof, let me know here or in the comments!
How do you think social proof helps to mitigate your audience's perception of risk? Are there any points you'd add to this article?