Double Your SERP Power by Combining Organic Search With PPC
by Kelly Shelton • August 8, 2018
The most important pages on the internet to your business aren't on your website, your Facebook page or your blog. Instead, they're the search engine results pages, or SERPs, that show up whenever someone types a few words into a search engine.
If you think of your spot on those SERPs as a sort of "internet real estate," it becomes clear that location is everything. However, the landscape of a SERP is constantly changing and you have to find a way to hold your position if you want to get noticed. That means understanding everything you can about SERPs and how to rise to the top.
Why Google is So Important to SERPs
Simply put, Google is the behemoth of all search engines. It handles slightly more than 74% of all searches worldwide and 90% of mobile searches. It processes 3.5 billion searches every day. You have to understand how Google's SERPs work in order to put your business in the best position.
To get on top of Google's SERPs, the name of the game is "search engine optimization" (SEO). This is the method of raising your visibility on the SERPs in response to any given keywords through either organic or paid results—or both!
How Organic and Paid Search Campaigns Work
A lot of marketing efforts in the field of SEO focus heavily on organic results—the sort of "free" push you can get toward the top of the SERPs due to the way your site is optimized around those keywords and a number of other factors, including:
The number of unique visitors to your site
The amount of time those visitors spend there
The number of pages they view while they're there
The number of other places that link to your site or the "buzz" around your company
The quality of the content you're putting out there and its value to searchers
Google's method of indexing search results demands a lot of attention to these factors. We say "free" when we talk about organic results because you don't pay for each click—but you do have to invest a lot of time into keeping your pages optimized and building quality content.
On the other hand, there's pay-per-click or "paid search." Paid ads work on a pay-per-click (PPC) system meaning that you only pay when a searcher actually clicks on your ad. The benefit of PPC is that they can move your business up the SERPs quickly. They also target highly-specific groups of potential customers—which means that you get a fast influx of motivated, interested searchers to your site.
Which one is better? Neither.
Organic search results take the long, slow approach toward rising to the top of the SERPs and attracting attention—but the results are more consistent and sustainable over time. On the other hand, paid search gives you nearly instant results with almost no time involvement and a low monetary cost—but the results will slow once the campaign is over.
Why Combining PPC With Organic Search Gives You Power
Where are you getting the data that you use to drive your organic SEO efforts?
The results you get from any PPC campaign will give you data about everything from where your clicks are coming from to the number of conversions you make. You can even track the entire conversion path your customers are taking from the start of their search to an eventual purchase.
Those are the kinds of metrics you can use to inform the future steps you take with your business. It can tell you what works—and what doesn't. The speed with which a PPC campaign accumulates data can largely prevent you from wasting your organic efforts in the wrong direction. It allows you to reshape what you're doing for organic search and refine your efforts in that area.
For example, you can even do short-term testing with PPC campaigns. You can test the difference, for example, between the results you get for "Premier Chicago bakery—call for wedding cake consultations" and "Award-winning bakery, voted best wedding cakes in Chicago." Your click-through rate, or CTR, for each can tell you whether a strong call to action or a trust signal resonates better with searchers. That information can be turned around to help you plan your long-term goals for organic search.
PPC can also help you gain ground with organic results. If you're struggling to move upward in the SERPs for a given set of keywords or you find yourself losing ground, PPC can provide a boost in your search traffic. Those extra clicks can go a long way toward bolstering your organic results.
How to Maximize Your Visibility in the SERPs
Take a moment and go to Google. Type in the word "gold buyers" and see what comes up: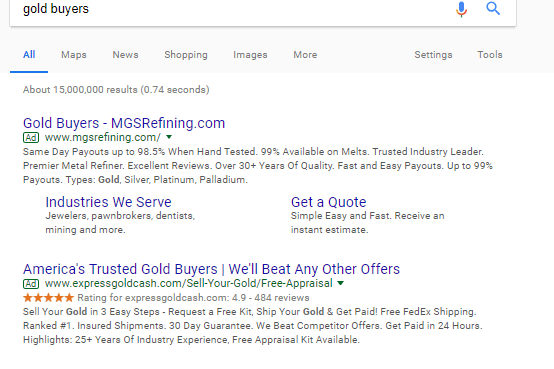 Up to four of the top results that people see for any given Google search can now include paid ads—which are identified by little green "Ad" symbols right before the link. Here, it allowed a company that wasn't even on the first three pages of Google's results to catapult right to the top of the SERPS!
Google Ads at the top of Google's SERPs push organic search results downward. In this case, it just pushed them down two slots—but it could push you right off the page if you're not high enough in the organic results.
Imagine how much more effective your results might be if your PPC ad appears right at the top of the SERP and within the first few organic results? Even if you ad is skipped over by the searcher, it raises awareness of your brand and reinforces your presence in the viewer's mind. If a searcher prefers organic results over ads—which some do—you're there as well!
Conclusion
You want to grab up as much good SERP real estate as you can get through organic results and pay-per-click ads. Instead of using PPC and organic SEO in isolation, combine their power to attract more searchers, gain more clicks, drive more sales, and rise higher in the SERPs. Putting the two together allows you to continually refine your efforts around attracting the most interested and valuable potential customers out there—no matter what your market.