What's the Chatter About Medical Marketing?
So, most people do not like going to the dentist or doctor's office. In fact, most people would avoid it for the rest of their lives if they could.
On top of iatrophobia and the bad pokes and prods you get at the office, the healthcare industry is one of the least customer-friendly and liked industries due to high costs of services, horrible wait times and bad bedside manners.
The American peoples' expectations for medical visits are pretty dang low but this is where successful medical marketing can give hope to the masses and therefore helps your business stand out.
You can be the exception to the medical negativity! The best thing you can do is truly make the medical marketing experience painless for your potential patients, even if their actual office visit isn't something they look forward to.
As we embark into 2018, let's talk about some trends that will help your practice succeed at medical marketing! People are the lifeblood of your business so let's learn how to make your practice the "chatter."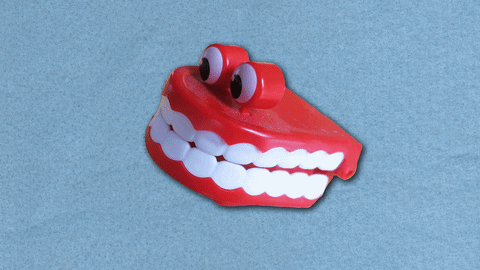 Social Media
Ever heard of Dr. Pimple Popper? If not, you should as she is a medical marketing gold mine!
Although her videos are not for the weak in stomach, she popularized popping zits on Instagram and created a name for herself as an expert in dermatology (I mean, the woman has 76.4K followers on Twitter and 3,586,831 subscribers on YouTube).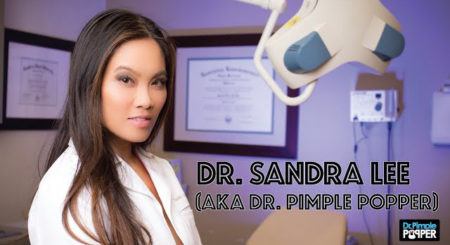 Like Doctor Sandra Lee, you too can promote your practice through clever use of social media! 
Social media is a great tool for building relationships, promoting your practice and managing your practice's reputation. When used correctly, it gives you a great opportunity to reach potential patients and offer special promotions.
Here are some of the top ways you can promote your practice through social media and social media apps:
Keep Mobile in Mind
People want a painless experience, so finding their doctors online is a great way to start. People demand fast and convenient answers that are instantly available on their smartphone so it's important for your website and social media channels are up to date and mobile friendly!
Consumers have become so accustomed to having internet access at their fingertips that you need your platforms to be fast, professional and efficient with scheduling and general information.
According to the U.S. Mobile App Report from comScore, mobile devices are the preferred tool for work and communication so why miss out on that medical marketing audience?
So, when creating a website or landing page, make sure they are mobile friendly!
Scheduling
Whether it is a phone call, email or text message, appointment reminders are important so let's make them easy to navigate and user friendly. Some of the best scheduling apps to use which will also have reminders are:
As each have their pros and cons, it's up to you to see which will work best for your medical practice. You can also easily use these apps to remind your patients to make a follow up appointments or annual cleanings.
Chatbots
Siri and other automated systems are not just for your random inquiries at home…they can be used for medical marketing!
A dental or doctor's office is always busy. Whether it's scheduling, seeing patients, lab interactions and overall customer service there is a lot to balance with your practice.
Chatbots can be a medical marketing trick to ease and personalize interactions with patients.
There are more than 100,000 active bots on Facebook Messenger every month and almost 2 billion messages are exchanged between businesses and their target audiences each month.
With a lot of messages coming in to inquire about your practice and services, chatbots are an interactive, quick and efficient way to respond. A combination of chatbots and messaging apps can significantly enhance the quality of patient service if done correctly.
Some helpful chatbots to look into for your medical marketing are:
Florence — this chatbot nurse tells you to take your medicine, gives you instructions if you forgot to take a pill, monitors your health (and periods for women) and can help you find specialists and book appointments in your area.
Babylon Health — another conversational healthcare assistant with the feature of booking a doctor.
If you are new to chatbots, stay simple with your messaging and setup and from there you can creatively engage them in your medical marketing plan.
Video
Simply put, video rocks! Video is growing and will only get bigger in 2018 because we are becoming more of a visual society. According to Cisco, video traffic will be 82% of all consumer internet traffic by 2021, up from 73% in 2016!
Going back to Dr. Pimple Popper, she is an example of how powerful video can be for your practice. Whether viewers love popping zits or they wanted to understand extraction, Doctor Lee helped potential patients peek into her world as a board-certified dermatologist. By using video, she sets herself up as a leader.
So, if you don't have zits or cysts to pop there are other powerful ways you can create "chatter" around your practice.
For example, Rethink Breast Cancer launched a hilarious and steamy YouTube video featuring shirtless male models talking to women about self-breast checks. This video educated and entertained patients about breast cancer but also resulted in 7.5m views and more than 30,000 likes!
Similar to ReThink Breast Cancer and Dr. Pimple Popper, you can create videos that promote your services, expertise and give your clients resources for their health.
Other types of productive videos include:
Instagram Stories: Stories give practices a way to add a more personal touch to their standard posts, which may sometimes feel too professional. Instagram stories can help create a personal experience by giving people behind the scenes looks into your practice, which will help you build stronger relationships with your current followers while also attracting new patients to your practice. Heck, you might even dabble with bringing your phone into the operating room!
YouTube Tutorials: YouTube can be a great way to post a collection of videos your practice can create. Tutorials are some of the highest trafficked video types and can be an easy way to show your expertise. Create tutorials on steps people can follow to avoid medical problems, What to expect step-by-step videos for procedures your patients will undergo etc.
Patient Testimonial Videos: When I search the internet, I'm surprised that so few healthcare businesses are using patient testimonial videos. The marketing power of testimonials is incredible and undeniable. Video takes the testimonial to a whole new level. When done right, a video testimonial can provide social proof for you and your practice.
Search Engine Optimization
Search engine optimization (SEO) improves your medical practice website's rankings on search engines. Why is this important to your medical marketing? According to a Pew Research study:
72% of internet users say they looked online for health information within the past year.
47% of internet users search for information about doctors or other health professionals.
38% of internet users search for information about hospitals and other medical facilities.
8 in 10 online health inquiries start with a search engine.
So, where you rank on Google, Bing and other search engines will help your practice compete for the searches from potential clients.
Local SEO and specific keywords are necessities for healthcare marketing in 2018. Your practice should absolutely be trying to rank well for local searches.
To help with this, make sure you're optimizing for location-based keywords, like "Salt Lake Cosmetic Surgeon" or "Carlsbad podiatrist." The reality is, most clients will not travel to kingdom come to see a doctor they can see in a more relevant location. This is why you need to target your SEO medical marketing strategies heavily on location.
Keywords on the other hand will help Google know what your practice does. Picking specific keywords for your medical practice will be important as it helps your ranking and online traffic.
To successfully create keywords, compile a list of words or phrases that patients often use related to your specialty. A good way to do this is to think of all the questions they might ask.
For instance, if you are a radiologist in Manhattan, what might your potential patients ask Google? They might search for "best radiologist in Manhattan".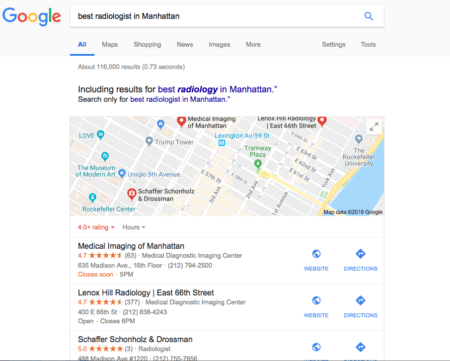 As you can see, the top results are most likely targeted and SEO optimized for the search results.
Why not come out on top of the searches your clients are typing? SEO and keywords can be the answers to your medical marketing concerns!
Targeted Email Marketing Campaigns
Calls and social media aren't the only way that doctors communicate with their patients. Actually, 62% of physicians and other healthcare providers prefer communication via email in comparison to direct mail, phone calls, and in-person visits, said a MedData Medical Technology Marketing Industry Trends Report.
So, email marketing can be a direct and efficient way to share information, lab results and other information with your patients.
Email marketing is the cheapest form of internet advertising and communication as it is essentially free. All you usually have to pay for is some sort of email marketing service like MailChimp, Hubspot or Autopilot HQ.
Email is easy peasy and it can be a fun way to share news, tips, results and reminders for your clients.
For example, Denwin Dental created an email campaign that reminds patients about their upcoming annual checkups. It also has a clear call to action button patients can use to set up an appointment!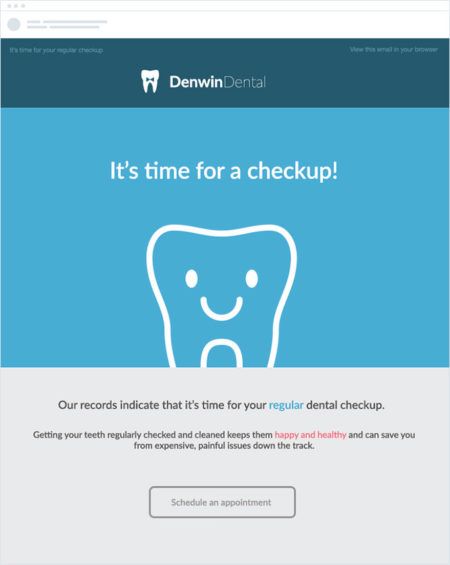 Even after your patient comes in for a cleaning, keep using email marketing—you never know when a patient will refer business your way. Whether it's a potential patient or a former one, email keeps your practice top-of-mind.
A Conclusion: Enough to Chatter About
Don't worry, it's going tibia okay!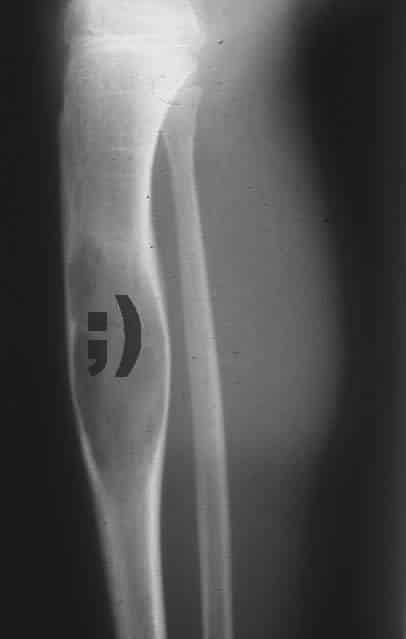 Your patients can have a positive experience with your medical marketing and your practice. All you have to do is use the tactics we've discussed in this article.
People are the lifeblood of your business, so give them something to "chatter" about with these marketing strategies.
Your office can be something to look forward to, not something to dread.
By the way, if you'd like help with your medical marketing, let me know here or in the comments. I'd be happy to help.
How do you connect with your clients better? What marketing strategies do you find most helpful? Comment below! I would love to hear!
Leave a comment