Advertising Is Changing – Are You Staying Up To Speed?
by Preston Andrew • November 10, 2014
Is your advertising as old as a cuckoo clock?
Dylan said it best when he sang, "The Times They are a-Changin'". The narrative at the time was about racism, poverty and social change. Every so often a generation reflects on where they historically stand and on important social issues. Hopefully, someone is there to capture the satire with some catchy lyrics.
Lucky for this generation, we have just that.
An artist that lyrically tackles the difficult challenges of our times. Who is it you might ask? Wait no further, this artist is relatively new on the scene but, it's none other than pop sensation Meghan Trainor.  If you're not familiar with the topic of "Bass", rest assured you will be by the end of this video.
Now that we are fully versed in all things "bass" – let's be honest- we're in trouble. Times have changed, especially in the music industry. No more Dylan or polarizing, tear enticing, rockstars. All we've been left with are mostly nude YouTube prodigies like Justin Bieber.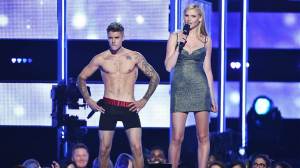 It seems as though we've become accustomed to subpar entertainment. And in many ways this cycle transpires in, not only music, but in advertising.
As with music, over time we don't even realize how ridiculous many of these advertising platforms have become. It wasn't long ago that when you searched to find a retail business; the phone book was your most viable option.
Yes, times have changed, and only a few years ago (2010) Dex One Corporation was being traded on the NYSE at more than $33/share. Now? We're looking at a whopping $2.38. What changed?
More importantly, why didn't DEX or YP make the changes to adapt? What's beyond scary is the fact that many business continually invest in this medium of advertising. So, here it is, the gosh honest truth. -STOP-
Ask yourself this question: When was the last time you were in a pinch and relied on a phone book (online or offline) for that information?
If you asked me that question: male, 35, smartphone, the answer is never. In most cases when the phone book actually finds its way into my house it's usually being used as a booster seat or monitor prop. I would have to imagine the majority of people feel the same way.
In fact a recent survey conducted for the online WhitePages, said that nearly 7 out of 10 people hardly, if ever, use the paper kind, and that 60% have looked for contact information online.
So, where are prospective customers looking for information these days? ONLINE, and while YellowPages and others are trying to adapt and showcase their clients in online directories, Google is crushing that effort.
Google Plus Local is now occupying that primary online real estate with their local business listings.  In financial reports from 2012 Google made 96% of its revenue by filling the rest of the search results with PPC (and other) ads.
[Tweet "Less than 30% of people in the US still use the good 'ol phonebook. That's surprisingly high!"]
So let's get back to that better way of getting customers in the door… If I were a local business, I'd start considering alternative ways to bring in those customers. Pay Per Click Advertising, also known as "Paid Search" is a very calculated form of advertising.
Here are a few compelling reasons you should get with the times and implement a PPC strategy immediately:
1. Plenty of Prime Real Estate to Rent 
As illustrated below, when the objective is getting new business, there is plenty of space available to assist. Of the 27 possible search results, the paid listings allow for 11 opportunities.
Many groups turn to expert agencies to make sure the quality score, bid, and ad extension allows for such placement. People are looking today, right now for you… you're just not there yet!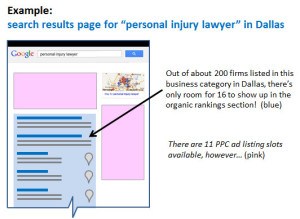 2. Understanding What Keywords Drive Traffic 
How much have you already invested in SEO without any success? PPC is a great first step in better understanding what keywords actually drive traffic to your website.
Once you understand the keyword strategy you can more effectively strategize around SEO. Over time, you can dial back ad spend as your organic search results improve.
3. Instant Gratification
Who doesn't like to see instant results? With PPC, you can start getting leads immediately. You can also target all the search terms your competitors show up for.
If you have a better product or offering than your competitor don't be afraid to go after it! There is plenty to learn from analyzing what the competition is doing. We own their playbook, just ask and we will tell you what their spending and where their ads are showing up.
4. Hyper Targeted Placement
Remember that mailer you sent out or that expensive TV campaign you ran? These are examples of casting a large net in hope of a positive ROI. These methods are less effective than they've been in prior years, largely due to the excessive amount of media iterations we're exposed to each day.
PPC allows you to "geotarget" people browsing on their computer or mobile device by city or zip code. These are individuals searching for products or services with specific intent. This – buying intent – is the primary success factor that makes PPC such a successful form of advertising.
What have you found to be the most effective form of advertising? And how have you been able to scale it?