5 Amazon Advertising Tips to Keep You Ahead of the Game
by Ana Gotter • May 21, 2019
You've got a trip coming up, and you want a passport carrier that's waterproof, sturdy, and has those fancy RFID protections. The trip is next week, and life is chaos while you try to get ready. Do you head from store to store, hoping if they have one?
If you're like me, probably not. Unless there's a specific product or brand that you know of, you'll head to Amazon and see what pops up.
Amazon advertising is a huge goldmine. It allows you to combine the best benefits of search ads with Amazon's high-intent and enthusiastic audience. The right ad at the right time can put your product in front of someone who is looking to buy right now. They're not on Google, after all, they're on Amazon looking at specific products, and that's about as high-intent as it gets.
A lot of brands, however, aren't as familiar with Amazon as they'd like to be, but high-profit, high-converting ad campaigns are just a few campaigns away. In this post, we're going to take a look at 5 different Amazon advertising tips that will keep you ahead of the game and get the sales flowing in.
1. Bid Higher on High-Profit Products
In a perfect world, all product profitability would be on equal grounds. If you sell the vacuum cleaning after only having a $5 cost per click, you get to make $100 in profit, and if you sell the carpet cleaner at $5 per click, you make $100 in profit.
That's rarely how it works, however. Maybe that vacuum will cost $10 per click and you get $100 in profit, but the carpet cleaner costs $8 per click but only $40 in profit. Still decent margins, but definitely not equal.
Some products will be more profitable to sell, and you can afford to bid a little bit higher on them. You can do this to not only hopefully sell more, but because it won't cut too far into your profit margins, whereas you could end up losing money on products with really high overhead and low-profit margins.
Doing this will allow you to optimize your ad spend and ensure that you're staying profitable.
2. Boost Brand Awareness with Sponsored Brands
Well-timed ads can do a lot for your business, and the Sponsored Brand ads that appear at the top of a search and feature multiple relevant products are a great way to build name-brand recognition and hopefully get a few clicks.
Instead of having just one of your products showing up in the product feed, they're separated and placed above in a noticeable location, and you get to show several options that either directly match the search intent or that are complementary to it and relevant to the audience at hand.
When you search for "gel nail kit" on Amazon, for example, you'll see a bunch of kits that feature polish but that also say "UV light needed."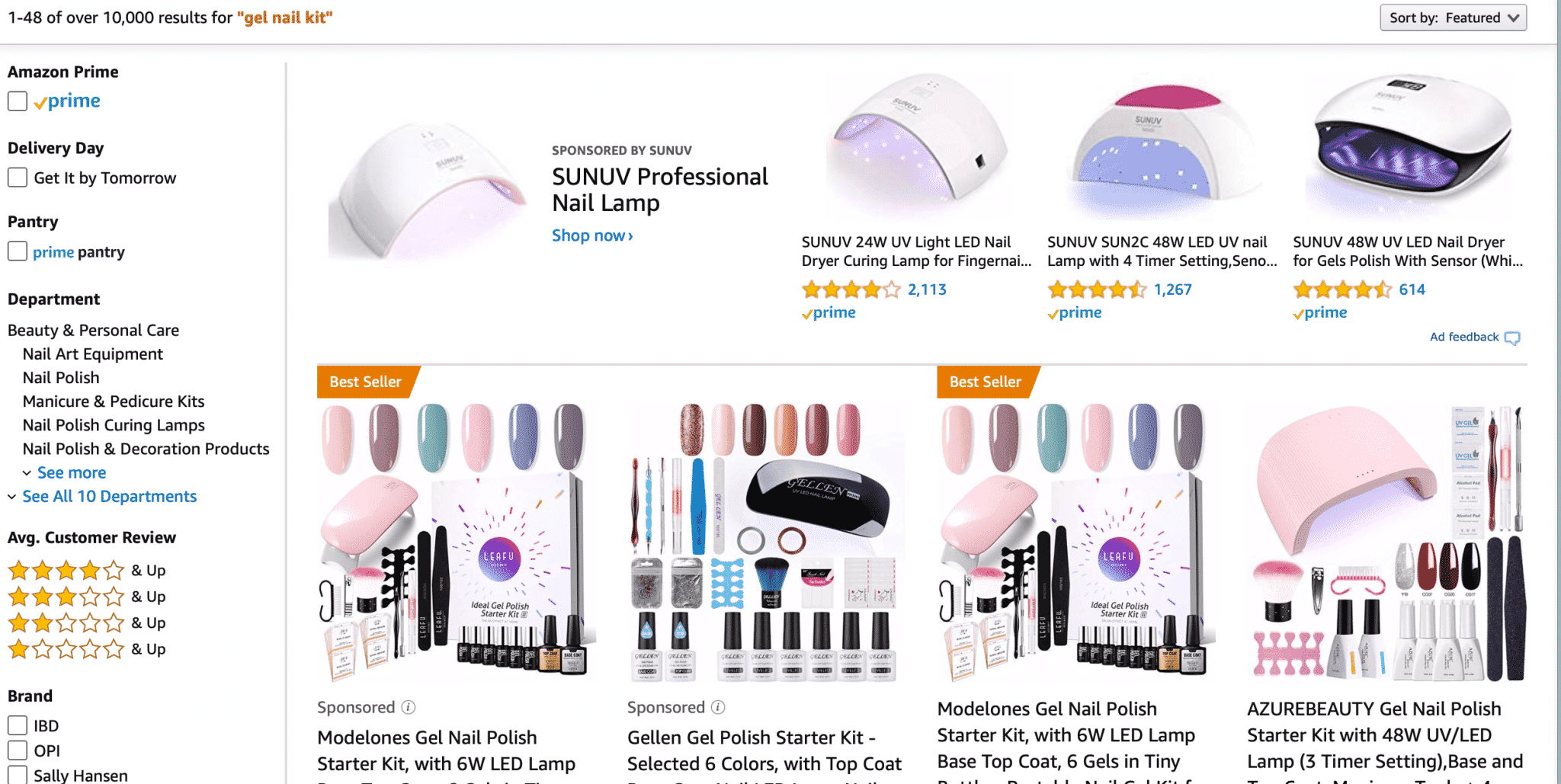 SUNUV Professional Nail Lamp having a Sponsored Brand ad at the top of this search showing a variety of different 4- and 5-star rated UV lights was an excellent choice. People see that they need it even from the descriptions of products they're looking for, and there it is with great reviews!
This is why Sponsored Brand ads don't have to be entirely on-the-nose (though they definitely can be), but should be relevant. Think yoga mat cleaner or yoga blocks when someone is searching "yoga mat," or high-performance moisture-wicking socks for searches like "hiking boots."
3. Leverage Product Attribute Targeting
Product Attribute Targeting is a relatively recent targeting option on Amazon that allows you to show your products alongside results of specific brands, sets of products, or sets of items from a given price or ratings range.
There are a few ways that you can use this to help you maximize potential conversions.
The first that I recommend is using this feature to appear alongside certain big name brands. Everlast, for example, is a pretty big household boxing name. Their products aren't the best, but it's a big name that most people recognize. It would make sense for other brands to feature their products alongside Everlast, especially if they have higher reviews and even potentially lower price points. This allows them to leverage the big name for their own benefit and even poach a few potential customers.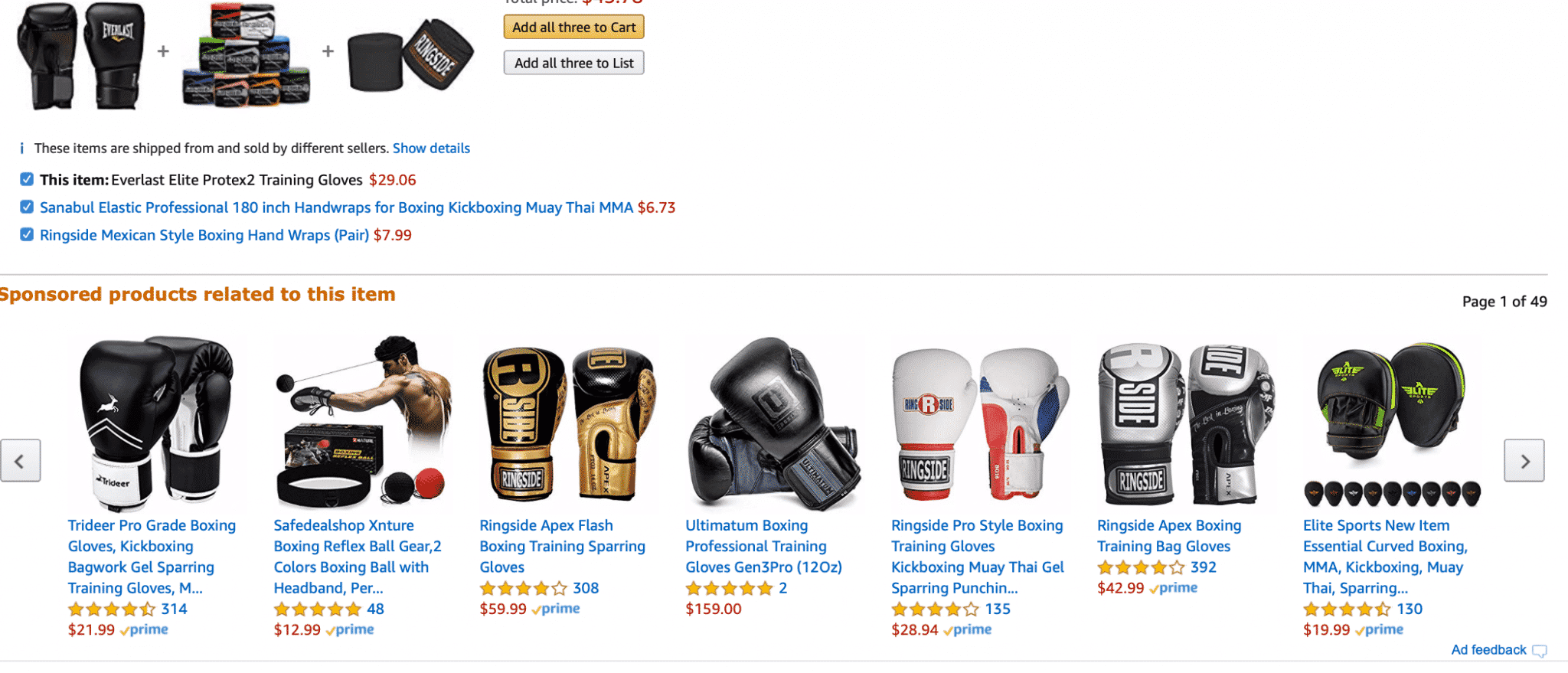 Another option is to place your product amongst top rated products so that you give yourself an edge, looking like you belong to an elite list even if you're working on slowly increasing reviews. The Ultimate Boxing Professional Training Gloves above may have used this, as they only have 2 reviews while others have hundreds.
You can also choose to target high-rated products but be displayed alongside competition that comes in at much higher price points. When you show up with good ratings and a lower price tag, that's going to grab their attention.
Test out different strategies here and see what works for you. Just ensure that you're still showing up in relevant searches and product placements so that you can still get results. Watch these campaigns particularly carefully to see what works.
4. Keep it Relevant With Negative Keywords
Negative keywords are a search campaign's very best friend. They'll ensure that you aren't wasting money or potential placements on searches that just don't make sense.
Negative keywords allow you to set terms that you don't want to rank for, giving you more control over where your ads show up.
If you're selling basketballs, for example, you don't want to show up in a search for "basketball shoes." Sponsored Ads is one thing, but having actual products showing up in the results is something different, and because it's not what people are looking for, there's very little chance of conversion. You'd choose the negative keyword "basketball shoes" to avoid this.
You can see how negative keywords can be useful here: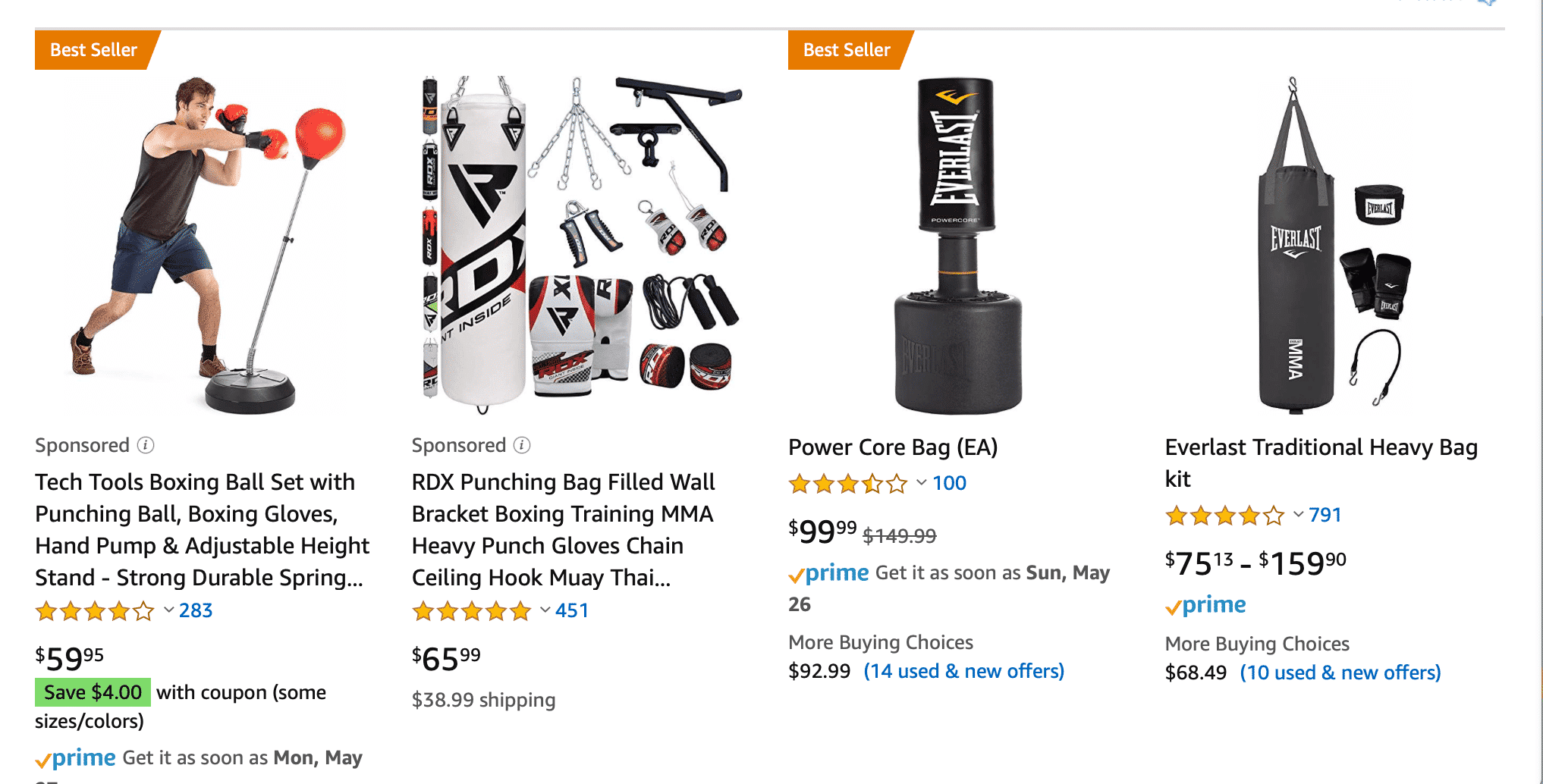 I used the search term "heavy boxing bag," and if I had to guess, the first result showing an agility-oriented boxing ball targeted the term "boxing bag." Unfortunately, the result is completely irrelevant to what I'm looking for in this search, because they're used for two different purposes in training.
As your campaigns go on, you'll likely notice that some keywords are triggering placements but not results. A quick search, if needed (and sometimes it's not) will show you why the ad likely isn't converting. Add these terms to your negative keyword list if they're not doing you any favors.
5. Stay Agile and Adjust As Needed
If there's one tip that you take away from this post, let it be this one: you need to be ready to adapt when it comes to PPC ads, and that goes for Amazon, too. Changes in the marketplace and user demand will both directly impact how your campaigns are performing and how much they're costing. One high-converting, highly-profitable campaign could jump in costs and sink in clicks in a number of weeks because another competitor swooped in.
There are also times when external factors will influence user behavior en-masse. Say the New York Times releases an article claiming that parabens cause cancer with 100% certainty, even in shampoo (this is obviously just an example). Instead of having people search for just "shampoo" or "organic shampoo," you're likely to see a surge of increases in "paraben-free shampoo." If you're watching your campaigns and what's happening in the industry, you'll notice this and be able to switch it up when needed.
Monitor your campaigns regularly and frequently—at least once a week at the very minimum, but ideally more often than that. Watch for declining clicks or increasing costs, and adapt as needed.
Conclusion
Amazon advertising is like most other PPC platforms: there's enormous potential to be profitable, but you need to be strategic and have optimized ads and tactics in place so that you can get conversions and sales at an affordable cost. There's no point in driving sales if it's driving you into debt.
With careful split tests and over brief periods of time, you'll be able to identify what works and slowly whittle away at bid prices while you sell more. This will significantly increase the profitability of these campaigns, making it easier to scale at a quicker rate. Taking the time to run these tests and adjust your ads as needed is therefore well worth it, whether you're doing it yourself or hiring a professional.
Don't want to get bogged down with the tests needed to optimize your campaigns to the max? Get in touch with us—we can help.
What do you think? Do you use Amazon's advertising services? How do you optimize your campaigns? Share your thoughts and questions in the comments below!